Mereena Anderson is on a mission.
She didn't set out to be a trailblazer, but she's reshaping the conversation around women in the Armed Forces. Every day, the U.S. Air Force air traffic controller and University of Arizona Global Campus (UAGC) graduate is helping her fellow female service members find their place and purpose in a sector that's predominantly male. It hasn't been easy, but Mereena is determined to create a community that will provide support and empowerment to the women around her and the women that will follow in her footsteps after she's completed her service.
"For me, I just always wanted to be treated with the utmost respect," Mereena explains about her mindset prior to entering the Air Force. "But I did find that it was harder to find other female friends."
Mereena joined the Air Force in 2012, and as she took advantage of the opportunities that allowed her to further her education and career prospects, she kept an eye on how other women in her branch of service were adjusting to their roles. Frustrated with the lack of support, Mereena decided to take matters into her own hands and create a community that her fellow female service members can call home.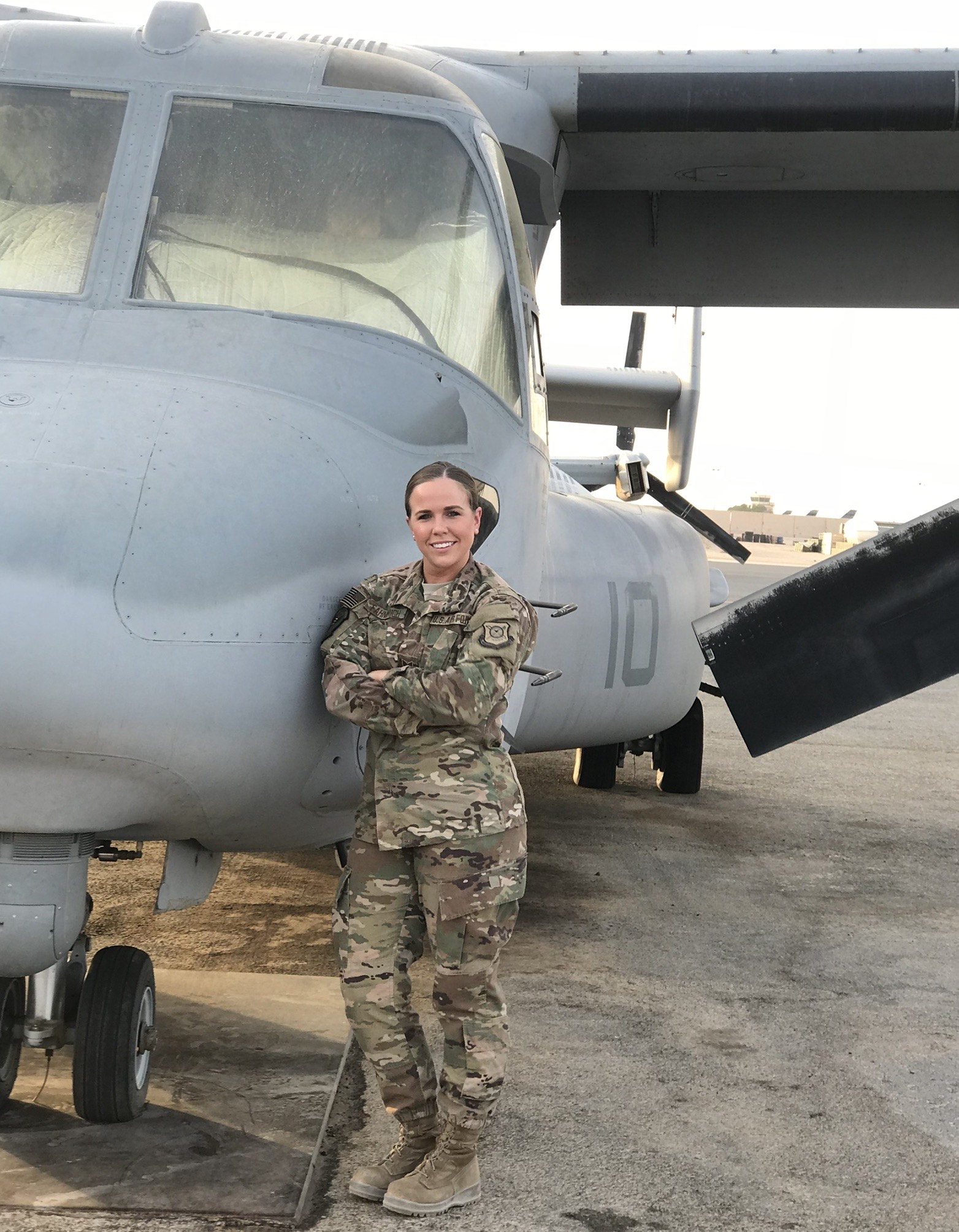 Mereena Anderson takes a break from her Air Force duties to pose with a plane.
"In the last two years, I started a women's group at our base under our diversity, equity, and inclusion team," she says. "It's called Women in Leadership, a group of women who can come in for a monthly meeting, get together, and share like-minded ideas." Her hard work has paid off, and Mereena is now the founder of a thriving community of women in the Air Force. The Women in Leadership group has become a safe haven for female service members, providing a space for them to share their experiences, struggles, and triumphs. Through the group, Mereena has been able to connect with other women who share similar stories and support each other.
"My whole thing was always trying to prove that I was just as good as anybody else," Mereena shares. "But I was able to channel that drive into creating something with this group, and now I know certain women in certain sections, so I can always branch and make more friends."
Mereena's initiative and perseverance have paved the way for more women in the military to feel supported and empowered. Her unwavering commitment to gender equality and her efforts to create a community of like-minded women have inspired others to follow in her footsteps and continue the fight for equality.
Where does she get her energy and passion? It comes straight from the farmlands of Oregon.
Lessons From the Farm 
When Mereena entered the Air Force at 18 years old, she already understood the meaning of words such as accountability, responsibility, and discipline. Those words and more were a constant part of her upbringing on her family's farm, as she learned the value of a hard day's work tending to any number of daily chores.
"I was definitely the designated pooper scooper," Mereena recalls. "We had chickens, we had dogs, we had pigs, goats, horses.
"I helped out with feeding if my parents couldn't or weren't available. We had up to 25 horses at one time."
Looking back, it's easy to see why Mereena thought she'd fit in with the Air Force. Growing up, she was involved in Future Farmers of America and 4H – organizations that brought the leadership and relationship-building skills she'd apply to her military career.
"Teamwork is huge because you're involved in a club, and it's mostly kids your age, and you compete with kids your age as well," she says. "As I got older, mentorship and helping out those younger kids."
Mereena gained additional experience in clubs such as DECA -- the nonprofit that prepares high school and college students for careers in management, marketing, and hospitality – and the National Honor Society. During her junior year of high school, Mereena did an internship with a local Air Force recruiter, and though she didn't initially plan on joining, she discovered interests and opportunities that could shape the direction of her life. 
Initially, she was considering medical jobs, but her recruiter suggested that she become an air traffic controller. Following basic training, she went to tech school in Mississippi to learn the specifics of air traffic control and began her career at her first base in Arizona, where she lives and works today. The Air Force gave her an opportunity to earn an associate degree, and after joining a leadership program and also seeing that many of her friends were attending college online, she took an interest in UAGC and utilized military tuition benefits to enroll in the University's bachelor's in organizational management program.
"Organizational management really spoke to me because a lot of organizational aspects are in my leadership school job and air traffic control," Mereena says. "Management is just kind of a very blanket statement in my opinion that can cover a lot of different jobs that I would want to do once I leave the Air Force."
Ready for a Change
With graduation on the horizon, Mereena is focused on her future. She's planning to transition to a civilian job, possibly in government, so that she can remain associated – in some form – with the Armed Forces while continuing to live in Arizona. 
"I also, of course, always have my air traffic control background if I wanted to apply that and get a job through the Federal Aviation Administration or any sort of local airports," she says. "I'm ready for a change, and I also want to stay in one spot."
Mereena is also considering a career in real estate and property management, having recently formed an LLC so she could turn her house into a short-term rental. She's not done with her educational journey either and is considering returning to UAGC for her master's degree.
Whatever she decides, Mereena will want to continue to be a role model, mentor, and supporter of women in her field, especially those who find it difficult to adjust to life outside the military. It's not easy, as Veterans often face challenges such as post-traumatic stress disorder and homelessness, but just as her support group has given women hope and a sense of belonging, Mereena believes she can be a positive guiding force in the transition to civilian life. 
--
The appearance of U.S. Department of Defense (DoD) visual information does not imply or constitute DoD endorsement.