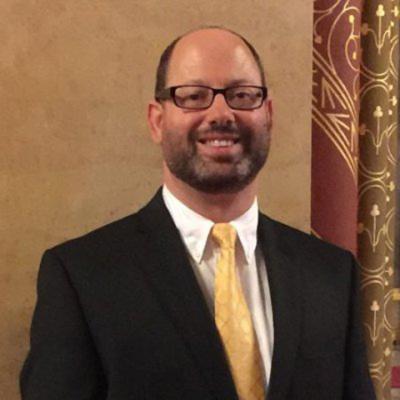 Biography
After graduating from his suburban Detroit high school in 1983, Matthew S. Urdan's path forward seemed pretty clear. He was accepted to the University of Michigan, where he would begin working toward his goal of becoming a pediatrician. But Matthew's father had other ideas.
"My father told me he would not pay for my education," Matthew recalls. "He went to the University of Wisconsin, and he would only pay for my education if I went to Wisconsin, his school. He had been telling me and my brothers that line our entire lives, and I always thought he was only half serious. I was crushed. I was angry. I rebelled and said 'no,' and began my journey down a different path."
Matthew continued working at the public library where he had worked for two years. He also started pursuing some of his other interests. He became a coach for high school debate and forensic programs. He served as a volunteer environmental activist with the Sierra Club. He even attended community college for several years. By 1995, Matthew had been promoted several times at work, was coaching one of the best debate teams in Michigan, and had earned state and national committee chairmanships with the Sierra Club.
"But during this long period, I was never satisfied," Matthew says. "I was never legitimate, at least in the eyes of my family, as I had blown my opportunity to go to college and earn my degree and become a doctor."
The opportunity to attend college would come around again, but only after several more years passed and Matthew experienced a couple of major events that altered his perspective. In 2010, his mother – who had been dealing with heart disease, diabetes, and kidney failure for seven years – passed away following a heart attack. Six weeks later, Matthew also had a heart attack and underwent quadruple bypass surgery.
"It was a major wake-up call and a kick in the pants to get going with my life," he says. "So after aggressively participating in cardiac rehabilitation, I was back at work in three weeks and figuring out how to go back to school."
Later that year, Matthew's long-deferred goal of a college degree brought him to Ashford University*, where he enrolled in a Social Science degree program.
"Ashford made it easy to go back to school," Matthew says. "I couldn't go to a traditional school because I had to work and pay bills. So I responded to an online ad and Ashford took care of every detail to get me enrolled and transfer old community college credits so I could finally earn my degree."
Ashford proved to be an excellent fit for Matthew. He graduated Summa Cum Laude in 2013 with a 4.0 GPA. Finally earning that elusive degree also gave Matthew the confidence to pursue additional goals.
"While pursuing my undergraduate degree, I decided to return to an old novel I was trying to write and get published," Matthew says. "My success, my conversations with instructors, and my fellow students all made me believe it was possible and gave me back the confidence I had in high school."
With his confidence soaring, Matthew completed and published his debut novel, The Siren's Call. He then decided to go after some additional milestones. He enrolled in the Master of Business Administration program at Quinnipiac University, graduating in 2016.
"Ashford opens doors, and you decide whether or not to walk through them," Matthew says. "Go ahead, walk through them."
Now, Matthew is turning his attention toward another one of his high school ambitions. He has set in motion plans to finally become a doctor – but not a medical doctor. In a few months, Matthew will head to the University of Massachusetts Boston to begin work on his PhD in Business Administration. His ultimate goal is to become a professor.
"My coworkers and family and friends have watched me go back to school in mid-life, work two jobs, earn my undergraduate degree, earn my MBA degree, and now fulfill the endgame of earning my PhD and transitioning to academia myself as a professor," Matthew says. "Many people have told me how inspiring it has been watching me work through this process and achieve success. It has inspired many of them to seek out new experiences, go back to school, start new ventures – all because they watched me talk about my goals and achieve them. Ashford made that possible."
* Ashford University is now the University of Arizona Global Campus