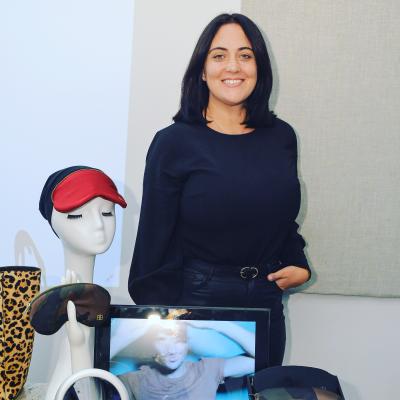 Lauren Lombardo
Master of Business Administration MBA
Biography
MBA student, designer, and published children's author Lauren Marie Lombardo has mastered the art of traveling. An NYC native who originally graduated with a Bachelor of Fine Arts in 2011 from another institution, Lauren has spent the last several years teaching painting classes and holding art camps in Italy and is now fluent in the Italian language. 
As Lauren traveled back and forth between the United States and throughout Italy, she began dreaming of a more fashion-forward way to snooze on those long trans-Atlantic flights. Hence the creation of her patent-pending Butterfly Hat, which she describes as a sleek sleeping hat with chic Italian flare, and the start of her first entrepreneurial business Betty and Bradley. 
Although this travel-savvy inventor had always mulled over the idea of a career in International Business, laying a strong foundation for her own successful business was Lauren's original impetus to go back to school. When a friend who worked at Ashford suggested she check out the Master of Business Administration program from the Forbes School of Business and Technology®, she realized an MBA was a perfect fit. In May 2019 she began her classes and already has found many of critical business questions being addressed and answered throughout her coursework. "This degree has helped with priceless knowledge going into entrepreneurship. I feel empowered especially as a female in business."
However, it was when she won the $5,000 Forbes Entrepreneurship Scholarship for Best Business Idea last summer that she felt her confidence really take off. "It means I have a huge credential behind me now. Forbes believed in me and this award goes to show I'm not just any startup," she explains. "My confidence skyrocketed. I look at that certificate each time I feel nervous about the next steps."
Although her love of art and painting remains strong, Lauren says she "wants an MBA so I have a solid skillset. I don't like saying Plan B, but I can always put my MBA to work anywhere." With her first degree in art history, she says it took a long time after graduating to forge her path. "I like saying that I'm going to have my MBA because not many people can say that, and it's something that can never be taken away from you," explains Lauren. She also notes that going back to school has been an engaging break from Italy that's allowed her to focus on the next stages of her life. 
As Lauren is still being asked to teach classes in Italy and is juggling the demands of launching her startup, she's found the classes dovetailed nicely into her schedule. "Studying online helps me remain flexible to handle my business during the day and do the assignments in the evening," says Lauren. "Plus, I can take my work with me when I have to travel."
When this driven entrepreneur needs to unwind, Lauren may be found taking walks with her dog in NYC, listening to music or enjoying a good cup of coffee. As a painter and ex-figure skater, she finds herself gravitating towards those outlets any time she needs to relieve stress. And of course, she has more plans in the works for Betty and Bradley. Eventually, she'd love to add to her line with complementing windbreakers, blazers and more to style with the Butterfly Hat while traveling. 
Acknowledging that she didn't always follow a traditional route when it came to pursuing her dreams, Lauren says that she didn't always have an easy time in school. "I faced much adversity in my life and want to remind students that they can achieve anything if they ask the questions they need answered and keep working on their dreams every day."
When asked if she has any advice for current or incoming students, Lauren says to stay focused on your goals. "Always remember your "why" when applying and throughout your degree. Stay in touch with your professors. They'll help you every step of the way. You got this!"
* Ashford University is now the University of Arizona Global Campus