Kevin Daley is a firm believer in the law of attraction. 
Since a young age, he trusted that if he thought about something he wanted to do and focused on it hard enough, he would achieve his goal. 
"When I was 5 years old, I wanted to go to the U.S. and get paid to play basketball," says Kevin, who was born in Panama City but later emigrated to America with his father and two brothers. "I had no idea how I was going to accomplish that goal, but I set that goal anyway."
This life philosophy appears to have worked. 
Kevin, who also goes by Special K Daley, went from thinking about playing basketball for a living to doing it – professionally for 14 years. Ten of those years, he spent as a member and captain of the world-famous Harlem Globetrotters and today is revered as one of the team's greatest showmen in the league's history.
Kevin has been featured in hundreds of news publications and on TV shows and has appeared in more than a dozen TV commercials. During the height of his career, the 6'6 high flyer even served as a body double for Michael Jordan in the 2002 Gatorade commercial "23 vs. 39," which is considered one of the brand's greatest commercials of all time. It was an opportunity Kevin recalls with awe and excitement. 
"It was an honor to me," he says, noting that Michael Jordan is his favorite athlete. "The first time I ever met him, I am shaking his hand and working with him one-on-one for several days. It was an incredible experience for me to have in my mid-20s."
From Panama City to Basketball Court
Kevin would have many more incredible memories that would shape his life and career.
His exciting journey from Panama City to basketball court began to unfold when, in 1989 at age 13, his family moved to California. 
When he arrived in the states, Kevin spoke just enough English to "get by," but he was able to fit in thanks to his love of basketball. Ultimately, he played on his high school team in Hawthorne, avoiding involvement in gangs and drugs by focusing on the sport. 
In the 11th grade, his family of four relocated again to Lakewood, where Kevin attended Artesia High School and played basketball under Coach Wayne Marino, who Kevin says is still like a father to him today.
It was there that his skills began to really take shape. Kevin dedicated every minute to playing and training. Marino saw something special in Kevin and worked with him to help Kevin reach his fullest potential. His senior year, Kevin received multiple awards, including MVP, and earned a scholarship to the University of Nevada – Reno. Eventually, he transferred to UCLA two years after their team had won the national championship and saw it as an opportunity to make it one step closer to his dream.
"I remember one time when I was in Argentina, and I was finishing up a paper at half time to send it in," he recalls. "It was not easy, but I am so happy I did it. It was an amazing time."
During his time there, however, it became clear to Kevin that he would not reach his goal if he continued to play with UCLA. The coach who had recruited him lost his job, and with that, Kevin felt he had been "fired," too.
"I could have stayed, but I would have just been a spectator on the bench, and I didn't want that," he explains. "I had major goals of making basketball a career."
Kevin transferred again, this time to Azusa Pacific University, where he helped lead the team to the NAIA Final Four and in 2000 earned the Conference Most Valuable Player honor.
While at Azusa, he was given the chance to shine. Kevin never made it into the NBA, but that wasn't his endgame. 
"My goal was to get paid to do something that I would do for free anyway," he says emphatically. "I wanted to get paid to play basketball, whether or not it was with the NBA." 
The first time he could say he achieved this mission was after being recruited to play internationally. 
"I was in Costa Rica, had a $1,000 check in hand, and I ran to my apartment crying because I reached a goal that I had set for myself from the time I was in Panama," he recalls.
Many more checks would follow. He would play professionally in Australia, Taiwan, and the Netherlands before being recruited by the Harlem Globetrotters in 2004. 
In a matter of months, Kevin became the face of the Harlem Globetrotters, a designation that stuck with him for a decade.
That experience was life changing. All told, Kevin visited 75 countries with the team, but his role extended beyond that of a player.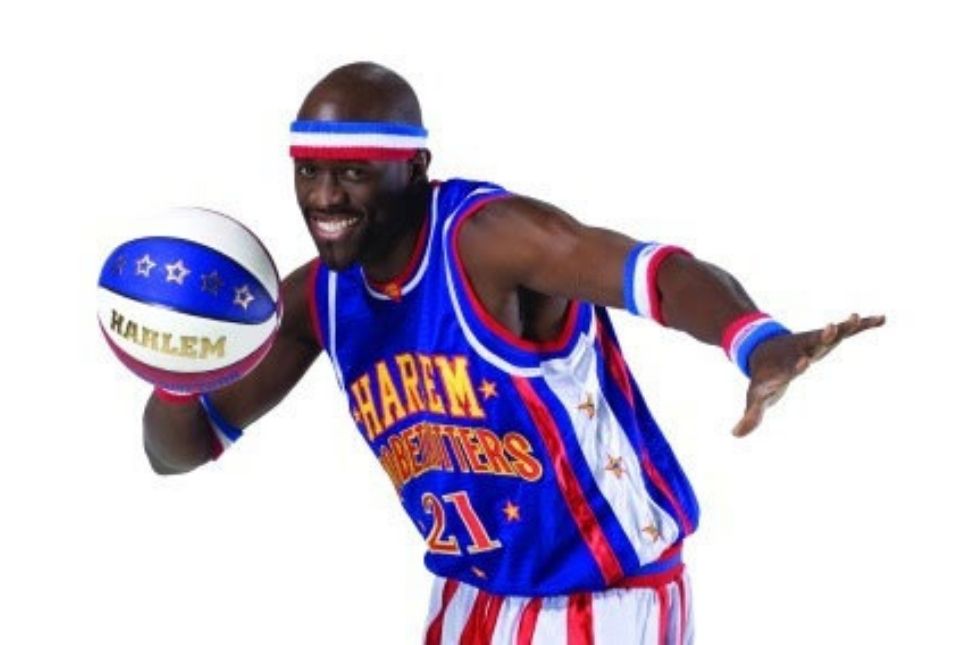 Kevin "Special K" Daley shines on and off the basketball court.
Throughout his travels, Kevin met with at-risk youth, sick adults, and many others who were encouraged and inspired by his story and personal wisdom. 
"Joining the team was way bigger than what I expected, and basketball was just a small piece of what we did as a team," he says. 
Destined for a Degree
In 2014, Kevin retired from basketball to spend more time with his wife and two daughters, and pursue other passions. 
Today, he is a motivational speaker and a senior director of sales for a fast-growing corporation based in Texas. 
However, his journey from player to business success wouldn't have been complete without a college degree. 
Despite spending several years attending multiple colleges, Kevin left his education behind in 2000 to pursue basketball without that accomplishment checked off his list. 
At one point, he decided it was time to finish what he had started years earlier. Not only did he make a promise to his father, but Kevin also wanted to set an example for his children and for those he addressed at various speaking engagements as a player. 
"I couldn't preach education when I had an opportunity but didn't get my degree," he explains.
Due to his hectic schedule, Kevin needed to find a school that offered courses completely online so he could do his schoolwork during his downtime. He also wanted to transfer the credits he previously earned. Ashford University (now the University of Arizona Global Campus) provided the ideal solution, and as soon as he committed to the idea, he enrolled. 
It was an exciting but challenging time for Kevin. In the year and a half that it took him to complete his degree, he played 500 games in 25 different countries and 150 U.S. cities, racking up over 50,000 miles.
"I remember one time when I was in Argentina, and I was finishing up a paper at half time to send it in," he recalls. "It was not easy, but I am so happy I did it. It was an amazing time."
The long hours paid off. In May of 2010, Kevin graduated with a Bachelor of Arts in Sociology. 
After retiring from the Globetrotters in his late 30s, Kevin entered the corporate world. At first, it was intimidating because he had no prior business experience.
"I was very afraid of failing," he admits. His wife, who worked in human resources, offered words of encouragement, outlining the skills Kevin had that would work to his advantage on his new path.
"Life definitely changed for me as a graduate," he says. "People respect me more and people are inspired by me in ways that I never thought possible; this time, it has nothing to do with basketball!"
"She said, 'You know how to build a team, be a leader, overcome adversity, fail and get up the next day' — attributes that most successful athletes have, yet I never saw it that way."
With this advice, Kevin pushed forward and launched the next chapter in his life. 
"She gave me the confidence I needed," he adds.
The first company he joined was a physician's staffing firm, where he broke records as an account manager. In six months, he was promoted into a role that normally takes 18 months to earn.
"They literally have a plaque on the wall with my name that says, 'fastest promotion ever.'"
From there, Kevin joined his current firm, where he currently serves as senior director of sales.
Sharing His Story
Basketball and business are just part of Kevin's story. He's also faced hardship that forced him to deal with pain as a small child.
At the tender age of three, Kevin's mother committed suicide. Although he has no memory of her, her death affected Kevin through much of his life and he often blamed himself. 
He kept his emotions bottled up but eventually sought counseling in his late 30s to help him address them.
"It was helpful, but it was very difficult for me to talk about," he reflects.
That is, until one day when he was a guest at Do the Write Thing, an event in Washington, D.C., for the winners of a nationwide contest for children 12 to 15 who wrote about their traumatic life experiences and their resilience.
While there, Kevin heard some very painful yet powerful stories and realized that it was time for him to address his past.
"Through them telling their stories, I was able to tell mine," he says. 
In 2014, Kevin published his award-winning autobiography "I Never Stopped Smiling," in which he details the adversity he has faced from a young age up through his pursuit of basketball and beyond.
The first time he freely spoke about his mother's death was in Chapter 1 of the book.
Through the process of writing it, Kevin discovered the importance of being honest and expressing his emotions. 
"I learned to not bury my feelings," he says. "You're not the only one going through tough times, and you need to let it out," he advises those who may also be struggling. 
Since then, Kevin has continued to share his wisdom, both from a personal and professional standpoint. In addition to his motivational talks (he even served as a commencement speaker during Ashford's 2018 fall commencement ceremony and is scheduled to speak at the fall 2022 Virtual Commencement ceremony), he also published the goal-setting workbook Never Stop Your Goals, and the leadership workbook 1 Plus One = TEN, inspiring organizations, associations, and senior executives through his S.M.I.L.E.S. leadership formula.
"Life definitely changed for me as a graduate," he says. "People respect me more and people are inspired by me in ways that I never thought possible; this time, it has nothing to do with basketball!"