Kenneth James' personal story reads like a script from an inspirational biographical drama. 
Fifteen years ago, his job as a sales rep came to a halt because the company relocated. While looking for a new local opportunity, Kenneth submitted his resume to a Jacksonville, Florida-based Fortune 250 firm, and he went to an open-call style interview even though he wasn't even sure what the position would be. 
"I was driving over a bridge when I got the offer," reflects the UAGC Alum of the Month honoree. "When the woman said it was for the mailroom, I thought I misheard her."
Despite having multiple offers on the table, Kenneth's wife encouraged him to take the mailroom job. 
"She told me, 'All you need is your foot in the door,'" he says.
Kenneth followed his wife's advice and accepted the job. Every day, he showed up to deliver the mail dressed for success, wearing a button-down shirt, slacks, belt, and dress shoes. He quickly discovered where he really wanted to work. 
"I delivered mail to every department in the building, including Human Resources, and every time I delivered mail on the HR floor, I imaged myself there," he says. "Walking that floor was the most thrilling 10 minutes of my day. I told myself, 'I'm going to be here one day and make it.'"
He didn't just dress the part. Kenneth took career improvement courses and went through training sessions. He even joined in activities that were not common for someone in a union position, including applying to Toastmasters and joining inclusion groups. He also earned his associate and bachelor's degrees from other institutions, all in an effort to reach his goal to work in HR. Meanwhile, he continued to ask for feedback from trusted leaders in HR as he developed a plan to transition.  
It wasn't long before people took notice of his determination, and Kenneth soon forged friendships as he sought ways to move up and out of the mailroom.
"I gained some champions and mentors along the way," he says. "They call me Kent at work, and they were Team Kent."
It took several years and a tremendous amount of dedication, but eventually, his hard work paid off, and Kenneth began rising through the ranks at the firm. 
Kenneth moved from the mailroom to labor relations but has since touched nearly every aspect of human resources, including diversity, equity, inclusion, and talent and acquisition.
"They kept seeing potential in me, and whenever there was a position open, I got an interview and the job," he says. "I would blow their socks off in interviews. I was 'that guy.' I was like a Maverick. There was no stopping me."
Today, he is the manager of learning and development and leads a team of instructional designers and professionals. In this role, he puts his newly earned Master of Human Resources Management from UAGC to use by helping the company's 20,000 employees reach their full potential.
It's not only his favorite position so far, but he considers it his "dream job."  
"Most people can't say they wake up to do the job they were meant to do, but I can," he says.
Always the Professor
Kenneth's journey to rising HR star didn't start in the mailroom. Rather, he unknowingly began forging his path as a young boy. 
Kenneth grew up in Jacksonville, where, as one of 12 children, he became an introvert, often escaping to a favorite book in which the characters became his friends. This past time eventually gave way to a passion, and because of his love of learning, his friends and family aptly nicknamed him "professor." 
Kenneth fondly recalls how he honed his leadership skills by practicing with his elementary school friends.  
"I used to gather my friends in the neighborhood and sit them on the steps in front of my house," he explains. "Between games of dodgeball and street football, I would teach them. And much to my mother's dismay, I once wrote a training agenda on my room wall with permanent marker when I was eight years old. I provided resources for people and developed leaders before I knew that was an actual thing."
Kenneth was constantly reading and writing and recognized that he had a strong desire to go to college. As he got older, he began to come out of his so-called shell, but he suppressed his longing for a degree because it was something his family couldn't afford.
Instead, he joined the school newspaper and even took part in speech competitions in high school, all in an effort to have his voice heard.  
Once he got a taste for sharing his passion with others, it became a fire he could not extinguish, even if it meant facing demons, Kenneth had once buried as a boy. 
Kenneth explained that he was abused by his kindergarten teacher, and a trusted adult also betrayed him. These two events would stifle his confidence, but not forever.
As an adult, Kenneth worked to overcome the damage caused and realized that he had an important story of resilience to tell.
It wasn't until a few years ago that Kenneth became comfortable in front of large audiences, but he understood that he would be doing a disservice if he didn't face that fear. 
With his newfound confidence, Kenneth has become an expert at training and has led a wide variety of leadership and development sessions at his firm.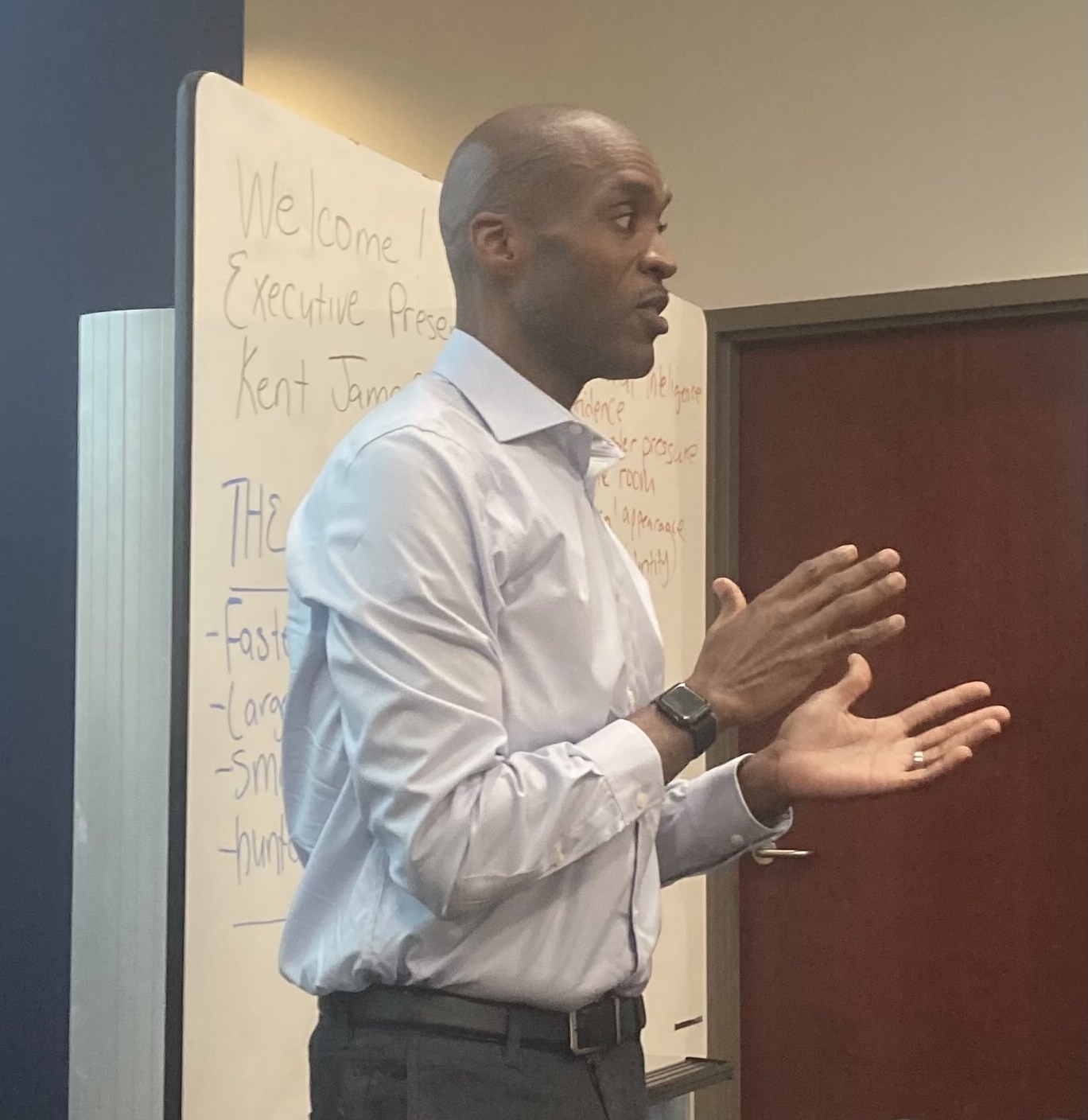 Kenneth James shines when he's doing what he does best: leading and training in his role an an HR professional. 
"The fact that I can be vulnerable again and be trusting and share with others speaks volumes and proves anyone can overcome any obstacle," he says. "I had to go from feeling like a victim to victor. I went to school, got married, had kids, wrote four books, and I've risen in my career. It was that thought that made me realize I am not a victim anymore."
In Sickness and Health
It took Kenneth nearly ten (10) years to earn his associate and bachelor's degrees, so when he decided to return to college to get his master's degree, he was determined to finish it without major gaps.
He set his sights on a master's degree in human resources so he could make sure he was qualified for the next role. 
"I wanted to position myself to go as far as I can go and be the most dynamic HR professional I could possibly be," he explains.
He says he was attracted to UAGC because of the flexibility of the course structure and knew it was the right fit, thanks to the support he received during the enrollment process.
"Every question was answered, and I knew I could be successful at UAGC," he explains.
Once he began the program, things were going as planned. Kenneth had a solid 4.0 and was about halfway done with the program when all at once, his plans took a detour.
"I found myself on the ground in immense pain," he explains. "My wife rushed me to the hospital where I had emergency surgery within hours." 
First, his gallbladder had to be removed, but with every surgery, there was another issue. He had trouble with his intestines, followed by blood clots, and then he had a problem with his liver. 
One thing led to another, and eventually, Kenneth was under a doctor's care from March through October 2020.
For someone who had never been sick in his life, it came as a shock to Kenneth, and he was disheartened. Although he tried his best to keep up with his courses, his health had to come first, and following calls with his academic advisor and instructor, he took an academic leave for a month to focus on his recovery.
"I was crushed," Kenneth admits. "I fought it every step of the way, but it was the best thing for me. When I was ready and healthy enough to return, they were right there to help me pick up where I left off. I ended up with a 'B' in that class. I worked hard, and I'm proud that I didn't give up. I graduated with a 3.75 GPA."
Through it all, Kenneth learned that he is tough and capable, if not even a little stubborn. Despite warnings from his wife to take it slowly, Kenneth was eager to return to class. 
"As soon as I was able to sit up in bed, I emailed my advisor, Anna, and told her I was ready to get back in," he says.
In October 2021, Kenneth finally earned his Master of Human Resources Management, and his confidence has soared. 
"I am what UAGC is all about," he says. "Life hasn't always been easy, but with grit and determination, I pressed forward."  
Part of Kenneth's job is to help his company's employees make decisions about going back to school and offer the best resources to help them match their needs and skills. While he says he typically remains unbiased, when he's asked about his personal experience, Kenneth is happy to tell them about his time at UAGC.
"I am able to share how amazing my journey has been at UAGC, and I've even supported others in their decision to attend," he says. 
Since his time at UAGC, Kenneth has gone on to earn two highly revered HR certifications: the Society of Human Resources Management Certified Professional (SHRM-CP) and the Professional Human Resources (PHR), both within two months of each other. 
"There's no greater feeling than working where your heart is," he says. "HR is my passion, and this degree proves to me that I belong here."
Kenneth's story is far from finished. The prolific author already has four self-published books with a collection of short stories in the works. As a self-proclaimed lifelong learner, he also plans to pursue some form of education and even envisions himself earning more degrees down the road.
"From the little kid training my friends on the front steps—to the guy with the mail cart willing myself into HR, I've accomplished one of the biggest goals of my life, thanks in great part to the amazing educational journey I've had at the University of Arizona Global Campus," he says. "I couldn't have written the script any better myself."
--
Certain degree programs may not be available in all states.