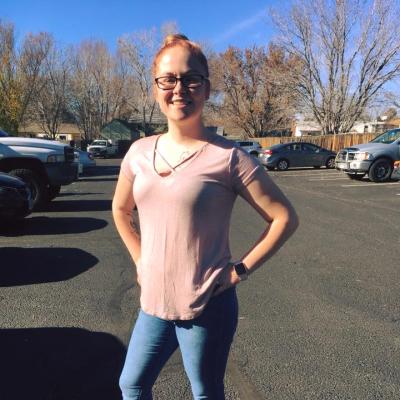 Biography
Were it not for a foxhole Katelyn Campos dug as a member of the U.S. Army stationed in Fort Carson, Co., she may never have discovered Ashford University*. 
"It was the best five-by-five-foot foxhole you could imagine," recalls Katelyn, who says her work received praise from sergeants, captains, and other higher ups. 
One evening after the dig, she was sharing stories with a sergeant who told her about his experience earning an online degree at Ashford University. 
"He told me how good it was to have a degree listed on his resume and how successful he had become since attending Ashford University," she says. "One thing I took away from that conversation was that I should get college done while I was in the Army so that when I got out, I would get my dream," she says.  
Several months would pass before Katelyn started her first class at Ashford, but once she did, she was committed to earning her degree no matter what obstacles she faced along the way.
Katelyn enrolled in the Bachelor of Arts in Psychology degree program in September 2016. In the first few months, she easily completed some introductory and general education classes, however a combination of the holidays and an exit from the military put a kink in her progress, and she failed a class.
Even a poor grade and a change in lifestyle didn't derail her plans, and by February 2017, Katelyn was back at school. 
Of course, having a husband who is a staff sergeant in the military means traveling often, and sometimes big moves – like relocating from Colorado to Georgia and back to Colorado in two years' time – can make focusing on her studies a challenge. As such, Katelyn took another short hiatus in the winter of 2017. 
Despite these multiple moves, returning to the curriculum was easy for Katelyn, who credits her advisor and instructors for making her many transitions manageable. 
"Every teacher I have had so far is very understanding and willing to help any way they can," she says. "Everyone was amazing and helped me with more resources and to get back on track. They really have the patience to deal with people."
Since returning to school a second time, she has started a career as a correctional officer at a maximum security prison, a job that requires 12-hour-plus days. Some might find such a taxing day a deterrent, but Katelyn has used the experience to teach herself better time management and focus. 
"I am able to work 40 to 60 hours a week, attend class, be a wife, and take care of my two tortoises, a cherry head red foot and a sulcate, both that require a lot of attention," she says. "Before Ashford my time would be spent doing a lot more careless things."
As a student, Katelyn has discovered a lot about herself. In addition to juggling her family, responsibilities, and school, she has found her career path. 
"Pursing my degree will be so meaningful because in my line of work, having a college degree helps you to move further up the line," she says. "Also, with my degree in psychology, I can help the inmates at the prison."
Katelyn's plans don't end at the correctional facility. She intends to continue on with her education to earn a master's degree and ultimately a doctoral degree from Ashford. Her goal is become a forensic psychologist. 
In the meantime, she is enjoying the hands-on learning experience she has had thus far noting one of her favorite classes has been an environmental science class.
"I received this big box full of different scientific utilities to create the science experiments myself," she says. "It wasn't just reading and taking notes. I went through a block on instructions, made sure I was doing it right, and found out the results myself. It was a lot of fun."
 
Not everything is done independently, she says, acknowledging that whenever she enters the virtual classroom, she also accesses the UAGC Writing Center and the UAGC Library to ensure she maintains her focus and tackles her assignments "one chapter at a time."
"Whether you're a full-time parent, worker, or military member, you still need to find the time and teach yourself the context, so you have to take notes, understand and look up credible sources, and make sense of the class," she says. "But it is possible. My experience at Ashford has been convenient, life changing, and worth it."
* Ashford University is now the University of Arizona Global Campus