Jodi Raymond knows what she wants out of life.
 
Getting to that place has been anything but easy. Even before Jodi enrolled at Ashford University* (now the University of Arizona Global Campus), she developed a deep understanding of how life's experiences – "the school of hard knocks," as she says – shape the trajectory of a person's path. The way we respond to hardships, and the decisions we make when staring down our own personal tragedy can determine the direction of our lives.
Jodi's college journey started right after she graduated high school, when she attended Boise State University in her home state of Idaho. Hoping for a career in diplomacy, she sought a double major in international business and political science with a double minor in French and Russian. 
"At the time, other than English, French was secondary for conducting business," she explains. "The Soviet Union had just broken up and Boise is a shelter city for immigration, and we had family friends that had escaped to make their new lives." 
Then, she met her husband and plans changed. She decided to get married and raise her family with only three semesters left to complete.
 
"I was happy to raise my family, happy to work," the mom of now 22-year-old twins tells us. But there was always something missing.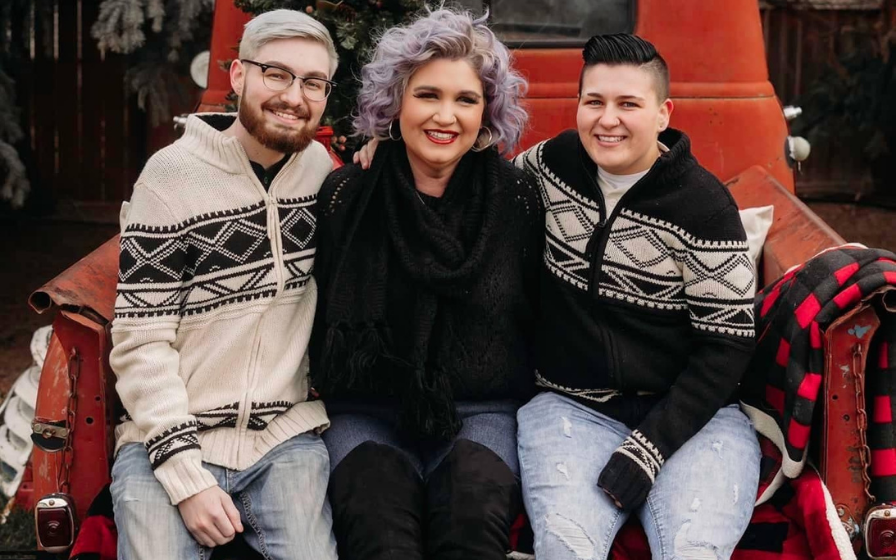 Jodi, center, hopes to inspire her children by earning her degree from UAGC.
A Turning Point
Nearly 25 years into her marriage, Jodi's husband was diagnosed with a rare cancer, and everything changed for her family. 
"[I] watched the strong man that I loved turn into another person and fade away before my eyes," she says. "I became a caregiver, nurse, and ultimately felt like anything besides his wife. I felt lost, and I had faded into the background of my own life. I was a shell of a person and had no idea who I had become."
Ultimately, Jodi's husband lost his battle, leaving a hole in their family and in Jodi's heart that she didn't readily know how to fill. This devastating loss served as the catalyst for her journey to self-discovery. 
"I honestly was at a crossroads and grief can be a powerful motivator," she explains. "I decided that I needed to do something besides sitting around and feeling sorry and falling into a deep depression." 
Thanks to her supportive employer, T-Mobile, who Jodi describes as 100% invested in their employees, and their partnership with UAGC, the choice to complete her BA in International Business** was simple. 
Well, almost. 
"I have never been so terrified to submit the online application, but I had an amazing supervisor," she says.
Her supervisor asked her a very important question: "What are you waiting for?"
Without hesitation, Jodi says it was having to write papers that scared her the most. But with the support and encouragement she needed, Jodi applied adding there was "no way to back out."
While Jodi has always loved school, like many UAGC students, she had not written a paper in a long time. It had been nearly 30 years since she had written a full paper, and she was afraid of failing. In her first course, the writing process was a struggle. Thankfully, a co-worker, who had just completed the same course, was able to help her dissect the assignment, which is a skill she has maintained throughout her coursework. 
She was also able to take advantage of the resources offered by UAGC to help her gain confidence and succeed. 
"The Writing Center and resources like Grammarly and the Library are a godsend," she explains.
For Jodi, who is driven by a desire to build upon her current career success, the online platform was what she needed to be able to reignite her passion for International Business that began nearly 30 years ago. 
"I don't have the extra time to be spent running all over town and a campus to sit in a classroom for hours," she explains. 
From the start, she surprised herself, quickly falling into her own classroom routine and getting good grades – even in subjects like math, accounting, and statistics, where she had previously struggled.
"I can pick up a foreign language better than I understand math," she says. "When letters became numbers, they lost me."
This time around, her sheer determination and actively using UAGC tutoring services made all the difference in those tricky areas.
She has maintained a 3.95 cumulative GPA and a 4.0 GPA in her major courses, and she has joined the Sigma Beta Delta and Alpha Sigma Lambda honor societies.
She's grateful for the process and for the lessons she's learned along the way.
"My father always told me that school is about perseverance," she shares. "It's not about what you actually learn, but the process in which you go through to learn the material."
Building a Future of Possibility
Jodi's life looks quite a bit different these days. Not only is she preparing to graduate in November – meeting her goal of graduating before her kids do – she's also started helping people around her reach their goals. 
"I'm like the poster child at work for school," she says. She even helped her boss understand concepts in some of his courses. 
Through all of the trials Jodi has faced, she's realized that she is much stronger and smarter than she ever gave herself credit for, and she hopes that her journey will also inspire and motivate her two kids.
So, what's next? True to her major, Jodi has her passport ready, and she is excited to add some stamps. First stop: Mexico, where she is planning to celebrate her graduation. 
That's just the beginning of her plans. Jodi currently works as a Customer Service Representative in her company's Team of Experts, but she's ready to make an impact on a global scale.
"My ultimate goal is to take that perseverance and transition into my company's global division," she says. The locations she has her sights on are in the Philippines, Costa Rica, and Ireland. 
"Whatever one wants to pick me up, I will be more than happy to partner with," she says. 
"My goal is to help bridge the cultural gap so that our consumer base never knows if they are speaking to a representative within the United States or outside of our borders," she explains. "We are one family and need to demonstrate passion and consistency while aiding our customers." 
Through her journey, Jodi has gone from being a caregiver to allowing herself to receive the push to go back to school, to helping and supporting those around her with the knowledge she's gained. While she says her husband had some concerns about the time commitment of going back to school when he was alive, Jodi knows that he would be cheering the loudest at her graduation.
"He always knew I had more in me," she tells us. 
What's the ultimate lesson?
"Me going back to school is proving that life goes on and you can find a new happy place," she says. 
It's all led her to a place where she feels like herself. 
"Thank you for helping me to discover who I am meant to be," she says.
--
Whitney Bradford is a UAGC Content Specialist and former Academic Advisor for Ashford University.*
*Ashford University is now the University of Arizona Global Campus.
**UAGC no longer offers this degree program.
Certain degree programs may not be available in all states.