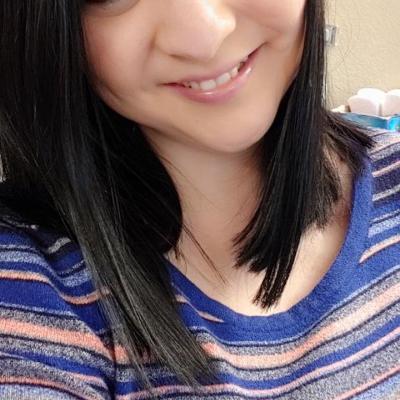 Biography
At nearly nine months pregnant and while completing her third degree at Ashford University*, it would be an understatement to say that Jaime Pluta is good at being productive and staying on track. This mother of three is quite the expert. While many expecting moms might be focusing on what clothes and toiletries to include in their hospital delivery bag, Jaime has a different essential on her must-pack list. 
"I keep my laptop always charged up and ready to go," she says. "It's going to the hospital with me, and as soon as the baby comes out, my plan is to just keep on going with my schoolwork."
Due with her fourth child at the end of March 2020, this isn't Jaime's first foray in navigating life with a newborn baby while taking university classes. She initially went back to school in 2012 for her Bachelor of Arts in Journalism and Mass Communication when she had her first daughter, Abby Jean. Since then, she's had two more children (sons Enio and Mateo), earned her Master of Arts in Teaching and Learning with Technology**, and started her next master's degree without skipping a beat. 
When her baby arrives, this ambitious mother will be juggling three children ages three and under and be less than a year away from earning her Master of Arts in Special Education. 
"I've always been told I wouldn't be able to do it," she shares. "Even when I had only one child, I was told that there was no way I could go to college and be able to balance schoolwork and family. But if someone like me who has had so many ups and downs, and now with almost four kids, if I can go for my second master's degree, that's proof anyone can do it."
Her secret to keeping up with her studies while raising a growing family? Always stay ahead of the game. 
"Before a new class starts, I go in as soon as the schedule opens up and write down every single thing that is due in the upcoming weeks," she advises. "Then, I go in and start doing all the discussions as early as possible. The more you can do things ahead time, the easier it is to stay on track. Never wait until the last minute." 
Jaime's days are typically well-organized, which allows her to check things off her to-do list while keeping the household happy and running smoothly. She wakes up at 6 am to get her daughter ready for school then takes a peek at her schoolwork around 9:30 to see what she needs to accomplish for the day. Once her boys are settled down after lunch, she jumps onto the computer to get as much schoolwork done as possible. 
"After 7 pm (bedtime) is when I can really settle in and get to work," she says. 
Jaime first decided to go back to school in 2012 shortly after her mom passed away. She had relocated with her parents from Seattle to South Carolina and was looking to earn her degree online in the field of journalism. 
"At the time, I was interested in getting the news to people, but then you get older and your idea of a career changes," she acknowledges. That's when she went back to get her Master of Arts in Teaching and Learning with Technology.  
As she earned that degree, Jaime realized the true potential afforded by online education, both for herself as a student and in her future career options. 
"I've learned that technology really changes the way we learn and how we connect with each other," she says. "It's not about social media and meeting up with friends, but as a way to learn and get a better education than we ever dreamed could happen."
As she narrowed her focus, she recognized her true passion, and she decided to earn her Master of Arts in Special Education. 
"When I was younger, I found out I had learning disabilities and had difficulties all the way from elementary school up into high school," she admits. "People think you can't do it, but when you discover you actually can do it, and you make good grades, you prove people wrong, and it's inspiring. I want to be able to help other kids who may be struggling and show them that they, too, can do it."
Jaime's goal after graduation is to become a Special Education Instructor online† for elementary children with disabilities that may prevent them from attending school in person. 
"Now that I'm in this program, I know this is what I love, and this is where I belong," she says. "I could happily do this for the rest of my life."
Inspired by her success in school, her husband, Keith, also is now enrolled in online classes. 
"My husband motivates me a lot," says Jaime. "I have a tendency to be hard on myself when it comes to grades. Even if I get a B, I can put myself down about it. He really helps me stay motivated and encourages me to stay positive."
During her time at Ashford University, Jaime has also made lasting connections with her fellow students, including her best friend, Nicole. 
"It's crazy how things work out, but we are both currently pregnant, due four days apart from one another," she says. "She lives in Michigan now, and I live in South Carolina, but when you meet people like her, distance doesn't matter. You know you have support and someone who's there for you if you need something."
Although Jaime credits her husband and best friend for providing her with the support she needs to reach her goals, she acknowledges her success has a lot to do with Ashford.
"Success starts here at Ashford University because what they strive for is your progress and satisfaction," she says. "I feel like I've gained so much from 2012 to 2020, and you will, too."
* Ashford University is now the University of Arizona Global Campus
** This program is no longer accepting new enrollments. For information regarding programs currently offered by the University of Arizona Global Campus, please see the current Academic Catalog."
† Certification and Licensure Terms and Conditions: An online degree from the University of Arizona Global Campus does not lead to immediate teacher licensure in any state. If you want to become a classroom teacher, contact your state's education authorities prior to enrolling at the University of Arizona Global Campus to determine what state-specific requirements you must complete before obtaining your teacher's license. The University of Arizona Global Campus graduates will be subject to additional requirements on a state-by-state basis that will include one or more of the following: student teaching or practicum experience, additional coursework, additional testing, or, if the state requires a specific type of degree to seek alternative certification, earning an additional degree. None of the University of Arizona Global Campus's online education programs are accredited by the Council for the Accreditation of Educator Preparation (CAEP), which is a requirement for certification in some states. Other factors, such as a student's criminal history, may prevent an applicant from obtaining licensure or employment in this field of study. All prospective students are advised to visit the Education Resource Organizations Directory (EROD) and to contact the licensing body of the state where they are licensed or intend to obtain licensure to verify that these courses qualify for teacher certification, endorsement, and/or salary benefits in that state prior to enrolling. Prospective students are also advised to regularly review the state's policies and procedures relating to licensure as those policies are subject to change.