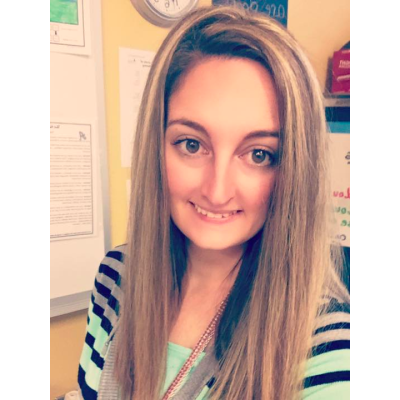 Biography
Heather Petty made all the right moves to become a successful grade-school teacher. But once she started teaching, she quickly found out she wasn't as prepared for the job as she thought she should be. With the help of Ashford University*, Heather was able to fill in the gaps and become the teacher she wanted to be. 
Heather earned her bachelor's degree in Early Childhood Education from a local college in New Mexico back in 2015. Almost immediately after graduating and pursuing the path to become credentialed, she landed a job teaching a second grade class that had been under the supervision of a substitute teacher for more than a month. The job was a great opportunity for Heather, but it was also an eye-opener.
"Upon accepting the job, I quickly realized that I was not ready or fully prepared to help kids be successful readers," Heather explains. "As soon as I realized this, I began looking into colleges to continue my education and to gain the knowledge I needed."
By this time, Heather was working full-time and needed to find a college that would fit into her schedule. To complicate matters, Heather is a military spouse so she needed a school that would be flexible.
"Finding a college that would work with me was proving to be almost impossible until I found Ashford University," Heather says.
At Ashford, Heather found the degree program she wanted and the flexible online education that she needed. She enrolled in the Master of Arts in Education program. 
"From day one, the staff was just lovely," Heather says. "They answered all of my questions, helped me set up using my husband's GI Bill® as tuition payment, and they were always so happy when we spoke on the phone. It never felt as if I were bothering them. They wanted to help me in every way they could."
In particular, Heather was pleased with the way Ashford accommodated the demands of her husband's military service. 
"Being a military spouse, sometimes things come up abruptly with no warning," Heather says. "My professors were very understanding and worked with me in order to help me be a successful graduate student." 
She was also impressed with her academic experience at Ashford. "My professors throughout my degree were fantastic." 
More importantly, Heather reports that the information she learned in her classes has been useful in her career.
"As I worked my way through my degree with Ashford, I found many opportunities to utilize what I was learning in my own classroom," Heather says. "It greatly helped my students become better readers because I had a better understanding of how the reading process works, and how to better assess and differentiate for those who were struggling."
Heather completed her master's degree in 2017. Her degree remains a great source of pride. 
"My degree from Ashford is something I am proud to now have on my resume," Heather says. "It has made me a better teacher, a more qualified teacher, and I am a proud Ashford University grad!"
 
* Ashford University is now the University of Arizona Global Campus