There is no right way or appropriate length of time to take earning your degree. Debbie Lyster knows this all too well. She also knows even if it takes longer to achieve a goal, keep working toward it even if there are challenges, obstacles, or even professional successes that require your attention along the way. 
"You cannot finish if you do not start," Debbie understands. "It is OK to prioritize your educational goals and let some other things go for a period of time, and it is also OK to chip away at it. You can do it, no matter who you are, where you are. It is possible, and you will get to the end if you just keep showing up."
When she graduates with her bachelor's degree in business administration from the University of Arizona Global Campus (UAGC), Debbie will meet a goal she made as a teenager. While her degree from UAGC will be the first time she has a physical diploma in-hand, her life has been shaped by the lessons she's learned along the way.
Destined for Lifelong Learning
Debbie grew up in California, the youngest of eight siblings – by a lot. "I have an older brother and sister 14 and 15 years older than me," she states. 
Her mother only completed formal education through the ninth grade, while her father dropped out of high school right before graduation to join the military. Debbie says her dad was a lifelong learner who went back to school many times throughout his life and always encouraged pursuit of knowledge in whatever form it came.
"He was a huge proponent of learning," Debbie says of her father. "My mom – even though she didn't finish school, she encouraged college for all of us."
Debbie says she was influenced by her parents' strong work ethic and growing up in a small town with a very small graduating class prepared her well for the next step. "We were prepped for college really well," she says. "We all tested really high; we all got accepted to multiple schools. Seven out of eight of us went on to college." 
Debbie says the option to quit learning or not pursue higher education never felt like a viable one for her. "I just thought it was what you were supposed to do," she says. 
When Debbie finished high school, her first plan was to attend drama school. 
"I wanted to be an actress," she explains. "I was super 'green,' so at my tryout, they suggested I do a year or two of community college and come back."
Life had other plans for her.
Starts and Stops
As Debbie finished high school, her parents separated, and she soon moved from California to Phoenix, Arizona, where her sister lived. Debbie says while her parents ended up back together, the separation took a toll on her mom, and she felt like she had the weight of the world on her shoulders. 
Debbie started working a retail job, and she did go to a local community college as she had planned, though not right away. 
"It was really brutal," she describes. "I was working six days a week, usually about 50 hours a week or so. I was barely 19. It was just a lot." 
                                           
Soon, Debbie got a job working for an insurance company that had a tuition reimbursement benefit. Plus, she had a coworker who also resolved to go back to school. So, she took more classes. 
"It was just like if you have a workout partner," she says. "It was someone who said, 'We can't quit.'"
It was helpful for Debbie to have someone to talk to who was also going to school as a busy, working adult. Ultimately, Debbie didn't finish her degree, but she knew her pursuit wouldn't end there.
Years later, at 40 years old, Debbie became a mom. She moved back to California from Arizona, got a new job, and worked her way up to a senior manager role that carried an intense amount of responsibility, but she was always seeking more.
"I had been promised a directorship four or five times throughout my career," she says. "From a career perspective, I probably just needed to finish the degree. It was always looming over me."
Debbie says she always wanted to finish, but she was doing well in life. Despite not yet receiving a director position, she was successful in her career, made good money, and that made it easy to put school on the back burner. When she had her daughter, it gave her a new purpose. 
"She needed to know that I could do it, that she could do it," she states. "It just became so much more important."
As a woman and mother of a young daughter, Debbie says she felt she needed to set the example that women are smart, powerful, and capable. In the workplace, Debbie has certainly experienced doubts and has had her knowledge and capabilities dismissed by colleagues. She has never let any of it slow her down.
In 2017, Debbie was back at school at another university and completed two full years of coursework. Then, in 2020, her employer launched a grant partnership with UAGC. While she did like the school she previously attended, having her tuition covered seemed like a no-brainer.
Her plan was to start working toward completing her degree in 2020, but the workload she took on at a new job prevented her from taking the leap. 
"My work schedule and stress level ramped up exponentially and I ended up taking the year off and resuming in January 2021," she says. "I was working 12 to 14 hours a day. There was no way to do school and that."
Debbie found a new position one year later that put her in the right place to finally finish her degree. Equipped with years of transfer credits, Debbie started classes at UAGC to complete her Bachelor of Arts in Business Administration.
She was on her way, but of course, there is no way to predict life's plans. In August of 2021, just over six months after starting courses at UAGC, her family was evacuated due to a large wildfire, so she took a short break. She says she recognizes how fortunate she and her family were through that situation. 
"We were lucky. We could afford to be in a nice hotel; we were safe," she confirms. "But it was still stressful – just not knowing. You don't even know what to bring."
Fortunately, Debbie's family home was not damaged, and she returned to school a short time later more determined than ever to finally complete her degree, which she is just on the verge of achieving.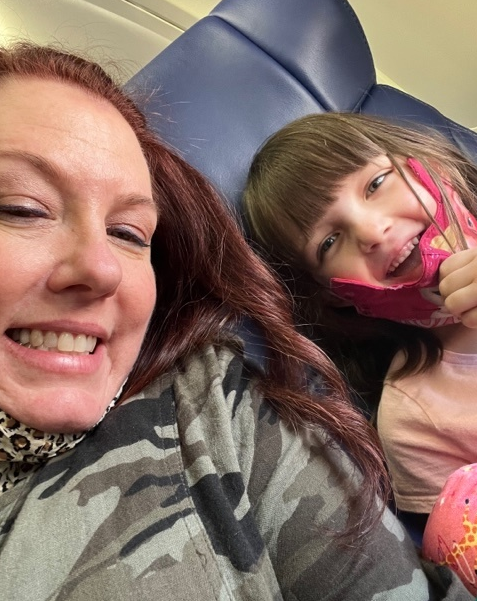 Debbie says having her daughter made it more important for her to complete her degree.
To Be Continued
Debbie's college journey may have been longer than she expected or intended, but she's grateful for how it all turned out and for the support she received from her family and her UAGC advisor to finally earn her degree.
"My husband is a stay-at-home dad," she says. "I think that allows him to be a little more supportive when it comes to school. There are still times he says, 'Hey, I need some of your time, too.' That is definitely a balance."
As a self-described "people pleaser," Debbie says setting appropriate boundaries is a skill she lacked as a younger student that she has now been able to leverage. She admits allowing her career or personal relationships to drive her did not provide her the space she needed to prioritize her personal goals like school.
Debbie is excited for her upcoming graduation, and she plans to take a trip with her family to celebrate not only her degree, but her husband's, which he earned in 2020.
As far as her next chapter, climbing the ladder has admittedly become less important to Debbie over the past few years. She currently works in mental health innovation, and she is happy. However, she has her sights set on becoming an educator at the post-secondary level later in life.
She knows that means more school, and she'll be ready when the time is right. 
"I'm going to take a rest and enjoy the fact that I did this," she says. 
Debbie says she hopes her accomplishment shows her daughter you can make education a priority regardless of your circumstances. And while her father who taught her that learning should be a lifelong pursuit passed away in 2018, she knows he would be proud.
"I will be just one month shy of 47 years old when I graduate with my bachelor's degree. But it is never too late," she exclaims. "I know I will hear a whisper in my ear when I finally have that diploma in my hand that says, 'That's fantastic, kid.'"
--
Whitney Bradford a UAGC senior content specialist and former university advisor.
Certain degree programs may not be available in all states.