Although he's not yet 23, our February Student of the Month Dan Fiore is tackling his career and educational ambitions with a sense of purpose that belies his youthfulness. Currently active duty in the U.S. Navy, Dan spends his nights working as an aviation mechanic at a base on the East Coast. When he gets off work around 3 am, he hits the gym, sleeps until noon, and then starts cracking the books to work on his studies. 
Dan's goal is to graduate with his Bachelor of Arts in Human Resources Management before he gets sent out on another U.S. Navy command this November. From there, he plans to go into the U.S. Navy Reserve as he continues his education. The end objective? Helping others, and inspiring change in the community. 
"Five years from now, I hope to have my master's and be working in Washington, D.C. or the Philadelphia area in the field of learning, development, and training others," says the south New Jersey native. 
Eventually, Dan would like to establish a non-profit that addresses economic inequality, an aspiration sparked after witnessing the Black Lives Matter protests that took place in 2020.  
"I would love to start an organization that could help address equity in areas where low income and income inequality may be holding people back — training teenagers, young adults, veterans, etc., giving them the skills, trades, and leadership know-how to be able to make better lives for themselves and their families," he explains.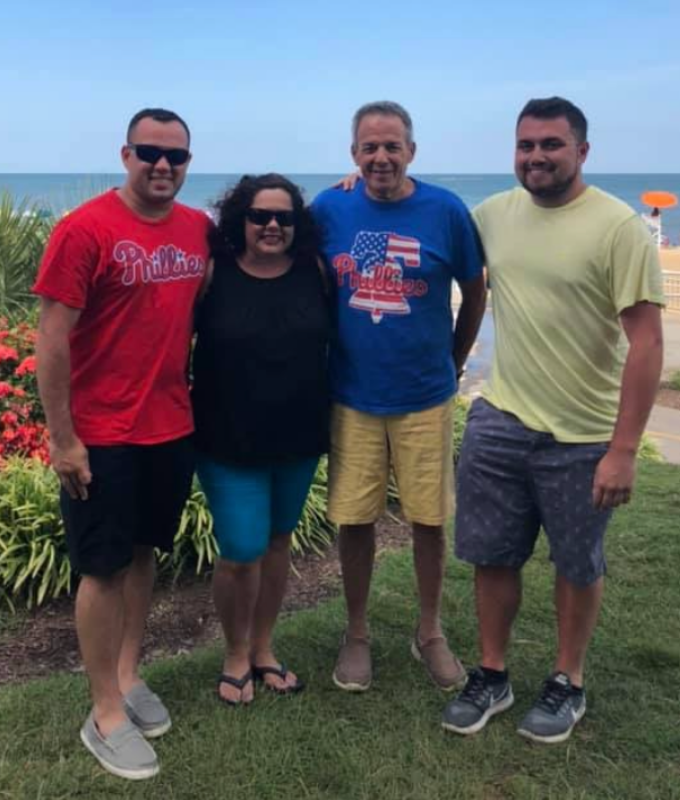 From left: Phillies fans, Dan is shown here in Virginia Beach with his mom, Jodi, dad, Carmine, and his brother, Nick.
Growing up near Philadelphia, he attended St. Joseph Academy in Hammonton, New Jersey, and played football and baseball. Dan was also senior class vice president and did an internship with a local congressman. When he graduated from high school, he briefly attended a nearby community college but says he wasn't into it. Today, however, he is telling a different story and reshaping his future.
Acknowledging that the end of 2019 was a difficult time for him personally, Dan says that the pandemic hitting in 2020 surprisingly had some silver linings because it made him step back and reexamine who he was as a person. 
Dan credits one of his UAGC classes for really opening his eyes. 
"In my experience at UAGC, there have been a few 'awakening' classes and experiences that made me a better person overall," he notes. "One of my favorite classes, which is weird to say, was microeconomics. It was really interesting to see how economics affects society and makes the world what it is."
A Mentor to His Peers
His experiences in the past two years also made him realize he wanted to volunteer more but couldn't because of the Covid-19 pandemic. 
However, that changed when he reached out to his academic advisor. That conversation led Dan to the UAGC CHAMPS Peer Mentoring program. Because it was all virtual, it turned out to be the perfect outlet for him.
"Through CHAMPS, I am trying to make a difference by helping students get back into the groove of things," he notes.
The volunteer opportunity has paid off in many ways. In addition to meeting people from different backgrounds and places, he's also been able to earn college credit for his mentoring. 
In 2021, Dan became the first UAGC student to receive college credit for his work as a CHAMPS mentor through the Prior Learning Assessment (PLA) program. Through PLA, students may be able to apply up to 30 PLA credits toward their bachelor's degree by completing Sponsored Professional Training or the Experiential Learning Credit workshop. Undergraduate students who are approved to be CHAMPS Mentors may also earn credits through the PLA program by meeting the prescribed requirements of the CHAMPS program. 
Dan earned some of his credits by attending live videos presented by many of the leaders at the Forbes School of Business and Technology®, where he says he learned a lot about diversity and inclusion, mindfulness, and emotional intelligence. 
Change for the Good
Now as Dan gets closer to finishing his degree, he's also focusing on making professional connections through school and by networking on sites such as LinkedIn. In fact, he's even serving as an officer for the Global Black Community Club, an additional opportunity where he is able to volunteer while also contributing to the UAGC club's mission of promoting camaraderie, academic excellence, critical thinking, and the preservation of Black history. 
All of these efforts, he says, are part of his desire to change the world around him for the better. 
"Instead of just talking about change, I want to help make that change happen."
--
Certain degree programs may not be available in all states.