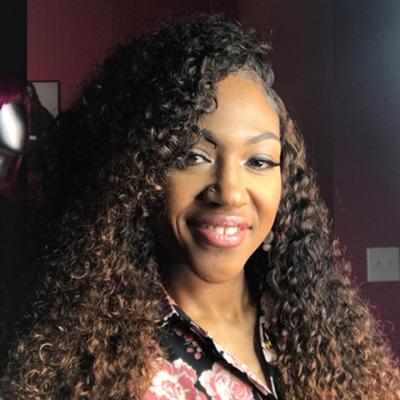 Crystal Hudson
2017
BA in Health Care Administration
Biography
A serious health concern changed Crystal Hudson's whole life. But it also brought her a new sense of purpose and a determination to help others suffering from illness. At Ashford University*, she found the tools to help put her life back on track and pursue her new passion.
In 2010, while on deployment with the Air Force in Baghdad, Crystal began to experience severe headaches. CT scans and X-rays were inconclusive, and an unexpected pregnancy exacerbated her symptoms. She undertook extensive research of her symptoms, all while trying to manage her pain and maintain the Air Force's stringent physical training standards.
Eight months after she had her baby, Crystal was deployed again. This time, her headaches resulted in blackouts, and she started to lose feeling in her extremities. But she was determined to fulfill her deployment and passed up a chance to go home.
In 2012, Crystal transitioned to a new base, and her symptoms became worse. She hid her condition from her kids and tried to maintain a normal life for them. But coming back from her child's cheerleading practice one day, her whole body locked up and she could not move. "I had to instruct my daughter to bring the car to the side of the road," she says.
Shaken by the danger they narrowly avoided, Crystal pored over her medical records. Comments from an MRI held a clue. She searched the Internet and came up with a potential theory: Arnold Chiari Malformation. Chiari malformations are structural defects in the cerebellum, the part of the brain that controls balance. Symptoms include dizziness, muscle weakness, numbness, vision problems, headaches, and problems with balance and coordination.
When Crystal returned to the base medical center and showed copies of the film to medical staff, they confirmed that the lower part of her brain did indeed protrude into the spinal cord, consistent with Chiari malformation.
She went to a neurosurgeon, but Crystal continued to advocate for her own health. She once again completed online research and found a book that helped her understand which treatments were available for her rare disease. While at the emergency room for a case of strep throat, she had a chance encounter with a doctor that led her to connect with a patient who had the same disease. That patient had seen a doctor in New Orleans who specialized in Chiari malformation.
She met with the specialist just in time. Her condition had seriously deteriorated, and brain tissue was going further into her spinal canal. Her spinal fluid was blocked, and she needed immediate brain surgery. Even the specialist working on her case didn't fully comprehend how much her condition had degraded until the actual surgery. "If I hadn't done my research and taken the steps that I did, I would have been paralyzed and eventually died," she says.
The surgery was a success, but ultimately her condition put an end to her active duty career. With the military behind her, she wanted to enter the medical field as a nurse. Unfortunately, Crystal could no longer meet the physical demands of the job. Undaunted, she started looking for other careers where she could help people lead healthy lives. That was the search that brought Crystal to Ashford University.
At Ashford, Crystal found numerous health care degree options and decided to pursue a BA in Health Care Administration. She continued to face complications from her medical condition, but she was able to continue her education with the support and flexibility of Ashford faculty and staff. In fact, Crystal excelled at Ashford, maintaining an A average throughout her degree program. She was also invited to join both the Golden Key International Honour Society and SALUTE Veterans National Honor Society.
Most importantly, Crystal's education will allow her to help people manage their health. By the time Crystal graduated from Ashford, she had already helped three other people discover that they, too, suffer from Chiari malformation. "I'm a survivor, and I feel called to educate as many people as possible," she says. "I'm an advocate for this disease because I understand how important it is to be diagnosed correctly so no one else has to endure the pain and uncertainty that I went through."
* Ashford University is now the University of Arizona Global Campus