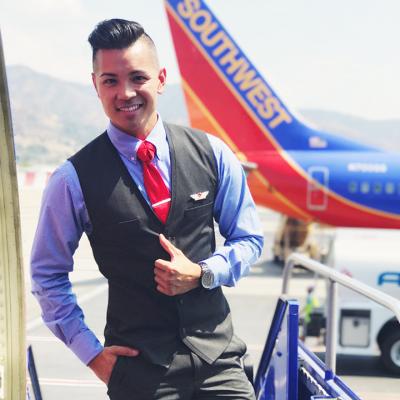 Chris Lorenz Marcelo
MA in Organizational Management
Biography
As a flight attendant for Southwest Airlines, Chris Lorenz Marcelo has had a fulfilling career that has allowed him to travel 1000s of miles, yet he wasn't sure where he was headed professionally. He had already earned a bachelor's degree, but five years into his role with the airline, Chris realized he was ready to take on new challenges, further excel in his position at Southwest, and explore new opportunities that involved educating others on the importance of organizational leadership. That, however, would require another degree.
Chris began researching his options, and after reviewing Southwest Airlines' partnership with Ashford University* as well as Ashford's mission, vision, and purpose for its students, he took what he says was "a leap of faith" and reached out to an enrollment services advisor.
"He encouraged and motivated me, provided a lot of information, answered my questions and that's when I decided to pursue an MA in Organizational Management from Ashford," Chris says.
Initially Chris was hesitant to attend an online institution. English is his second language and he typically enjoyed face-to-face interaction with his teachers and peers. After just two days into his first class, he felt confident he made the right choice with Ashford University.
"I felt comfortable because the Ashford faculty and staff member regularly communicated with me through discussions, weekly assignments, and lectures," he says. "The professors' comments and suggestions helped me grow as a writer, reader, and researcher. They helped to strengthen my thinking skills and gave me the confidence to pursue my goals." 
Returning to school tested Chris's endurance, time management skills, and comfortability in telecommunicating, and acclimating to life as a student while flying full time for work was challenging, but he stayed motivated thanks to the supportive Ashford community and resources available to students.
"I remember doing homework in different overnight cities," he says. "Even though I felt my daily schedule was full and busy, I was able to adopt new ideas and strive to find additional research to expand my thinking."
Along the way, Chris sharpened other skills, including his writing. He regularly relied on the Writing Center and library, as well as Peer Review, which allowed him to interact with staff and ask questions pertaining to grammar, organization, citation, and research analysis. 
Earning his degree has been a meaningful experience for Chis both personally and professionally. As a student, he was able to remain active in the community and participated in the Golden Key International Honour Society and Sigma Beta Delta. His interactions at Ashford challenged his critical thinking from a multifaceted area of leadership, management, and organizational development and opened additional opportunities on how to become more competent in the professional world while maintaining diligence in achieving personal goals. 
As a flight attendant, he is able to apply theoretical knowledge, empirical research, and experiences from his studies to handle situations on the job, such as passenger conflict. "I'm able to apply everything I learned from my professors, classmates, and research to my current profession."
Chris expects to graduate in October 2018, and he has had such a positive experience that he is planning a joint research study about servant-leadership at Southwest Airlines with one of his favorite professors, Dr. Lora Reed, who teaches the Business Ethics & Social Responsibility class. He also remains a positive ambassador for Ashford University, sharing his experience with family, friends, passengers, and crew members.
"Southwest Airlines opened the door for me to pursue my goal in attaining an MA because the company believes in its employees' growth and development," he says. "Making a phone call to Ashford University was one of the best decisions I've ever made. And my admission 'ticket' to Ashford University was one of the best 'flights' of my life."
* Ashford University is now the University of Arizona Global Campus