You're considering a doctoral degree, but you're unsure which program best aligns with your passions and professional goals. If you're wondering what can you do with a doctorate in human services?, you've come to the right place. 
Continue reading as we dive into how you apply knowledge gained from a PhD in Human Services program – such as social work and administration, quantitative and qualitative research methods, and sociocultural influences – and find your next career with your doctoral degree. In this blog, we will break down what you can do with a doctorate in human services, examples of some PhD in Human Services jobs, salary potential, job outlook, and more.
What Can You Do with a PhD in Human Services?
There are plenty of careers to pursue with a doctorate in human services, and you may have even entered into the program with an idea or general area of interest. When you want to narrow down your search, consider your coursework, research focus, and what motivates you. U.S. News asserts that your classes in this program include evidence-based practices, contemporary human services, and ethical standards in the field. Organizational leadership is another key focus of a PhD program. With these topics alone, there is a plethora of human services careers from which to choose. 
What Are Some PhD in Human Services Jobs?
A doctorate in human services is the terminal degree of its field, which is notable because it may help you attain some impressive roles, all while doing what you love. O*Net Online highlights some social and community service manager and postsecondary teacher titles that may appeal to you, including roles such as adoption services manager, child welfare services director, children's service supervisor, clinical services director, community services director, psychiatric social worker supervisor, social services director, transitional care director, vocational rehabilitation administrator, and postsecondary teacher. Dive into these 7 human services jobs and find the right fit for your future.
1. Child welfare services director
Although similar in some ways to child protective services (CPS), child welfare services (CWS) directors "stabilize agencies and build a workforce that is equipped to engage and assess families, develop successful case plans, and transition children to permanent and healthy family-based settings," according to the Child and Family Policy Institute of California. By helping build the framework that promotes healthy and safe living for children, child welfare services directors, according to O*Net Online, make a huge impact on the community and in young lives. 
2. Community services director
Taking a more holistic look at the community versus individual children, community services directors develop goals and objectives for the community and then oversee the implementation of policies and procedures for the Community Services Department, per Government Jobs. Those in this role may also oversee hiring the right staff to carry out the services of the Community Services Department, which as a whole is responsible for planning and providing social services within a given community. 
3. Clinical services director
The central responsibility of clinical services directors is to ensure that patients receive the best care. In order to do so, career expertise site Zippia says that clinical services directors work to maintain a high quality of service, including patient care, staffing (such as hiring for the right roles, providing continued education, etc.), and maintenance of equipment and facilities. What makes clinical services directors successful in performing these duties? Zippia suggests that you will need skills such as problem-solving, analytical skills, leadership, organization, and communication. You may also need knowledge of the laws in this area and an understanding of how to apply them in context. All of which is good news for you – you can expect to learn these skills in a PhD in human services program. 
4. Vocational rehabilitation administrator
Zippia also outlines another career within human services that may interest you: vocational rehabilitation administrator. In this role, you can expect to assist those without employment (due to temporary or permanent disability, or other reason) in successfully attaining employment. You will help people in need gain not only vocational skills but life skills as well. You will be instrumental in helping people gain a sense of themselves back by building their independence–and confidence–through real-life skills.
5. Social and community services managers
The U.S. The Bureau of Labor Statistics (BLS) dedicates a lot of information to the position of a social and community service manager. The organization describes: "Social and community service managers coordinate and supervise programs and organizations that support public well-being. They direct workers who provide these services to the public." Because of the wide array of responsibilities, you can hold as a social and community services manager, and you will get great exposure to the field of human services and beyond. Daily, you can expect to form a strategy for the community based on the performance of past programs, oversee services that the community uses, write proposals for funding, and take a hands-on approach to manage everything from the small details to the big picture that ensures the good of the community.
6. Social services director
Identifying individuals who would benefit from social services is the foundation of the role of a social services director. Because certain populations, such as children, individuals with disabilities, hospital patients, and others, may be at a disadvantage or under-served, social services directors liaise between the people and organization to provide the services they need. Career explorer site ZipRecruiter recommends that if you do enter into this field, consider having the following skills: communication skills, a knowledge of fundraising, and strong analytical skills. 
7. Postsecondary teachers
Specializing at the collegiate level in a specific area – let's say, human services – is at the core of what postsecondary teachers do. If you have a passion for spreading your love of the subject and teaching the next generation, then a career as a postsecondary teacher may be right for you. The BLS outlines additional responsibilities of the role as well, which include duties such as developing an instructional plan that meets college and department standards, planning lessons and assignments, assessing students' progress by grading assignments, papers, exams, and other work, advising students about which courses to take and how to achieve their goals, and working with colleagues to develop or modify the curriculum for a degree or certificate program. Of course, as a postsecondary teacher, you will also be expected to stay informed about changes and innovations in your field and perhaps serve on academic or administrative committees. If you enjoy university life, pursuing a career as a postsecondary teacher can be particularly rewarding. 
What Technical Skills Do You Need for a Human Services Job?
As a graduate with a PhD in human services, you should expect to use a variety of soft and technical skills on a daily basis. No matter which direction you take your career, consider brushing up on some of these technical skills from O*Net Online, which include:
Accounting software
Customer relationship management CRM software
Database reporting software
Database user interface and query software
Desktop publishing software
Electronic mail software
Enterprise resource planning ERP software
Internet browser software
Medical software
Object oriented database management software
Office suite software
Presentation software
Project management software
Spreadsheet software
Word processing software 
What Is the Salary Potential for PhD in Human Services Grads?
The salary potential for PhD in human services grads will of course vary by industry, geographic region, experience, and skill level, among other things. However, the BLS does provide employment and salary data by category for the types of careers you may be interested in with a doctorate in human services. 
For social and community services managers, a common PhD in Human services job after graduation, the BLS has the below salary information for average income in 2021:
Table Title: Average Salaries for Social and Community Services Managers by Work Environment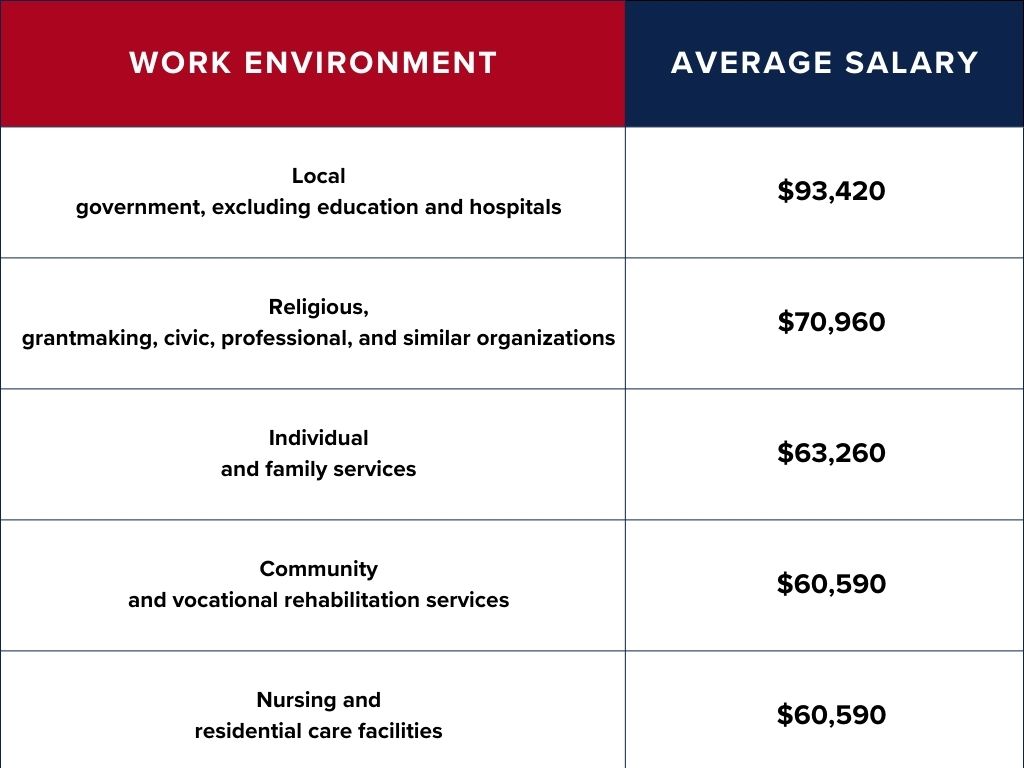 For postsecondary teachers, consider the following employment and salary information made available by the BLS in 2021:
Table title: Average Salaries for Postsecondary Teachers by Teaching Level.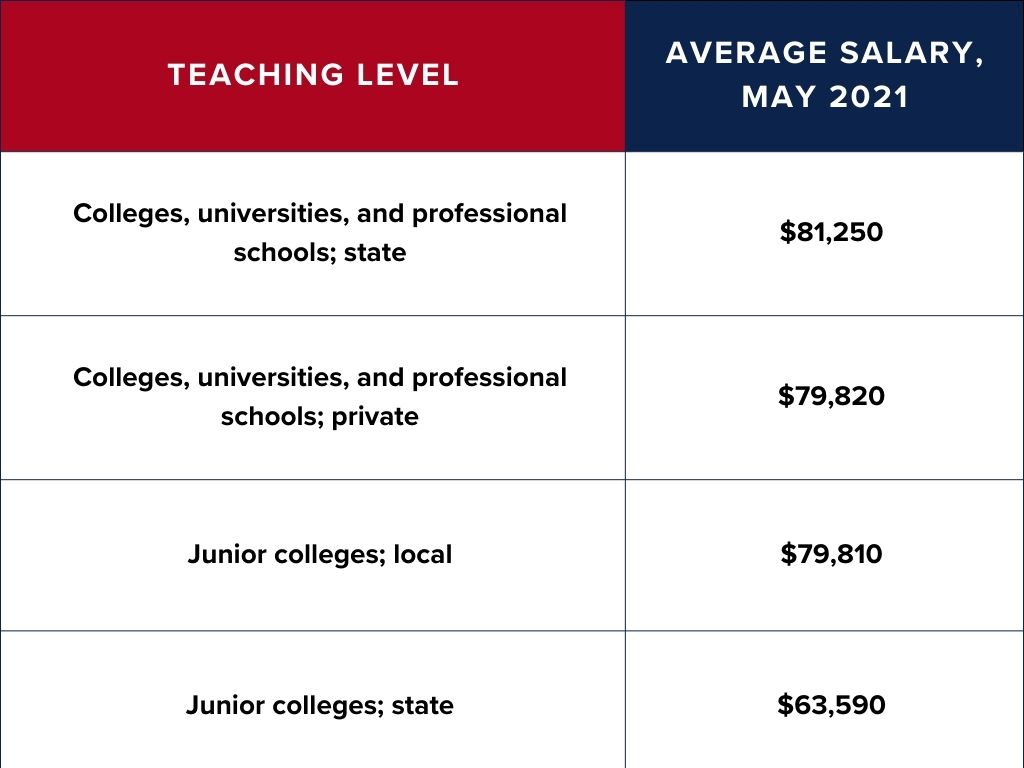 What Is the Job Outlook for a Graduate with a PhD in Human Services?
Given the above salary potential for a graduate with a PhD in Human Services, along with the job outlook information provided by the BLS, we can see that the field is promising. Employment for community and social service managers sat at 173,700 jobs in May of 2021, and the field is expected to grow by 20,400 by 2031 for a total of 194,100 jobs. That is an astonishing 12% growth for the field, which is considered a much faster rate of change over most industries. 
Is a PhD in Human Services Worth it?
Not only does a PhD in Human Services help you make a difference in people's lives on a large scale, but it has the job outlook and salary potential to go along with it. So, what's the trade-off? A PhD does require several years of classes and research. However, if you are passionate about the field and want to build your career, a terminal degree such as a doctorate can be well worth your time. Additionally, earning your PhD in human services online means that you can still work full or part time while taking classes. 
Summary: What Can You Do with a Doctorate in Human Services? 
Earning a doctorate in human services opens a variety of options to pursue after you complete your degree. With courses in socio-economic influences, theory, and analytical research, you are sure to build the foundation you need to be successful in the field. When you are ready to enter the field full time, consider exploring jobs such as child welfare services director, postsecondary teacher, social services director, community services director, clinical services director, vocational rehabilitation administrator, social and community services manager, and social services director.