The year 2020 probably didn't turn out quite like you thought it would. But the good thing is, the new year is just around the corner, and we all get to set fresh goals to crush in 2021! As the University of Arizona Global Campus community looks forward to the new year, we are acknowledging and celebrating our students' goals and aspirations for the coming 365 days. 
We recently posted in our Connections Facebook group the question:
"2020 may have been a challenging year, but you are a fighter and your tenacious spirit pushes you to success. Looking ahead to 2021, what are your goals for the new year?" 
Here, we present some of the most inspiring and hopeful responses shared so far. Read on, and get motivated to take on 2021!
Looking Ahead: 2021 Goals
Our students are ready to tackle 2021. Here are 21 goals they shared on social media:
1. "2021 will be epic! I will be completing a degree that was put on hold for 30 years. Saying I'm excited is an understatement!" – Cubie Finley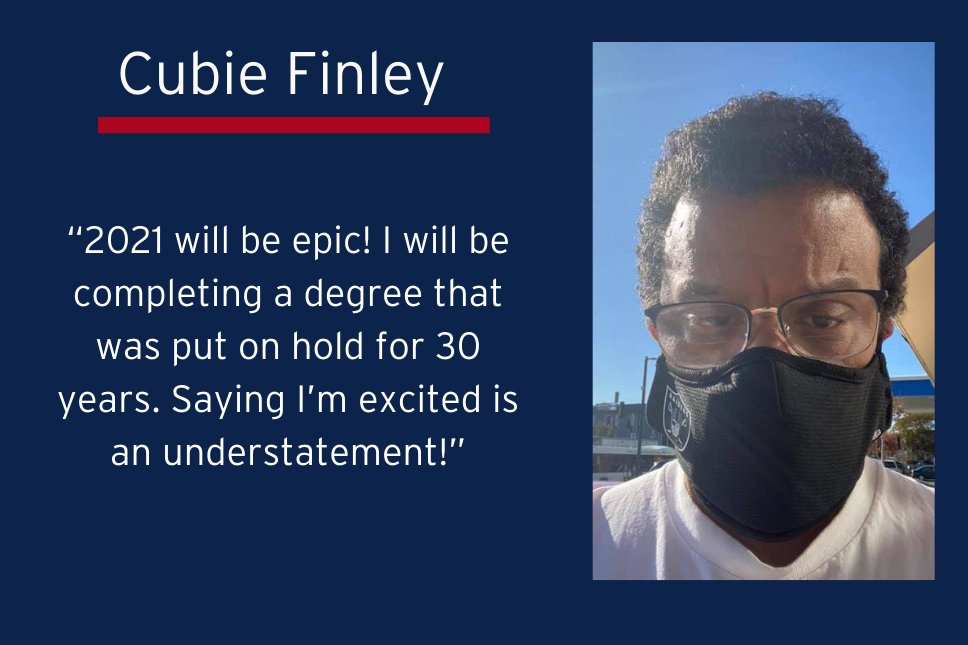 2. "My goal is to finally finish school to show everyone that I can do this with the help of my classmates' encouragement and advisor. They have helped me a lot. Ready to start my career." - Krystal Neasbit
3. "My goal for the incoming year is to continue to push through school and practice more self care to be able to continue to provide for my family." – Silvia Serratos
4.    "My goal is to make as much time for my family, write a book, and eat healthy foods. It is going to be a great year in 2021!" - Valentine Joy Julia
5. "I am looking forward to graduating this summer. I have worked hard these last few years on something I never expected to accomplish, especially after graduating from high school and not going to college for 16 years after the fact. I am showing my children that at any age, as long as you set your mind to your goal, it can be accomplished. Bring on the next 7 months. I'm here and ready!" - Jamie Lee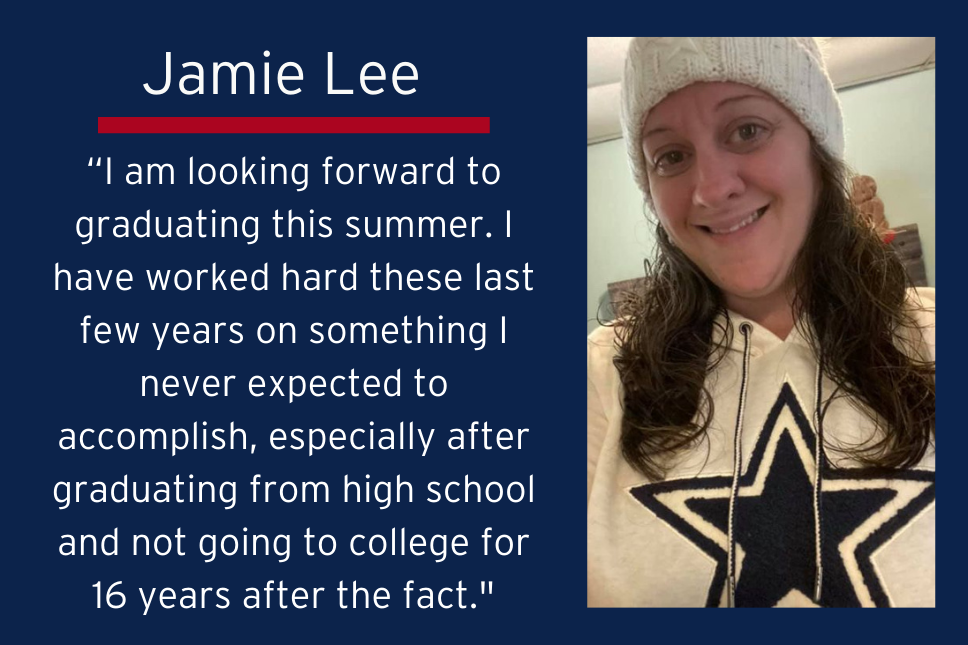 6. "My goal for this coming year is to graduate! I only have 32 credits left to go! I have set this goal for myself to make my daughter's life a bit easier. I want to show her it's never too late to go back to school, it is okay if things happen out of order, and to be proud of who she is." - Shesha Perez
7. "My goals are to graduate with my Master of Arts in Early Childhood Education Leadership, help my son finish his kindergarten year on a positive note, support educators in my field to the best of my abilities, and to be positive through the hardships. Staying positive has been the most difficult for me this year, but I am trying to finish strong and continue through 2021!" - Joelynn Garcia
8. "My goal for 2021 is to continue to push myself to maintain my 4.0. I never challenged myself academically until I decided to pursue my degree, and I couldn't be more proud of what I have accomplished. My amazing wife continues to cheer me on when things get tough. She likes to remind me of what that GPA means to me." - Andy Hussey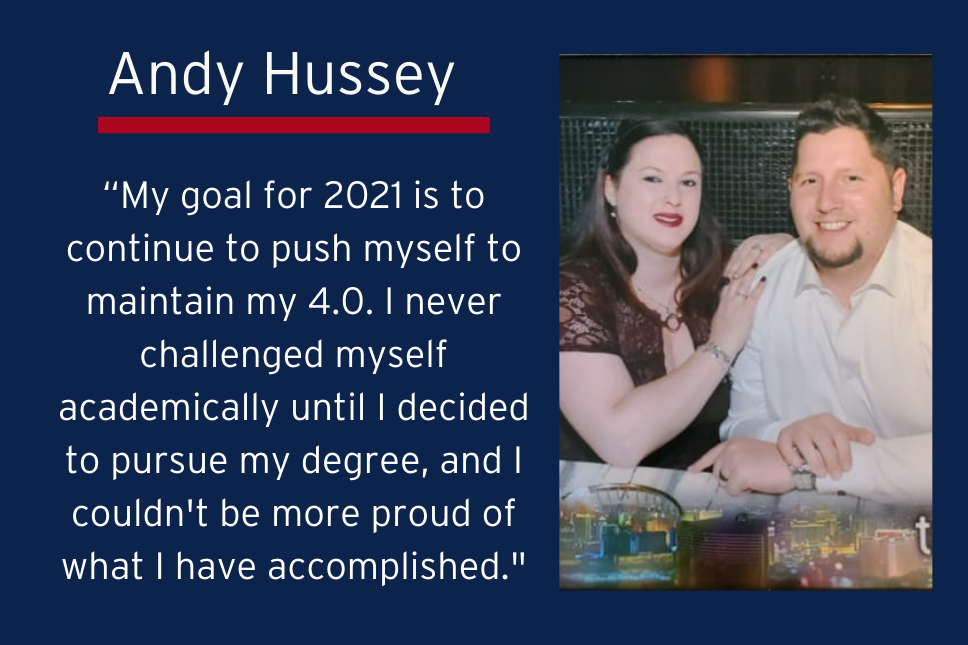 9. "My goal is to graduate in the year 2024, and after I graduate, I want to help young children grow and learn all they can. A goal I have for the new year is to finally get a car and maybe have my own apartment." - Lorene Henderson
10. "My goals for 2021 is to just keep pushing and keep me and my family safe, keep working really hard with school and with work, and being a full-time parent. Also to make sure my kids are successful in school and enjoy life, be happy, and work on my finances and credit so that I can start planning to buy a new home for my family." - Monique Romandia Alvarez
11. "Happy to be married in 2020, but my goals are the same as ever: get my bachelor's, get a job in my field, and keep grinding until I can reach it." - Jack Segreto
12. "I am looking forward to 2021 and the excitement and opportunities it will bring. Being a full-time wife, mother, student and preschool director... My goal is to reach beyond what I thought I would ever accomplish and graduate with a 4.0 with a Master of Arts in Early Childhood Education Leadership. Here's to the future of my students, my family, and myself." - Jennifer Hren Lofton
13. "My goal next year is to continue working on my master's degree, so in May 2022, I can walk across that stage and show everyone that I did it again." - Zoe Howe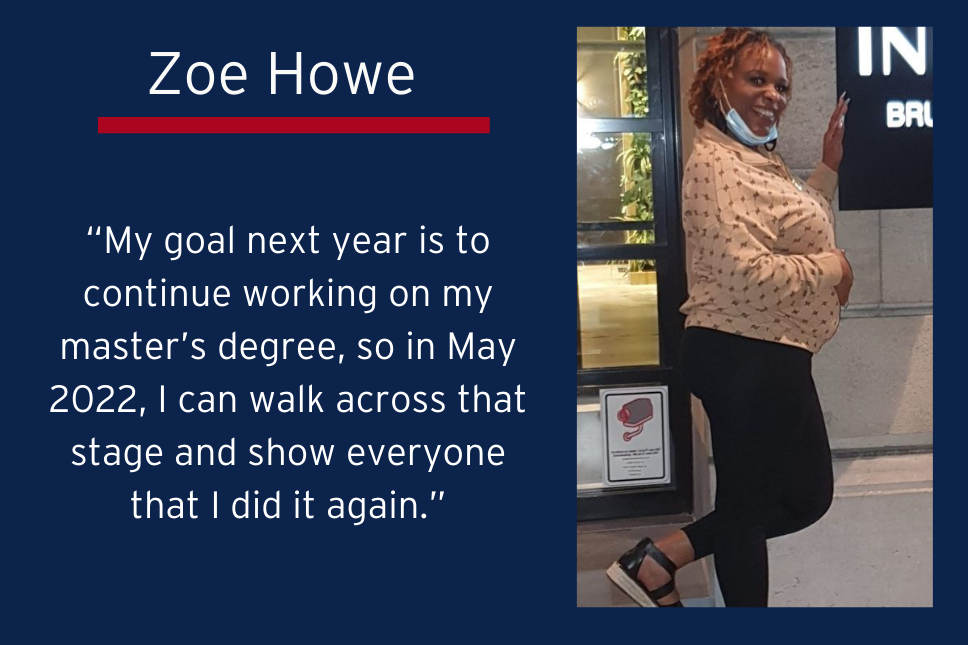 14. "My goal for 2021 is to continue going strong until I get to my graduation date. In the two years I have been going to school, I only took two weeks off, and I want to continue going strong so that I can get my degree!" - Peters M. Frances
15. "My goals in 2021 are to push to greatness! It was a rough ride before I found my passion and changed my degree. I will push harder to have a great GPA and do everything that needs to be done for this crazy crew of mine. I will work hard and keep focus on the end goal! I can and will be better as a student, a mother, and a wife. Growth is my goal!" - Jennifer Wogan
16. "My goal for 2021 is to keep hustling at school while working a full-time job and keeping the family safe and fed (after I finish homework)!" - Rain Trejo Wright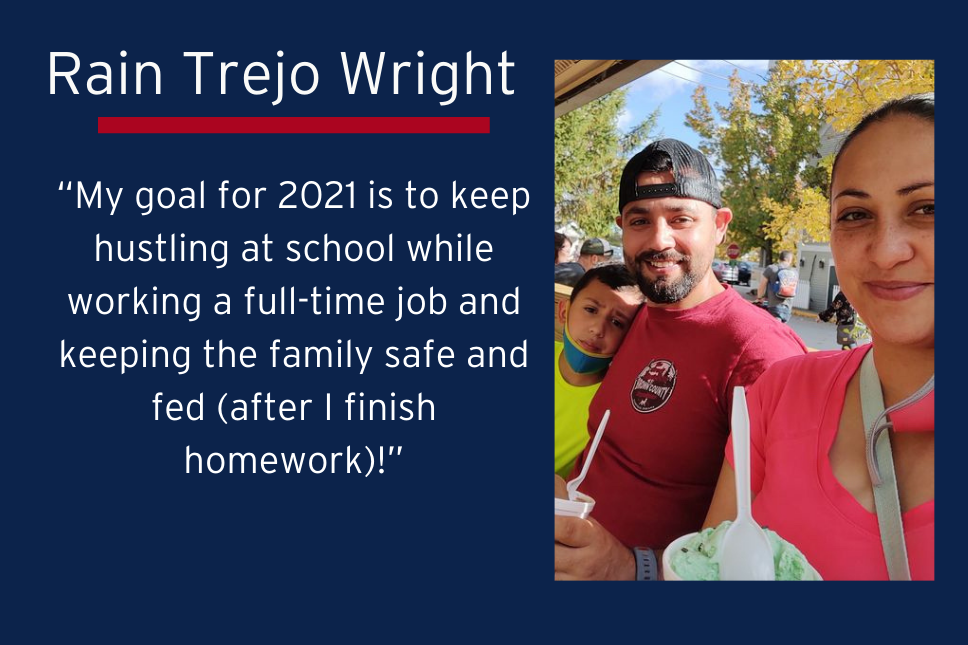 17. "I'm looking forward to raising my growing family, going back to work post-maternity leave, complete my promotion at work, complete my CISSP and GCTI certifications*, and continue my Bachelor of Science in Cyber & Data Security Technology. You know, general "overachiever" stuff." – Jason Freed
18. "My goal for the new year is to find balance between my promotion at work and my dedication to my education. Working full time was the reason I dropped out of school--I couldn't handle the stress of doing both. Taking one class at a time with the flexibility that online learning offers is the chance at success I've needed for so long. It's a huge challenge, but it's one I'm grateful for every day." – Valeria Reason
19.  "My name is Sonja Williams and I just started my final course to complete my Bachelor of Arts in Health Care Administration. I hope to secure employment in a new position within my organization before I graduate. I look forward to bringing my skill sets to a leadership position to ensure quality care is received throughout our organization. I am a huge patient advocate and believe all patients should be treated equally. I have been providing patient care for 14 years and look forward to transitioning from direct patient care to administration/leadership!" – Sonja Williams
20. "My goal is finishing my MBA in July and keep on running. Running in a couple of ways. Physically running a race to encourage staying fit. With my MBA I would like to stay running at work with new ideas to share and help take on additional leadership roles." – Kevin Jensen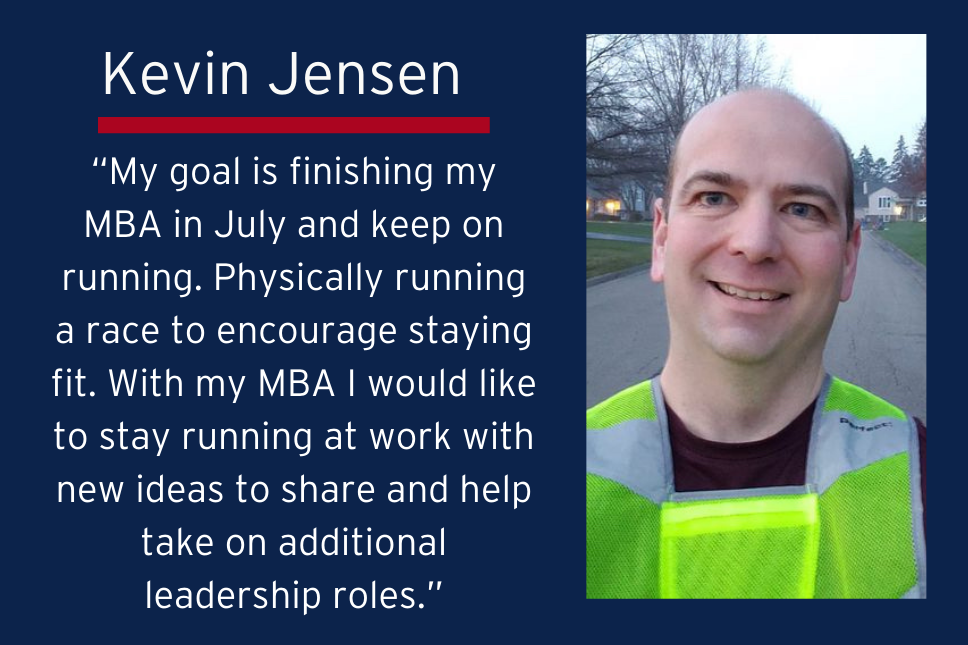 21. "2020 I found myself. 2021 I prove myself. To be a better mom, manager, and student. (Pic) Me at the end of each day but getting it done! #keepingitreal" - Laura Marie
--
Certain degree programs may not be available in all states.
* Successful completion of the Bachelor of Science in Cyber & Data Security Technology degree by itself does not provide licensure or certification in any state, regardless of concentration or specialization.