It's time for another edition of #TenacityMade Superstars, where we highlight some of the most inspired student and alumni posts from October. Check out what our students and alumni have shared, and then keep working hard to achieve your personal and educational goals throughout the rest of the year.
1. "I had some school prior to Ashford*. Due to some medical issues I was fighting, traditional in-class courses did not work as they were not at all flexible. Ashford changed all that. I have run into virtually no issues and have always felt supported if I did. I graduated with my BA October 11 and plan to be back in 2021 to get my master's!" – Sophia Gabriele Gregg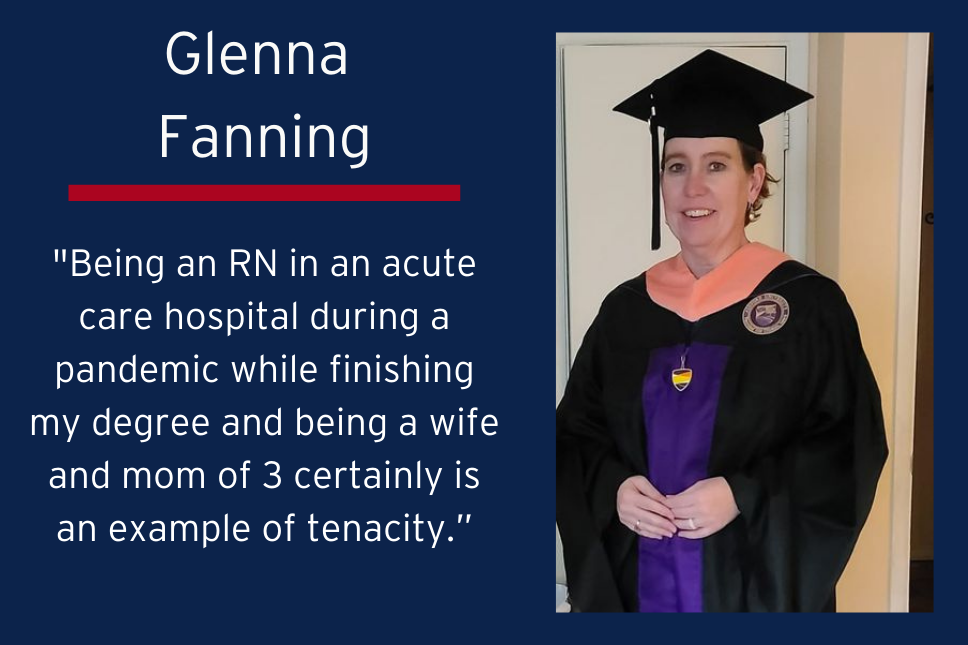 2. "I graduated in May of 2020 from Ashford with my Master of Arts in Health Care Administration. Being an RN in an acute care hospital during a pandemic while finishing my degree and being a wife and mom of 3 certainly is an example of tenacity**. I'm very proud of my accomplishments as well as those of my fellow graduates!" – Glenna Fanning
3. "I started at Ashford for my bachelor's degree in Environmental Studies† in February of 2017. My husband has congestive heart failure, severe sleep apnea, is a sleepwalker who has several falls, among many other health issues. I have had to take a few leaves throughout the last few years to help him through some surgeries and some major falls including one that he had to get 7 staples in his head for. He also recently had a mild stroke. I have also worked full time, been kicked out of a house we lived in for 14 years, and I changed jobs. Did I mention we also have 4 amazing children who are now all pretty much adults? My baby and only boy turned 17 this year and joined the Army National Guard. I just finished my last! Through all of my struggles, thanks to the help of my instructors and my family, I finally made it!" – Nicole Crabtree
4. "Tenacity helped me to stay motivated by reminding what my goal is and why I am doing this in the first place. There were so many times, especially in this last year, that I wanted to give up. Especially with the daily struggle of school, working full time, and having my family to take care of. With the love and support of my husband and our two kids, I was able to push through it and moved my graduation date up from January 2021 to September 21, 2020. I am so excited to complete this goal, and I am looking forward to everything that awaits in our future." – Kelley Haynes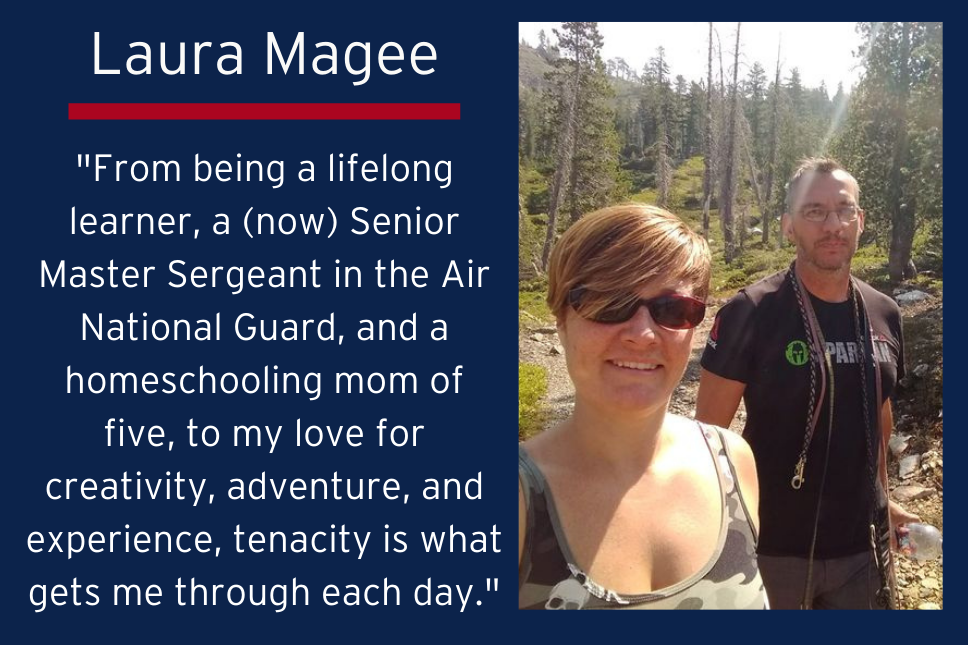 5. "At my Master Sergeant promotion board, I was asked, 'If you could describe yourself in one word, what would it be?' I answered 'tenacious.' When I set my mind to something, it's near impossible to stop me. From being a lifelong learner, a (now) Senior Master Sergeant in the Air National Guard, and a homeschooling mom of five, to my love for creativity, adventure, and experience, tenacity is what gets me through each day. It's been at my side through every achievement and has helped me to brave every obstacle! Tenacity has also allowed me to conquer completing this degree through everything life has thrown my way!" – Laura Magee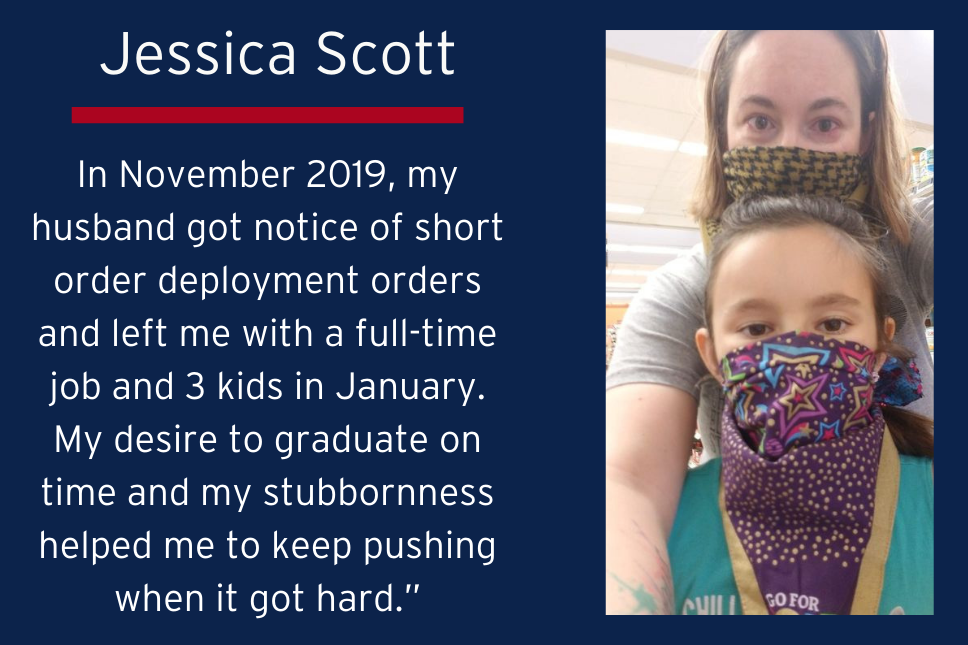 6. "I started at Ashford in November 2018. I am active duty and married to another military member. In November 2019, my husband got notice of short order deployment orders and left me with a full-time job and 3 kids in January. Then COVID hit, and my kids were out of school and I was mission essential stationed at a remote base. By the time I got off work, even the pizza places were closed, so I came home, made dinner, helped the kids with homework, then did my own. This repeated until I graduated on August 10 (my husband got home after that). My desire to graduate on time and my stubbornness helped me to keep pushing when it got hard." – Jessica Scott
7. "I retired from the U.S. Navy after 20 years in 2013. I started my second career in the civilian sector. My wife and I have been married 20 years this past February and we are raising one of our grandsons. The past few years have had a lot of challenges. Then I decided to go for my master's degree, and did it in 18 months. I have to thank my wife, grandson, family, and friends for all their support. I am so proud to be a part of the 2020 graduating class. Ashford University has been a wonderful experience for me." – Susan-Rob Beckwith
8. "I never thought I would go back to school, but 13 years after I graduated, I began my journey. I overcame over a lot of obstacles. This year has taught me to keep pushing and keep going. As Dory said, 'Just Keep Swimming.'"– Lori Thompson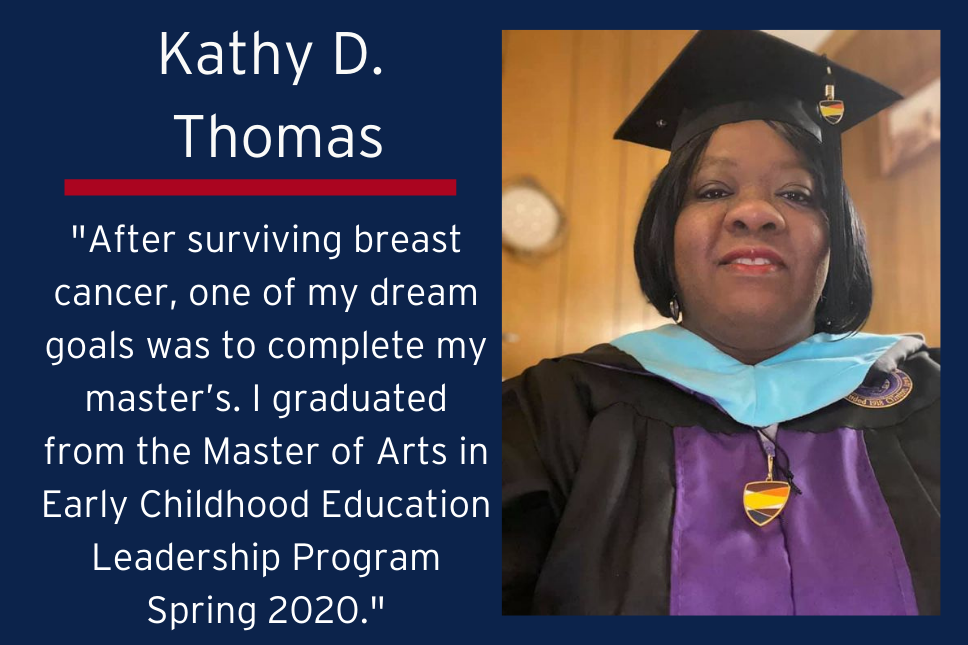 9. "After surviving breast cancer, one of my dream goals was to complete my master's. I struggled for years financially to complete my education as an undergraduate. Then my husband was diagnosed with colon cancer shortly after I enrolled in graduate school. I withdrew from college to attend to him, but he encouraged me to return. I graduated from the Master of Arts in Early Childhood Education Leadership Program Spring 2020. Congratulations to the Class of 2020! We did it! Thanks, Ashford, for making dreams come true." –  Kathy D. Thomas
10. "I started at Ashford University in 2017. I am a divorced mother of three children, and one of my children has a medical condition that requires regular visits to Children's Hospital. Without flexibility, there is no way I could pursue my dreams and continue my education. Ashford University makes pursuing my dreams easy! I graduated with a Bachelor of Arts in Business Administration in February, and I will be finishing the Master of Arts in Organizational Management next July. My end goal is a Doctor of Philosophy (PhD) in Organizational Development and Leadership with a specialization in Organizational Diversity. With the flexibility and support provided by Ashford, I know I can achieve my educational goals. Determination and persistence have gotten me through the past three years and will get me through many more." - Jamie Lynn King
Keep the Conversation Going
Be sure to join the conversation, and tell us why you are #TenacityMade. Each week, head over to Facebook, Instagram, Twitter, or YouTube, and post a picture or video along with a sentence about what motivates you to stick with your plan, and tell us how you represent #TenacityMade. Then bookmark the #TenacityMade page to follow all the stories and images you and your peers share throughout the rest of the year. 
--
*Ashford University is now the University of Arizona Global Campus.
**Successful completion of this program by itself does not lead to licensure or certification in any state, regardless of concentration or specialization.
†This program is no longer accepting new enrollments. Certain degree programs may not be available in all states.