UPDATED June 24, 2021
Strategic planning is an essential, daily component of business, as companies must continuously evaluate themselves and their competition, while working to exploit strengths and minimize weaknesses. 
The same strategic planning method used by companies large and small – the SWOT analysis – can also be applied to your personal life, and you may be surprised to see how some self-analysis can allow you to make better decisions and see the opportunities available to you.
Having a strategic plan can answer questions that include:
What is working within your company or department?
What are the growth opportunities?
Which goals are realistic, and which goals are unattainable?
What are your competitors doing that you should also be doing?
In this blog, we review what a SWOT analysis is, how to perform one, when you should do a SWOT analysis, how a SWOT can impact your strategic planning, and more. Read on to find out how to conduct your own SWOT. We've even provided a SWOT analysis template you can use for all your strategic planning efforts.
What is a SWOT Analysis?
The word SWOT stands for Strengths, Weaknesses, Opportunities, and Threats. The SWOT method involves assessing the "helpful" internal elements (strengths, opportunities) with the "harmful" external elements (weaknesses, threats) in your personal or professional endeavors.
A SWOT analysis can be applied at any stage in life, whether you are trying to decide which college degree to earn or which career path to pursue.
How to Perform a SWOT Analysis
The SWOT method involves asking and answering a series of questions. For example, if you were trying to determine where to take your career, you might start by asking yourself the following internal questions:
Strengths
What do I like to do?
What am I good at doing?
What are my most unique abilities?
Opportunities
What are the up-and-coming jobs or industries?
What needs can I fill that no one else can?
How can I leverage my personal network?
You'll then ask yourself a series of external questions in order to assess the outside factors that may affect your career:
Weaknesses
What skills do you lack for the job you want?
What do you need to improve?
What are your worst work habits?
Threats
How will the economy impact your decision?
What skills do your competitors have that you don't?
How is technology impacting your industry?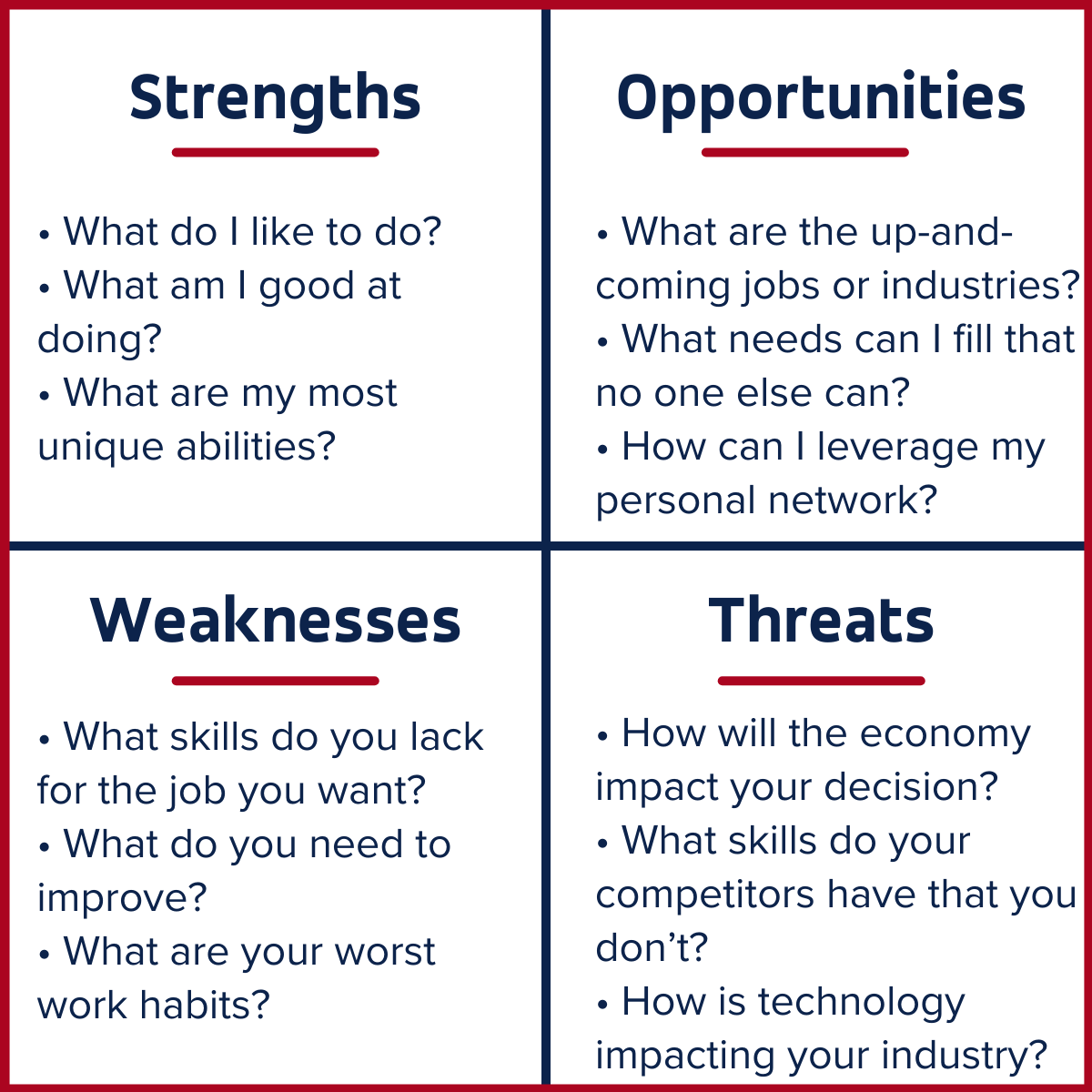 For organizations, the SWOT method should involve gathering as much information as possible from all the key stakeholders. For example, if you were trying to determine whether to introduce new software into your department at work, you would want input from every person who will be using the new software or who will be impacted in any capacity. With SWOT, you can answer vital questions such as:
How will new software affect daily workflow?
How does my team respond, historically, when something new is introduced in the workplace?
How much will it cost to replace the current software?
What are my competitors using and is it working for them?
How quickly will this new software become irrelevant?
Typically, a SWOT analysis will appear as a square with four sections representing strengths, weaknesses, opportunities, and threats. This allows you to see everything on one page (or screen) so that you can compare details more easily. 
Why is a SWOT Analysis Important in Strategic Planning?
When it comes to choosing your college major, you wouldn't look at the list of degree programs, close your eyes, and point, would you? Every decision requires some thought and analysis, and strategic planning is only successful after you've gathered and examined all of the relevant data at your fingertips.
The SWOT analysis has long been an effective method for putting information down in writing so you can see clearly your strengths, weaknesses, opportunities, and threats.
Listing your strengths will allow you to see where you have an advantage over the competition, whether that competition is another organization or another job candidate. When you know your strengths, you have a foundation upon which you can improve yourself or your position.
Though it can be painful to make a list of your weaknesses, this is necessary to see what you or your organization is lacking. By doing so, you can trace the origins of your weaknesses and develop a plan to address them moving forward.
Whether you are personally looking to grow or you are part of an organization that is assessing its growth strategy, listing opportunities will help you see what's available to you and where you might want to steer the direction of your career or company.
Identifying the threats to your personal or professional future is essential to your growth strategy, as you don't want to be blindsided by an unseen challenge. Knowing what's out there – what your competitors are up to, what regulations may deal your company a setback, etc. – can help you develop a plan to respond and take action. 
When Should You Conduct a SWOT Analysis?
When you conduct a SWOT analysis, you're looking at the big picture and all of the factors that are influencing your current strategy. That's why SWOT should be among the first steps taken in the strategic planning process.
Seeing everything in front of you will help you or your team make better decisions moving forward, but you shouldn't stop with just one SWOT analysis. It's wise to revisit the SWOT method from time to time to determine whether the strengths you previously identified are still there or whether there are new opportunities on the horizon. 
How Can a Poor SWOT Analysis Effect Strategic Planning?
A SWOT analysis is not your strategic plan, but rather, it's a framework to get the conversation started about the next steps. It's a foundational tool, which means the information you put into SWOT must be relevant, factual, and free of bias.
The method itself has been criticized for its disadvantages, notably that there is no method for ranking SWOT details and that some of the data gathered can be subjective or ambiguous. Basing your strategy off a poor SWOT analysis can lead you in the wrong direction, wasting time, money, and resources. 
Consider what it would cost if you changed your mind about your degree program halfway through college because you didn't anticipate that the courses would be so challenging or that the job market for your degree was shrinking rapidly. Now, apply that realization to a massive organizational strategy, and consider the costs and consequences of a poor SWOT analysis.
To successfully execute a SWOT analysis, you should consider the following tips:
1. Avoid Getting Bogged Down in Discussion. It's not uncommon to see SWOT sessions go off-track when stakeholders spend too much time discussing the negatives or overly praising the positives. Be sure to assign roles to people in the room – a leader, a timekeeper, an organizer, etc. – so things don't get out of hand.
2. Stick to the Usable Specifics. A SWOT analysis is an information gathering session, but not all of the information will be relevant. Because the process doesn't allow for ranking relevance, you can keep things on track by discussing in advance exactly what type of details you're seeking.
3. Share the Results. SWOT analyses require input from several sources, and every one of them should be able to see the results of your analysis. No one should be left in the dark and unaware of where things stand. 
4. Assign Action Items. Once the SWOT analysis is complete, every person involved should leave the room knowing what to do next. 
It's important to remember that the SWOT analysis is just one element of your overall strategy. For organizations especially, SWOT analyses should be conducted alongside a deeper competitive analysis – in which you survey the landscape and find out what other companies are doing: a PEST (Political, Economic, Social, and Technological) analysis, which looks more closely at the external factors that impact your organization, and a MOST (Mission, Objectives, Strategy, and Tactics) analysis, which can help you achieve organizational buy-in and set everyone on the same path moving forward. 
Ready to get started on your SWOT analysis? Download our SWOT analysis template and begin the strategic planning process on your own or with your team.