Editor's Note: This month we continue our series highlighting faculty favorites based on feedback from the University of Arizona Global Campus students and alumni.
One of the first significant accomplishments in Dr. Newton H. Miller II's life took place during his time in the Marine Corps. Hoping to learn discipline after a failed college experience, Miller enlisted, and upon completing boot camp, he was presented the "Honor Man" award.
"I stood out over 52 other young men from everywhere in the United States east of the Mississippi River," he says.
When faced with challenges today, Dr. Miller remembers this achievement.
"It taught me that if I apply the discipline of good character, determination, and a work ethic to be the best human being that I can possibly be, then I am well on my way to accomplishing whatever it is I set out to do," he says.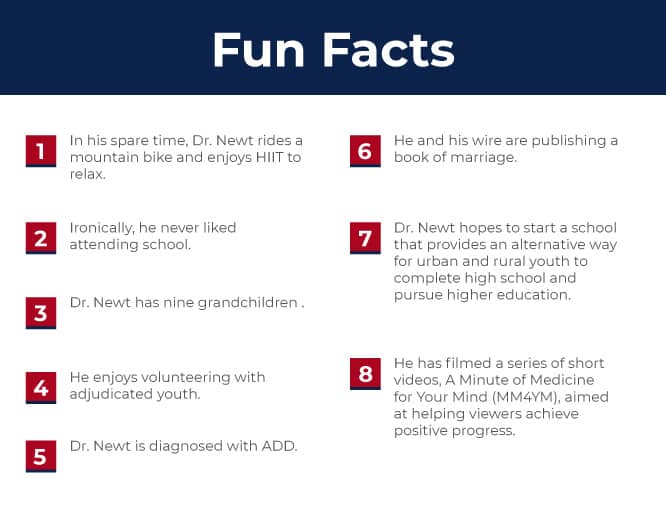 Dr. Miller originally planned to work as a structural engineer at Naval Sea Systems Command, but a move to the Philadelphia area altered his career path. There, he took a job as a mathematics specialist in the Philadelphia school district.
"I fell in love with teaching and developing that young group of bright-eyed, knowledge-hungry students," says Dr. Miller. "At that moment, I realized teaching was my purpose."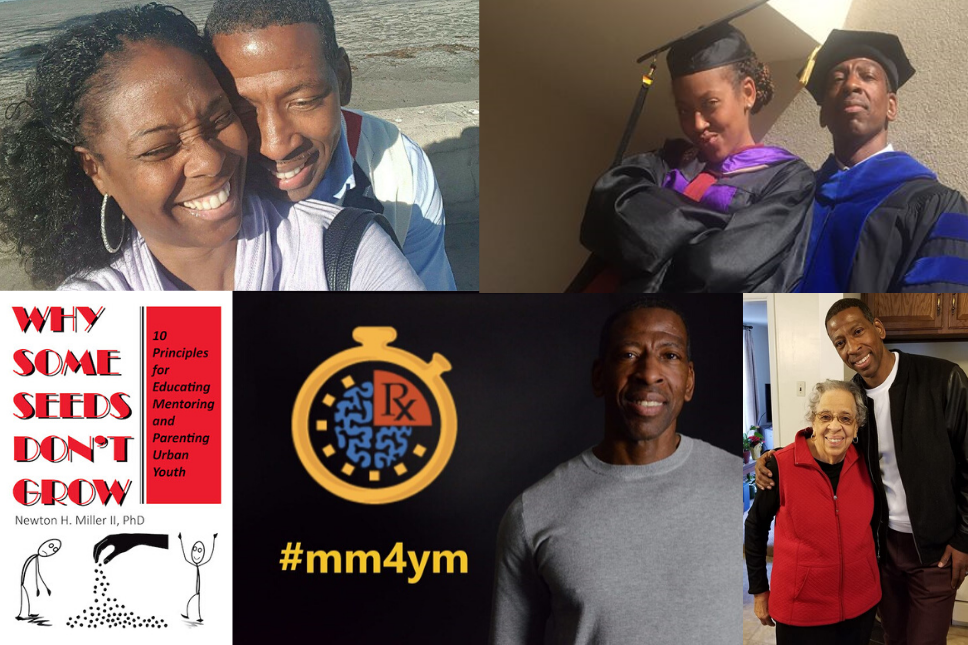 Getting to Know Dr. Miller
Today, Dr. Miller, who also goes by Dr. Newt, is living his purpose in San Diego, where he serves as associate dean of  College of Education. When not in the virtual classroom, Dr. Newt often can be found filming one of his more than 200 YouTube channel videos, volunteering, writing, speaking at events, and spending time with his family. 
In the following interview, he reflects on his journey as an educator and offers insights from his newly published book, "Why Some Seeds Don't Grow: 10 Principles for Parenting, Educating, and Mentoring Urban Youth."
Global Campus: What do you consider to be your greatest strength as an educator? 
 
Dr. Newt: My greatest strength is the ability to create a safe learning environment for all students by leveling the playing field academically. I work to translate concepts into normal everyday language so everyone in the class can grasp those concepts. In doing so, everyone is more willing to participate in the teaching and learning process. As a result of increased, authentic participation, critical thinking and problem-solving skills are engaged and academic achievement is increased.
Global Campus: What most excites you about your role at the University of Arizona Global Campus?
Dr. Newt: I am most excited that I get to walk alongside my students for this portion of their educational journey. I count it a privilege to be able to influence them and impact their lives utilizing education as a way to affect positive change.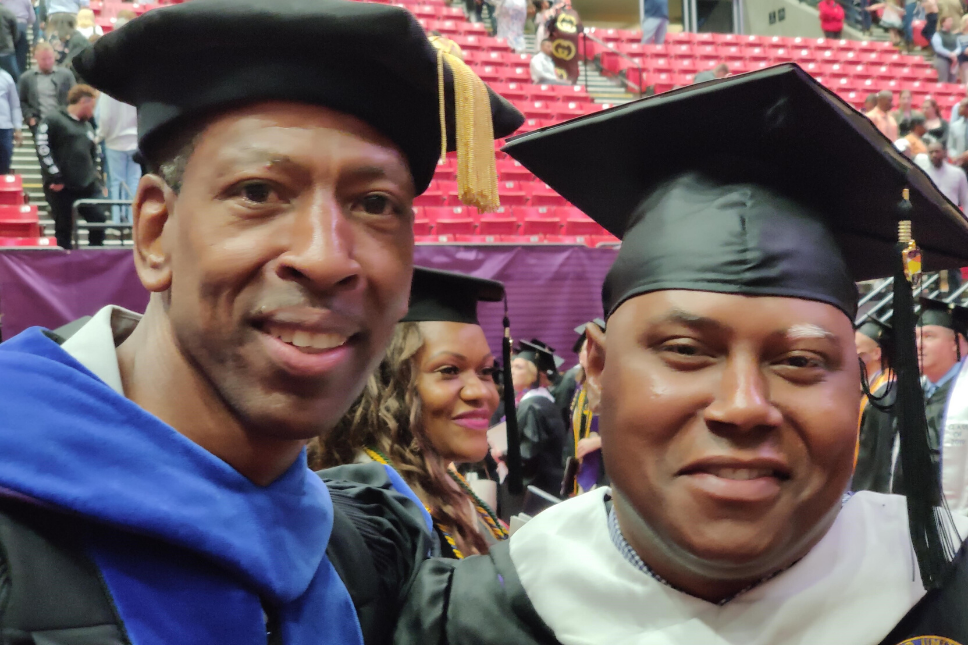 Dr. Newt, left, celebrates with a student at a commencement ceremony.
Global Campus: It is said that educators never stop learning. Who or what is currently teaching you?
 
Dr. Newt: I learn from my colleagues and the tremendous array of professional development opportunities that UAGC offers. I subscribe to several newsletters and publications for K-12 and higher education organizations. I love to listen to motivational gurus such as Myles Munroe, John Maxwell, Zig Ziglar, Simon Sinek, and Ken Blanchard. One of my favorite things to do is engage elderly people in conversation; there's so much to be gained by their wisdom.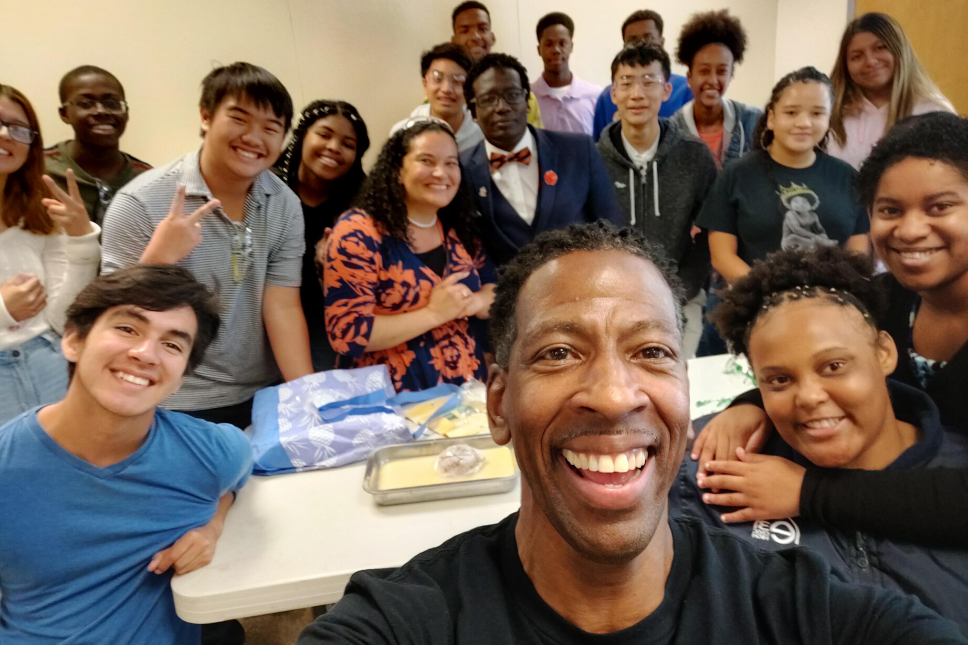 Dr. Newt, left, takes a selfie with some youth students.
Global Campus: What inspired you to write your latest book?
 
Dr. Newt: As a K-12 teacher and administrator in urban school districts, I noticed that one of the biggest reasons that urban youth were not excelling in school was the culture gap between them and their educators. Most of my work as an administrator in the K-12 arena centered on building bridges between cultures so teachers could be more effective and students more receptive.
I felt it was appropriate to share the philosophies that drove my actions that led to achieving positive results in the schools in which I served. I wrote the book as a metaphor where students were seeds and educators, mentors, and parents were those responsible for sowing, nurturing, and growing those seeds so that they can produce a plenteous harvest. My hope is that the imagery of the metaphor provokes readers to think introspectively about their methodologies and approaches to become more consciously competent about what is effective in motivating, nurturing, and growing urban youth.
Global Campus: Who helped your "seed" grow as a young student?
 
Dr. Newt: I was a difficult youngster, very stubborn, contrary, and I absolutely did not like school. To me, school meant rules and restrictions, so I was very rebellious. A few of the people who came to my rescue, besides my parents, and were consistent in speaking positivity and wisdom to me as well as holding me accountable for my poor decisions, were my neighbors. Back then, the whole neighborhood raised you. 
I don't remember any teachers who seemed to believe in me until 11th and 12th grade: my math and science teachers, the woodshop teacher, and my basketball and track coaches. As a young teenager, the most influential people in my life were those three or four teachers, probably because I realized that they had no skin in the game when it came to my life. The very fact that they saw something in me and spoke to me according to what they saw and not how I was acting got my attention and eventually made me take a good look at myself. They introduced me to the possibilities of a greater me. That's what I want to do for my students. No, that's what I'm obligated to do for my students: pay it forward!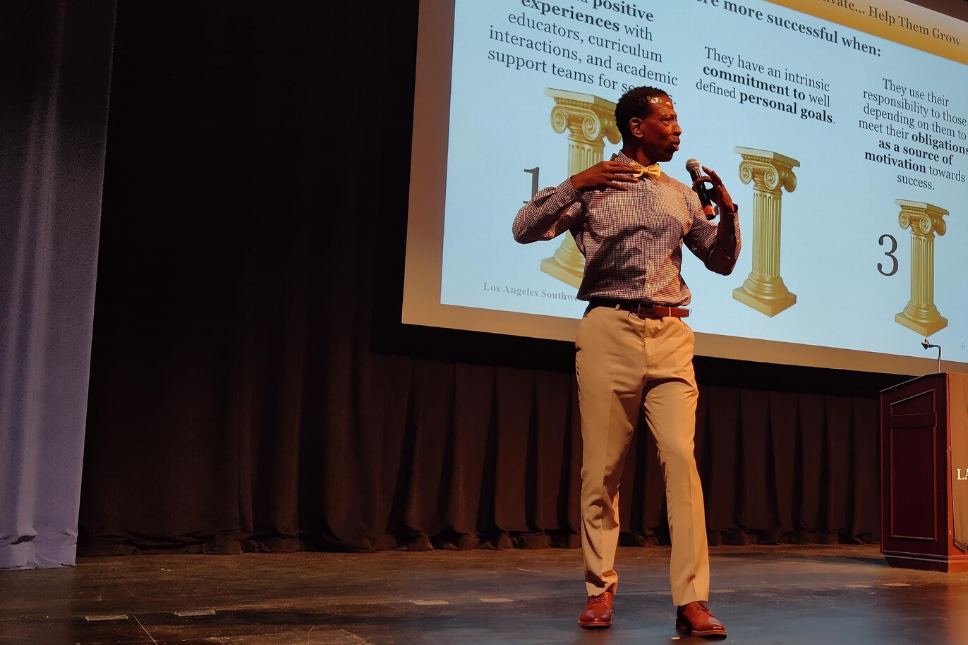 Dr. Newt delivers a presentation on education.
Global Campus: What is one of the biggest challenges today's urban students face? If you could give their parents, teachers, and mentors one piece of advice, what would it be?
 
Dr. Newt: Very often urban youth are encouraged to assimilate to a culture, a mold, or some picture of what is acceptable and not encouraged to get in touch with their own identity, strengths, and purpose. This often leads to urban youth finding a place to fit in that doesn't match who they are, what they are, or why they are. Thus, they're not operating in their purpose and very often feel unfulfilled. The outward manifestation of unfulfillment can be anger, frustration, or withdrawal.
As parents, teachers, and mentors of urban youth, we must be aware that there are different needs for different seeds, and that the greatest growth happens together. Although we understand that there are different needs for different seeds, we must not be afraid to admit that we don't always know what those needs are, be willing to learn what those needs are, and most importantly, how to provide them. We don't always have to be an expert at what our seeds require to reach their potential. But we do have to be an expert at helping them find out how to press forward to their goals.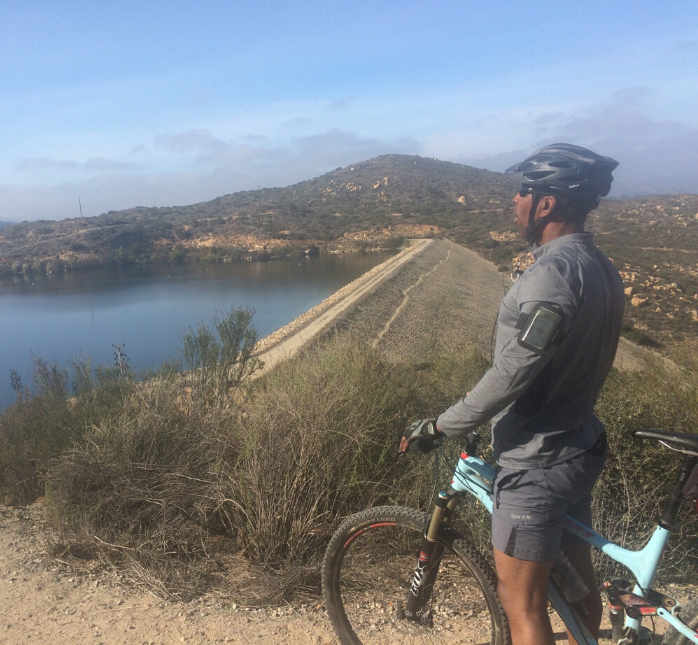 Dr. Newt stays healthy and relaxed by biking and doing HIIT workouts.
Global Campus: How do you handle stress?
 
Dr. Newt: First, I realize that everything happens for a reason and ask myself: what I am supposed to learn or how can I grow from this experience?
When I encounter a stressor, I immediately compare it to something that was 10 times worse in my past that I have already conquered. I usually end up laughing because I realize that the little stressors I face today pale in comparison to the storms I faced in the past. 
Another thing I do is to set a goal and accomplish it. This reminds me that I'm in control of my destiny, and I get to say what is a win and what is a loss.
Finally, I've lived long enough to know that storm clouds don't come to stay, they come to pass. Above those storm clouds, the sun is still shining. All I have to do is wait for those clouds to pass, and I get to see the sun again.
Global Campus: How do you measure personal or professional success?
 
Dr. Newt: I am a firm believer that one must measure their personal and professional success against their own potential, against what they see in themselves. Your goals, dreams, and aspirations are the destination to which you are hardwired to arrive. Anything less than that will leave you feeling unfulfilled. So, grab hold of your dreams, goals, and aspirations. Define them, write them down, and research them. From that goal, begin to backward-map milestones you must accomplish in order to reach them. Those milestones become the accomplishments by which you truly measure success. 
--
Written by University Staff