If Dr. LaTonya Santo had her way as a teenager, she just might be a drummer today. Instead, she got kicked out of band class and ended up exactly where she was meant to be.
Growing up along the Alabama/Georgia border, the young Dr. Santo was a bit of a spitfire who clashed with her band instructor about which instrument she should play. She insisted on the drums. He wanted her to play bells. It wasn't long before Dr. Santo and a few other unenthusiastic band members were booted from the class. 
"He kicked us all out at midterms, so I chose to take Health Occupations. And it was the best thing that ever happened to me," remembers Dr. Santo. 
Although she was skeptical at first, she soon discovered a genuine love for the field of nursing and knew it was something she wanted to pursue further. Years later, Dr. Santo found herself working alongside one of her former Health Occupations teachers as a nursing instructor herself at a local university. 
As she was making her plans to attend school, Dr. Santo decided to enter the Air Force Reserve and helped pay for college through the GI Bill. Once she finished basic training, she enrolled in the University of South Alabama, where she would go on to earn both her Bachelor of Science in Nursing (BSN) and Master of Science in Nursing Education (MSN). Later, she continued her education and earned an EdD (Doctor of Education) in Instructional Leadership from the University of Alabama in Tuscaloosa. 
The first in her family to graduate from college, Dr. Santo became a registered nurse in 1997 and eventually found her niche in the field of home health. One big reason was that it tied to her love of teaching. 
"You get to relate to the patients more," she explains. "You get to teach them and connect with them on a more one-on-one basis than in the hospital setting."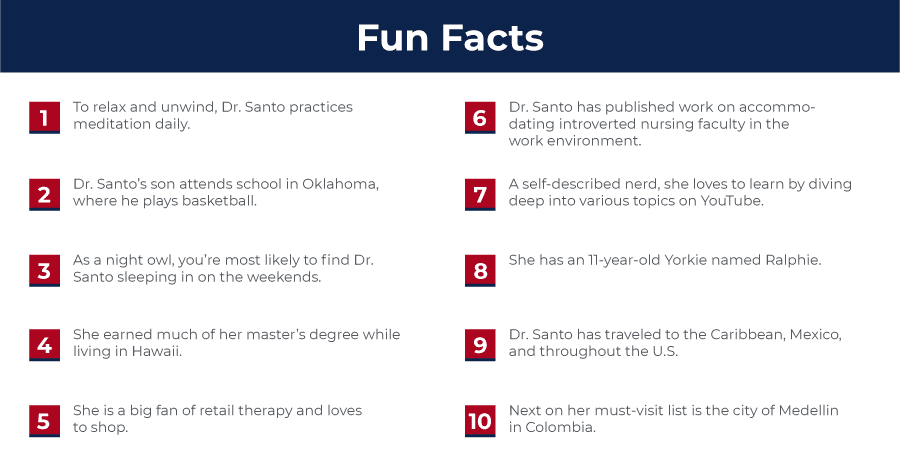 In 2004, Dr. Santo dove even deeper into the world of education and began teaching nursing students at both the undergraduate and graduate levels. However, she acknowledges that the job she held for 13 years was extremely stressful. A few years ago, she realized it was time to make some serious life changes.
"It all started to click for me," she explains. "You're supposed to be happy now, not later. You're not here because you're supposed to be planning for happiness later. You're supposed to be happy today."
It was the beginning of a new spiritual journey for Dr. Santo and one that has placed her right where she wants to be — happily doing what she loves on a daily basis. 
"I had two stresses — my job and my marriage," Dr. Santo says. "But I realized I had choices. I was going to take control. So, I went and got a new job [at Ashford]. Life is that simple. If you don't like your job, get a new one. And I didn't like my husband. So…he's out of the picture now, too."
Dr. Santo reminds others to make decisions from a place of self-care and to always follow their heart. 
"I always used to do everything based on fact and logic," she admits. "But life does throw you some crazy twists and turns, so I try to remember to respond from the heart. Be kind. Be gentle. It helps everything run smoother in your life."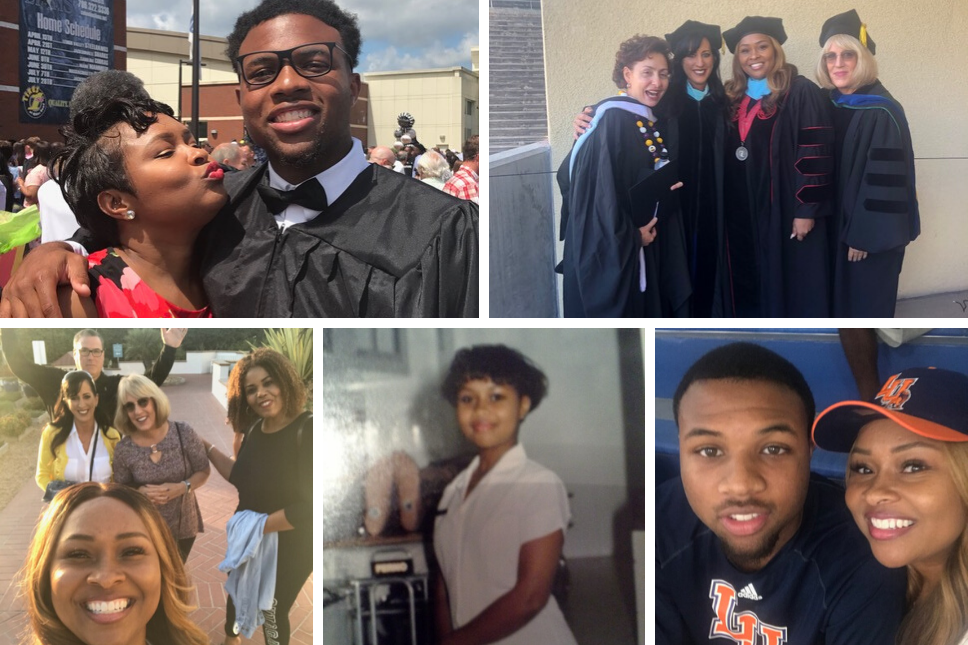 Getting to Know Dr. LaTonya Santo
UAGC: What initially led you to teach at Ashford [now the University of Arizona Global Campus?
Dr. Santo: I had taught both online and face-to-face for years, and at one point, had moved to all-online teaching at another school. But it wasn't done very well. It turns out that's because it wasn't as interactive as the program at Ashford.
When I saw Ashford, I applied not knowing what to expect. But once I did the interview, I loved it! I truly enjoyed my interview…is that weird? When I left, I was so optimistic about Ashford. And now, here I am, and I love teaching here. Believe that, as I don't sugarcoat anything, ever.
UAGC: How do you connect with your students differently than in previous teaching roles that you've had?
Dr. Santo: I've been at AU for two years in May, and since then, I've learned a lot about developing a presence online and connecting with students. Via email, in the discussions, we connect throughout every course. And I'm working on being more active on social media. I am very introverted, and it's hard for us introverts to put ourselves out there, but for my students, I'm doing it. Also, I like to do video conferencing and will talk to quite a few students on the phone. All of these things do help build stronger relationships between students and instructors, even when you don't get to see each other in person.
UAGC: What advice do you have for current nursing students or someone thinking of entering the profession?
Dr. Santo: One of the most important things to do is follow your passions. Don't become a nurse for the money or because it looks easy. Nursing can be glorified. You may see medical professionals on television, and it looks different to people in other professions. But don't go into it because you have a glorified picture of it. Do it because that's what you're passionate about. I love it when students say they love their jobs and that they're following their hearts. Always, always follow your passion and your heart.
UAGC: What's your philosophy when it comes to education?
Dr. Santo: I call myself a teacher, but what I really feel is that I'm a facilitator of learning. I'm here to provide students with the right tools and resources to learn. You can tell someone anything, but it doesn't mean you're teaching them anything. 
My goal is to provide content that is meaningful. I want what students are learning to relate to them specifically. If I can put it into terms of how it could impact their day-to-day lives, they're going to develop a deeper understanding of the content that's immediately applicable. That's the level of comprehension I want for all my students.
--
*Ashford University is now the University of Arizona Global Campus
Written by University Staff