Editor's Note: This month we continue our series highlighting faculty favorites based on feedback from students and alumni. 
As children, we were all asked what we wanted to be when we grew up. The University of Arizona Global Campus Instructor Holly Ourso not only knew what she wanted to do, but she was already doing it.
"As far back as I can remember, I've always been a teacher," she says. "I literally was assigned to work with a classmate in math and reading in the first grade, and have been teaching ever since."
Like many people, Ourso has broad interests and cannot be easily categorized. In school, she eschewed the stereotype that students who excel in math and quantitative reasoning lack social skills, performing in plays and joining the drama club (in addition to her officer role in her school's math club).
In high school, she wrote a play that was performed during her senior year, a moment she recalls with enthusiasm. 
"When the audience of my fellow students laughed where I'd written something funny, that felt amazing!" she says.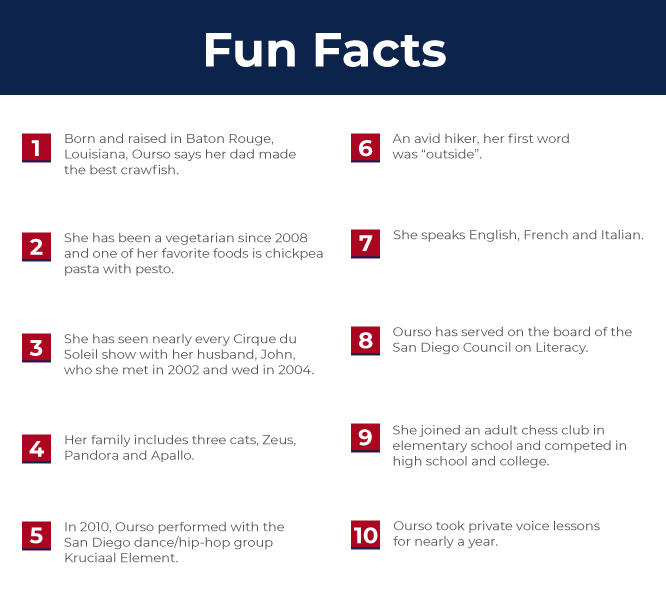 These lifelong passions made Ourso a standout student throughout her early academic years. In fact, she found herself accelerating at such a pace that her own teachers had trouble keeping up. 
"They ran out of math classes for me to take in high school," she recalls. "I attended the local college – Louisiana State University – to take Calculus II [and] enrolled there when I graduated high school.
"From the first experience, I loved college so much I never wanted to leave. So I found a loophole, and now I am paid to stay."
Ourso left Louisiana State University with two bachelor's degrees – in journalism and mathematics – and a Master of Arts in Mathematics. She even taught remedial math classes in college and later became a full-time math instructor at Eastern Kentucky University, as well as her alma mater. 
In 2000, Ourso moved to San Diego and began teaching math for the San Diego Community College District. That led to similar roles with the University of San Diego, DeVry University, and South University. In 2012, she joined Ashford University (now the University of Arizona Global Campus) and rose from an adjunct faculty member to a full-time assistant professor of mathematics for the Division of General Education. During this time, she also met her future husband, John Andrews.
A self-proclaimed lifelong learner, Ourso continues to take courses, including college classes, to further her pursuit of knowledge.
"I'm taking one right now in creative writing," she says.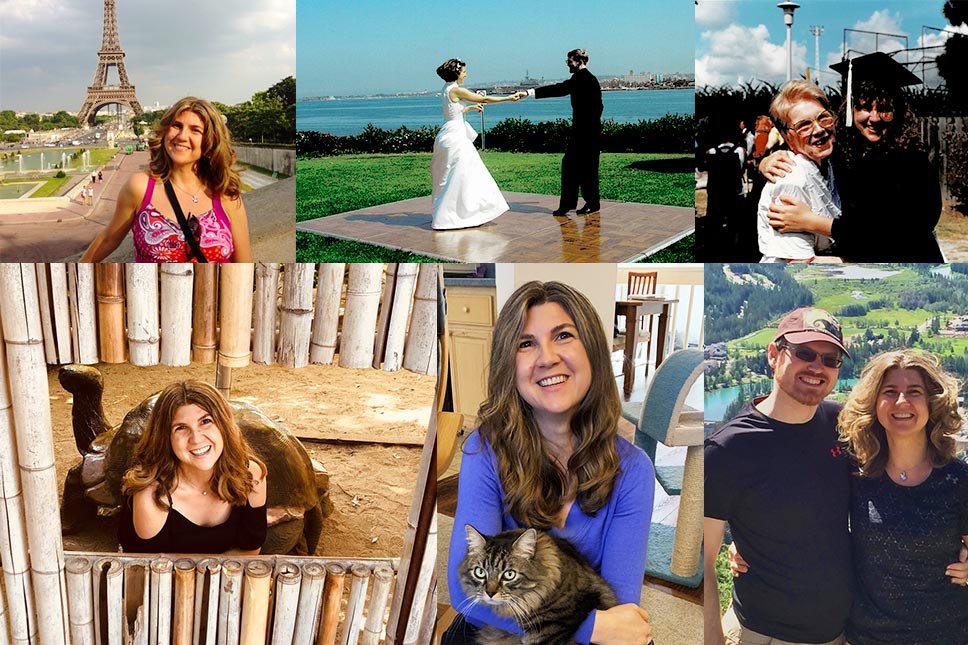 Getting to Know Professor Holly Ourso
Ourso's love of the subject matter shines through whenever she talks about math and credits her online teaching techniques to time spent learning and trading knowledge with other teachers. Even before joining Global Campus she developed a knack for communicating her passion to students online through her personal YouTube channel. Here she shares her thoughts on teaching, education, time management, and the importance of online mentorship.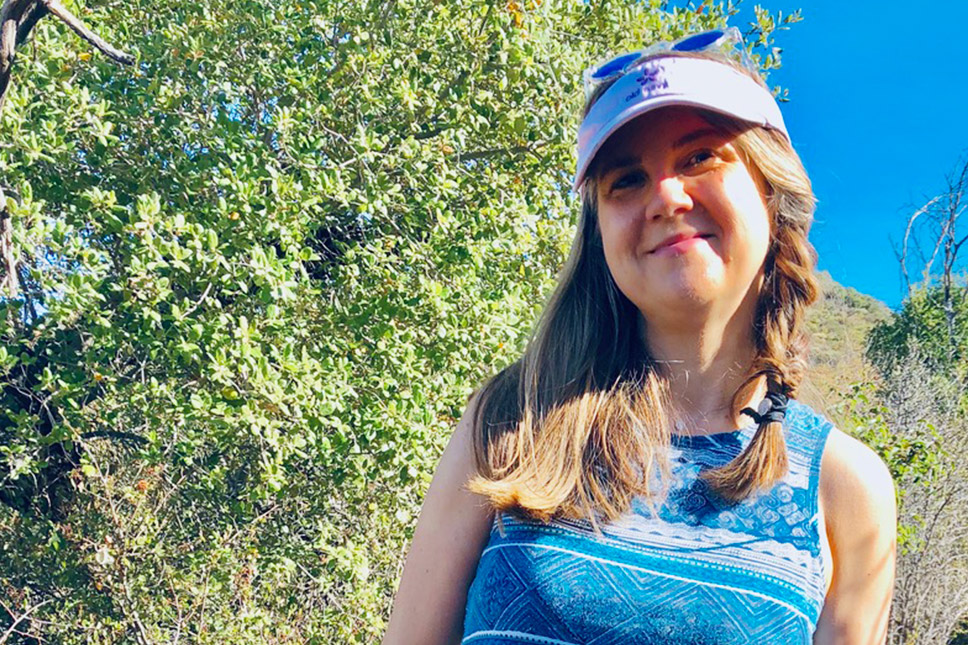 Dr. Ourso exploring the San Diego Botanical Garden.
Global Campus: How did you transition into online teaching and learning?
Professor Ourso: I was motivated to learn to teach online by Raul, an adult who was raised in a migrant farmworker family and literally had no opportunity to get a higher education at the traditional college age, as I did. When he began taking courses online, it got me thinking. Raul really wanted a higher education, but he had a family, including a mortgage. He could not just stop working and go to school during the day; that just wasn't possible for him. And I realized that if I learned to teach online, I could help people like Raul. So I went to Chicago to get trained to teach online and I also took a training course locally (through University of San Diego, where I taught for seven years), plus a lot of additional training that I've done over the years.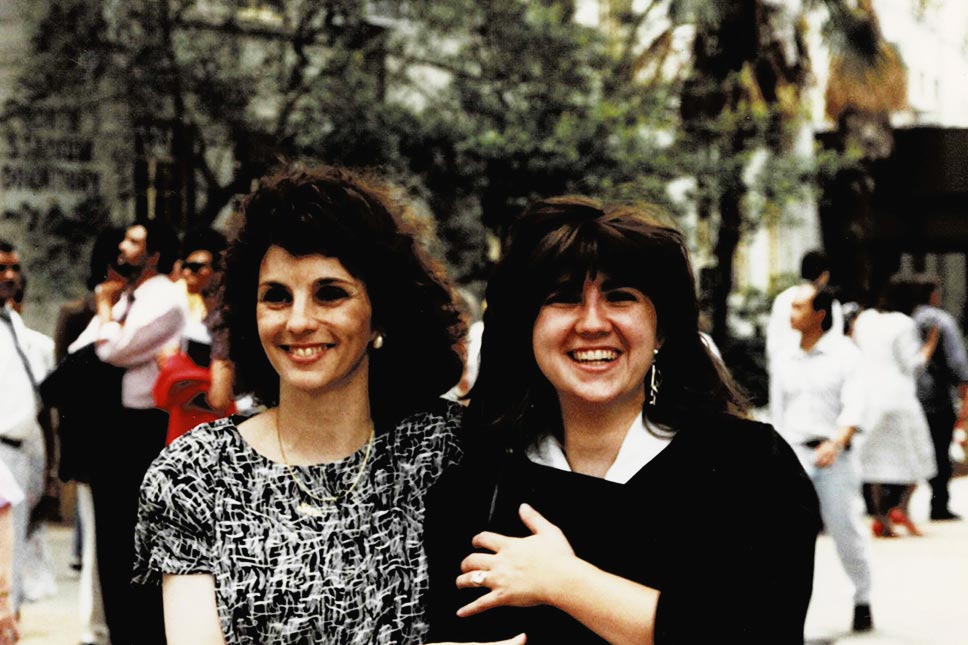 Dr. Ourso, right, with her mother at her college commencement.
Global Campus: How important is it for students to have a mentor? 
Professor Ourso: Having a supportive person can really make a difference when you're doing something challenging like earning a college degree or writing a novel. A lot of students don't realize that they can get connected with a CHAMPS mentor who can guide them through the college experience. If someone is struggling with a particular area, such as algebra, students can ask for a CHAMPS mentor who has successfully completed algebra.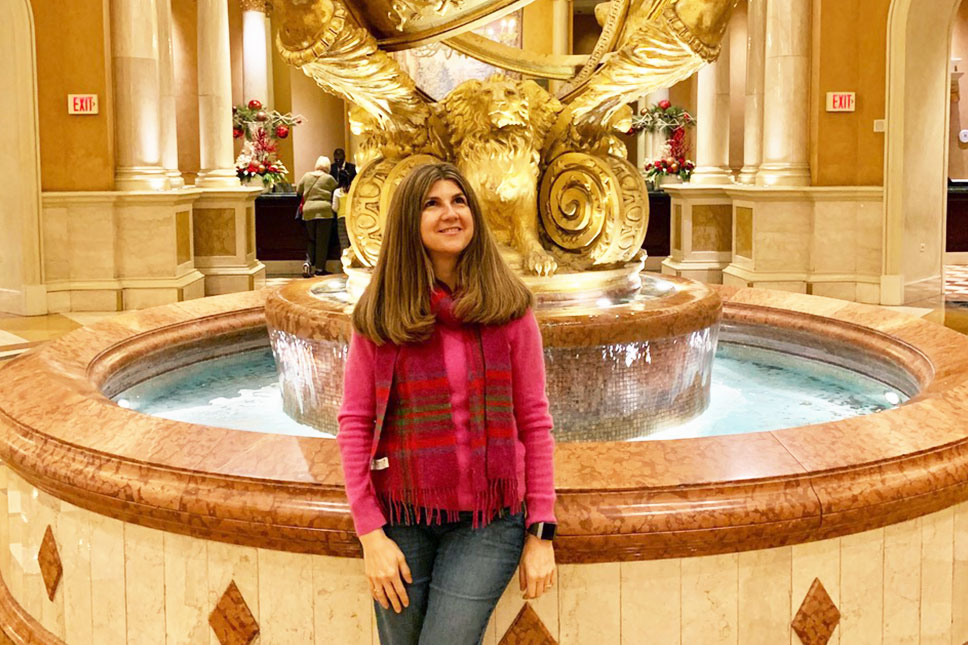 Dr. Ourso poses at the Venetian in Las Vegas.
Global Campus: How do you break through periods of procrastination?
Professor Ourso: I find that when I'm putting something off that, if I can get myself started, I will probably do it. So I trick myself by committing to do it for a short period of time such as 12 minutes (or even five minutes) and I set a timer for that length of time. If, after the 12 minutes pass, I want to stop exercising or doing my creative writing, then I'm free to do so. I find that once I get started, the inertia of already being in my gym clothes and moving or being in the middle of a sentence makes me want to keep going. When that happens, I set my timer for another 12 minutes (or five minutes) and continue on.
An avid hiker, Dr. Ourso says she "loves waterfalls." 
Global Campus: How do you make time for your mental and physical health?
Professor Ourso: After I wash my face in the morning, I will exercise for 20 minutes, and then meditate for 20 minutes. After I brush and floss my teeth at night, I will do creative writing for 25 minutes. I journal every day. Each evening, I will set a timer for 2 minutes and write about my day until it goes off and then stop.
 

Dr. Ourso reads her short story "Someone Like You" on the train from Old Town San Diego to Oceanside, CA. This video presentation was selected for inclusion and presented at the Faculty Salon January 24, 2017.
Global Campus: Besides, math, what are your other passions?
Professor Ourso: I adore reading. I read widely, including fiction and nonfiction. I'm more likely to read a book than a blog, unless I know the writer personally. Recent favorite reads include the Outline Trilogy by Rachel Cusk, The Hate U Give by Angie Thomas, and Small Admissions and Limelight, both by Amy Poeppel. I enjoy reading books from other cultures, such as Convenience Store Woman by Sayaka Murata, Your Second Life Begins When You Find Out You Have Only One by Raphaelle Giordano, and Windfall by Diksha Basu. My mother and I sometimes read the same novels and discuss them. I read a lot of young adult fiction and occasionally science fiction (my husband likes this genre and we enjoy some of the same books). I've had some success with my creative writing. My short story, Blue is for Boys, was published in the UCSD Temper. 
--
By University Staff