Dr. Mingzhen Bao lives in sunny San Diego, but it's the cloudy, rainy days that bring a smile to her face. 
"Don't get me wrong, I love the beach," smiles the associate director for the University of Arizona Global Campus Center for Enhancement of the First-Year Experience. "I just love to go when it's cloudy, during May, or what they call 'June gloom' here."
Growing up in Hangzhou, China — a lush green coastal city in Eastern China that Dr. Bao compares to Seattle in climate — it's the thought of fall in her hometown that she misses most. That's because every autumn, blooming sweet olive flowers called Osmanthus fill the air of Hangzhou with their light, intoxicating fragrance. 
However, on any given weekend these days, you're more likely to find Dr. Bao surrounded by the delicious scents of home-cooking as she whips up nutritious meals for her family, including two young daughters: Ashley, age 7 and Ivy, age 5. 
"My husband Tao and I are so busy during the week working that I like to make sure our girls have very balanced meals during the weekends," she says.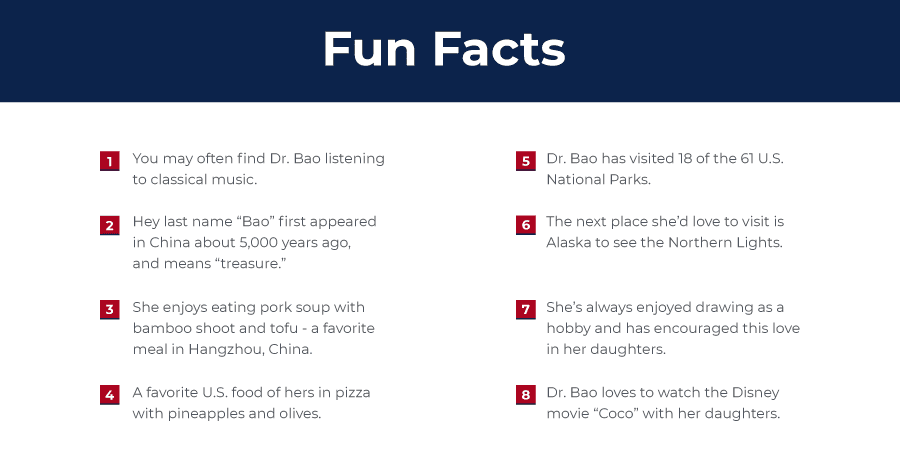 Outside of her work at Global Campus and her ongoing pursuit of education and personal development, Dr. Bao's daughters keep her very busy. And, with her parents also now living in San Diego, family takes top priority for Dr. Bao any chance she gets.
Five years ago, while pregnant with her daughter Ivy, that strength of her family was a lesson that was reinforced for Dr. Bao. 
"The very same day Ivy was born in Colorado, my father had lung cancer surgery in China," she recalls. However, her relatives were so worried that news of her father's illness would stress her out at the tail-end of her pregnancy, they refrained from telling her until a month after Ivy was born.
"I had such respect for my mom, who handled everything by herself and showed me how strong she could be," Dr. Bao acknowledges. Now with her parents nearby, the entire family enjoys spending as much quality time together as possible. 
This connection allows her to relate to many of the struggles UAGC students experience. 
"Home and family are the most important things in our lives," she says. "Usually when my students have challenges, it's almost always something to do with their family and personal lives. I understand that and where they're coming from."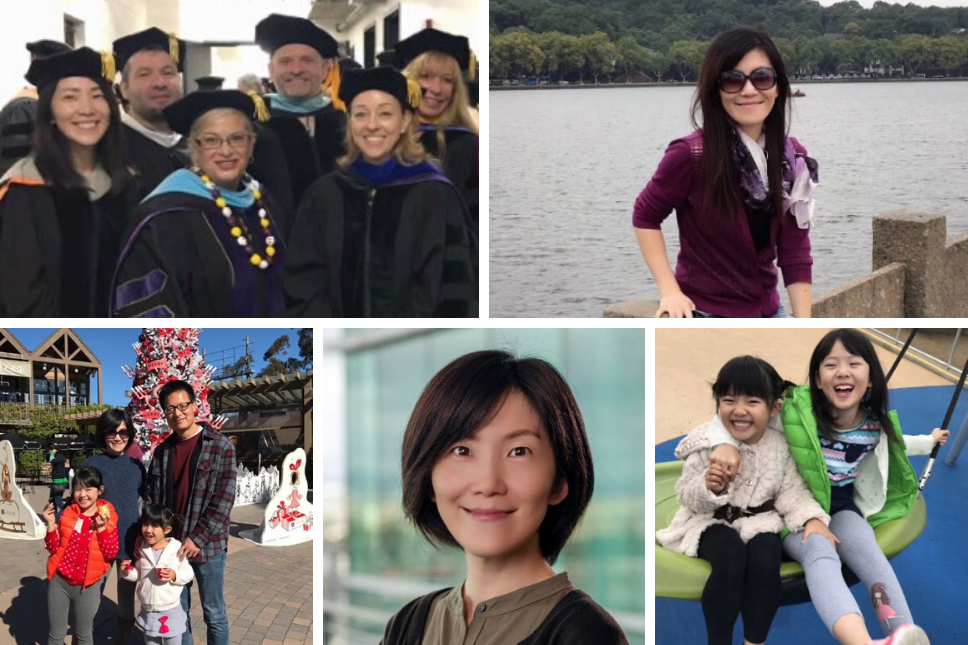 Getting to Know Dr. Mingzhen Bao
As Associate Director for Global Campus Center for Enhancement of the First-Year Experience, relating to students and helping them find their niche at Global Campus is something Dr. Bao is passionate about. She began working with the center in November 2019 and enjoys helping launch every Global Campus student into a journey of lifelong learning and success. 
Global Campus: What led you into the field of linguistics?
Dr. Bao: Initially I was interested in computer science, but was accepted into a very competitive boarding school in China that specialized in languages. After six years of intense schooling with an emphasis in language, I realized being a college language teacher could be a very good career. So, I went into linguistics as my major, but never let go of my love of numbers and computer science. 
In linguistics, there are so many sub-fields. I started in one but moved into experimental phonetics, which led me to cognitive linguistics, and so on. I continued my professional development into data analytics, which got me right back into the world of numbers that I've always been comfortable in.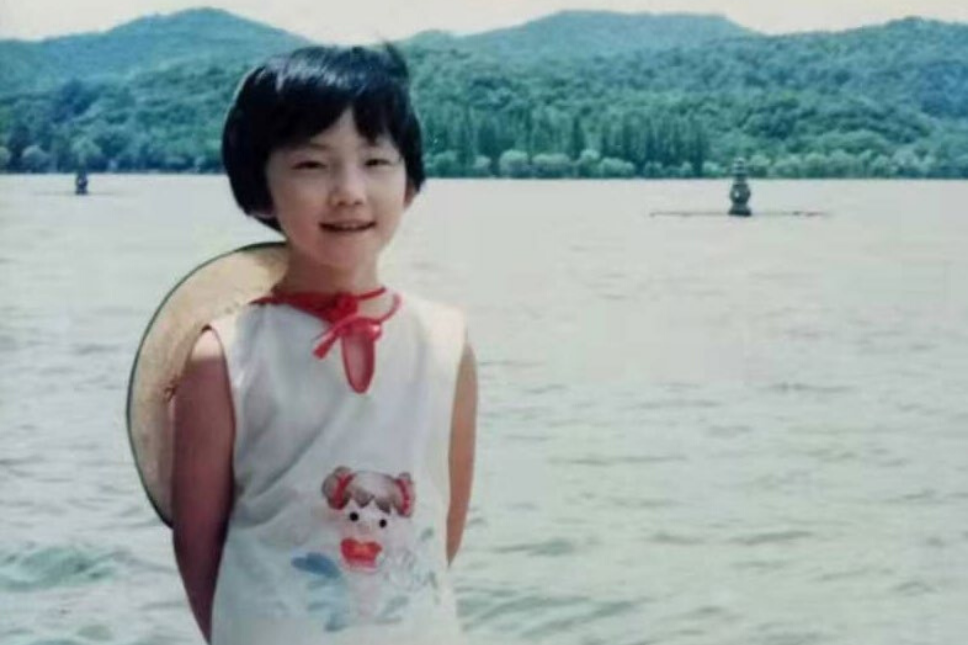 One of Hangzhou's most popular sights is West Lake. Dr. Bao visited the lake frequently and is seen here posing as a child in the 80s.
Global Campus: Any tips for students who may be contemplating a major they're not sure about?
Dr. Bao: First of all, I reassure them one of the most important aspects about advancing your education is learning new skills and gaining competencies. After graduation, you may discover something else that you're passionate about, and through your education, you'll have plenty of the tools you need to be able to go and pursue that. Try not to be constrained by the title of the degree you are earning. The skills you gain from achieving it will be beneficial no matter what direction you end up going.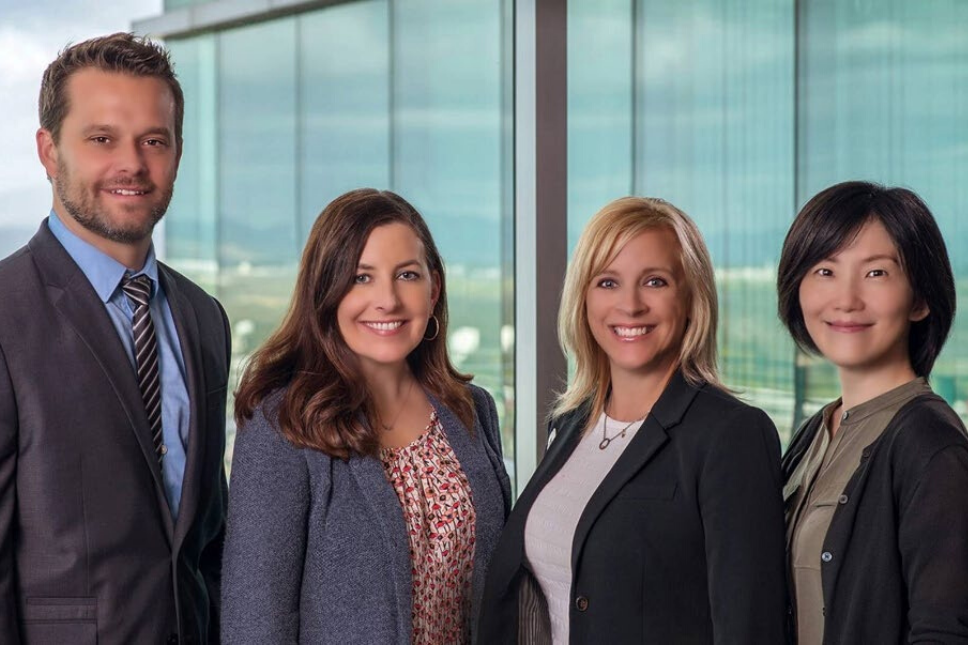 The Center of Enhancement for First Year Experience leadership team at Global Campus includes (from left) Drs. Justin Harrison, Jennifer Vogel, Amy Rogers, and Mingzhen Bao.
Global Campus: How does the Center for Enhancement of the First-Year Experience work to benefit every student as they begin their education at Global Campus?
Dr. Bao: Our mission at the center is to immerse students into empowering, engaging, and transformative experiences that provide a sure foundation for completing their degrees and achieving their personal and professional aspirations. 
Our role is not to teach specific courses. What we are really teaching are competencies that work across any curriculum. For instance, we teach critical thinking so that it can apply across any class and for any major. As this is a learning experience, we want to make all curriculum meaningful for our students, content-wise and also with the approach we take in delivering it.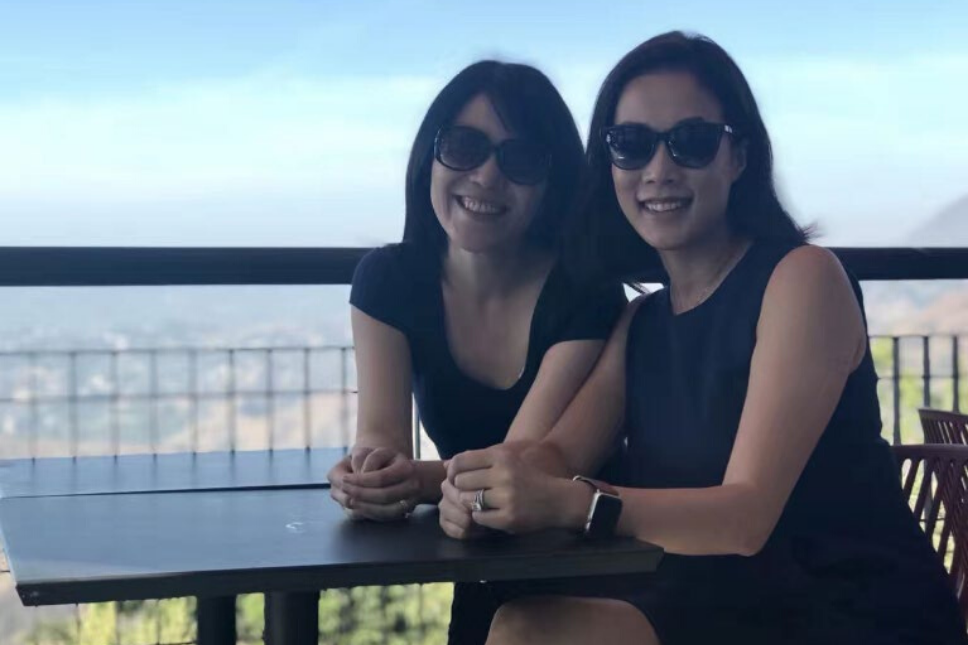 Dr. Bao, left, with her longtime best friend, whom she met while attending boarding school in China between grades 7 and 12.
Global Campus: What are your tips for students wanting to maximize their success in school?
Dr. Bao: Active engagement is important. Most students talk to their advisors, and then there are truly great students who kick things up and talk to their instructors as well. First-year students can vary a lot from each other. They may have transfer credits or maybe haven't been in school for 20 years. The key is how they engage with their instructors, advisors, and all of us at the center.
In my role at the center, we reach out to students first and let them know that we are here for them if they have any questions, especially academically. By showing our commitment to reaching out, we hope that they will, in turn, feel comfortable reaching out for help throughout their time at Global Campus. Students should always remember: your faculty is here to support you. 
Global Campus: Do you have any advice for students who are facing a tough time either in school or their lives in general?
Dr. Bao: Cut down on negative self-talk, as it's not helpful. If you surround yourself with positive family members and friends, you'll start to see the more positive aspects of any situation. Also, take responsibility for your life. It comes down to accepting that life is a roller coaster of highs and lows. We should definitely enjoy the highs, but need to remember the lows will come and go as well. We can't change the challenge, but we can change the way we respond to it. Every challenge we face is designed to help us become better versions of ourselves. 
--
Written by University Staff