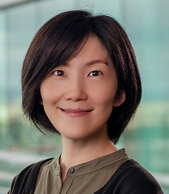 Mingzhen Bao, PhD
Assistant Dean
College
College of Arts and Sciences
Biography
Dr. Mingzhen Bao is an associate director and professor in the Academic Engagement Center at the University of Arizona Global Campus (UAGC). She received her PhD in Linguistics with a focus on Phonetics and Second Language Acquisition from University of Florida. Her Master of Arts in Applied Linguistics and Bachelor of Arts in English are from Zhejiang University, China. Dr. Bao has been a member of the UAGC team since 2013, where she has served as Program Chair, Academic Department Chair, and Associate Dean. Dr. Bao is committed to empowering students to be global community leaders. Her research experience includes discoveries on speech prosody of tonal languages in East and Southeast Asia, an exploration into acoustic properties of under-documented languages in West Africa and the Pamir Mountains, behavioral and psycholinguistic studies of tonal acquisition and processing, and online learning and teaching. She has published over twenty peer-reviewed journal articles in her field and presented at a variety of national and international seminars and conferences.
Grants and Professional Trainings:
Harvard Women in Education Leadership Program
WASC Senior College and University Commission Educational Program: Exploring and Creating New Faculty Models for Student Success & Institutional Effectiveness 2017
Effects of Short-term Synchronous Computer-Mediated Communication to Productive Performance in Distance Language Learning Proposal (as PI), University Fellow Program, Ashford University ($5600) 2014
Constellation Book and Student Achievements Proposal (as PI), University Fellow Program, Ashford University ($10,000) 2013
Selected Publications:
Bao, M-Z., Pritts, N., Bethune, S., Hyntka, M., & Foster, C. (submitted). Live Learning: Supplementing Asynchronous Courses with Synchronous Web Meetings.
Bao, M-Z. (2020, November 3). Merging the classroom and the real world. Thought Leaders Blog [Blog post]. Retrieved from https://www.ashfordtlc.com/single-post/merging-the-classroom-and-the-real-world
Bao, M-Z., Selhorst, A., Taylor-Moore, T., & Dilworth, A. (2019). Enhanced teaching requirements: A case study of instructional growth on student academic performance and satisfaction in an online classroom. Journal on Empowering Teaching Excellence, 3(2), 4-20.
Selhorst, A., Bao, M-Z., Williams, L., & Klein, E. (2017). The effect of online discussion board frequency on student success in adult learners. Online Journal of Distance Learning Administration, 20(4).
Selhorst, A., Williams, L., & Bao, M-Z. (2017). The effect of transparent instructor guidelines on student success and satisfaction in online classrooms: Curriculum design and effective online learning. The International Journal of Adult, Community and Professional Learning, 24 (2), 1-13.
Bao, M-Z., Taylor Moore, T., Tinianow, D., & Nideffer, J. (2017). Enhancing teaching and learning through technology: A comparative study of YouSeeU integration in oral communication-oriented courses. The International Journal of Technologies in Learning, 24 (1), 15-23.
Li, B., Shao, J., & Bao, M-Z. (2016). Effects of phonetic similarity in the identification of Mandarin tones. Journal of Psycholinguistics Research, 1-18.
Riaz, S., Bao, M-Z., Zorn-Arnold, B., Weitl, J., & Kirwan, J. (2015). Do students use etextbooks meaningfully? Lessons learned from four online university courses. Journal of Modern Education Review, 5(10), 951–961.
Questions? Talk with an Advisor