There's more to teaching than curriculum, and few know and understand this better than Dr. Michelle Rosser-Majors. Not only does she have the education, experience, and published work to back that up, but she has also overcome her share of tough times, shaping her outlook on what it means to be an educator. She says it's her past experience that inspires her to always show empathy to her students and the faculty she manages, especially during the pandemic.
"We need to be really, really open to everyone's hurt or feelings about things right now and be careful not to shut down students because they might not agree with us, because it's so crazy right now," she explains. "It's so much more than COVID. It's an election year, so many of our students are on the edge, and they have a right to be. It's OK for them to want to talk to us. It's OK for them to need help, and we just need to be there for them more-so than we have in the past."
Currently, Dr. Rosser-Majors is a Lead for the Bachelor of Arts in Psychology and Master of Arts in Psychology degree programs in the College of Arts and Sciences. She is also on the curriculum committee representative, Psychology Club Faculty Advisor, and Instructor Presence Certification Curriculum Developer and Content Expert. Additionally, she serves on the Student Community Standards Committee and the Library Advisory Committee.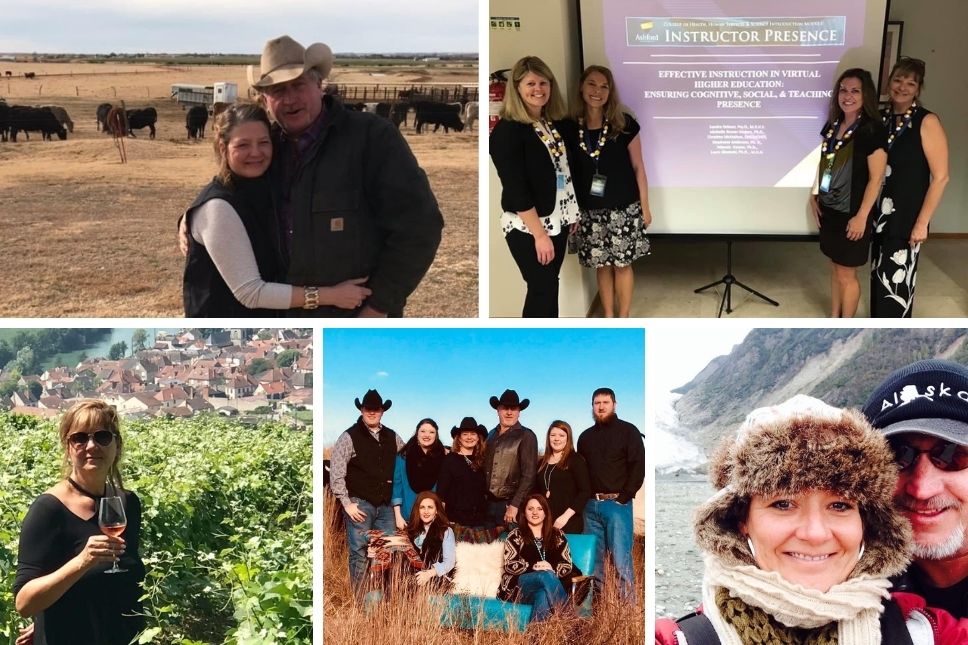 Getting to Know Dr. Michelle Rosser-Majors
During the week, Dr. Rosser-Majors works with students and manages faculty for the BA and MA in psychology degree programs. But on weekends and on all her vacation days, you'll find her outside with cows and other farm animals. She and her husband, Lex, who have five adult children between them, run a cattle ranch in west-central Oklahoma with their oldest son. 
But it was her experience growing up among teachers (her mother, grandmother, and grandfather were all teachers) and later as a high school teacher in Texas that led to her current career and passion for educating others. 
"Everything I've gone through has shaped me as a professor," Dr. Rosser-Majors says. "Our population is very similar to what I taught at the high school, so I have a huge passion for those who get left behind and I do understand how we process information and our ability to process information accurately has a huge place in learning."
Raised with her sister in Northwest Oklahoma by a single mom, Dr. Rosser-Majors was a drum major in high school. She attended the University of Oklahoma, where she played in the marching band and graduated with a Bachelor of Fine Arts in Visual Communications. She worked in marketing for a few years, and then had a few other careers before deciding to go back to school for advanced degrees.
While working on her master's degree at the West Texas A&M University, she earned her certification and started teaching art and drama to grades K–12. It was her days teaching high school in an underserved community that led Dr. Rosser-Majors to make the decision to get her doctorate.
"The high schools I worked at were a very diversified, struggling socioeconomic population, high minority population, really a struggling student population and really didn't have any idea that was going to be in play later in my life," Dr. Rosser-Majors says. "I loved my high school students very much and they made me who I am today."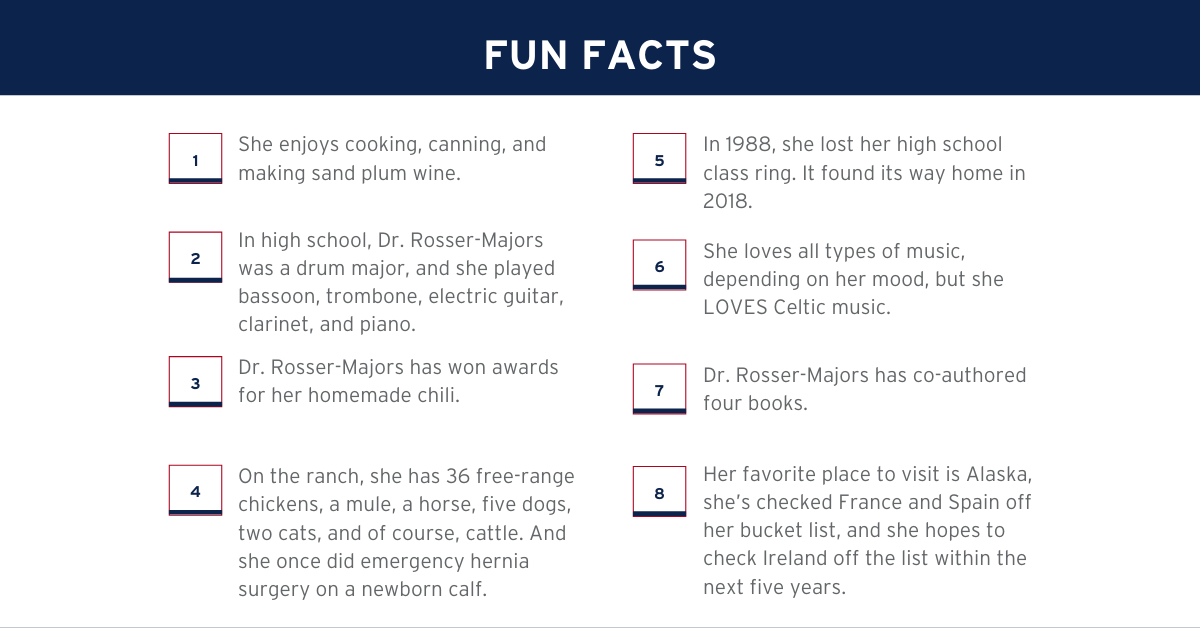 After earning her Master of Arts in Interdisciplinary Studies, Dr. Rosser-Majors moved back to Oklahoma. She earned her doctorate at the University of Oklahoma while teaching college courses and working as an online moderator, auditor, and lecturer at University of Oklahoma until she graduated with her Doctor of Philosophy in Educational Psychology.
However, a quick succession of personal tragedies almost prevented Dr. Rosser-Majors from graduating as planned. Her mom was diagnosed with cancer and then shortly after passed away, her adoptive father had a heart attack, and she broke her ankle, requiring surgery.  Yet it was the help of a college advisor who helped her through those challenges.
"If I hadn't had somebody who cared about me like that, I don't think I would have gotten my doctorate," she acknowledges. "He led me through the pain and everything that happened with my mom. I was scared I would fail because of everything I was going through, and he wouldn't let me give up."
Dr. Rosser-Majors says everybody needs someone to hold their hand or put their arms around them once in a while — even if it's virtually for now. It's one of the reasons she enjoys working at Ashford University* so much.
"I like the fact that we can reach some of these students that wouldn't have the availability to get education without being able to be online," Dr. Rosser-Majors says. 
Dr. Rosser-Majors started working at Ashford in 2013 and says she loves her job. For her work, she has received two awards: A 2019 Online Learning Consortium (OLC) Effective Practice Award: Instructor Presence Module Series Development and the 2019 Ashford University Service Award.
When she's not helping her Ashford community, Dr. Rosser-Majors finds time to relax at home, where she loves to garden, fish, cook, and make her own wine. 
Taking care of herself is important as well, Dr. Rosser-Majors says. 
"Something I try to live by, especially for the past several years, is, 'To thine own self be true,' in that you need to make your heart happy, you'll be a better person, make your mind happy, you'll be a better person, take care of you, and you'll be a better person, and I think I've tried to get better at that as I've gotten older."
--
*Ashford University is now the University of Arizona Global Campus.