Although she might not consider herself clairvoyant, Christina Champagne had the foresight to recognize she was headed down the wrong path during her early high school years. 
It all began when her grandmother passed away after a two-year battle with cancer, and at age 10, Christina's parents separated. These two tragic events set her on a course for self-destruction that culminated when she was 15. 
"I had a .5 GPA, so I was failing epically in school, and I was getting in a lot of trouble," recalls our March 2021 Alum of the Month. "I was going to end up dropping out of high school, and I just had this feeling that if I didn't find the support I needed, I wasn't going to be the person I saw for myself in the future."
That's when Christina took action. She reached out to her father and arranged to live with him in Atlanta, Georgia, setting her sights on one goal: graduating from high school.
Instantly, she turned her life around.
"I was a straight-A student," she says, adding that the support she received from her father is what helped her get past the major hurdles and earn her diploma.
That was just the beginning of her long road to academic and professional success. Christina's resolve, and the support she received along the way, would become constant themes throughout the years that followed. 
Christina had planned to attend a traditional four-year university and even took night classes at a community college while a junior in high school. Yet life continued to present numerous challenges, and it would be a full decade before Christina's true vision for her life came to fruition. Ultimately, she would move back and forth between her mother and father (from Atlanta to Tucson, Arizona, twice) seeking the guidance she needed to thrive. 
Caught between uncertainty and a desire to support herself, Christina put her college aspirations aside once more and worked at the airport in Atlanta for a year, during which time she contemplated her choices. 
"At the time, I was 20 years old, I had no car, I was taking the train and bus, walking everywhere, carrying my groceries, but there was a lot of crime, and I was really scared," she recalls about life as a young single woman living in Atlanta. "But I had this picture in my head of buying a house, a car, and being a successful businesswoman." 
Once again, Christina made the decision to return to Tucson, except this time she stayed and put her plan in full motion by enrolling in another online institution.
It wasn't long before Christina found her footing. Because she was working full-time while attending college, it would take her six years and a change in major before she finally discovered her true calling. In July, 2016, Christina earned a Bachelor of Arts in Human Resources.
I hope that those who watched me continue my education while balancing my career and personal life feel inspired and empowered to never stop learning. It is never too late to continue your education no matter what stage in life you're in. 
A Bright Future
Within six months of graduating, Christina landed a position as Human Resources Management Assistant at Southwest Gas, where Christina continues to thrive today. 
Her enthusiasm for achieving what she had envisioned for herself years earlier — as well as a deep passion for her job and her chosen field — shows. Even with all her accomplishments, Christina still looks ahead to what's next.
"I see myself working and retiring from Southwest Gas," she exclaims. "If I continue to work and be a rock star, and get promoted and move up to a supervisor or manager role, I'm all for it."
So far, her plan is unfolding accordingly. This year, she was promoted to a new role in Human Resources Shared Services. Christina attributes this recent achievement to her decision to take advantage of her company's partnership with Ashford University* and pursue her master's degree on a Full Tuition Grant. In July, 2020, she added a Master of Arts in Organizational Management with a specialization in Human Resources Management — a degree that has qualified her for additional opportunities.
As a student, Christina prospered, but obtaining the degree wasn't the only factor in enhancing her knowledge. In addition to becoming a member of the Golden Key International Honor Society and the Women in Technology International student organizations, she took on the role of President of the Forbes School of Business and Technology® Society for Human Resources Management (SHRM) Chapter and even led the group to earn its first merit award with SHRM.
"It was a great opportunity to showcase my leadership skills, drive the chapter to be successful, and allow other people to learn from me," she says. 
Although Christina is proud of what she accomplished with the SHRM chapter, it may have been her positive classroom experiences that have the most lasting impact. 
    
"Every one of my instructors was super helpful and responsive, and if I was struggling, they were right there to walk me through it," she explains. "I didn't feel like I was doing school alone. The students and instructors were my cheerleaders and made sure I had the tools I needed to be successful. Even down to my academic advisor, he was there every step of the way."
One faculty member and class, in particular, made the biggest impression.
"I will remember Training and Development for the rest of my life," she says, noting that the instructor, Maja Zelihic set the bar extremely high, forcing her to dig deeper into the material and truly gain knowledge that benefited her career. 
"She really wanted me to look at the core, and if she didn't push me to peel the layers back, I wouldn't have the understanding I do now," Christina explains. "Although my role is not training- and development-related, I have a sense of how important it is for that trainer to be successful, and I have a whole new respect for the talent development department because of that class."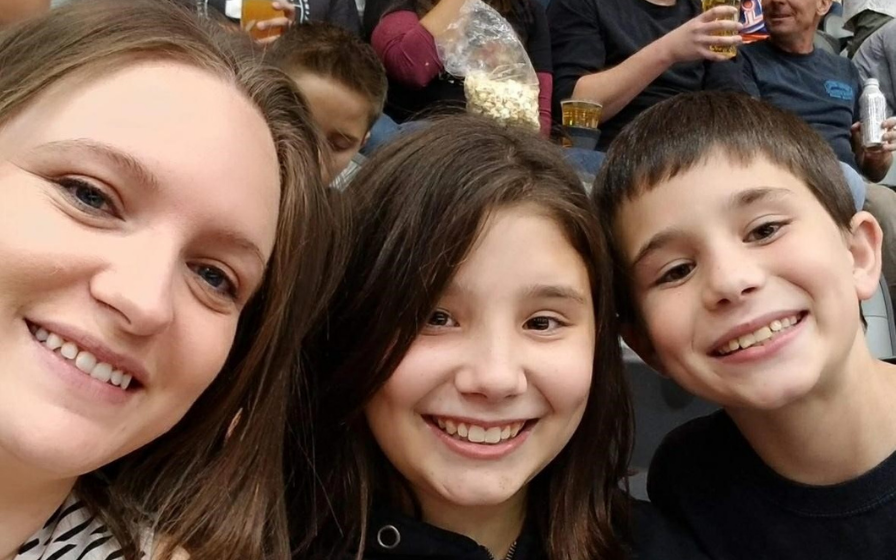 Christina Champagne takes a break to attend a hockey game with her stepchildren. This was the first time they went to a game, but it is now one of their favorite past times.
Empowered to Achieve
Christina says she chose her degree because she wanted a more in-depth understanding of her organization and wanted to know how to strategically support the company. The skills and expertise she gained — combined with the real-world experience of pursuing a master's degree as a working adult — provided her with great examples and allowed her to continue to build her credibility and become a valuable resource to her network of peers and colleagues.
"These are huge accomplishments full of triumphs, and I hope that those who watched me continue my education while balancing my career and personal life feel inspired and empowered to never stop learning," she exclaims. "It is never too late to continue your education no matter what stage in life you're in." 
Now at 32, Christina is feeling more empowered than ever and is forging her own path ahead with a new support system: her husband of 7 years, JB, and her two stepchildren, Drayk and McKenzie. Of all the lessons she has learned along the way, the greatest maybe knowing that it's OK to seek support and ask for help.
"I made a lot of decisions by myself without consulting people around me, and have learned from that," she admits. "Now I really thrive on having open conversations with family and it's helped me a lot." 
Despite this "mistake," Christina recognizes that her experiences have made her the person she is today. Looking back, she doesn't have regrets. Instead, she sees it all as one big learning opportunity.
"Back when I was making terrible decisions, I thought to myself, 'I want to do something in business, and I want to be successful.' I fulfilled that goal," she says proudly. "I am a successful businesswoman, and I am glad that I made that first decision to improve my life." 
--
Erin Ansley is the Content Manager for UAGC.
*Ashford University is now the University of Arizona Global Campus.
Certain degree programs may not be available in all states.