All her life, Dr. Hwang-Ji "Sherri" Lu has been proving doubters wrong. Born and raised in Taiwan, the associate professor in the College of Arts and Sciences at the University of Arizona Global Campus (UAGC) got an early glimpse of what success, determination, and compassion looks like by watching members of her family.
"My father is a high school principal, my grandfather is a physician, my grandmother is a dentist," Dr. Lu explains. "Many of my family members are doctors, and I was born into this."
As a young girl, she recalls how every year around Chinese New Year, people who were in need would line up in front of her family's house, and her grandfather would give them a bag of rice or other food as well as free medical treatment or medication if he knew a patient could not afford it. 
"This is how I grew up," she explains. "That's something I still hold close to my heart today."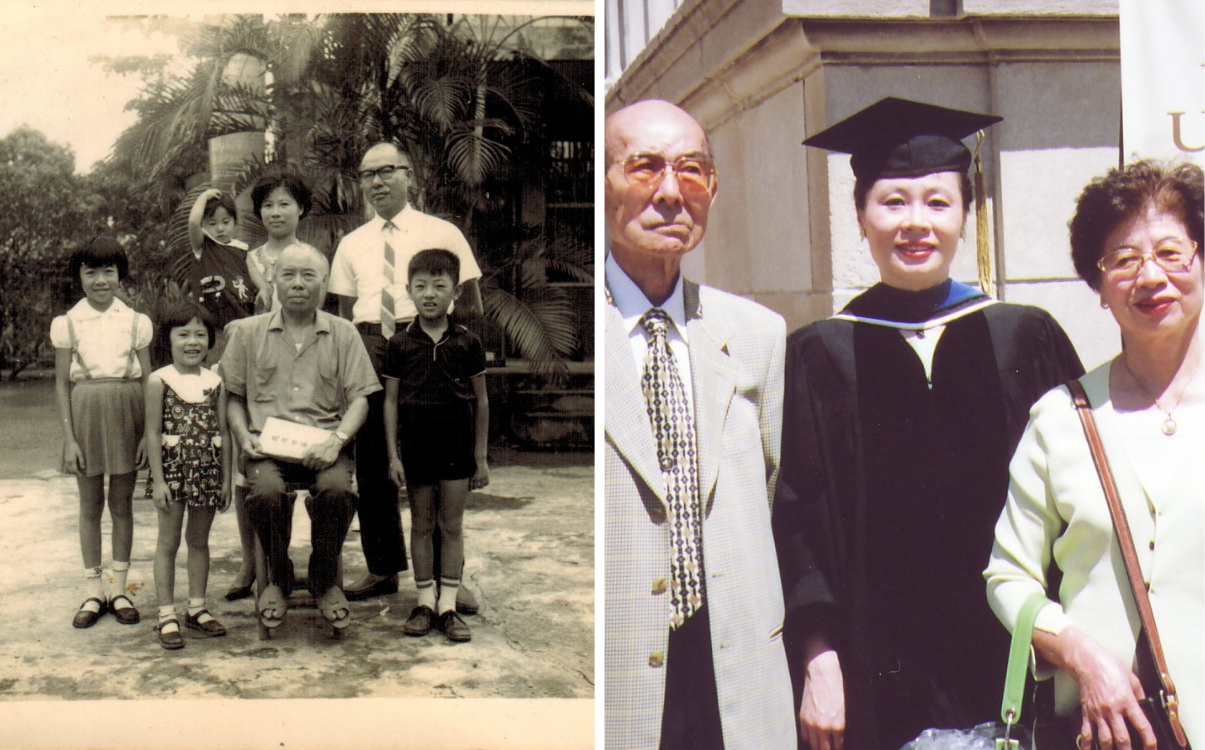 Left image: Dr. Lu, second from left, stands next to her grandfather in a family photo. Right image: Dr. Lu's parents traveled from Taiwan for her PhD ceremony.
Seeing her family's compassion and their achievements up close inspired Dr. Lu to pursue a similar path to success, but in America instead of China. Her decision to move to another part of the globe was not well received by her parents. 
"I'm very independent, and it was always my dream to go to the United States to get my degree," she recalls. "But my parents didn't want me to come."
In 1984, at the age of 22, with her Bachelor of Science in Health Science and Nutrition from Taipei Medical University already under her belt, Dr. Lu was ready to make the move and come to the U.S. with the goal of earning a PhD in immunology. 
Unfortunately, her plan hit a major kink.
"I was rejected by all of the universities, but I did not get discouraged," she says.
Instead, Dr. Lu recalibrated her goals, changed majors, and earned a master's degree in nutrition from North Dakota State University. This early success in America was akin to the start of a winning streak. She went on to earn a second master's degree in Health Services Administration from Central Michigan University and completed her PhD in Management from Walden University.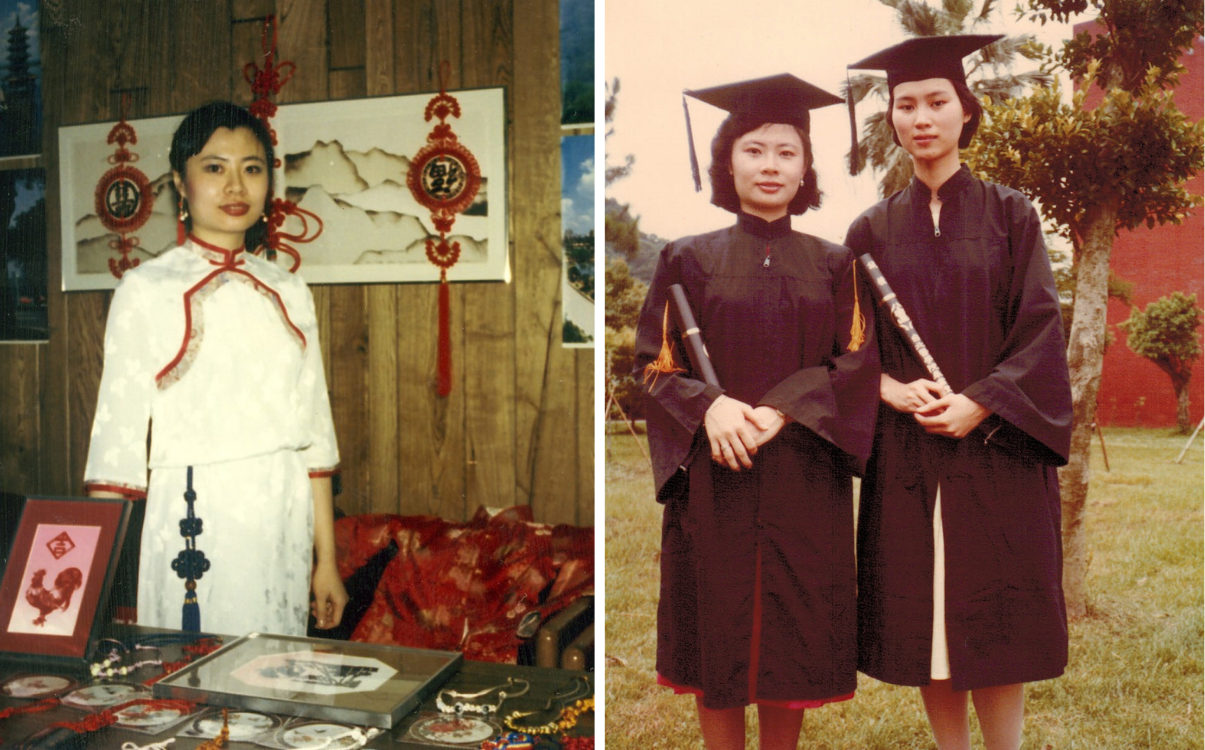 Left image: Dr. Lu demonstrates how to make Chinese knotting in an exhibition while a student at North Dakota State University, where she earned her first master's degree. Right image: Dr. Lu, left, with a classmate during their commencement ceremony at Taipei Medical University.
With such a diverse academic resume, Dr. Lu was able to expand her professional competencies at every stop. In addition to 15 years as a member of the UAGC faculty, her professional background includes over 20 years of experience in a wide variety of industries including real estate, restaurants, financial services, computer hardware, hospitals, dentistry, pharmaceuticals, managed behavioral care, the non-profit sector, and pharmacy retail stores. She also has over 10 years of quality management experience in health care, having implemented Total Quality Management in an ISO-certified hospital, and is experienced in executing Quality Circles. Additionally, she was a hospital consultant assisting the pharmacy department in implementing processes improvement initiatives. From 2000 to 2005, she worked for the largest managed behavioral healthcare organization and the largest nonprofit in the United States in the area of quality improvement. 
Dr. Lu's work also includes participation in a wide variety of industry and academic committees, and she has been recognized for her work as the recipient of numerous awards.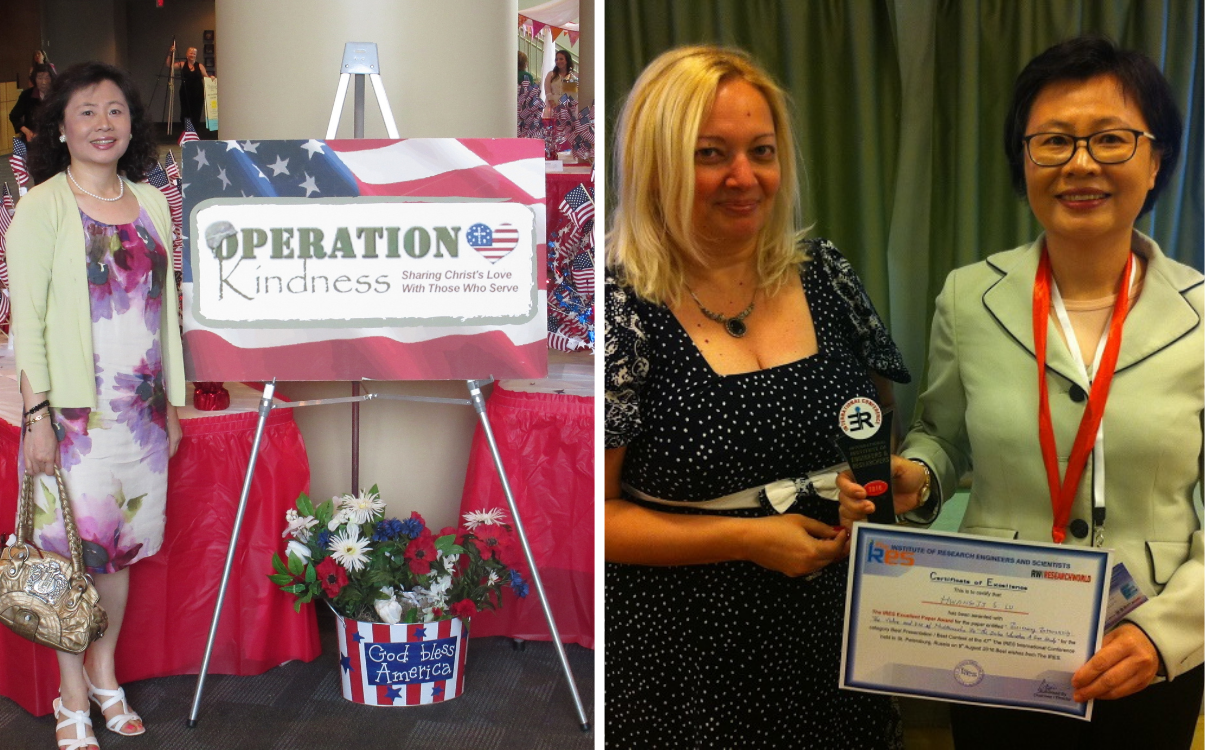 Left image: Dr. Lu has served at the military ministry Operation Kindness, and packed boxes to send to services men and women overseas. Right image: Dr. Lu receives the Best Paper Award from the IRES International Conference on E-Education, E-Business, E-Management and E-Learning (IC4E 2016) in St. Petersburg, Russia.
All of this allows Dr. Lu to provide a broad perspective and valuable information to her many students.
"Unlike other people, I have been in many different industries, inside and outside of health care," Dr. Lu says. "I didn't expect my career to go like this.
"When I completed my PhD, I really wanted to help an organization in the area of leadership development or organizational change and really make a difference. Being a full-time professor wasn't my original career goal, but I'm happy to be a scholarly practitioner."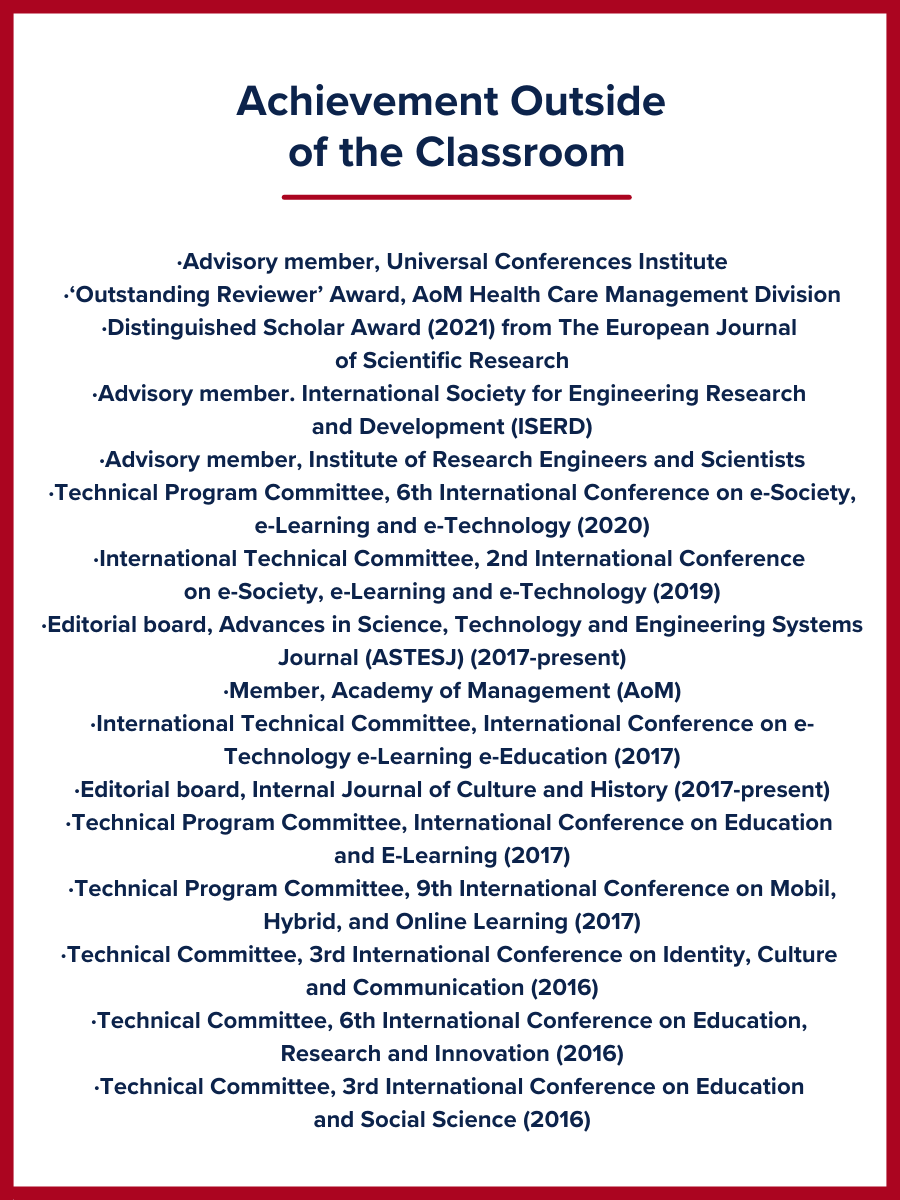 Four Tips for Achieving Success
In conversation, Dr. Lu reveals four defining characteristics that have allowed her to succeed and overcome every challenge she's faced on her journey. Here are her tips for success.
1. Never quit
It may sound cliché, but Dr. Lu doesn't take "no" for an answer and refuses to give up when she stumbles. For many immigrants, the odds are stacked against them, but Dr. Lu arrived in the U.S. with a singular focus: studying. Even when she was rejected by universities that she applied to, she kept moving forward.
"I had the attitude that no matter what happened to me, I'll just stick to my goals, and I will never, ever, let anybody beat me," she explains. "This is my personality. If I decide to do anything, I just go for it, and I overcome the barriers and obstacles."
2. Embrace your own diversity
Dr. Lu has the ability to be flexible in her career because her academic background is so diverse. This has given her invaluable perspective that she can bring to the classroom.
"Quite often my students like to ask questions because they're curious, and they want to know how I can be in so many different industries," she says. "My answer is just opportunity.
"My sister-in-law, she has a degree in accounting and became a chief financial officer. She only sticks to one profession, but I've been everywhere. I'm not a specialist, I'm a generalist because I've been in different industries."
The UAGC classroom is often as diverse as Dr. Lu's resume, but more often than not, she's able to connect one of her past experiences to a student's current experience. Take dentistry, for example, a sector that she's quite familiar with, and not just because it's her grandmother's career choice.
"Even when I'm not on the clinical side, I understand, because I helped my friend manage his dentist office," she says. "I have several students in the Health Care Administration program that are either dental assistants, hygienists, or dentists, and I can relate because of my background. I also have students that work in nonprofits, and I was there too!" 
3. Take time to give back
"When I help people, I just feel so great," exclaims Dr. Lu when discussing the volunteer work that she does with her church. "Money is important, but money is not everything."
Giving back doesn't just mean committing time to community causes or working for nonprofits, as she has. In her own way, Dr. Lu is always giving back through the knowledge and counsel that she passes on to her students.
"I feel great whenever I can share my experience in class," she adds.
4. Remove yourself from negativity
Discrimination and hate crimes targeting Asian Americans have been in the headlines, but Dr. Lu knows this is not something that only came about recently. She spoke candidly about an experience she had during her days working at a pharmacy, when a white customer would call her derogatory and racist names. 
She didn't lose her cool. Instead, she just did what she could to remove herself from a negative situation.
"I pretended I didn't hear what she said, and I followed the procedures," she recalls. "No matter what she said, I provided my most professional service and reported everything to my pharmacy manager. 
"From then on, whenever that customer came to our store, my manager would just say, 'Okay, let me serve her.'"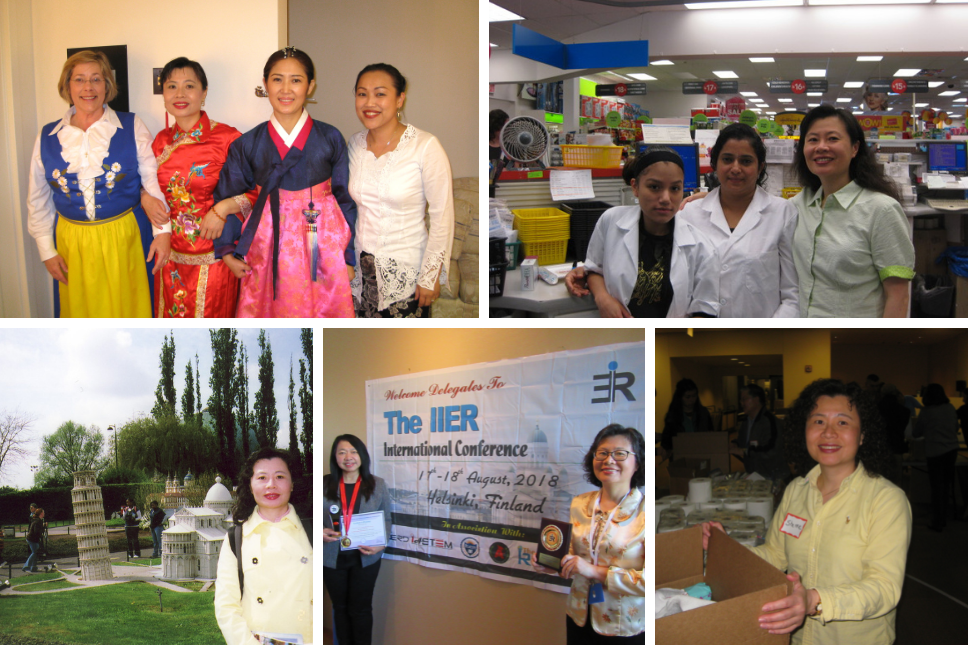 Getting to Know Dr. Lu
Keep reading for more insights from favorite faculty member Dr. Lu.
UAGC: You didn't set out to become a professor, so what led you to the classroom?
Dr. Lu: I was an online PhD student and understand the beauty of online education. I want to use my own experience and story to encourage my students to reach their academic goals. When I first received my PhD in 2006, I saw an opportunity to join Ashford University, but there was no health care program at the time. I submitted my resume in October 2006 and didn't hear anything back for six months. Then I received an email saying the school would soon offer a bachelor's degree in health care administration and I was the perfect candidate to teach it, but to please be patient. Soon after, I received another email notifying me of the program and the training I would need – I didn't expect the opportunity. But then I started teaching in the bachelor's program in November 2007, and a few years later I was asked to teach in the Master of Arts in Health Care Administration program. So, I realized that I'm back home, because my roots are in health care. 
UAGC: What advice do you have for someone looking to change careers?
Dr. Lu: This is all about your goal, your mindset, and how you're going to achieve it. I have students that change their careers in their mid-40s, and they're successful. They never let anybody get in their way. It can be very hard when you have a job and family, but it's all about your dream.
UAGC: How does your experience help you connect with your students?
Dr. Lu: Maybe it's because I have a very broad background, it's so much easier for me to get connected to students from various backgrounds. I'm also a minority, many of my students are females [like me].
UAGC: What advice do you have for overcoming discrimination in the workplace?
Dr. Lu: Voice that concern to your supervisor. I would say keep calm, don't try to fight back directly. You can report it to your supervisor or even human resources.
UAGC: What would you say is the proudest moment in your career?
Dr. Lu: The proudest moment in my career is to earn my PhD with a GPA of 4.0 in two years and three months at age 44. I was fired without wrongdoing because my boss did not want me to earn a PhD. After being let go, I could not use the original research proposal to start my research study. With sheer determination, I overcame all obstacles, modified my original research proposal, and got the approval from my dissertation committee members on my second research proposal. Finally, I passed the oral defense before my unemployment benefits dried up. I often use my personal story to encourage my students when I learn that they experience difficulties. The difference between success and failure is very simple. Successful people have numerous reasons for not giving up. Those who fail have a million reasons for giving up.
UAGC: Where do you see yourself next?
Dr. Lu: I am a baby boomer. Many of my classmates back in high school and college were retired years ago. I am looking forward to retiring from UAGC. However, I wish to continue to stay with UAGC in a part-time capacity and make an impact on the online education—specifically the master's program in health care administration.