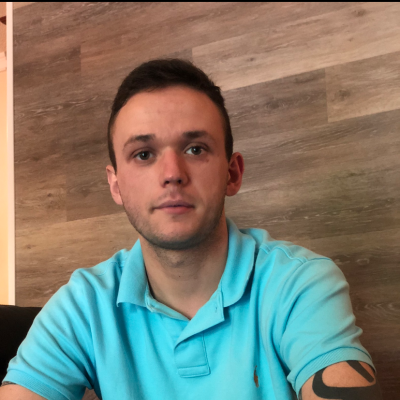 Tyler Barnett
BA in Organizational Management
Biography
Working as an Air Force staff sergeant in aircraft maintenance, South Carolina native Tyler Barnett knows a thing or two about making sure those crucial military jets stay safely flying and are maintained properly. At just 23 years of age and six years into his military career, his future has been consistently looking up as well. 
Currently stationed near Phoenix, Arizona, with his wife Emilee who is also in the military on active duty, the couple has two children under the age of three who keep them on their toes. 
In between family duties and work, Tyler managed to make time to go back to school and is now only about a year away from graduating. 
Recently, he found out his hard work and excellent grades earned him a place in the Alpha Sigma Lambda honor society.
Tyler's quest for excellence in class made him stand out to faculty such as professor Jamal Ibrahim, and his ability to handle his many other responsibilities in life with apparent ease does not go unnoticed. 
Before he enrolled at Ashford*, Tyler did a lot of research into his higher educational possibilities. He knew he would need to find a reputable online school if he wanted to complete his education while juggling the demands and unpredictability of life as an active duty service member. 
"I knew I needed to find a school that fit my schedule and would still allow me to spend time with my family," he says. "Everyone I talked to that went to Ashford said it was very flexible for military personnel. It turned out a lot of people that I worked with went here and they all said it was the best way to go."
Making use of the Air Force's tuition assistance, Tyler decided to pursue a degree in Organizational Management so that he could gain a better understanding of how to effectively manage people and resources. 
His plans are to eventually commission in the Air Force**, but he says it only took a few classes to quickly get into a leadership mindset that's been helpful on a day-to-day basis. 
Currently, due to the coronavirus pandemic, Tyler and Emilee's work schedules have been altered to allow for more social distancing while on base. To minimize the amount of people coming in at one time, he now works 10-hour days one week and then has the next week off.
That's meant his approach to schoolwork has had to change as well. During the weeks on, his days consist almost entirely of work, squeezing in homework as needed and seeing his family in whatever little time is left. Then, on his off weeks, he hustles to catch up on homework and get ahead of the upcoming week's assignments while maintaining attendance requirements.
However, this type of careful time management isn't new to Tyler. It's part of the secret to his success in school.
"Always stay ahead," he advises. "Knock out your work and go through your assignments as early as possible. That way you're sure you can get ahold of your professors with any questions in plenty of time, before your assignment is due."
Asked if he has any other tips for students, Tyler says to make use of the many resources available to them, such as the Writing Center, the Library and of course, that free Grammarly access. Most of all, he wants students to never shy away from asking questions.
"I always bring up any questions or concerns I might have with my instructors," he explains. "Even if I feel like it might be a stupid question, I want to be 100% sure that I understand the assignment and am doing it correctly."
His other advice is to keep powering through those classes. Since he began earning his degree, Tyler has only taken one three-week break and that was when his daughter Sophia was born. Now she's nearly a year old and he's eyeing May 2021 as his anticipated graduation date.
"It takes maturity and patience, but finishing your degree is doable," he says. "Sometimes I get in moods where I want a mental break, but you have to just push through."
If all goes to plan, Tyler should graduate while still stationed at Luke Air Force Base. Although he says he's been enjoying all that Arizona sunshine, he and his wife are both looking forward to the day when they can get back home to the East Coast and be closer to their families. And, as a big Clemson Tigers fan, he can't wait to cheer on his favorite team again, hopefully from his home state. 
* Ashford University is now the University of Arizona Global Campus
** Successful completion of a University of Arizona Global Campus degree program by itself does not lead to a commission.