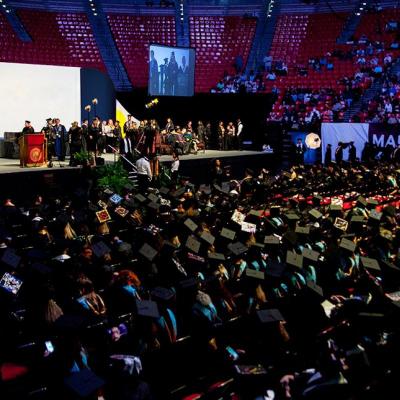 Toni T. Dodge
MA in Health Care Administration
Biography
Toni T. Dodge has spent her entire professional life working to enhance the lives of others. A college graduate living in central Ohio, she spent more than 20 years managing Meals on Wheels programs, helping feed the senior population while providing them comfort and independence. Her experience and compassion earned her speaking positions with the National Association of Nutrition and Aging Services Programs and the National Association of Farm Market Nutrition Programs. In 2005, she served as an at-large delegate for the White House Conference on Aging.
Even with her full-time role as associate business intelligence developer at the nonprofit OhioHealth, Toni makes time to care for her 83-year-old mother and parent a 26-year-old son who's finishing graduate school at Ohio State University. With her 60th birthday approaching, however, she decided it was time to do something for herself and fulfill a dream she'd held for many years.
"My goal was to pursue and complete my master's degree before the age of 60," she says.
Though she'd taken classes on and off over the years, Toni hadn't found a routine that would allow her to earn her master's degree while keeping her job and taking care of her family. Then she learned that OhioHealth has a partnership with Ashford University* to offer employees the Full Tuition Grant. 
"That, coupled with OhioHealth's tuition reimbursement, allowed me the realistic opportunity to pursue my master's degree, and at no cost!" she says.  
For Toni, it was a once-in-a-lifetime opportunity to gain advanced skills in the healthcare arena. She chose to pursue her Master of Arts in Healthcare Administration. The program touches on the essential areas of healthcare management and the evolving U.S. healthcare system, including finance, economics, quality improvement, risk management, health policy, human resources, and more. 
"Much of the coursework I have taken ties into – at least in some fashion – what I am doing in my current position," Toni says, singling out MHA 605 Business Intelligence, a course that offered her new ways to look at her job and develop tools to help her grow in the position.
"I know the courses I have taken will help me in my current career and enhance how I do my job." 
With the flexibility of Ashford's online classroom, Toni found it much easier to balance her classes with her job and family responsibilities. Though it was "the most time-intensive" program she'd ever experienced, she has maintained an A average and is on track to complete her courses in November 2019, before she turns 60.
"For me, Ashford is the most practical and logical means for pursuing my education," she explains. "With my schedule and the need to keep my evenings open and flexible, an online experience is best, as I can work at my pace and on my own time." 
Toni is forever grateful that OhioHealth has supported her educational goals, and she feels that her Ashford experience has been engaging and rewarding.
Much of her success, she explains, can be credited to her mother, who has been her cheerleader through every step of her educational journey, from her associate degree to her bachelor's degree, and now, at last, to the master's degree she's worked so long to achieve.
 
It was a long road, but worth it, she adds.
"I will say, for those considering enrollment, it is an intensive program but a feel-good one, knowing there is a reward at the end." 
* Ashford University is now the University of Arizona Global Campus