If you ask the students in Tommy Cepparulo's high school classes* what their favorite part of his criminal justice coursework is, most will likely say it's his study on serial killers. Although it may seem a bit dark, he created the content as an engaging way to get the kids to comprehend the complex social theories behind criminal justice.
However, it's a topic he wouldn't have pursued had he not gone to the University of Arizona Global Campus (UAGC) for graduate work. That's because prior to earning his Master of Science in Criminal Justice** at UAGC, Tommy (or Coach Cepp as his students call him) says he shied away from digging too deep into the theory side of criminal justice because it wasn't particularly his strong point. A part of that was because he didn't become an educator through a traditional route.
This degree has opened up so many doors for me that would have stayed shut if I had not made the decision to return to college.
Instead of majoring in education in college, Coach Cepp's foray into education began after spending nearly a decade as a Tennessee state police officer. 
Originally graduating with a bachelor's degree in business management in 1995, Tommy became an officer in 1999. He might still have been on the force today if a ruptured Achilles tendon hadn't derailed his plans.
Time for a Career Change
The injury meant he had to go on light duty. However, after a few months, he wasn't sure if he'd be back up and running anytime soon. So when a friend who worked at a high school in Tennessee called him about an open teaching position in business management classes, he jumped at the opportunity to make a career switch.
"I went down there and interviewed with the school on Thursday. They called me on Friday, and I started on Monday," he recalls. That was 2008 and he's been enthusiastically teaching ever since. 
But it wasn't until he was asked to head up the criminal justice program at Lexington High School that he truly found his niche. With more than five years of on-the-job experience as a police officer under his belt, he was uniquely qualified for the position. 
"I really never knew the judicial process or how the court systems worked legally because I hadn't majored in criminal justice at the time," he explains. "But I knew the many aspects of the police side of it like the back of my hand. Because of that, I was able to bring real-life experience into my classroom about policing and law enforcement."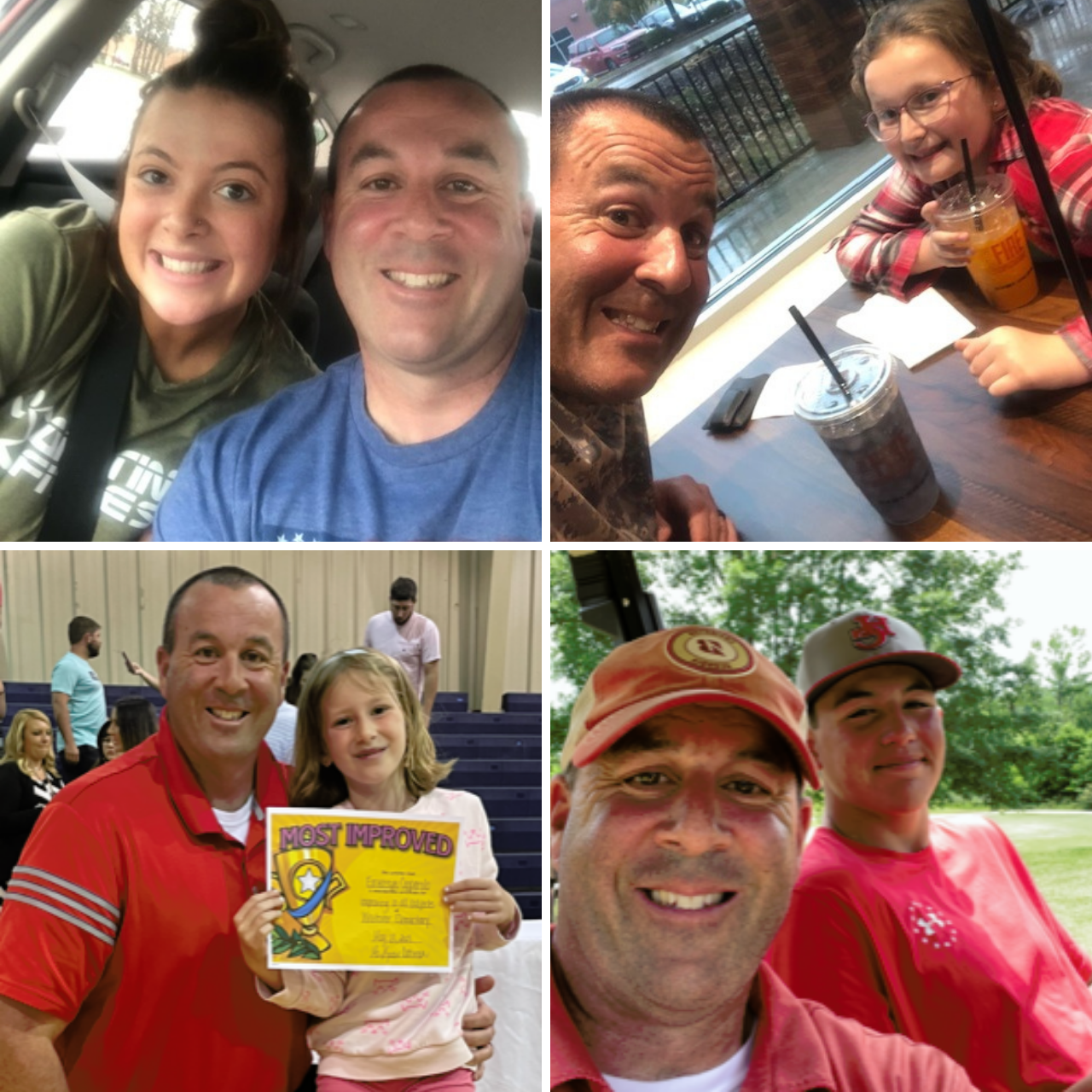 Coach Cepp takes time out of his busy teaching schdule to spend time with each of his four children.
Taking His Knowledge to the Next Level
When he got selected as the K–12 representative for Jackson State Community College's criminal justice advisory committee, and staff there recognized that Coach Cepp's passion, personality, and engaging teaching style made him a natural fit in the classroom. 
They were so impressed, they reached out to him about helping out as an adjunct professor at the community college level. However, there was one catch. The role would require a master's degree. 
Coach Cepp says he knew exactly what he wanted to pursue. "I had been thinking about getting a master's in criminal justice for a while. Mainly because of what I had been seeing on the judicial side of things, such as search and seizure cases, etc. I knew what the cases were, but never got into the background behind them," he says.
The habits I formed through taking online classes have helped me better prepare my high school students for college.
He also knew it would make him a more effective teacher if he had more in-depth knowledge about the theories in criminal justice. "I wanted to understand things like biological theories – are people born serial killers? And topics like social process theory – are you the way you are because of the people you hang out with?" explains Coach Cepp. 
"In the classroom, when we covered theories like that, I would give the best answers I could and then we would move on pretty quickly to the next chapter because it was something I knew more about."
Not one to make a major life decision without doing a lot of research, Coach Cepp looked at many universities before deciding on Ashford University† (now UAGC). As a busy teacher, husband to wife Lisa, and father of four (MaKayla, Hudson, Ella and Emersyn) who was also coaching golf and working as college baseball umpire full-time, he says he needed a flexible online program. 
"I'm a praying individual and really feel like God led me to Ashford," says Coach Cepp.
Making a Difference in so Many Ways 
Coach Cepp says his UAGC education has made him better-equipped to instruct his students. He explains that now when he wants to go more in-depth on a topic, he simply reaches back to one of the modules from his UAGC classes and shares the knowledge with the students.
"Taking online classes did prove to be resourceful," he says. "They challenged me and made me do a lot of research. The habits I formed through taking online classes have helped me better prepare my high school students for college and also has helped me with virtual learning through the pandemic."
Almost immediately after graduating with his master's degree, Coach Cepp began to see a tangible difference in his students' comprehension levels. "Our school offers two classes where students earn statewide dual-credit in criminal justice. At the end of the class, the students take a challenge exam. Statewide, the pass rate was usually around 10%," he says. "But once I learned more about theories at UAGC, that very first year, my students had a 100% pass rate."
Coach Cepp says his degree has impacted other areas of his life as well. "Not only did I get a raise at school, I now adjunct for Jackson State Community College in their criminal justice program, and now am so much more prepared to educate my high school students and prepare them for college or the real world."
He adds: "This degree has opened up so many doors for me that would have stayed shut if I had not made the decision to return to college."
Recently nominated by his students as Educator of the Week in West Tennessee, it's clear to see Coach Cepp's influence goes far beyond the classroom. Whether he's teaching or coaching, he's thankful for the opportunity to help guide young people as they figure out what they'd like to do in life.
"I love that you really get to help shape young individuals. A lot of kids in the schools have single parents and I might be the only positive male figure in their lives. That's why I strive to mold these young men and women into being productive individuals in society, and not simply high school graduates. I think it goes without mention, but as a teacher, I hope that I inspire every student that takes my class."

--
Leah Nanaa is a frequent contributor to the Forward Thinking blog.
Certain degree programs may not be available in all states.
*An online degree from the University of Arizona Global Campus does not lead to immediate teacher licensure in any state. 
**Successful completion of this program by itself may not qualify a student for employment with a federal, state or local law enforcement agency. State and local police agencies require training and certification specified by the individual state's Police Officer Standards and Training (P.O.S.T.) Board and are often provided post-hire at a police academy. Other federal, state and local agencies as well as private entities have individualized requirements. Prospective students are advised to contact individual agencies and states' P.O.S.T. boards for additional information relating to these requirements. Students seeking licensure or certification in a particular profession are strongly encouraged to carefully research the requirements prior to enrollment. Requirements may vary by state. Further, a criminal record may prevent an applicant from obtaining licensure, certification, or employment in this field of study. The Master of Science in Criminal Justice, Forensic Science specialization is not intended to prepare students for direct employment as forensic investigators or analysts. The Forensic Science specialization is not a pathway to employment as a forensic scientist. In addition, the Forensic Science specialization is not intended to prepare students for professional examinations required as a function of employment in the capacity of forensic investigator or analyst.
†Ashford University is now the University of Arizona Global Campus.