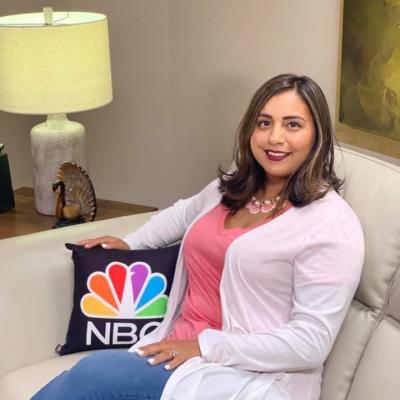 Biography
Sumiko Anahy Keil is on the move. Both literally and in her professional life. A military spouse who had her first two children at a young age, she and her family find themselves moving all over the country every two to three years. Because of this, Sumiko knew a flexible online education was going to be the only way she would be able to earn a college degree. 
She enrolled in Ashford University* in 2012 and went on to earn an Associate in Business. In 2018, Sumiko graduated from Ashford again. This time, she had earned her Bachelor of Arts in Journalism and Mass Communications – a degree she completed shortly before having her third son. Between working, running a busy household,  relocating, and earning her degrees, Sumiko honed her time management talents down to an art form.
Sumiko's secret to doing it all? Sticking to a routine.
 "It helped me to be more responsible and attentive in submitting assignments on time," she reveals. 
It's a skill that she's now carried over to all aspects of her life. However, Sumiko acknowledges her educational journey also took a lot of hard work and dedication. 
Sumiko's initial decision to enroll in college classes was fueled by a strong desire to someday make a living as a writer. Early on, she was unsure, thinking she would never get the chance to continue her education after having children so young. Then, Sumiko realized she not only wanted to prove herself wrong; she wanted to prove to her kids that no matter what obstacles came their way, they could do anything they dreamed of accomplishing. 
"I had a personal goal to commit to before reaching a certain age," Sumiko explains. "It was very challenging, but definitely doable." Her children watched and cheered her on as she achieved exactly what she set out to do.
Sumiko says she chose Ashford University because of the excellent customer service she experienced from day one. 
"They reminded me that I wasn't alone when enrolling in classes online, something that I have never experienced before," she notes.
Once Sumiko actually got started with her studies, she realized that initial care and support continued in her classroom experiences as well. 
"I was delighted by the way instructors work with you," she says. "Very patient and understanding that at any given minute personal things do happen, and I'm glad they are able to see that side as well."
As a journalism major, Sumiko found the Ashford Writing Center and library especially helpful resources throughout her entire time in school. 
"The Writing Center saved me from mistakes when others in my household could not help me," she says. 
Ultimately, Sumiko would not only achieve her goal of earning her degrees. She also has realized her dream of becoming a writer. In fact, her writing career quickly took her into fields she didn't initially envision. 
Upon graduation, she began her journey in freelance blog writing as the family once again relocated from Florida to Arizona. Fast forward 10 months and she landed a job at a local news station as a digital content producer. What initially started as part-time weekend work ended up moving to a full-time career within only a few weeks. 
Today Sumiko works for KYMA in Yuma, Ariz., keeping viewers up to date with local, national, and international news. 
"I have accomplished so much in the past couple of months. I can't wait to see what the future holds," she says. 
Sumiko's hope is that she can inspire others who may not think they could ever finish their education to realize that yes, they truly can. 
"Anything you set your mind to you are capable of doing," Sumiko says. 
She concedes that there will be struggles and frustrations but is reminded that there's so much to learn along the way. 
"Hard work and having a positive attitude are the hidden recipe to your accomplishments and successes in life," Sumiko adds. 
* Ashford University is now the University of Arizona Global Campus