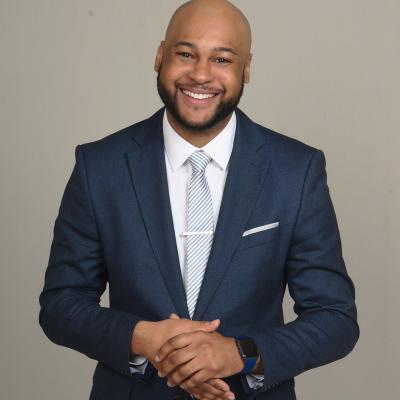 Jimmy Edwards
2018
Master of Business Administration MBA
Biography
Jimmy Edwards knows how to turn challenge into opportunity.
His collegiate endeavors began 14 years ago but ended after several attempts to stick with his plan. 
"I was very indecisive and dropped out of three different colleges," he recalls.
Ultimately, he put college aside and worked in retail and real estate. He held several management positions and eventually earned his real estate licenses in New York and Connecticut. 
In 2014, Jimmy was laid off due to a company reorganization, and he was about to become a new father. He suffered another loss when all of his music recording studio equipment was stolen. 
Eventually, Jimmy found another job but wasn't happy with his circumstances.
"I had tons of sales and management experience, but I needed to be a stronger candidate on paper and provide more value within the organization," he explains. 
After his son was born, Jimmy refocused on college, parlaying the confidence he developed while obtaining his New York real estate license into the courage to pursue his degree. As a full-time-working, single father and student, the 31-year-old discovered a sense of motivation from the many obstacles his circumstances had created for him. 
"I became more comfortable and wanted to push myself to a new level," he says.
On the advice of a friend, Jimmy enrolled in Ashford University* and chose eMarketing as his major. He enjoyed the supportive faculty and staff, as well as the unique program design and flexible online format.
"I love that Ashford accepted my work experience and training as elective credits," he says. "With that, I was able to shorten my time and complete the program earlier than expected. As a working adult and a single father, being able to complete my degree during the time that worked best for me was amazing." 
While at Ashford, Jimmy was a CHAMPS peer mentor and enjoyed the opportunity to encourage and inspire his fellow classmates to reach their goals. Utilizing the same mentality, he hopes to inspire his own son to pursue higher learning.
"We are in a time where information is all around us, yet some choose not to utilize their resources," he states. "Education and action is how I plan to break the lack of generational wealth cycle within my family. I plan to learn as much as I can in order to pass the information along to my children in hopes that they strive to inspire their children as I did for them."
Jimmy graduated with his bachelor's degree in January 2019 and found the experience to be meaningful personally and professionally.
Today he is applying the skills he gained at Ashford, such as time management, in his latest managerial role.
"I now tend to map out how to execute specific tasks throughout my day and work week so that I get everything completed smoothly. It allows me to bring more value to work. I know how to present new ideas, use critical thinking to solve problems, and understand concepts about marketing that I may have overlooked before I studied it."
* Ashford University is now the University of Arizona Global Campus