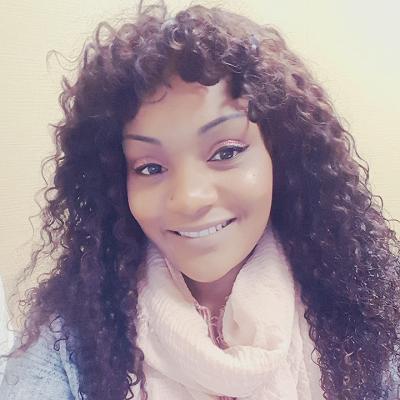 Imani Amia Frederickson
2018
BA in Health Care Administration
Biography
Imani Amia Frederickson credits her father with passing down the strong, disciplined work ethic he acquired as a U.S. Marine. It's a work ethic that served her well during her own four-year enlistment in the Air Force, as well as her simultaneous pursuit of a college degree at Ashford University*.
"I remember the first day I started at Ashford – I was about two years into the Air Force, and I finally proved to my commander that I could juggle school and work," Imani recalls. "I was living in Tokyo at the time and, besides serving my country, my main goal was to get my degree. I'd been out of school for a while and all my friends were headed to their junior year of college. I felt like I was so behind because all I ever wanted to do was get my degree."
Ashford offers an online learning experience that aligns with the unique needs of active-duty students who are deployed overseas. Imani was able to serve her country while pursuing her dream of a college degree.
"Ashford really caters to military personnel, moms with children, and those who are on the fence about starting school," she says. "Ashford made it so easy to fit school into working full-time, being a mother, wife, and still having a social life. The courses are quick, our textbooks have an audible option, and the advisors are always available. You have the flexibility to switch classes around, double up, and develop relationships with other learners through the Ashford Café. I did my homework almost anywhere with the app, and I loved it."
Imani was also impressed with the hands-on approach her advisors took to help her start at Ashford and select a degree program.
"I signed up to take my first class, which was English, and I was nervous as heck, but my advisor gave me everything I needed," she says. "The advisor didn't make me feel that added pressure of selecting a major and just asked me personal questions to narrow down my career path. I am still grateful."
When it came time to choose her major and her long-term career path, Imani looked to her mother for inspiration.
"My mother has been a health care professional for 20 years now," Imani explains. "She was very influential in my journey to becoming a health care professional. She made me see the importance of taking care of others, and shaped me into a great mother with an 'anything is possible' attitude."
To follow in her mother's footsteps, Imani decided to earn her Bachelor of Arts in Health Care Administration degree. By the time she was in the final year of her bachelor's program, she had completed her active-duty enlistment in the Air Force and was working in her chosen career field. She started working as a Certified Nursing Assistant** (CNA) at a mental health facility serving patients with Alzheimer's, dementia, and schizophrenia.
Imani has since moved on to a position as an assistant administrator, where she maintains the facility's state ordinances, physician credentialing, performs human resource tasks, and more. It is a role that perfectly aligns with the degree she completed in 2018.
"When I started working as a CNA, I realized there were a lot of changes I would like to make with programs available to the elderly, children, and the poor, as well as policies for employees," she says. "I have a vision of quality health care that should come naturally to health care professionals. The patient comes first, but so does the staff. I would like to add value to those that take care of our loved ones so that they can pay it forward."
While she works on her vision for the future of health care, Imani is also thinking about her own future professional development.
"Ashford will be seeing me in the fall for my master's!" she declares.
* Ashford University is now the University of Arizona Global Campus
** Successful completion of the Bachelor of Arts in Health Care Administration by itself does not lead to licensure or certification in any state, regardless of concentration or specialization.