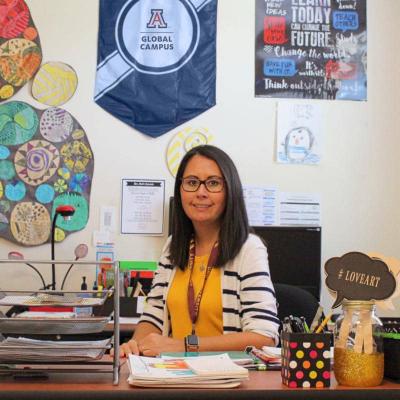 Cheli Vasquez
2019
BA in Education Studies
Biography
Cheli Vasquez is hungry. As a paraprofessional working in the Texas public school system, she's had a taste of what life is like inside the classroom. Originally, her goal was to become a school nurse, yet, despite having her nursing license, she wasn't able to find an open position. Instead she accepted a role in a life skills classroom working with students who have unique medical needs. 
"It was challenging at first, but I quickly fell in love with the challenge!" Cheli says. 
Now, after 12 years of working for the same campus, she's eager for more. More opportunity. More earning potential. More life experience.
That's why she pursued a college degree at Ashford University*. 
"Since I loved what I was doing, I decided to continue my education so I could eventually become a certified teacher** ," Cheli explains. 
In January 2017, Vazquez enrolled in Ashford University's Bachelor of Arts in Education Studies, a wide-ranging degree program that consists of education, special education, and psychology-focused courses. With curriculum that helps aspiring educators build a foundation of communication, group behavior, and human development skills, she sees it as a stepping stone to eventually earning her teaching certification in her state and achieving a lifelong dream. 
"I have always loved school, LOVED it!" she says. "As a young student, mainly elementary age, I remember imagining myself as a teacher."
As Vazquez grew up, she started a family (she has four children) and fell into an adult routine that left her wondering if her dream of teaching was going to slip away. But spending time among the kids in her classroom stirred something inside of her, she says, and Ashford University would help realize all of those "big ideas and big dreams," she adds. 
"There is no other way I could have earned a degree," she explains. "Although online learning was a lot harder than I expected, it is really the only realistic option I had with such a busy schedule."
The University's online platform forced her to step outside of her comfort zone, Cheli admits, but every time she overcame a challenge – often with an assist from the Writing Center – she felt empowered and ready to tackle the next obstacle. Along the way, she says she learned to become a much more disciplined student while growing professionally. 
"Introduction to Education (EDU 304) was my first education course, and it was just really nice to finally be working on assignments that were focused on what I wanted to do," she says. "It was nice to be able to relate what I was experiencing on the job to my coursework!"
As she continued to move through her courses, Cheli became more encouraged and even took home the 2017 No Excuses University (NEU) Parent Scholarship.
Cheli attended the spring 2019 commencement ceremony in San Diego noting that earning a degree, and more importantly, having the opportunity to satisfy her lifelong hunger, is something she wishes for everyone. 
"I have my Ashford flag proudly displayed in my classroom at school," she says. "I am so glad that I have had this experience, and I cannot wait to celebrate my graduation!" 
* Ashford University is now the University of Arizona Global Campus
** Certification and Licensure Terms and Conditions: An online degree from the University of Arizona Global Campus does not lead to immediate teacher licensure in any state. If you want to become a classroom teacher, contact your state's education authorities prior to enrolling at the University of Arizona Global Campus to determine what state-specific requirements you must complete before obtaining your teacher's license. The University of Arizona Global Campus graduates will be subject to additional requirements on a state-by-state basis that will include one or more of the following: student teaching or practicum experience, additional coursework, additional testing, or, if the state requires a specific type of degree to seek alternative certification, earning an additional degree. None of the University of Arizona Global Campus's online education programs are accredited by the Council for the Accreditation of Educator Preparation (CAEP), which is a requirement for certification in some states. Other factors, such as a student's criminal history, may prevent an applicant from obtaining licensure or employment in this field of study. All prospective students are advised to visit the Education Resource Organizations Directory (EROD) and to contact the licensing body of the state where they are licensed or intend to obtain licensure to verify that these courses qualify for teacher certification, endorsement, and/or salary benefits in that state prior to enrolling. Prospective students are also advised to regularly review the state's policies and procedures relating to licensure as those policies are subject to change.