Chase Gerona is a lot like his favorite animal — the squirrel. He is admittedly easily delighted and distracted, especially when telling stories to his wife and six young children. Unlike squirrels, though, Chase has always had a natural knack for processing numbers and other data, despite living with a serious degenerative eye disease that will likely eventually leave him blind.
With serious natural skills and talents, it's not surprising Chase's career path was impressive from the start. In his early 20s, prior to attending college, Chase secured a customer service job at eBay, one of the Internet's first marketplaces to bring together buyers and sellers and now a $24+ billion-dollar success story.
"I knew that's not what I wanted to do," Chase states with confidence, "But I've always liked numbers and had a knack for looking at things and was self-taught in using Excel." He also worked to track and hopefully impact performance for the departments he was in as additional elements of his role.
"I worked a lot to try and figure out the most effective way to take the performance we had and make the most out of it — more than just the standard things," he says. "At that time, my knowledge and understanding of how to look at numbers and data was relatively limited. But it was a starting point." 
By the time he left eBay, Chase was supervising a customer-facing team and had gained additional business skills that would launch him into a manager role at a $400+ billion-dollar company.
Farm, Family, and Faith
Chase grew up one of six children in Utah. A member of The Church of Jesus Christ of Latter-day Saints, also known as the LDS Church or Mormon Church, he was serving in Louisiana as a missionary when he met his wife, also a missionary. After they returned home to Utah from their mission service, they started dating, and married not long after.
At the time, his wife's family owned a couple acres of land in Utah, but needed much more space for their children, many of whom are adopted or being fostered. After searching several states for the ideal family farm, they purchased more than 200 acres of land in Southern Central Missouri, about an hour north of Arkansas. Over the years, Chase and his family were able to visit the property, complete with cattle, horses, goats, chickens, pigs, dogs, and more. In 2011, they made the decision to move. Chase knew it would be important to have support from his family as his eye disease progressed.
From a young age, Chase says he has known he would likely go blind one day due to a genetic eye disease called choroideremia. It starts with the loss of night vision, often in childhood, then leads to a progressive narrowing of the field of vision and then an eventual decrease in the ability to see details. Choroideremia affects mostly males and leads to eventual blindness.
"When I was young, I couldn't see in the dark very well," Chase recalls. "My mom's brothers all are blind. So I knew from an early age."
Chase admits he currently has significant vision loss, especially his peripheral, and several blind spots. 
"It's something that affects every part of my life. It's not a disability that is outwardly obvious to folks (unless I accidentally bump into you), so most people I meet aren't aware."
One of the ways his vision loss has affected him most significantly is with the ability to drive.
"I can't do many of the things that I used to, so it represented a major challenge to get through, but one that I am able to not only live with but thrive with because of my wonderful wife and family. They have supported me in incredible ways," he proudly states. 
Planning ahead for the future, Chase says he knew it was time to get his degree, so he could provide for his family.
"If I ever did lose my sight completely, then me having a degree — regardless of my work experience —  would help me to ensure that I could find a formula that would help support my family," he explains. "During all this time, I have had significant vision loss and have had to adapt to a different way of life, a different way of looking at things and figuring things out. Knowing I may eventually go blind, having a degree will help me to care for my family in the years ahead."
Further, Chase adds, "Thankfully, my company dedicates a lot of resources to helping those with disabilities and I am confident I could find a role I could be successful in. In that respect, having a degree will help me take advantage of opportunities across any line of business within the company. Similarly, looking for work outside of my company with a degree means I have a higher chance of obtaining comparable employment and maintaining my current salary and benefits instead of 'just finding a job' and starting at the bottom."
A Full Tuition Grant Sealed the Deal
Chase moved out of customer-facing roles and into more analytical support roles, most recently choosing a position as a business analysis manager at one of the largest banks in the country, with more than 2.5 trillion client assets under management. He supports executive business reports and monthly reviews; monthly business presentations, analysis on data, developing a narrative and story for those presentations, and analysis for strategy and process/product improvements.
After working at the company for one year, Chase qualified for a full tuition leadership grant at Ashford University, now UAGC, which made it possible for him to pursue his degree without any direct education-related costs.
The information I learned in my degree program gave me the knowledge and confidence to increase my impact and ability to deliver solutions.
Chase says he chose the Bachelor of Arts in Operations Management and Analysis because it aligns closely with his natural skill set. He also enjoys working with data and understanding how to utilize data effectively. Further, he believes the degree program provided him with the opportunity to learn skills to advance in his career.
While earning his degree at UAGC, the father of six (now ages 6-16), also volunteered as the bishop of his local congregation, with duties similar to a pastor, priest, or rabbi. In this role, he counseled, taught, and oversaw all aspects of the congregation. 
"It was a demanding time and required a lot of discipline," Chase recalls.
For example, graduating with a 4.0 GPA was a goal Chase worked hard to achieve from day one. 
"Personally, there is great value in setting a goal, working hard and staying committed, and ultimately completing it. I worked hard to achieve and maintain a 4.0 GPA, and while there were times when I felt like the time and effort wasn't worth it (who would ever know what my GPA was?), the knowledge that I was working so hard, and that I could do it — along with the incredible support and encouragement of my amazing wife — I pushed on and achieved a perfect GPA. It is also an important example for my kids to know that they could achieve something so important through hard work and commitment."
After graduating in July, Chase also completed his responsibility at the church. He'd served for nearly five and a half years as the bishop, then was released from his duties. 
"Everyone in the congregation has opportunities to serve in various ways and that was my responsibility for several years. It was like going from literally being busy 24/7 with very defined things I was doing every day, every moment, to now having a lot of free time, and so it's been great to have that time with my family."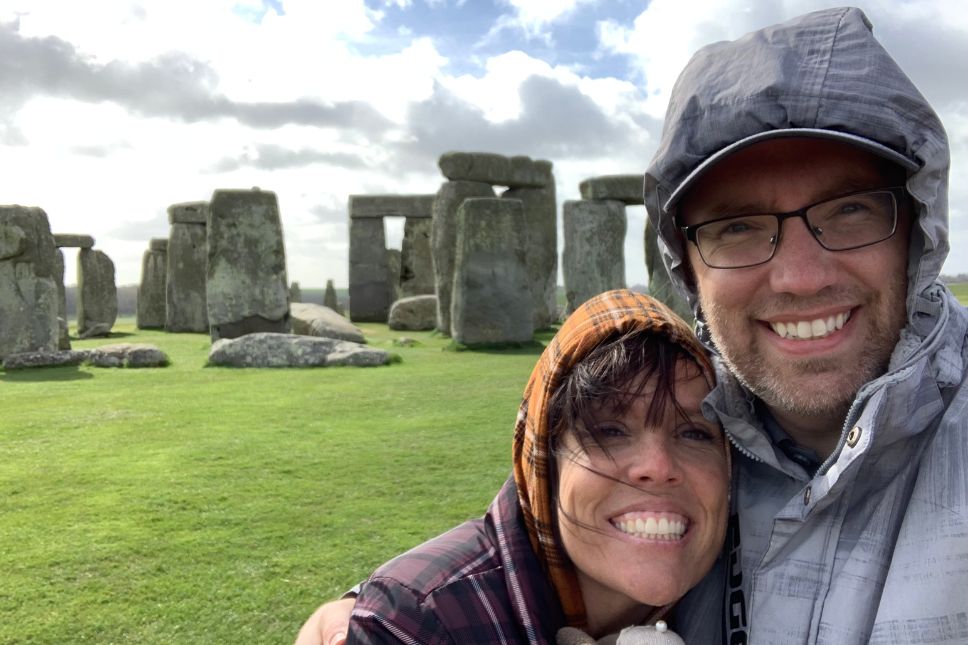 Chase Gerona and his wife during a recent trip to Stonehenge.
Many Impactful Skills Learned
Chase says the skills and knowledge he learned in his degree program had an immediate impact, despite already having a job as a business analysis manager. While he naturally has an analytical mind and enjoys problem-solving, he recognized a limitation. 
"I needed to take my skills to the next level," he admits. "The information I learned in my degree program gave me the knowledge and confidence to increase my impact and ability to deliver solutions."
For example, one of the most impactful skills he says he learned is how to look at data differently.
"Going beyond the generic means of viewing data (sum, average, etc.) — by incorporating statistical methods — has elevated my ability to contribute to problems by finding more effective ways to understand data and obtain insight," he explains. "This skill is paired with the knowledge and understanding of data, management techniques, and how to approach business problems in a way that has enabled me to be a voice at the table, rather than a silent participant."
Chase says his education also helped him to sound more knowledgeable when meeting with senior leaders and executives.
"That understanding helped me feel more confident in being able to look at stuff and then identify how to make recommendations, how to make it sound legitimate, and then give us some real confidence in what we're trying to do," he says.
Chase is a great example of how hard work and determination are worth it, despite facing challenges along the way.
"The support of family and faith were a major part of my ability to graduate and succeed," he says. "The greatest achievements in my life center around my faith and family."
--
Certain degree programs may not be available in all states.