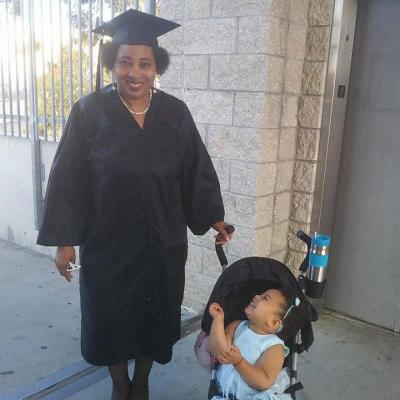 Cathy Edwards Thompson
2018
BA in Health Care Administration
2018
BA in Health Care Administration
Biography
Cathy Edwards Thompson came to San Diego in May 2018 to celebrate a massive personal achievement. She was attending the Ashford University* spring commencement ceremony where she would be graduating cum laude with double majors in health care administration and psychology. And yet, for all of the success she had during her time at Ashford, Cathy's thoughts kept returning to one class three years before that she barely passed.
March of 2015 was a hectic time for Cathy. Her daughter was anticipating the birth of her first son. Cathy and her best friend were planning a girl's trip getaway. And to top it all off, Cathy found herself struggling with her Ashford algebra course. As luck would have it, Cathy's best friend had just completed her degree in accounting and offered to tutor Cathy during their upcoming trip.
While Cathy was away on vacation, her daughter unexpectedly gave birth to Caleb. This joyous occasion quickly turned tragic though, as Caleb passed away a few minutes after coming into the world. With a heavy heart, Cathy returned home to grieve with her family.
Even as Cathy mourned, her algebra class was still in the back of her mind.
"Needless to say, when I returned home to finish up my algebra course, the first thing I did was call my Student Advisor grief-stricken and in tears," Cathy says. "I told her I did not believe I would pass the class. My advisor kindly encouraged me to do my best and reassured me that if I didn't pass, it could be rescheduled."
Cathy dug in and pushed through her personal pain, earning a 'C' in the course. Even though she barely passed, her grade became a source of pride because of everything that the 'C' represented.
"I'm proud of that 'C' because it reminds me of my infant grandson, Caleb, who I never got the chance to see or hold," Cathy says. "That 'C' also reminded me that I am capable of doing anything I put my mind to."
Given all that the grade means to Cathy, it's no surprise she was thinking about it again on the occasion of her graduation.
"To all of my fellow 2018 graduates, 'C' is for the 'celebration' of setting goals and sticking with them. 'C' is for children – especially my adult children, Kimberly and Kinley, who were my constant motivation because they had already attained their college degrees when I enrolled at Ashford! I would often congratulate my fellow classmates in discussion posts who had families with young children. I do not know how you managed to do this, but I honor your commitment to your family, and I congratulate you for doing this not only for you but for them. Yes, 'C' is also for 'Congratulations!'"
As she moves on to life after Ashford, Cathy offers a few more thoughts.
"I hope every Ashford graduate goes into the world realizing that a 'C' is not just a passing grade. There are a lot of things that start with 'C' that really matter, and I hope they continue to matter. 'C' is for 'continue' – continue to do well as you make your own individual contribution to this world. Thank you to all my professors, student advisors, financial services advisors, and everyone that made my experience at Ashford University so memorable. My name is Cathy Edwards Thompson, and that's Cathy with a 'C!'"
* Ashford University is now the University of Arizona Global Campus