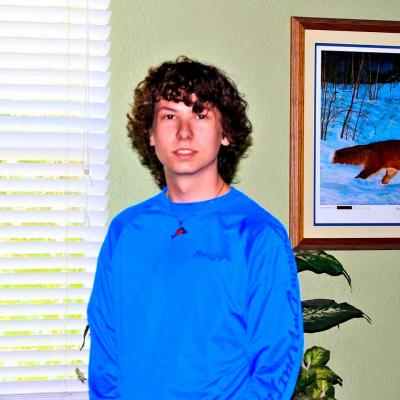 Cameron Lee Fields
BA in Business Administration
Biography
With an entrepreneurial spirit bolstered by his eagerness to grow and transform for the better, Cameron Lee Fields represents the best of Ashford University's* student body. He may not have all of the answers every time, but that's not going to stop him from achieving every goal in his path.
"I have been called both an iconoclast and a conventionalist," he says. "But at heart, I am a follower of truth, and that has led me to Ashford University."
Cameron enrolled at Ashford two years after graduating from Crystal River High School** in Crystal River, Florida. His middle-class upbringing saw its fair share of "hardships and triumphs," he explains, and he initially saw college as a way to start a career in real estate. 
Seeing that Ashford University was "the only accredited online university I could find with a real estate program," Cameron jumped at the opportunity to pursue his goal. He soon realized, however, that a business administration degree was a better choice and promptly switched majors.
"Having a business degree is universal, and I will not be forced into one segment," he says, pointing to his long and diverse list of interests, including nature photography and fixture design. Cameron's interest in entrepreneurism has also pushed him to complete certifications in programs such as Adobe Dreamweaver and Microsoft Office, the latter of which he can easily apply to his degree program since all Ashford University students are issued a Microsoft Office 365 account.
For many students, the transition to an online classroom can be challenging, especially following years of in-person classroom instruction. The experience was no different for Cameron, although he finds that online learning forces him to become more self-sufficient. He says he no longer leans on others to provide word-for-word explanations of certain subjects and instead he's reading and interpreting information his own way. This approach, he says, gives him more confidence and a larger appreciation for diverse viewpoints. 
Proving himself to be an exemplary student, Cameron earned an opportunity to apply to Ashford University's prestigious Honors College. The program, reserved for bachelor's students who have earned a 3.75 GPA or higher, allows him to take a suite of specially designed courses that promote leadership, innovation, global perspective, and civic responsibility.
"Being in the Honors College has pushed me to be a better version of myself in every aspect," he says. "I never make the same mistake twice, so each error found is a lesson taught."
At the same time, Cameron is taking advantage of the Smart Track program, which allows him to take up to six credits of graduate-level coursework and accelerate completion of a master's degree. He calls the program a "game changer."
"Smart Track gave me the motivation to continue my degree to the master's level," Cameron says. 
With an eye toward graduating in 2021 with a Bachelor of Arts in Business Administration, Cameron is working to balance education with his entrepreneurial aspirations. His goal is to receive a patent for a high efficiency, low-flow toilet of his own design and also admits to having "a few other ideas in the pipeline" but wants to make education a priority at the moment.
Cameron hopes to not only pursue his master's degree but also continue on to pursue a doctoral degree at Ashford University, "Not just for vanity, but to give me a fighting chance in this new dynamic workplace where qualified individuals struggle to be heard," he says.
Having a wide-ranging education and a broader perspective of the world will only enhance his chances of success, he says.
"When I enrolled [at Ashford University], I was a neophyte to the college experience," he says. "Ashford has helped guide me to an improved way of thinking.
"In my first class… I was asked to define what education meant to me, and I coined the following phrase, that I now use as my motto: 'Education is a gem, polished by knowledge, and displayed by experience.'"
* Ashford University is now the University of Arizona Global Campus
** Due to Ashford University's admissions requirements, Cameron was able to enroll at age 20 without having any transfer credits because he successfully completed the Student Success Orientation course.