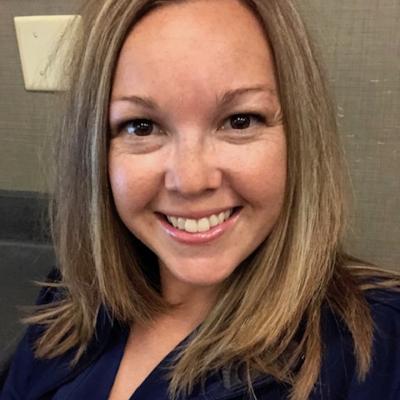 Amy Johnsen
BS in Nursing (RN to BSN)
Biography
Thirteen years ago, when Ashford* student and Arizona resident Amy Johnsen first became a nurse, having an associate's degree in nursing (known as an ADN) was usually enough to guarantee plenty of job opportunities. And as a high-demand profession with a projected shortage of RNs in the next few years, this stands true today as well. 
However, after more than a decade in the health care field, Amy has found that many places of employment are starting to push for their RNs to get their Bachelor of Science in Nursing**. Whether it's a hospital looking to achieve magnet status or as a requirement to move up into a more managerial position, Amy realized she needed to take the next step in her educational journey if she wanted to have career flexibility in the future.  
It was her sister-in-law (and recent RN grad), who originally got the ball rolling when she discovered that many hospitals, including Amy's, offered full-time tuition grants. 
"I love my job as a bedside postpartum nurse, but I'd always wanted to go back and get my BSN in case I wanted to go into management," explains Amy. "Plus, it's always good to have more options and increased job security." That and the fact that her work would pay for her to get her Bachelor of Science in Nursing made it a no-brainer.
Although she had been out of school for quite some time and had three young children at home, Amy decided to take the plunge. In August, 2018 she enrolled at Ashford. Nominated to be Student of the Month by Ashford faculty, Dr. LaTonya Santo, Amy is now eyeing December, 2020 as her expected graduation date and is excited to see that she's more than halfway through her journey to her BSN.
"When I first started, my youngest daughter Emily was two years old and a lot more needy. However, with [the coronavirus pandemic keeping] everyone at home since March, all three kids are finding more ways to fill their days and are playing with each other more," says Amy. "Although I will admit there's a lot more yelling and screaming during the day." Something that can make sleep difficult for a nurse who works the night shift!
She acknowledges that the recent switch to virtual learning for her elementary-school-aged children (Nathan, 10 and Logan, 7) has made juggling everyone's school schedules a lot more difficult. 
"When the oldest two were going to school in-person, I could get a lot more accomplished during the daytime," she says. "Now I have to put them to bed at night and do my schoolwork afterwards. I usually find myself staying up most of the night. After my husband and kids go to sleep, I get to work."
Currently a straight-A student who is passionate about doing her assignments correctly, Amy hopes her children see that the hard work is paying off. 
"I'm trying to set an example for my kids. Even though life can get hard, I want to show them that you can still do a good job no matter how much you have going on." 
When it comes to ensuring success, Amy has particularly helpful advice that applies not only to her own family, but to all online students. 
"You've seen me struggle or cry when I don't understand assignments," she tells her kids when they get frustrated. "It's OK to ask for help. That's what your teachers are there for. Sometimes I feel like I'm making the assignments harder than they really are or I'm psyching myself out. But all my teachers have been so nice, telling me to call them or contact them and walking me through it. It's been really helpful."
Although she is not yet finished with her schooling, Amy has already found ways to put what she's learned into practice. 
"I feel like I learned quite a bit with my Transcultural Nursing class last year," she notes. "It was interesting going through the class and understanding how different people have different expectations, especially when it comes to postpartum needs," explains Amy.
"At my hospital, we work with a wide variety of people from so many different cultures and ethnicities, and I've always known each one may or may not have their own quirks. For instance, many women in the Native population like to save their placentas. They take it home to bury as part of putting it back into the cycle of life. However, you can't expect that of every Native American mother. The class simply made me more aware of what to look out for, but not to assume that every person observes the same traditions."
With her degree nearly in sight, Amy is eager to have more time to relax and spend quality time with her family. 
"It's been tough seeing the disappointment on your kids' faces when you tell them you don't have time to watch a movie with them or hang out," she admits. "I try to tell them 'just a little longer,' but it will be nice when I'm really truly done, and we can all hang out and have fun together." 
One of the first things on Amy's post-graduation to-do list? To get back into the scrapbooking hobby that she loves. Her goal once she gets some downtime is to finally finish her children's baby books and catch up on all the little things that have fallen by the wayside while she's been earning her degree. 
However, with her husband starting nursing school himself next month, the family can expect a bit more school, work, and juggling of household duties before it's all said and done. 
"We'll see," says Amy. "I'm hoping my husband gets a job at my hospital and they still have the same program running so he can go back and get his BSN as well." 
* Ashford University is now the University of Arizona Global Campus
** Certain degree programs may not be available in all states. Applicants to this program must have earned a nursing (hospital) diploma or Associate's degree in Nursing from a regionally accredited or approved nationally accredited college or university including the following coursework or equivalent: Microbiology (with lab). Applicants must possess an active, unrestricted license to practice as a Registered Nurse or its equivalent in at least one U.S. state. All students must maintain this licensure throughout the program of study. Failure to do so will result in dismissal from the program. Students are responsible for informing Ashford of any change to the status of their RN license. In addition, the University of Arizona Global Campus may perform routine, periodic validations of student RN licenses to ensure compliance with this requirement.