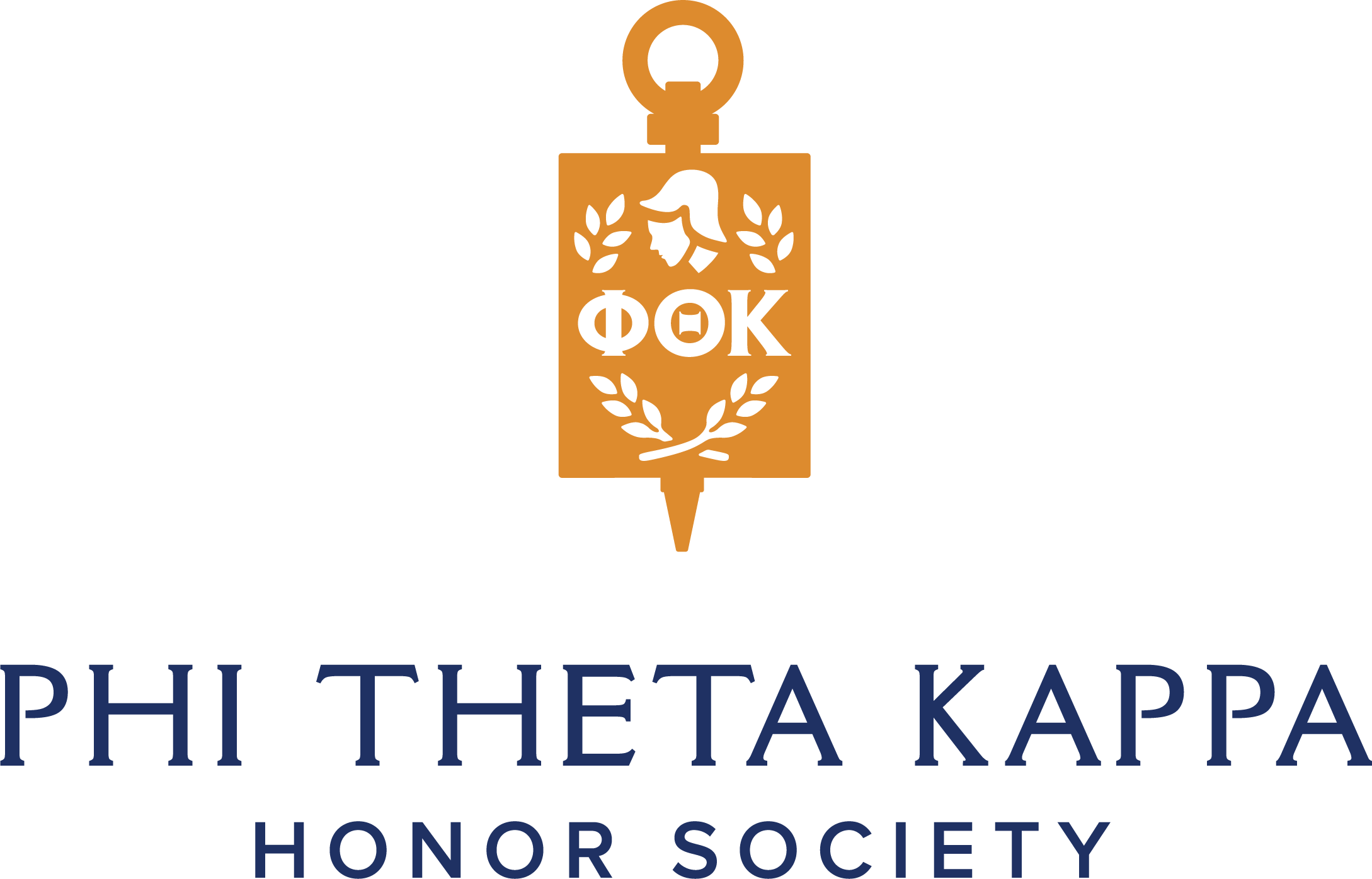 Welcome to the Phi Theta Kappa Honor Society at the University of Arizona Global Campus! If you're a University of Arizona Global Campus online student seeking an Associate's degree, you deserve recognition for your academic success and contributions.
Inductees
History
Chapter Bylaws
Charter Members
Membership Criteria
Member Privileges
Honors Recognition Events
Contact
Inductees
Alejandra Ardila
Haywood Baugh
Jaleinys Castro
Michelle Donoso
Tess Followwill
Kalandra Harris
Margaret Hinson- Rochester
Lacie Jones
Yanick Kendall
Fernanda Panganiban
Connie Penney
Mary Phillips
Jeri Seibert
Vikki Walker

Desiree Burton
Dominique Colbert
Marguerite Jaskolski
Raven Johnson
Amy Morondos
Rehanan Prunty
Barbara Sandino
Brian Scott
Jeri Lynn Seibert
Jackson Strauss
D'lynne Sullivan
Princess Sylve

Jamie Armstrong
Amanda Bolan
Rolando Casella
Bobbie Duncan
Larra Ford
Nyasia Freeman
Alexis Grimmage
Eva Hake
Deja Hill-Mays
Susanna Mahase-Wilson
Christian Malone
Dolores Mendez
Lonnieshya Nash
Katrina Nickerson
Eva Perez
Melissa Scales
Austin Steward
Whitley Trochesset

Amanda Bolan
Ameera Hampton
Maria Hernandez
Keelan Jackson
Rachel Teachey
Tanesha Whitfield

Candice Gilliam
Sherwanda Lee
Tahesha Perry
Megan Pierce
Nichole Thornlimb
Maribel Gallo
Jaeleen Oden
Christa Rhodes
Brenda Limric
Michael Vincent
Jenny Skipper
Shannon Hinds
Jessica Larson
Shana Syers
Keelan Jackson

Jennifer Arnold
Jordan Bowerman
Nicole Rose Camacho
Jennifer ann Dodge
Vickie Doss
Kayla Dunphe
Laresica Eaton
Jenny Fernandez
Brittany Foster
Lisa Funchess
Tiffany Gatch
Nicole Gray
Amanda Holliday
Amber Kanouse
Carolyn Miller
Y'Keia Morgan
Joanna Palmer
April Parker
LaKaya Pinkney
Christie Prather
Ariel Rapoza
Mary Robinson-Banks
Maria Vargas
Jordan Wilkerson

Arianna Wilder
Catherine Zudel
Janae Clark
Josiah Ferguson
Kaitlyn Long
Mariah Cuff
Marqus Davis
Noel Posey
Roxana Hebert
Shelby Cooper

Jinny Boling
Clairease Booker
Ciera Calara-Jones
Carlos Clotter
Kyla Dixon
Veronica Dominguez
Brandon Fowler
Jose Gonzalez
Gregorio Guerrero
Chase Hunt
Robert Johnson, Jr.
Daryl Joiner
Ashelle King
Jermaine King
Nicholette LeClair
Henry Leech
Monica Loera
Sylvia Mallari
Vanessa Mendez
Richard Migasi
Astrina Morgan
Kara Oxley
Yelith-Za Rivera Sanchez
Gregory Roath
Ae Sappasith
Sarah Schilt
Christopher Shields
Patricia Smith
Maria Starr
Jessica Steverson
Emmanuel Thomas
Bianca Turner
Christopher Turner
Katherine Wakefield
Kendal White
Paige Whitney
Jack Worthington JR
Mercedes Young

Christian Bennett
Michaela Davis
Ashley Elm
Kimberly Goodrich
Latyshia Mann
Jocelyn Narcis
Pamela Parker-Clarke
Brittany Riehl
Lakesha Stallworth
Teisha Wallinger
Parquasia Williams
Rachel Zickefoose

Jennifer Acang
Renina Brooks
Chamara Brown
Carletta Davis
Leosary Gonell
Linwood Hinton
Jennifer Mandeville
Jamie Mckusker
Takiyah Pennix
Tammy Tomlinson
Rebecca Welch

Shilo Carter
Joanne Charlot
Donna Chavez
Christy Eggleston
Porsha Kennon
Davina Moradel
Stephanie Osorio
Grace Rajczewski
Angela Santos
Samantha Tonelli
Ashley Turner
Tiffany Wilkerson
Jennifer Baumbach
Jaynie Perez
Laura Replogle
Melissa Cordova
Angela Peterson

Latisha Palmer
Evelyn Steele
Vicki English
Victoria Essig
Erik DeMay

Victoria Erwin
Cierra Richardson
Shaquanna Burroughs
Mirgel Jimenez

Tonya Barker
Ericka Brown
Catherine Burch
Dillon Ching
Heather Coburn
James Divito
Michele Gruntorad
Schquetta Hammond
Sharron Heppel
Jennifer Hon
Yolonda Johnson
Sarah Lambis
Crystal Livers
Bobbie-Jo Mafnas
Gail Malone
Jenna Marks
Diana Mckenzie
Raashida Meadows
Katie Medina
Joanie Murphy
Chavaun Pulliam
Cristel Rios
Lauren Self
LaToya Stevens
Rebecca Stillwell
Andrea Thomas
Hans Wethal
Toni Wilson

Maria Avelendas
Stephanie Brausey
Sarah Brooks
Jerianne Bryant
Sue Ann Carlton
Lashanda Carter
Annette Crespo
Nichole Fiala
Athena Fisher
Jill Freebairn
Rebecca Hargrave
Matthew Haskins
Ranae Holmes
Latrice Millhouse
Alison Morgan
Heather Munoz
Angelina Murphy-Stencel
Valerie Nelsen
Ernest Parham
Danielle Pleasant
Kari Taylor
Patricia Taylor
Shawana Thomas
Mary Tidwell
Helen Turner

Janette Atchley
Karrie Bowen
Cynthia Brand
Thomas Brewer
Miriam Chtok
Melissa Cosner
Jesse Filback
Lauren Gallimore
Christopher Hall
Erica Hamm
Benita Holmes
Kayla Jacobs
Jody Lakey
Brittany Layne
Jaime Martin
Daphne Morant
Crystal Rios
Javonda Stewart
Shannon Surerus
Natasha Terrell
Olivia Tripoli
Jennifer Trossbach
Judy Urbay
Monika Watson
Katie Wuest
Meri Yazmadzhyan

Mary Allen
Amanda Barnes
Mary Baron
Krystal Boatman
Anthony Boyd
Chantal Brown
Eric Burkett
Jaime Courtney
Kalli Dickinson
Nitza Ebie
Stacie Felmlee
Linda Garcia
Anna Giehll
Tracy Gipson
Patsy Glenn
John Gonzales
Laura Gool
Shantay Hanlon
Angela Herron
Jaliti Hubbard
Alicia Hutchison
Talithia Ison
Nehemi Janvier
Franklin Kencke
Bettie Logan
Gregory Mahlendorf
Linda Nance
Joey Owens
Corinne Paul
Charles Pearson
Shiela Phillips
Danielle Pinaha
Ann Rice
James Robertson
Gregory Robinson
Dana Sarver
Patricia Schaeffer
Kimberly Thomas
Tracy Tonkovich
Delina Torelli
Janet Vint
Cassandra White
Shonda Williams
Christina Worl

Aieryssa Actslovakian
Crystal Addison
Michelle Allison
Pamela Andress
Ruby Argabright
Kelly Argo
Degenah Artero
Alexis Bailey
Melony Ballard
Sandra Barnett
Diana Bass
Machelle Bayne
Marilyn Bearden
Emory Benson
Matthew Boley
Guadalupe Botello
Rosemary Broos
Jamie Brumlow
Bobbie Burns
Martina Cade
Laquita Cantu
Kimberlee Cardiel
Terry Carlock
Denise Carter
James Chaney
Austin Clark
Jasmine Coates
Charlett Copeland
Jose Cordova
Brittany Corum
Katherine Cox
Karmen Crim
Tracy Dail
Sharon Dana
Tiwanta Daniels
Alicia David
Angela Desper
Amanda Devries
Gloria Dozier
Julianna Duff
Danielle Dyer
Marcy Edwards
Aleshia Emrisko
Shandara Evans
Elena Everett
Brandi Fallaw
Pamela Ferris
Jennifer Fincham
Marisa Finucan
Jennifer Galloway Boyce
Leana Gayness
Preston George
Karen Gerardo
Donyeil Gonzalez
Alicia Goree
Alison Granier
Rebecca Grinnell
Roger Guevara
Alexis Haenel
Tamara Hager
Christina Haradzin
Eleanor Harmison
April Harris
Wesley Heathcock
Vicki Henry
Shelly Holloway
Barbara Holsey
Yvonne Horn
Erika Hudson
Donna Humber
Demetria Hutson
Erica Hyatt
Angela Jackson
Diana Jaramillo
Amanda Jeffries
Gretchen Jellison
Crystal Jensen
Cynthia Johnson
Malinda Johnson
Kamilah Jones
Sara Jones
Dylan Justice
Thomas Kellermann
Diane Knight
Emily Kolodziejski
Kelly Labranche
Kristina Lagarra
Martin Lamb
Shannon Lambka
Stephanie Lawrence
Samantha Leonard
Laura Lester
Jenny Leverknight
Japhia Logan
Terisha Lopez
Karman Martin
Margaret Massey
Sherrill Mccarthy
Amanda Mccoy
Tabitha Mccoy
Angelica Mcintosh
Heather Mckim
Sharon Merritt
Vera Middleton-Wells
America Monge
Lakesha Moore
Janet Najar
Misty Nash
Justine Nazworth
Pam Nelson
Julia Noalis
Jessica Ohl
Cornell Orr
Amanda Parkey
April Peace
Alexis Perales
Matthew Perkins
Courtney Picard
Marcus Pricher
Kristi Priddy
Latesha Prioleau-Graves
Jeremy Raulinaitis
Rachel Ray
Meghan Rene
Susan Rissel
David Rivera
Amanda Rizzo
Gwendolyn Robles
Jessica Rodriguez
Lucinda Santiago
Viravanh Saokho
Georgette Sawyer
Angela Scobee
Phillip Scott
John Shepherd
Kathryn Shore
Marion Sipe
Christen Snow
Lynn Somenauer
Leandra Spivey
Jeffrey Spurling
Timothy Spurlock
Dorothy Stewart
Monica Stiddom
Dawn Stokes-McRimmon
Rosliand Strickland
Amy Talbert
Sheri Thomas
Robert Thompson
Weldon Trantham
Bryan Trapp
Chatiha Tripp-Watts
Ashley Turner
Ashley Villela
Aisha Walker
Julie Walker
Whitney Washington
Heather Webb
Bryan Whatmough
Christina Wheeler
Ashley Wilhite
Kelly Wolf
Abdul Yahya
Melissa Youker
Samantha Zakutansky

Tonya Alicea
Danielle Allen
Melinda Allen
Allyson Armellino
Jonathan Ashton
Tonya Barnett
Rodney Beaman
Karen Becker
Lauren Bloodworth
Miranda Bouma
Cynthia Bradley
Marla Brannon-Henry
Tandy Broussard
Philip Brown
Terry Burns
Nicole Butler
Elvia Camacho
Patricia Camarena
Anna Capriotti
Tammi Carlson-Huff
Jonathan Carswell
Tami Caswell
Justine Chavez
Jacqueline Cheese
Tiffany Chene
Cindy Clark
Brenda Clark-Duffie
Melody Corley
Susan Cossaboom
Brian Cunningham
Alyssa D'agostino
David Davenport
Jessica Davila
Kristen Dawdy
Paul Derosa Jr.
Robert Derosier
Christina Dill
Dalton Doyle
Jonie Drum
Diane Durbin
Melissa Dzienny
Tamara El-Amin
Michael Fontenot
Melinda Forgette
Sandra Foster
Brenda Frantz
Angela Fries
Esther Gandolfo
Cheri Garner
Viola Gladney
Craig Goble
Christel Goodrich
Tammy Green
Melissa Gregory
Angela Hammock
Sakinah Hassan
Shannah Hendrickson
Jonathon Herrick
Dallas Herring
Michelle Irwin
Janice Jackson
Tina James
Nataya Johnson
Charity Jones
Nadezhda Jones
Cecilia Jordan
Ishuai Karnatu Bey
Linda Kemph
Margaret Klein
Kristi Kossak
Susanne Kumpus
Amy Leduc
Angelia Leggett
Diane Lemke
Jeremy Lewis
Christine Lucero
Daphne Luckett
Patricia Luedtke
Carissa Maldonado
Kerry Mcdaniel
Lisa Mcguire
Abigail Meggett
Bonnie Miller
Heather Miller
Jhoanna Mora
Maria Morehead
Kimberly Nelson
Meghan Neuman
Long Nguyen
Nancy Norris
Derek Nowack
Colisha Nuckols
Chance Ogden
Maria Olvera
Jessica Parks
Christopher Pearson
Danielle Pearson
Mary Percy
Dianne Perez
Maria Peterman
Kimberly Petersen
Vicki Phillips
Juanita Porter
Eline Pouesi
Carly Pratt
Ronnie Raxter
Marcia Ray
Lorrie Robayo
Theodore Rodgers
Amanda Russell
Omar Salama
Daniel Salas
Jennifer Salies
Natashia Sanchez
Patricia Sasser
Theresa Sawyer
Tanya Silvia
Rebecca Smith
Tameka Smith
George Snider
Nichole Sons
Denise Soules
Amanda Stallman
Melinda Stewart
Anita Sutton
Thomas Swinton
Darlene Teague
Dwight Tucker
Anita Wages
Tiffany Ware
Keisha Wells
Tamika White
Rusty Williams
Melaney Winkleblack
Michelle Yonkers

Sheryl Abbott
Shatema Adams
Eric Archuleta
Erica Baca
Dorothy Barber
Corina Barrera
Christina Barron
Dorothy Barrow
Jenny Bell
Jody Bell
Kimberly Binkley
Jacqueline Bobbitt
Patrizia Bongiovanni
Anna Borja
Andrea Bourgeois
Erica Briggs
Brandy Brock
Amanda Brooks
Christopher Brown
Jennifer Brown
Julia Brown
Sherry Brown
Kristen Buddenbaum
James Burchell
Rose Buseck-Fisher
Thomas Cantu
Scott Carlson
Korena Carter
Penny Carter
Vent Casey Iii
Jacqueline Chavis
Faith Cheatham
Kelly Clifton
Natasha Clough
Shari Comstock
Amanda Condry
Donald Cook
Christina Cooper
Erinn Copeland
Serpremna Coyle
Jessica Crites
Yessica Cruz
Carol Cummings
Mary Cuthbert
Patricia Cutler
Erin Dalstra
Rebekah Dandeneau
Alice Davis
Bethany Davis
Michelle Davis
Pauline DeSomma
Stephanie Delaney
Melissa Eberling
Kathleen Ernst
George Faler
Rachel Felan
Carla Feldmeier
Jolene Fink
Christopher Foster
Vermell Foster
Christina Francisco
Kimberly Frazier
Angel Freeman
Meagan Fromme
Michael Fulmore
Jessica Gallardo
Christina Garland
Douglas Gibson
Stephen Gilman
Destiny Goette
Tessa Gonzales
Dana Gordon
Sallie Gory
Elizabeth Gosselin
Lisa Gower
Holly Graeff
Rodney Graves
Danielle Gray
Julia Gustitus
Melissa Haley
Courtney Hall
Kirsten Harris
Marjorie Helger
Angelia Henson
Andrew Herndon
Harriet Hill
Deanna Hillman
Paris Holmes
Kristin Houle
Tiffany Hudson
Carolyn Jackson
Kerry Jackson
Cynthia James
Catherine Jenkins
Deborah Jeter
Alexander Johns
Debra Johnson
David Jones
Matthew Jones
Marissa Joseph
Dustin Keller
Donna Kelly
Sheila Klug
Karen Kroon
Leisha Krueger
Maryann Krug
Tami Lambson
Julie Landi
Aymen Lassoued
Dawn Lauer
Jenifer Lee
Mary Locke
Jessica Lopez
Cheyenne Luscomb
Phyllis Mack
Janice Magruder
Heather Mahle
Doria Malenzi
Brenda Malick
Mula Mameledzija
Linda Marks
Brandy Marshall
Rhonda Martin
Ayola Martinez
Mario Martinez
Cynthia Matela
Robin Mattox
Scott Mays
Erin McGee
Diane McMillian
Adrian McQuarter
Stephanie Michaels
Kimberly Milan
Amanda Miller
Brenda Mims
Joan Minick
Jennifer Moggio
Dana Mohney
Ryan Moore
Carey Moxley
Shannon Mullen
Teresa Myrick
Jonathan Napoli
Julie Nichols
Danielle Ochoa
Carl Odfalk
Delbert Gene Ofalla
Travis Ogletree
Michael Ornelas
Amy Osterholt
Stephanie Overby
Maria Glaiza Pacheco
Michael Parris
Patricia Patton
Jacquelyn Pearson
Mariam Pendleton
Makensey Phipps
Stacy Pifer
Timothy Pike
Jeannette Pizarro
Teresa Pope
Lacy Queen
Anthony Ram
Kevin Reschke
Sandra Reyes-Jauregui
Linda Rhoden
William Rice
Abigail Rivera
Vicky Roganish
Jonelle Romine
Nikki Rooks
Samantha Roth
Alexis Rowe
Eric Rud
Christina Santos
Connie Schoolcraft
Juwanna Shaw
William Shipman
Traci Sizemore
Debra Smith
Jessica Smith
Rebecca Smith
Patricia Smith-Mcclay
Stefanie Sodermark
Isabel Sovocool
John Spell
Leslie Stacy
Crystal Stamper
Cynthia Stanley
Deanna Stevens
Susan Stone
Faith Sylvester
Rebecca Taylor
Rodney Tenorio
Samantha Thompson
Shelly Thompson
Jennifer Townsend
Jennifer Triance
Terese Tucker
Stephanie Vallejo
Jennifer Van Sant
Norman Vancleve
Bryant Via
Timothy Wahlert
Diana Walker
Julie Walker
Clayton Ward
Timothy Watkins
Andrea Watson
Lindy Weatherill
Paige Weeks
Amy White
Varita White
Donelle Wiggs
Gerald Williams
Noah Williams
Pauline Williams-Kinley
Pamela Williamson
Dustin Wilson
Suzanne Wood
David Woodgeard
Cara Young
History
Phi Theta Kappa is the International Honor Society of the two-year college/Associate's degree-granting institution. Phi Theta Kappa's mission is two-fold: to recognize and encourage the academic achievement of two-year college students and provide opportunities for individual growth and development through participation in honors, leadership, service, and fellowship programs.
Chapter Bylaws
Read the official Chapter Bylaws of the Beta Tau Chi chapter of Phi Theta Kappa at the University of Arizona Global Campus.
Charter Members
The Beta Tau Chi chapter of Phi Theta Kappa at the University of Arizona Global Campus was established on September 13, 2011.
Charter members are:
Joseph Allen, Director of Student Affairs (former)
Dr. Elizabeth Tice, Executive Vice President for Academic Affairs (former)
Vanessa Schoenherr, Student Development & Engagement Specialist II (former)
Membership Criteria
Membership is by invitation only. In order to receive an invitation for membership, students must meet the criteria below as of January 1 and July 1:
Be an active student seeking an Associate's degree;
Have completed at least 12 credit hours of coursework that may be applied to an Associate's degree;
Have a grade point average of 3.5; and
Be willing to adhere to the moral standards of the Society.
Please note that there is a one-time membership fee of $60.
All members receive a membership certificate, Phi Theta Kappa ID card, and membership pin.
Experience Seamless Transfer Options
There are various ways you can transfer your credits to UAGC. Explore your options.
Transfer Course Evaluation
The University of Arizona Global Campus and Phi Theta Kappa have entered into an agreement in the spirit of cooperation. The purpose of the agreement is to enable Phi Theta Kappa students who transfer to UAGC to carry with them the credit they have already earned.
PLA Credit Evaluation Form
Member Privileges
Through Phi Theta Kappa Headquarters:
The Society offers valuable opportunities for individual growth through leadership, career development, and networking.
In addition, Phi Theta Kappa offers over $37 million in scholarships, both for those continuing the pursuit of the Associate's degree and those transferring to a senior institution to complete their Bachelor's degree.
Members also have access to special benefits and offers from Phi Theta Kappa corporate partners. For more information about Phi Theta Kappa Honor Society, please visit Phi Theta Kappa's website.
Through the University of Arizona Global Campus:
Any Phi Theta Kappa member who participates in the University of Arizona Global Campus in-person commencement ceremony will be distinguished as a member by wearing Phi Theta Kappa regalia. Induction must be completed at least one week prior to commencement in order to receive regalia.
Contact
Contact the Phi Theta Kappa Chapter Advisor at [email protected].
Questions? Request More Information