At its core, the liberal arts refer to a broad range of subjects that include the humanities, social sciences, natural sciences, mathematics, and arts. Think of it as a smorgasbord of intellectual delights, where you can sample a variety of areas, including philosophy, literature, psychology, anthropology, music, and visual arts.
But why study such a diverse range of subjects, you might ask? The answer lies in the fundamental belief that a well-rounded education is essential for a fulfilling life. By studying the liberal arts, you not only gain knowledge about the world around you, but you also develop critical thinking skills, cultural awareness, and communication abilities essential in any career or personal endeavor. This article will answer your most burning questions such as "What can I do with a liberal arts degree?" and "Will I really be able to find any liberal arts degree jobs?"
What Skills Do You Gain from a Liberal Arts Degree?
As promised, there's a great many skills you can expect to gain from a liberal arts degree. According to the National Association of Colleges and Employers, there are several skills liberal arts degree holders in particular possess. These include:
Oral communication: This skill involves effectively communicating ideas and information through spoken words. In the workplace, this skill is essential for conducting presentations, meetings, and negotiations. For example, you may be required to explain the benefits of your product or service to potential clients in a clear and persuasive manner. 
Written communication: Effectively conveying information through written words is essential for creating reports, emails, memos, and other documents. For example, a manager might need to write a persuasive email to potential customers or create a detailed report analyzing the company's campaign efforts. 
Collaboration/teamwork: This skill involves working well with others to achieve a common goal. It is essential for completing projects and tasks that require input from multiple individuals. For example, a team might need to collaborate to develop a new idea, with each member contributing their unique skills and expertise. 
Critical thinking/analytical reasoning: Analyzing information and data to make informed decisions and solving complex problems is at the heart of critical thinking and analytical reasoning. In the workplace, this skill is essential for developing strategies, analyzing trends, and making informed decisions. For example, an analyst needs to use critical thinking skills to analyze data and make informed decisions. 
Decision-making and ethical judgment: Making decisions that are ethical and in the best interest of the organization is critical for workers who need to make decisions that impact the company's success and reputation. For example, an employee needs to make decisions that are in the best interest of the company's stakeholders, including peers, shareholders, and customers. Another example is a manager who needs to make decisions that are in the best interest of their team and the company's overall goals.
Quantitative/applied technology: You often utilize software and other technology for industries such as finance, engineering, and the tech space. For example, an analyst needs to use quantitative and technology skills to analyze large sets of data and make informed business recommendations. Another example is a manager who needs to use technology to design and build new processes for their team.
What Are the Popular Jobs with a Liberal Arts Degree?
In today's rapidly changing world, there are plenty of liberal arts degree jobs available, especially for those who are passionate about communication, creativity, and leadership. Whether writing, reporting, public relations, or management, there's a job out there for almost everyone. Whether you're a creative writer, strategic thinker, or natural leader, read on to discover which of these exciting and dynamic liberal arts careers could be the perfect fit for you.
1. Author or writer
According to the U.S. Bureau of Labor Statistics (BLS), authors and writers are responsible for creating written content that interests and engages readers. Yes, this may include social media, but think beyond digital content.
Writing can take many forms, including fiction and non-fiction scripts, biographies, advertising copy, and much more. Authors and writers conduct research to ensure factual accuracy and credibility, and work closely with editors and clients to refine their work. Some writers are self-employed and sell their content to a variety of clients.
There are many different types of writers and authors, including biographers, bloggers, content writers, copywriters, novelists, playwrights, screenwriters, new reporters, and speechwriters. Each type of writer specializes in a particular type of content and format, whether it's a thorough account of a person's life, a promotional slogan, or a script for a theatrical production or movie. Writers must be skilled at communicating their ideas clearly and effectively, using language that is both engaging and easy to understand.
In addition to writing, writers and authors must establish their credibility through strong research, the use of sources and citations, and clean prose. They must also adapt to changing trends and technologies, with many writers producing content exclusively for digital platforms like blogs and online news organizations. 
2. News analyst, reporter, or journalist
Per the BLS, news analysts, reporters, and journalists are responsible for keeping the public informed about current events through various forms of media such as newspapers, magazines, websites, TV, and radio. They have various duties including researching topics, developing relationships with contacts, conducting interviews, analyzing information, writing articles, reviewing content for accuracy, and investigating new story ideas. They may work for a specific media organization, such as a local news station, podcast, radio station, newspaper, or website, or they may be self-employed and accept freelance assignments.
News analysts, reporters, and journalists who work in TV, radio, and podcasts conduct interviews, edit recordings, write and record voiceovers, and create multiple versions of stories or reports for different broadcasts or media platforms. Those who work in print media conduct interviews and write articles for both print and online publications, staying up-to-date with developments related to articles and updating the online version with current information. Outlets are increasingly relying on multimedia journalists to publish content on a variety of platforms, and these journalists typically record, report, write, and edit their own stories or articles while also gathering accompanying audio, video, or graphics.
3. Editor
Another liberal arts degree job includes editing, an enjoyable and complex role that can work in a variety of settings. According to the BLS, editors are responsible for reviewing and correcting content, verifying facts, working with writers, and developing content ideas in various forms of media, including books, newspapers, periodicals, and websites. They also offer comments to improve the product and suggest titles and headlines to make the material more appealing to readers. Assistant editors, copy editors, executive editors, and managing editors are examples of different types of editors who have specific responsibilities within the editorial process.
Assistant editors focus on specific subjects such as local news, international news, feature stories, or sports, while copy editors proofread text for errors and suggest revisions to improve clarity or accuracy. Executive editors oversee assistant editors, hire writers and reporters, and have the final say about which stories are published and how they are covered. Managing editors are responsible for the daily operations of a news department, while publication assistants in book publishing houses read and evaluate manuscripts, proofread drafts, and answer questions about published material.
4. Recreation worker
A career as a recreation worker may be right for you if you're looking for a fulfilling way to spend your time. Based on data from the BLS, recreation workers plan and coordinate leisure activities for a variety of populations, such as children, teenagers, adults, and seniors. They work in a variety of settings, including community centers, parks and recreation departments, nursing homes, camps, and resorts.
Their duties include organizing and leading group activities, such as arts and crafts, sports, games, music, dance, and drama. They may also plan and supervise events, such as parties, picnics, and community festivals. Recreational workers must be creative, engaging, and able to adapt activities to meet the needs and interests of different groups.
5. Public relations specialist
Public relations specialists are responsible for managing how an individual, group, or organization communicates with the public — including consumers, investors, and media specialists. Their tasks include writing press releases, responding to media requests, helping clients communicate effectively with the public, drafting speeches and arranging interviews, evaluating public opinion through social media, and evaluating advertising and promotion programs. In addition to maintaining an organization's image and identity, public relations specialists also get their stories covered by media instead of having to purchase ad space in publications and on TV. They are often in charge of monitoring and responding to social media questions and concerns.
6. Manager
Finally, managers represent a broad scope of people and duties. In general, they are responsible for planning, directing, and coordinating the operations of an organization. Specific duties and responsibilities depend on the type and size of the organization. Managers set goals and objectives for their departments or organizations, develop strategies to achieve those goals, and oversee the work of employees to ensure tasks are completed on-time. 
Salary Potential With a Liberal Arts Degree
With these six liberal arts degree jobs in mind, let's turn to the potential salary, as of 2021.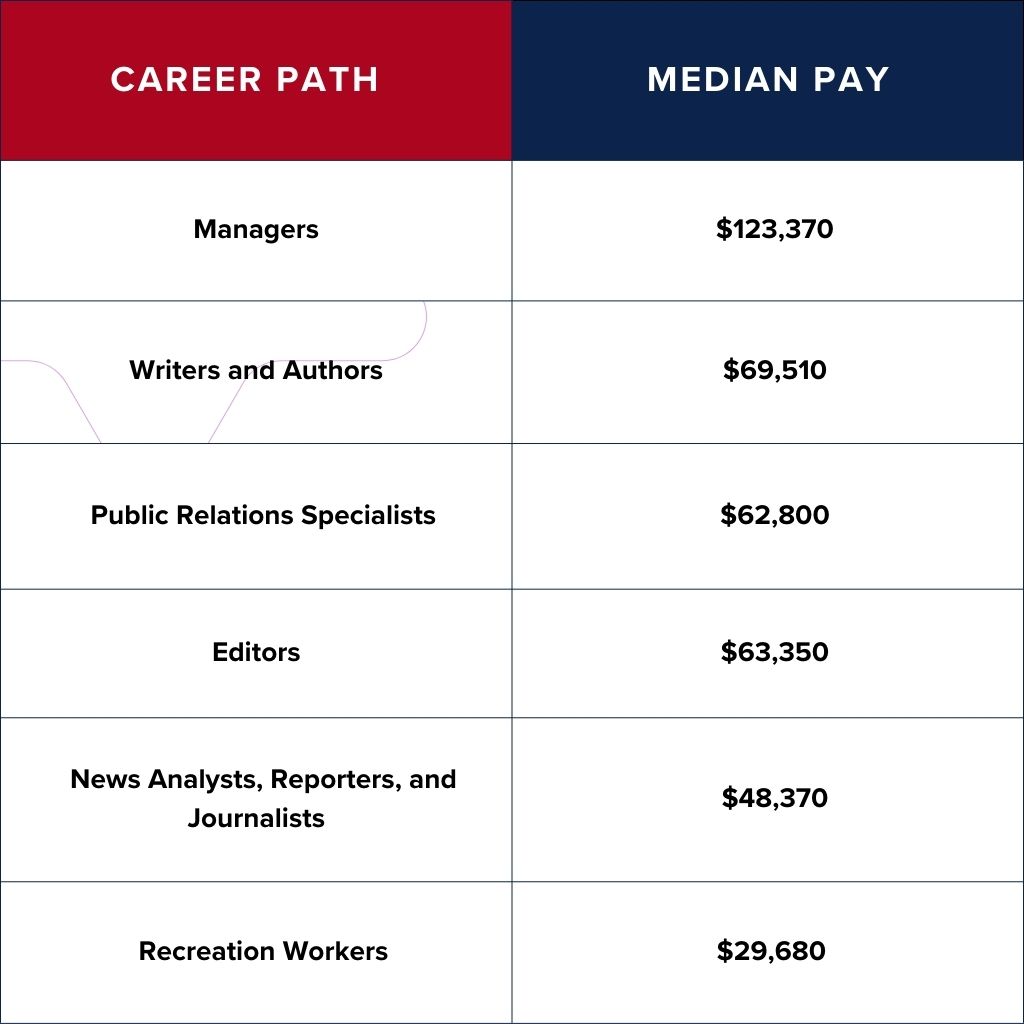 Overview: What Can I Do With a Liberal Arts Degree?
Earning a liberal arts degree involves studying a wide range of subjects, including literature, philosophy, history, social sciences, and natural sciences. This education focuses on developing critical thinking, problem-solving skills, communication, and analytical skills, which can be applied to a variety of careers. Whether writing or spending time outdoors as a recreation worker, you'll be well-suited for a number of careers with a well-rounded degree.