A new year is upon us, and it's an exciting time to be part of the UAGC community. Some students are just beginning their college journey and are committing to their New Year's resolutions to pursue their goals. Others are in the midst of their degree program and have a renewed motivation to push forward. Many are nearing the completion of their degree and can see the finish line in sight. Several have graduated and are moving on to new aspirations, whether in their professional life, personal life, or college career.
Whatever stage you're at in your college journey, you can find that little extra spark of inspiration in these quotes from your peers who, just like you, are working hard daily to overcome life's many hurdles and achieve success. This month's UAGC #TenacityMade superstars are determined to overcome life's obstacles and achieve their aspirations, and so can you. Keep reading to get motivated to make 2022 your best year yet!
We are #TenacityMade
We regularly ask our UAGC Facebook followers how they stay tenacious with their studies while balancing life and school. Here's a sampling of how students and alumni say they are pushing toward their goals this year: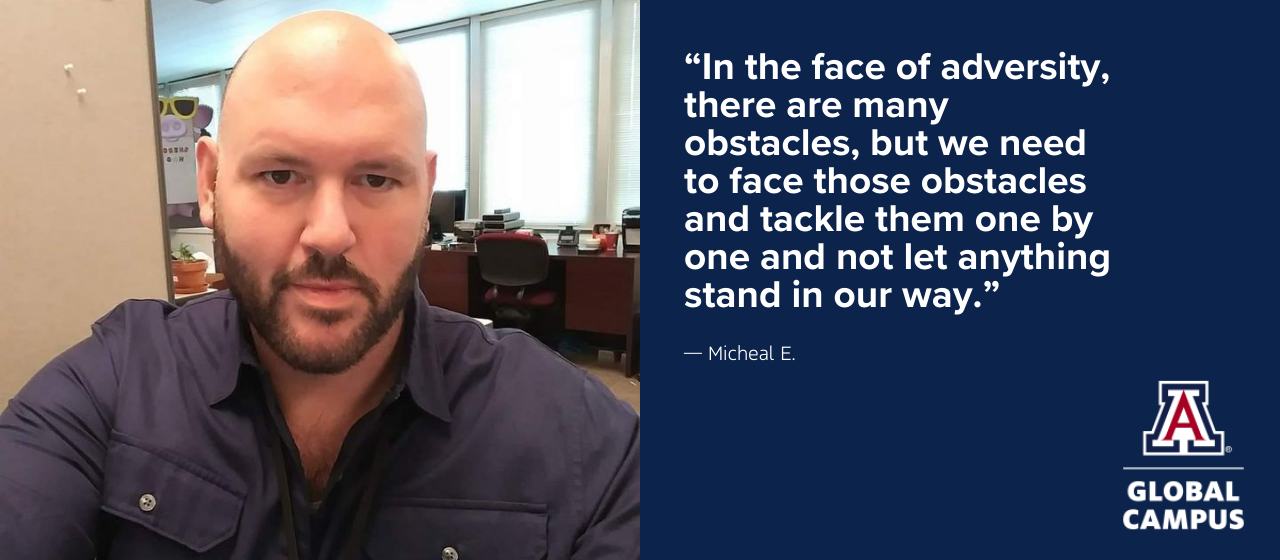 1. "In the face of adversity, there are many obstacles, but we need to face those obstacles and tackle them one by one and not let anything stand in our way. For me, working a full-time job, helping lead a student organization, and having a family to attend to — it's them that keeps me going to achieve my goal so I can provide and give them a better life in our future. My family has supported me every step of the way over the past two years in my academic career, and to me, it's been a role model to our kids as well. 'If stepdad can do it, so can I.' It all boils down to time management for me, and that is something I pride myself in because without having a schedule and managing my time, I would be a complete disaster, no lie." - Micheal E.
2. "It's an incredibly humble feeling that I finished my last paper of my last course last week! I will be virtually sharing my graduation with my peers that I started with five years ago, and through some of the hardest times, like the pandemic. I am grateful that I chose UAGC and that perseverance paid off. No matter your age, you, too can achieve your goals!"- Jessica D.
3. "I have been with Ashford, now the University of Arizona Global Campus, since 2011 with a different degree, took a break, and came back in 2017 for my bachelor's degree in criminal justice. Between personal life and a car accident, my children were my motivation, including the University backing me 100% to give me that encouragement to finish and achieve my goal. The instructors were amazing as well. Now on to my master's degree program in criminal justice in the next few months!" - Tara T.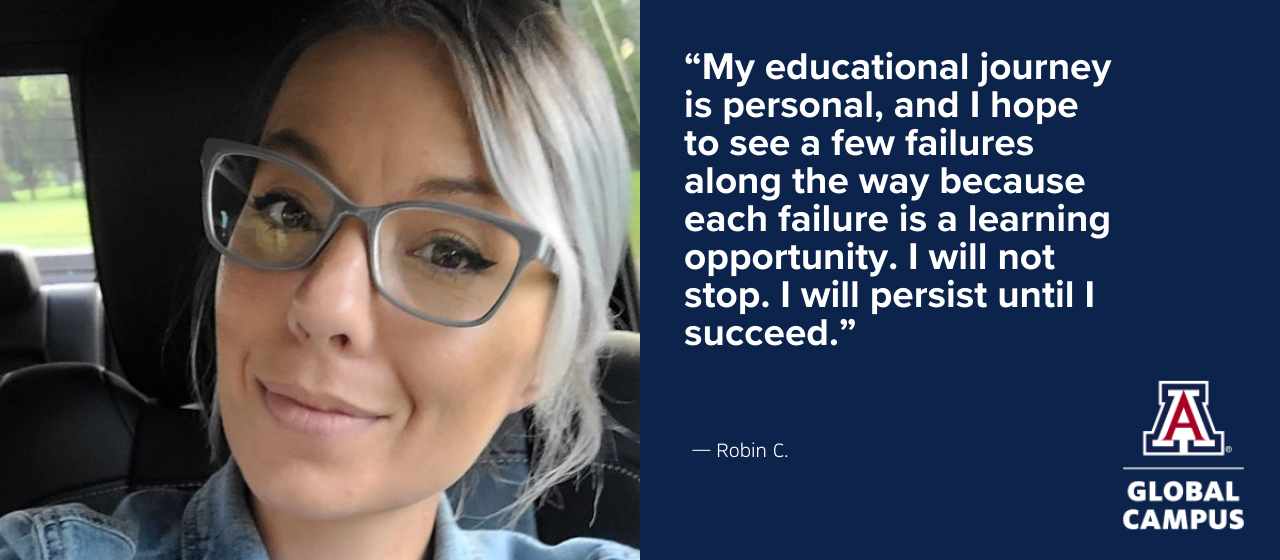 4. "For many years, around 20, my husband's military career took the front seat, and I always had dreams of having my own career. But most importantly, what keeps me going is the will to succeed for me. My educational journey is personal, and I hope to see a few failures along the way because each failure is a learning opportunity. I will not stop. I will persist until I succeed. I am halfway there, and at times feel as though I'm running on fumes. But I know the gratification will be well-received once I finish the journey." - Robin C.
5. "When I was in the first 16 years of school, I only received Cs and I was trying extremely hard. I learned as an adult 15 years ago that I had undiagnosed ADD and was told going back for my bachelor's degree wasn't recommended. I decided I wasn't going to listen to negativity. At 48 years old, I enrolled in the Bachelor of Arts in Early Childhood Education. I have never been prouder of myself!" - Jennifer L.
6. ."I am ready to start this new chapter of my life. I work with at-risk youth in a residential setting and I am going to show them that going back to school and following your dreams is possible. You just need to put in the work!" - Alexis R.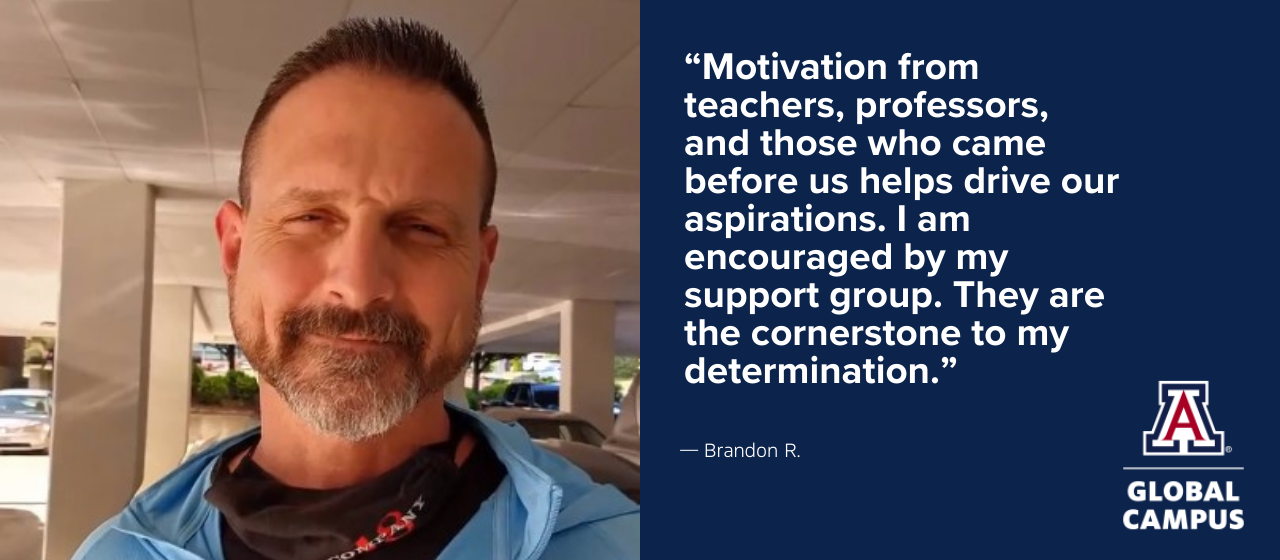 7. "Support is key — peer, spousal, friend, parental, or your children supporting you and holding you accountable (with your permission of course!). Motivation from teachers, professors, and those who came before us helps drive our aspirations. I am encouraged by my support group — those I chose to talk about school with, those who want to see me succeed! They are the cornerstone to my determination. Those folks are also crucial for support and redirections. Family, friends, and great peers make the difference for me and help me stay focused on the objectives." - Brandon R.
8. "My determination to become a professor and an author keeps me moving forward! After graduating from UAGC with my bachelor's degree, I was tempted to stop there. I'm tired and worn out, but I have much bigger plans waiting for me! UAGC master's degree is next!" - Shelby H.
9. "I want to set the example for my daughters. Work, PT, school, family, studying, it all gets done. If it was easy, everyone would be doing it." - Anton C.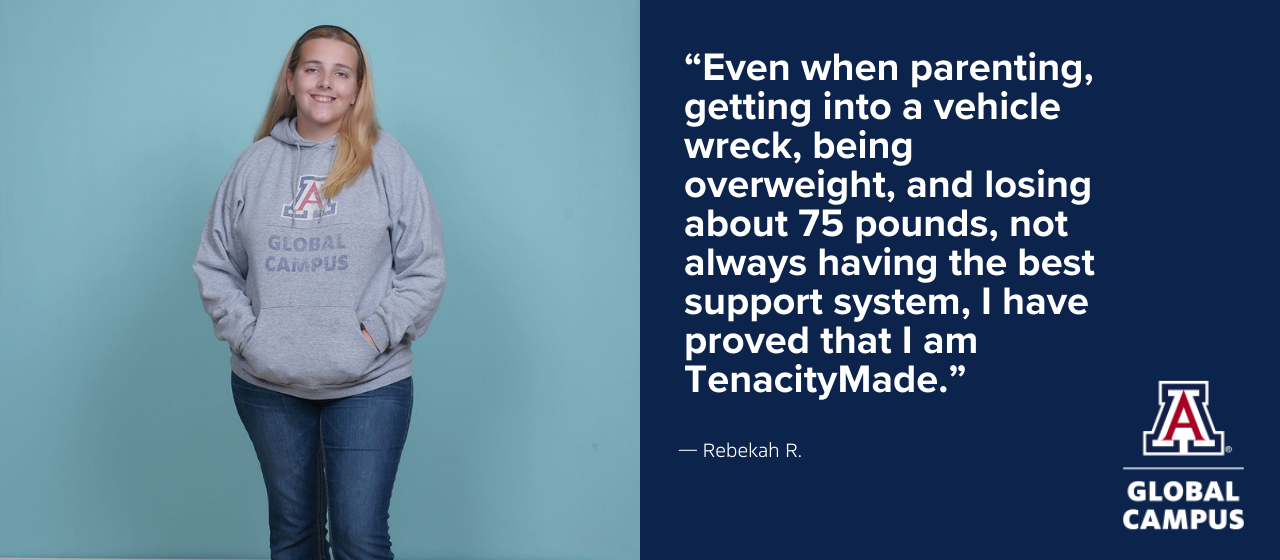 10. "I was motivated to push past life's many obstacles even when parenting, being pregnant, having a C-section, getting into a vehicle wreck head-on with a semi, hurting every day, being overweight, and losing about 75 pounds, not always having the best support system (with the exception of my hubby), and often working crummy hours. I have proved that I am #TenacityMade." - Rebekah R.
Keep the Conversation Going
Be sure to join the conversation and tell us why you are #TenacityMade. Each week, head over to Facebook, Instagram, or Twitter and post a picture or video along with a sentence about what motivates you to stick to your goals, and tell us how you represent #TenacityMade.
--
Written by UAGC Staff
Certain degree programs may not be available in all states.