One of the most cherished memories for every college student is the day they celebrate the completion of their degree, and the University of Arizona Global Campus (UAGC) is committed to honoring all our graduates and their achievements. Of course, part of that comes with taking commencement photos and sharing them with everyone! 
Whether you're a soon-to-be graduate or current student, we've got essential tips on how to take high-quality images for commencement and any other special moment in your life.
One photo can do so many things: tell a great story, capture a split second in time, be a piece of artwork, create a mystery, arouse a fond memory, provide evidence, and remind us of a key moment in our life. Commencement is a prime example of a moment in your life that should be captured forever.
Once you take your amazing photos, be sure to share them on social media using #UAGCgrad23. Also, you can use them to participate in upcoming contests we'll be running on our Facebook and Instagram pages. 
Read on for ways you can prepare for your commencement (or any event) and capture your best photos yet!
Tips For Taking Great Photos
Follow these tips to take your best photos yet!
1. Choose Your Camera
You don't need super expensive, pro-level cameras or the latest models. Of course, the best equipment for taking portrait photos includes DSLR (digital single-lens reflex) and mirrorless cameras. Options like the Nikon D3500, Sony A6000, Canon EOS Rebel T7, or Fujifilm X-T30 are great. As for the lens, an inexpensive 50mm f/1.8 is great for portraits. A tripod is also handy to have around — and, don't forget the flash, memory card, and spare battery. 
If a regular camera isn't handy, use your smartphone, but if you can, get a mini tripod, which will provide stability. To gain more control over your smartphone camera, use a camera app with advanced capture features — like Adobe Lightroom CC, Camera+ 2, or Manual. These apps give your smartphone many of the functions you'd find in a stand-alone camera, such as the ability to change the aperture, control focusing, shoot in RAW (an uncompressed mode that retains more data than JPEG) and more.
If you don't have a fancy camera or phone, ask around! Maybe a friend or family member has the latest and greatest new phone. Ask them to take pictures with that and send them to you.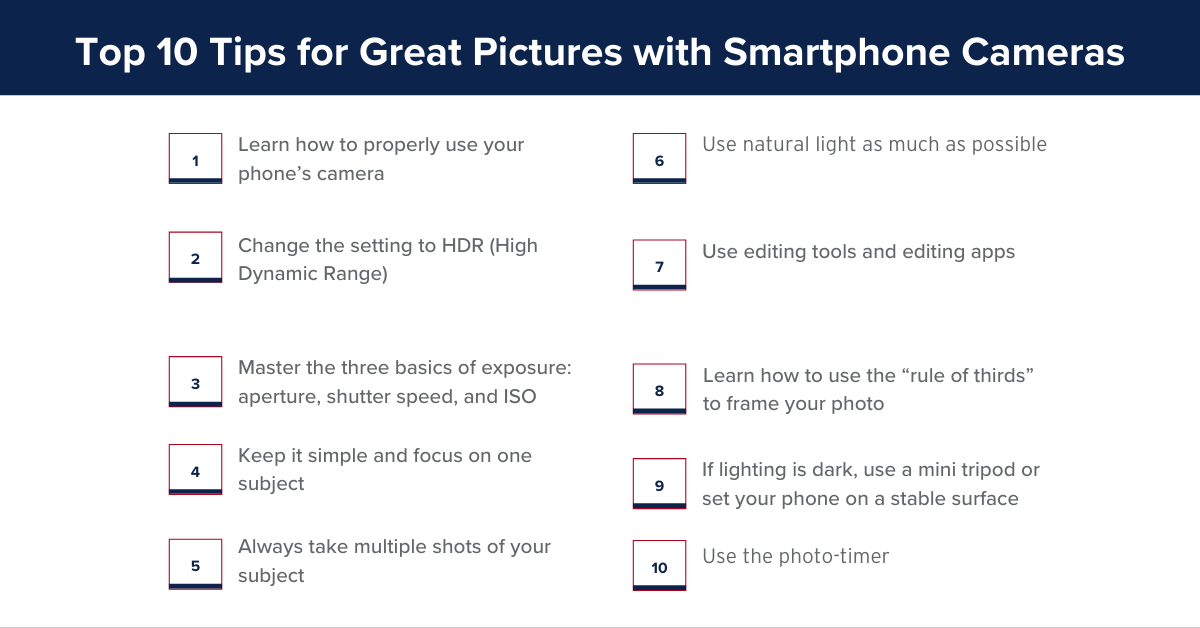 2. Decide in Advance What Your Photo Plan Will Be
Decide what the overall photo plan will be ahead of time for your event. Here are a few questions to answer:
Who will be the dedicated photographer(s) for your group of friends or family?
What equipment will be used?
What will you do with your photos?
Will you be posting on social media?
Will you be creating a photobook to keep or maybe give away as a gift?
Will you post photos on a shared drive or website?
Do you want to get prints, canvas, or other media made to hang on your wall? 
Remember to set a reminder to ensure your camera battery (or smartphone) is fully charged right before your big event, and that you have all necessary lenses and backup batteries set aside and well-organized for easy access.
3. Create a Chronological Photo Shot List in Advance
Make a numbered list of all the various shots you want capture in order to best tell the story of your special day. In order to best tell your entire story, be sure to use your camera to document the highlights.
Start at the very beginning of the day. If you're getting dressed up, have someone take photos of you getting ready. Get some inspiration! Check out Instagram or Google for some poses that you like. Remember to have fun, but keep some professional photos for your family and friends. Get photos of you applying makeup, fixing a bowtie, styling your hair, or putting on your cap & gown.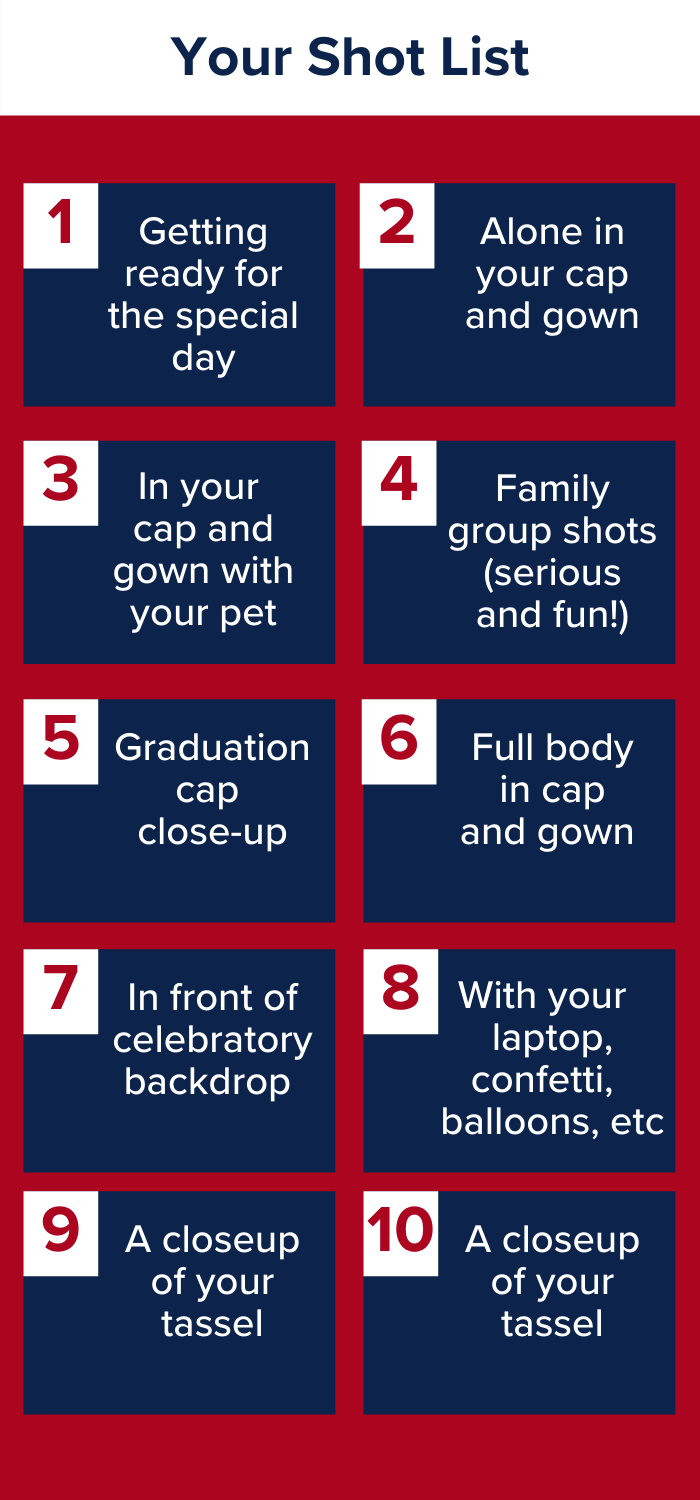 On commencement day, get photos alone, shots of family members, shots with just your kids, your pets, your friends, your neighbors — all the important people in your life. Take several and ensure everyone knows where to look and when to smile! Ask others to take photos of you on your special day, so you are the center of focus. Switch from casual snapshots to thoughtfully posed portraits. Vary your settings and poses, just like a professional model. Let others around you help guide the photoshoot, especially if you're usually the one behind the camera. 
Get portrait photos of you early in the day at home in your cap and gown. Your graduation gown is a powerful symbol of achievement! It's perfect for creating the cover for a special photo book. Get creative, and take some close-ups of the gown and the UAGC colors. Get the graduation cap in the shots; have a small photoshoot, and be sure to add any objects that represent a special memory while in school.
Again, take a variety of photos in a variety of settings to see what works best. Did you decorate your graduation cap? Take close-up photos of your design. Want to get creative? Consider setting up your own photo backdrop. You can use balloons or other fun items as props. Use this Pinterest board for inspiration: https://pin.it/6AqqFm1.
 
With all the ideas here, can you see why it makes sense to plan ahead and how it can help make your big event more fun when you plan ahead?
Make a note to capture the best moments of the day. Whenever there is something exciting happening, take photos or ask someone to take photos. Try to capture natural, genuine, moments of joy and laughter, along with any other moments of strong emotion. Take photos if someone sings, laughs, or cries. If you get a greeting card, ask for photos to be taken. If something needs explaining in your photo, utilize a dry erase board, computer screen, or piece of paper.
Bummed that someone special can't join you on your special day? You can carry a photo or memento of them with you during commencement and have someone capture the moment with a photo of you.
You can also use the handy photo timer on your smartphone or DSLR to take self-portraits. 
4. Take (and Edit) Photos Like the Pros
We all do it. We take endless number of photos on our cell phones and think we have done the job of professional photographers, capturing all of life's best moments. However, in almost all cases, we haven't. Learning how to take good photos is key, and equally important is learning how to edit your photos. It's a vital part of the process that's often forgotten.
If you have a DSLR, experiment with different lenses and filters. If you are using your smartphone's camera, download a photo app like Lightroom or Photoshop so you can edit with necessary filters afterward.
For easy lighting, head outdoors and find full shade. If indoors, find a window. Lighting is one of the most complex aspects of professional photography, taking years to learn and requiring specialized equipment. Shade provides easy lighting that almost anyone can master. There's no harsh light to make raccoon eyes or sun to squint at. The key is to look for full shade. If your portrait subject is shaded, but there's a spot of sunlight behind them, look for a better spot; the entire photo should be in the shade, including the background. Look for an area that's fully shaded and not dappled, or you may have random spots of light in the photo.
You may be wondering: what's an alternative to shade? Photograph on a cloudy day, and you can snap well-lit photos almost anywhere. If you don't have a backyard or another outdoor area that's safe to head to, look indoors for a background that's not very busy and that's across from a window; you and the camera should be between the subject and the window, with your back facing the window and the subject's back facing the wall. Avoid shooting at night, since even natural window light is much better than artificial light.
It's worth noting that at big events like commencement, parents and students want different photos for different reasons. Mom may not want a picture of her daughter popping champagne framed on her wall, but her student might want that shot for Instagram. Mom would prefer a beautiful close-up of her child to frame. These photos are for the grad, but also for the parents of the grad. Get those coveted photos for mom and dad (and for us to use in social media, too).
Never over-filter your images. Using filters that are too strong, or adding bunny noses or dog tongues (even though they're super fun) can really not age well, and you may regret them in the future.
5. Share Your Photos!
Create a photobook to showcase all your photos, and tell your own story. Choose from a variety of photo book creators online, including Mimeo Photos, Snapfish, Shutterfly, Mixbook, Picaboo, and more.
We want to see your pictures too! So, once you're done, be sure to tag us using #UAGCgrad23 on your social posts.
Additional Resources
If you want to get even more tips for taking great photos, check out these additional resources:
--
Written by Charlene R. Melson.