Tutoring is an essential part of success for online students. In fact, for many adult learners, utilizing this resource can mean the difference between completing a degree program or not. However, before you seek help from a tutor provided by the University of Arizona Global Campus (UAGC), it is important to use the best support for your needs and know how to utilize tutoring responsibly. Read on to learn more about the 10 essential facts you need to know about UAGC tutoring.
On the surface, tutoring may appear cut and dry, but there are many things that you need to take into consideration before you reach out to a tutor for assistance. 
1. There are various types of tutoring available to students at UAGC:
Writing - available to all students in all courses through the classroom Writing Center link
Library & Research - available to all students in all courses through the classroom Library link
Select Subjects- available in select courses through the Tutoring on Demand link
2. Tutors provide a variety of services:
They can help clarify course concepts.
They provide guidance on applying formulas, drafting a thesis, or limiting search results, for example.
They can answer specific questions about writing, research, or select subject areas.
They can give you guidance that can help you to complete your assignment on your own.
They can work with you for about 30 minutes per session, up to five times per week if needed.
3. Your instructor is the subject matter expert and the assignment expert:
Connect with your instructor with questions about course content, readings, an assignment, or grades. Tutors are not familiar with your specific assignment, so work with your instructor whenever you need help to better understand assignment directions or course concepts. 
Be sure to read and apply any feedback your instructor provides. 

4. Know when to use support other than tutoring:
It is important that you go to your instructor first for questions about course concepts or the assignment and rubric. Then, refer to the UAGC Writing Center and Library guides and tutorials to provide you with foundational information about writing and research. You can even try free, self-paced courses such as those on Writing Refreshers and Kahn Academy, among others if you need a review in a specific subject area. 
5. Bring a specific question to your tutor:
To get matched with a tutor who can best assist you, be prepared to include the specific question or concept you are struggling with in advance. This will help maximize your session time.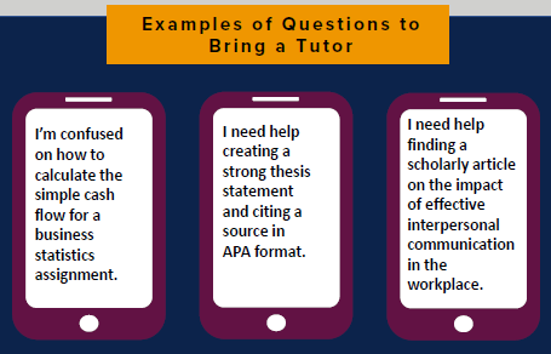 6. Tutoring sessions should be short and focused:
Effective learning happens in short, focused sessions. Bring just one or two questions or problems to your tutoring session. Focus on those questions or problems for no more than 30 minutes. This will allow you to absorb and think about how you can apply what you've learned. Work on your own to stretch your independent learning practice. You can come back the next day for another session if needed.

7. Tutoring is a temporary support: 
Use tutoring as a scaffold or bridge to help move you up and along your academic path. An overreliance on tutoring can actually stunt your independent growth. Academic integrity includes the ability to learn independently.
Use tutoring to get a better understanding — then trust yourself enough to work without assistance. You will be much more empowered when you are able to stand on your own.
This is also true for paper reviews by tutors. Submit a draft, but trust yourself to make the revisions needed. Submitting multiple drafts of every paper won't provide you with the confidence and empowerment that comes from applying what you have learned.
8. Academic integrity is a personal responsibility:
To maintain your academic integrity, be sure to complete all work on your own, using a tutor only to ask questions about course concepts or for writing or research questions. Do not show up to a tutoring session with the expectation of doing your assignment or writing your paper while there. 

Know that unintentional plagiarism is still plagiarism. Use tutoring responsibly, use responsible tutoring sites (UAGC-provided), and never allow your tutor to edit or produce any of your assignment for you or with you, and do not share your work with others.
9. Tutors are not trained in using Canvas or providing tech support:
For questions about using course software or tools (Canvas, Turnitin, Waypoint, etc.), use the available support within that specific software or tool or reach out to your instructor or advisor for direction on additional support options.
10. Get more information on this topic so you can get the most from your tutoring session:
There are a variety of resources available to assist you further with your tutoring, and beyond!
Check out this blog on how to get the most from your tutoring session. You can also review the infographics below for even more guidance on how to prepare for tutoring sessions:
How to Prepare for a Tutoring Session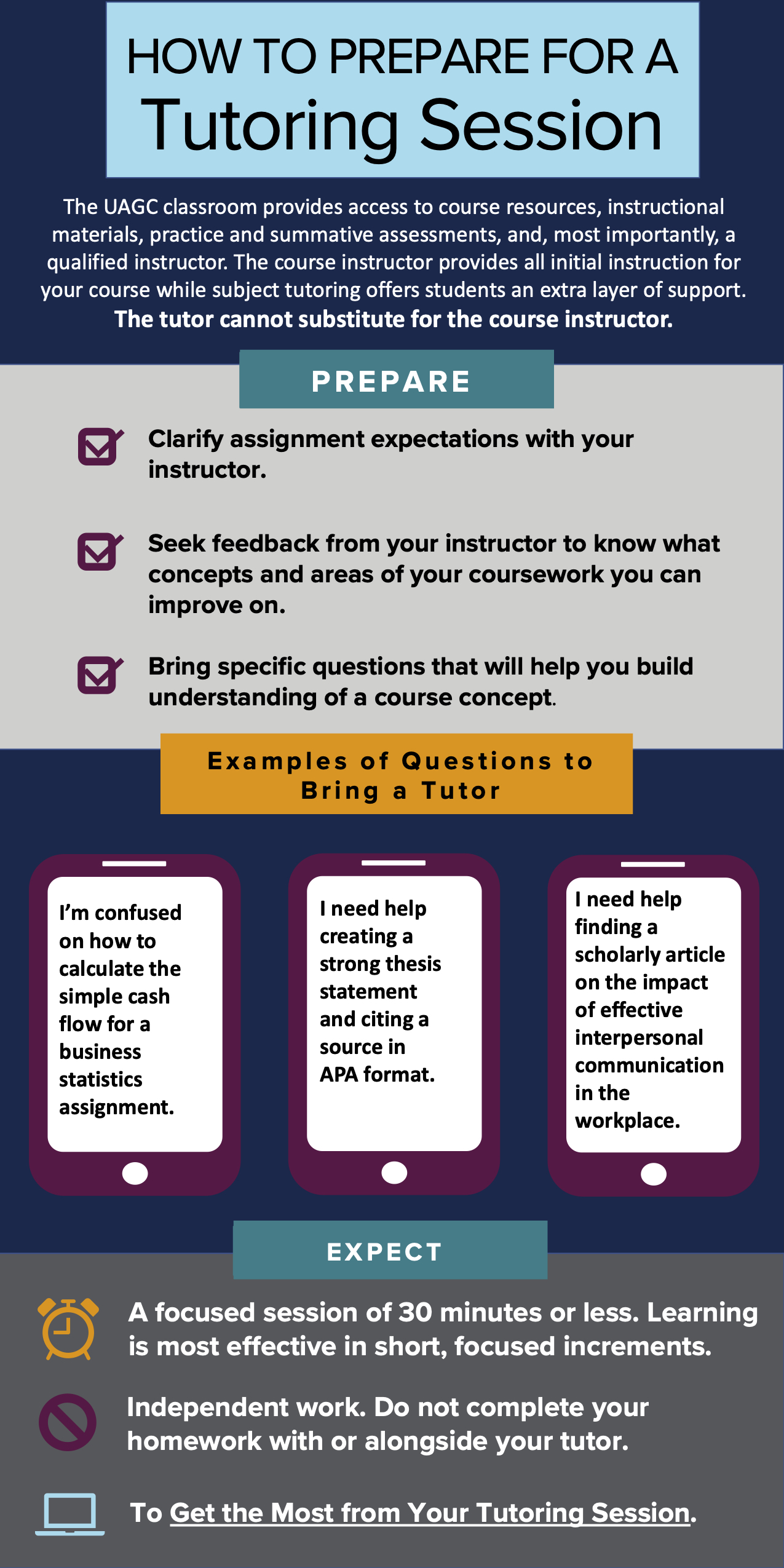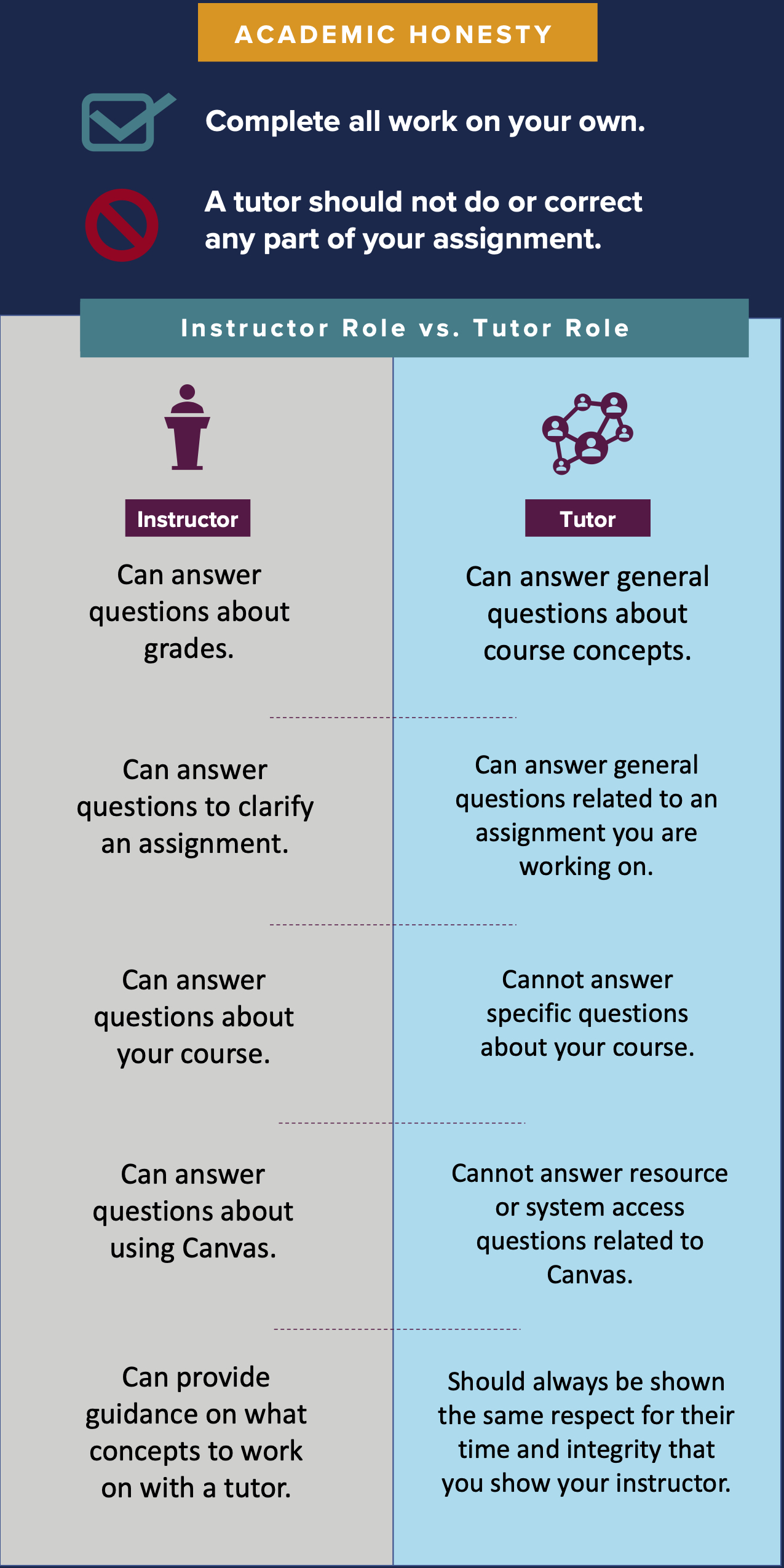 How to Prepare for a Math Tutoring Session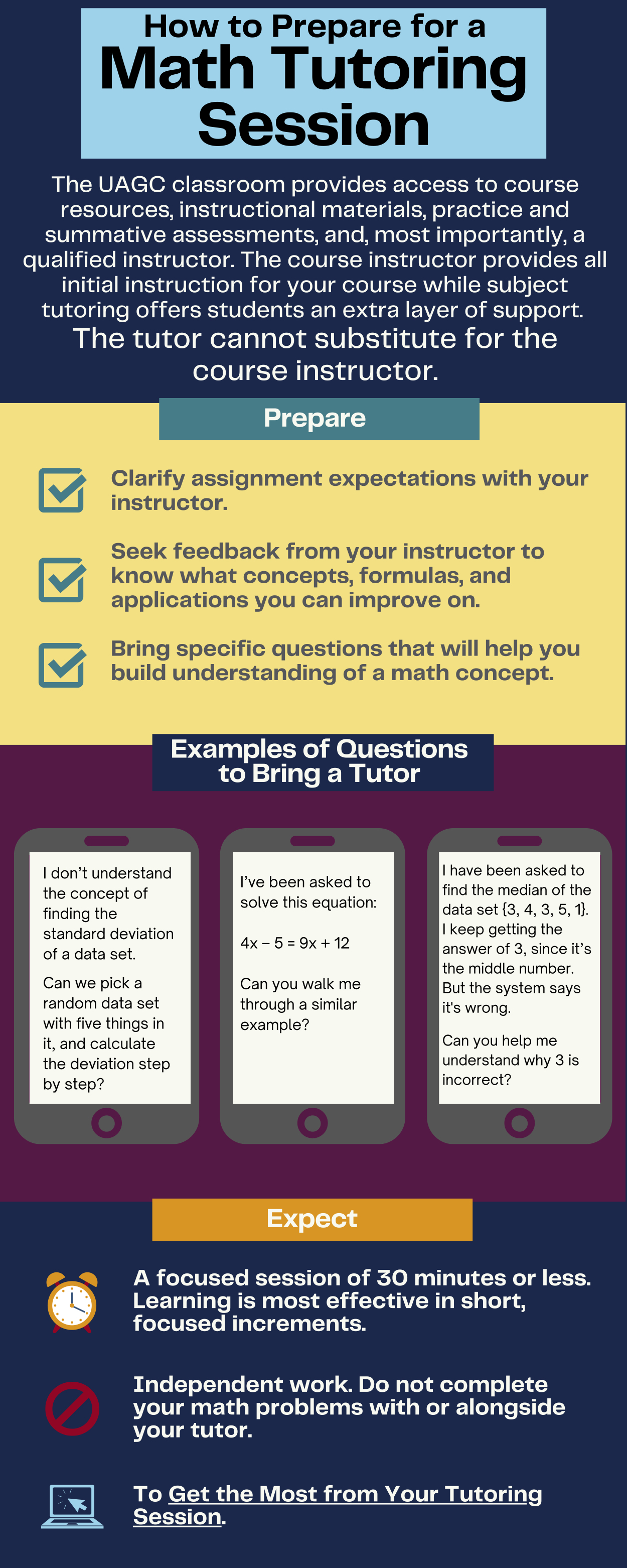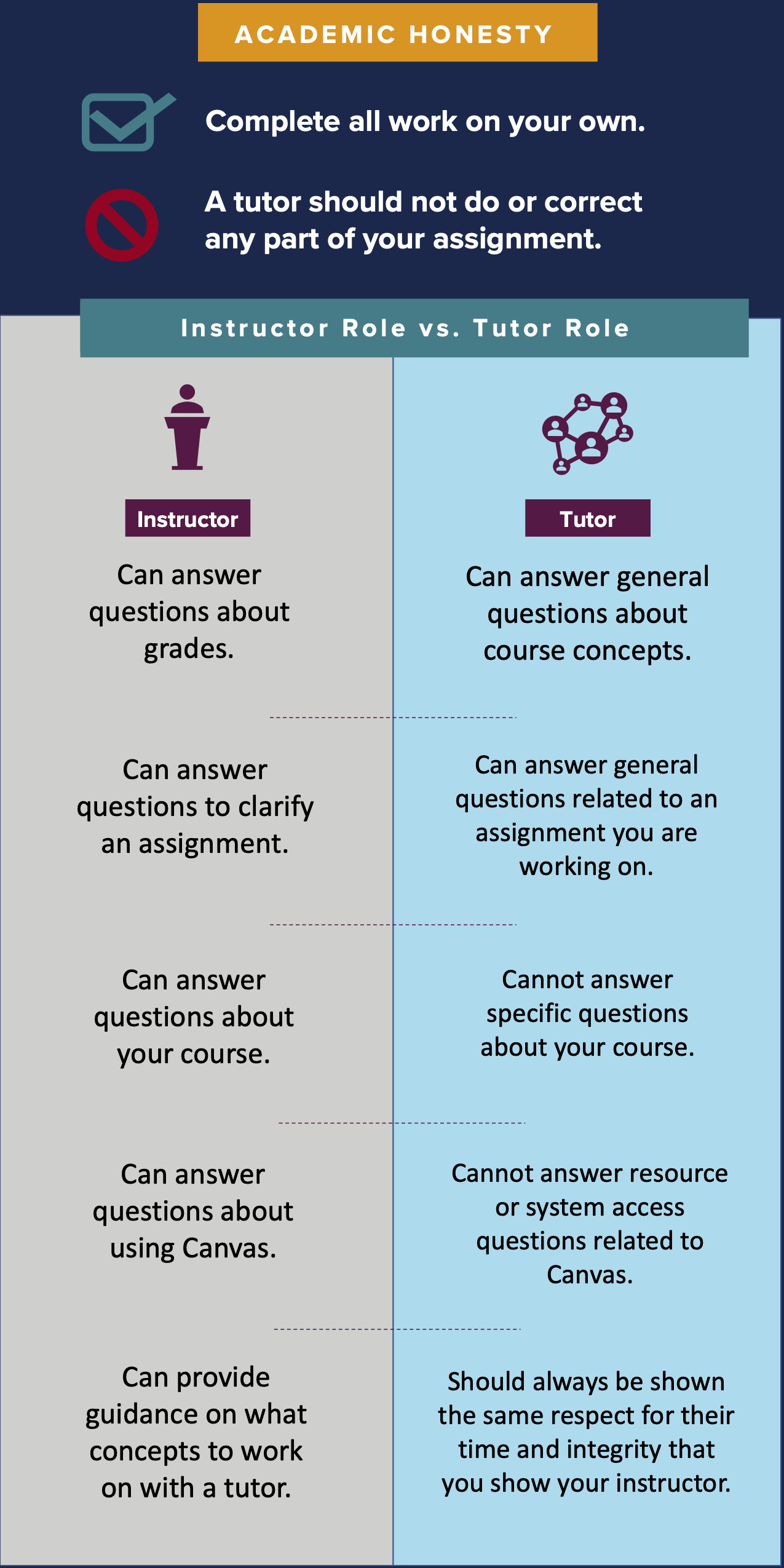 Watch Out for Scam Tutoring Sites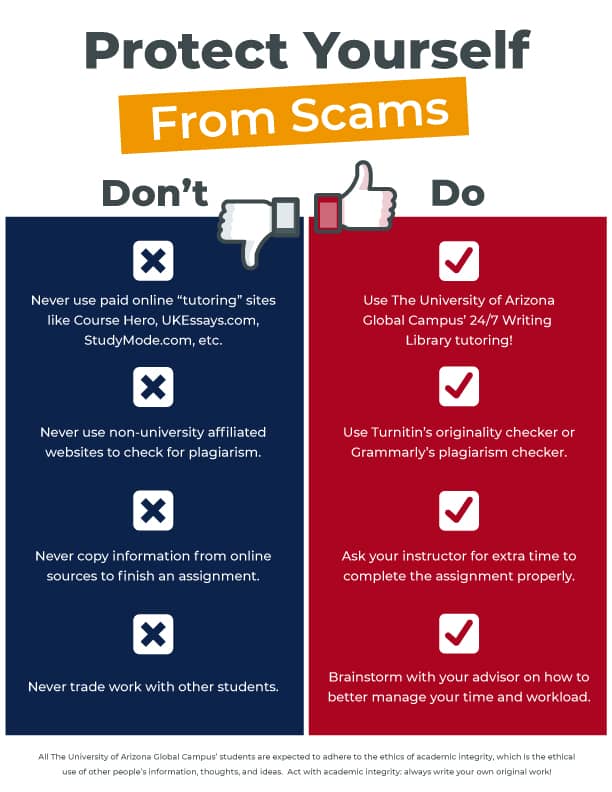 Tutoring is essential and is a reliable resource for students of all levels. Be sure to take advantage of this service as a UAGC student, and you will stay one step ahead of your goals!