It's that time again! Check out this month's roundup of #TenacityMade Superstars, where we highlight some of the most inspired student and alumni posts from the past month. Check out what our students and alumni* have shared, and get motivated to keep pushing forward to achieve your personal and educational goals. 
1. "Being a parent and working adult isn't easy, and then adding school to the mix provides natural challenges. 2020 made us all tougher and more resilient, and I am thankful for the journey. At age 49, I now have my master's degree. Never give up. All things are possible." - Al Miler
2. "I worked full time and went to school full time all while battling infertility and suffering a miscarriage in the last year of earning my degree. I had times that I wanted to give up because the stress became so much. However, with help and encouragement from family, friends, and fellow classmates I made it to the finish line. I have dreamed of this for 18 years. I was out of school for 15 years before coming back. I am thrilled to finally have my degree!" - Kim Spire Foehner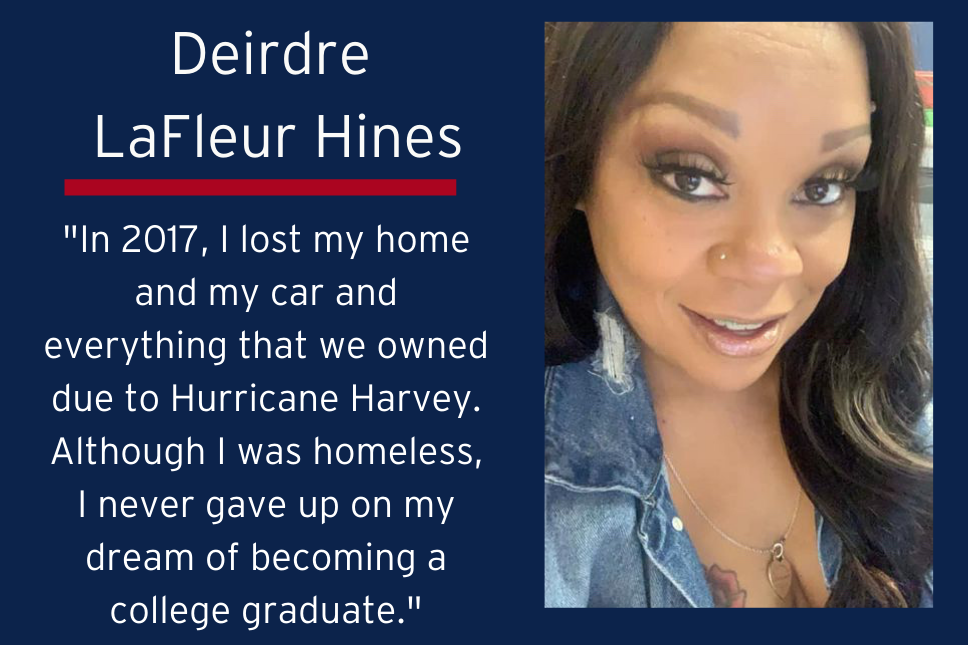 3. "I am 50 years old, and I decided to go back to college in 2014 to receive my bachelor's degree. It was hard and very challenging, but I stayed focused and never gave up. In 2017, I lost my home and my car and everything that we owned due to Hurricane Harvey. Although I was homeless, I never gave up on my dream of becoming a college graduate. I failed a few courses and went through a lot of disappointment, but guess what? I'm a college graduate, and I'm so proud of myself. I completed my courses in November 2019 and I celebrated the commencement ceremony at home with my family cheering me on like they have done since the beginning. I'm thankful to share my journey with you." - Deirdre LaFleur Hines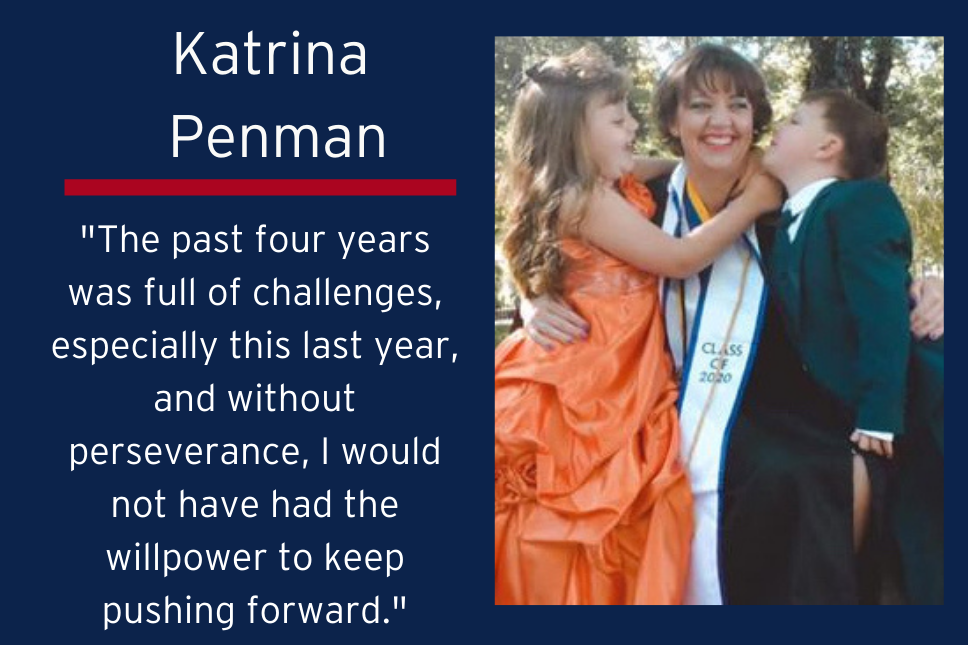 4. "Perseverance was my driving force. The past four years was full of challenges, especially this last year, and without perseverance, I would not have had the willpower to keep pushing forward. My dreams have been realized and my goals fulfilled. Now, onto the next chapter in life. I truly appreciate all that I have gained through my experience." - Katrina Penman
5. "I don't look like what I've endured. I've cared for my mother who has gone through 6 surgeries, I've been in 2 car accidents, I've had 3 surgeries in which 2 were from my 1 of those accidents, and I've been homeschooling 4 kids (only 1 is mine), and I've lost several family members to COVID-19. I've reached the end of my journey, and I'm ready to celebrate my achievement of getting my MBA!" - Pamela Barber
6. "When I obtained my bachelor's degree in 2014, I had no intentions on going back to school because of how much I debt I was in from student loans. I wasn't able to find a job in the degree field I selected and settled for a job so I could start paying off my loans. Fast forward to 6 years later, I was referred to a government contracting job, which allowed me to go back to school tuition free. I was still hesitant about going back but I didn't want to miss out on a great opportunity. I'm so glad I decided to go back to school because this is an achievement not many get to acquire. I've learned so much from all my instructors and they all pushed me to step out of my comfort zone and be the best student I can be. My family, fiancé, and friends have been an amazing support system, and I'm so grateful for them. All the sleepless nights were worth it and come November, I will have successfully obtained my master's degree in criminal justice with a specialization in cybercrime and technology. This is one milestone I will never forget. I am #TenacityMade." - Meme James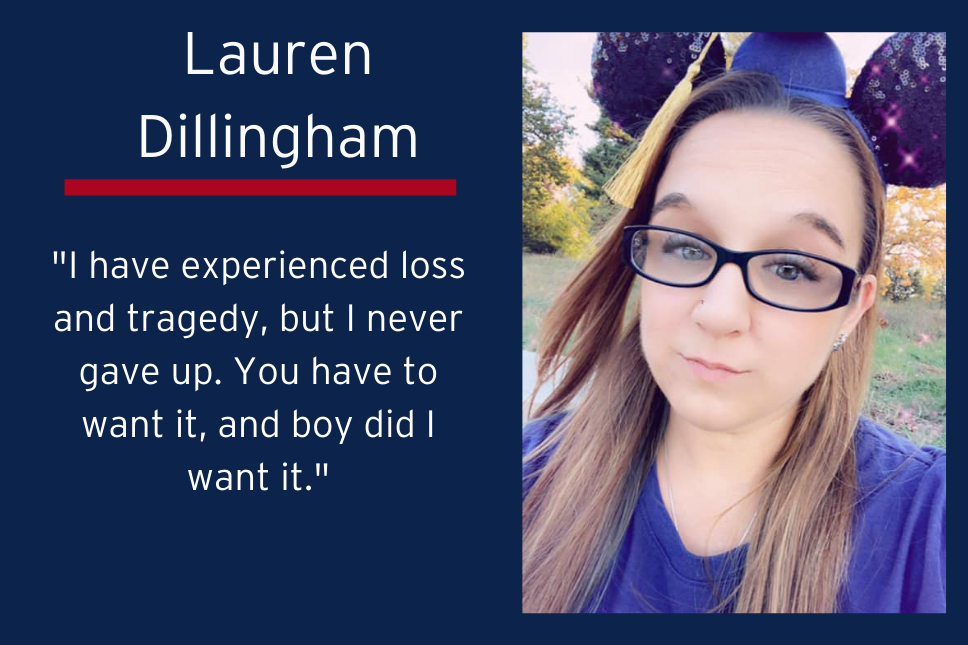 7. "I'm a full-time single mom. I work a full-time job. I have experienced loss and tragedy, but I never gave up. You have to want it, and boy did I want it. That's #TenacityMade." - Lauren Dillingham
8. "I'm a full-time teacher*, mother of two, wife, and entrepreneur. Earning this degree has been a phenomenal journey. I'm so grateful to see the light at the end of the tunnel. Battling with bipolar depression is an ongoing battle that I have been dealing with since 2016. I'm so lucky to have the education and experience now to better help myself and others as we grow and elevate on this green earth." - Latifa Riddick Chapman
9. "I am the first in the family to accomplish an associates, BS, and master's degree. I made my family proud." - Andrea Coleman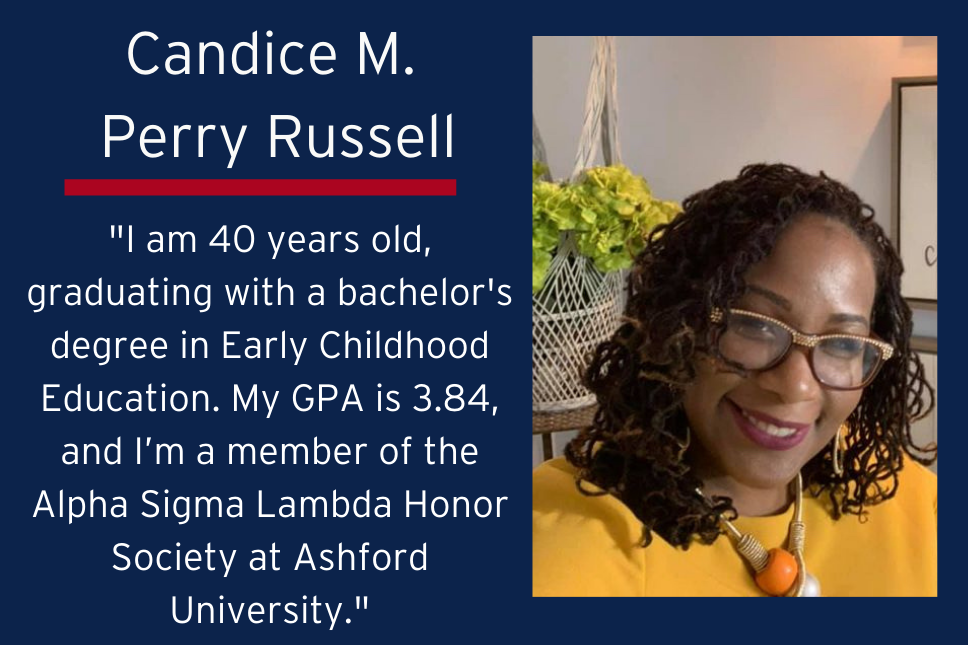 10. "I was a teenage mother who graduated from high school in 1999 and went on to college to obtain my associate degree in 2005. I always promised myself I would go back to school to finish my degree after my son graduated high school, and he did go on to attend college in Mississippi. At the age of 38, my employer denied me the opportunity to become a Center Director for one of their many Head Start sites. Being told no, I took advantage of taking online classes here at Ashford University*. I am 40 years old, graduating with a bachelor's degree in Early Childhood Education. My GPA is 3.84, and I'm a member of the Alpha Sigma Lambda Honor Society. I am currently working as a Special Education Teacher** in the public school system. Congratulations, Class of 2020. We did it!" - Candice M. Perry Russell
Keep the Conversation Going
Be sure to join the conversation, and tell us why you are #TenacityMade. Each week, head over to Facebook, Instagram, Twitter, or YouTube, and post a picture or video along with a sentence about what motivates you to stick with your plan, and tell us how you represent #TenacityMade. 
* Ashford University is now the University of Arizona Global Campus.
** Certification and Licensure Terms and Conditions
An online degree from the University of Arizona Global Campus does not lead to immediate teacher licensure in any state. If you want to become a classroom teacher, contact your state's education authorities prior to enrolling at the University of Arizona Global Campus to determine what state-specific requirements you must complete before obtaining your teacher's license. The University of Arizona Global Campus graduates will be subject to additional requirements on a state-by-state basis that will include one or more of the following: student teaching or practicum experience, additional coursework, additional testing, or, if the state requires a specific type of degree to seek alternative certification, earning an additional degree. None of the University of Arizona Global Campus online education programs are accredited by the Council for the Accreditation of Educator Preparation (CAEP), which is a requirement for certification in some states. Other factors, such as a student's criminal history, may prevent an applicant from obtaining licensure or employment in this field of study. All prospective students are advised to visit the Education Resource Organizations Directory (EROD) and to contact the licensing body of the state where they are licensed or intend to obtain licensure to verify that these courses qualify for teacher certification, endorsement, and/or salary benefits in that state prior to enrolling. Prospective students are also advised to regularly review the state's policies and procedures relating to licensure as those policies are subject to change.