Making the decision to return to school to obtain a master's degree is a momentous one with many factors to weigh. How will your continued education fit into your life? How long will it take? How will your education impact your current work schedule? What will the outcomes be? Will a master's help you reach your career potential? 
According to research done by the Education Advisory Board (EAB), by 2022 master's degrees will grow to make up almost a third of all degrees conferred, as programs focus more and more on helping students gain a position or advance in their  existing career.
What Is An MAEd. Degree?
The Master of Arts in Education, or MAEd, is an advanced exploration of education as a discipline that allows you to examine the education process and its purpose beyond what happens in the classroom. An MAEd. program strengthens your understanding of the process in areas that include:
Instructional Methods
Curriculum Design
Assessment Strategies
Advanced Pedagogical Theory
Principles of Leadership
In addition to reinforcing critical soft skills – problem-solving and analysis, research, organization, time management, and interpersonal skills, among others – your degree will bring you up to date on the learning tools and technologies that are transforming classrooms at every grade level. Completing your MAEd. will give you the ability to:
Design appropriate, challenging and diverse learning experiences informed by contemporary, research-based theory and practice
Design a variety of strategies and experiences to elicit evidence of learner growth and responsive instructional decisions
Analyze research that generates positive social change along with evidence-based practices and academic writing
Demonstrate innovative actions serving as advocates and change agents within communities by engaging in continuous professional growth
Construct effective methods of collaboration, communication, and partnership with colleagues, community, and stakeholders
Apply confidence, competence, and purpose around digital citizenship, consuming, creating, and communicating information and ideas using technology
A Master's Degree in Education
Master's degrees in education, coupled with those in business, law, and health care currently make up about 62% of graduate degrees, according to the EAB. However, reports from the National Center for Education Statistics (NCES) also show that the rate of students completing their master's in education has been declining since the 2010-2011 school year. These trends present a potential opportunity for those already working in a similar field to stand out from other candidates focusing on career advancement by obtaining a master's degree.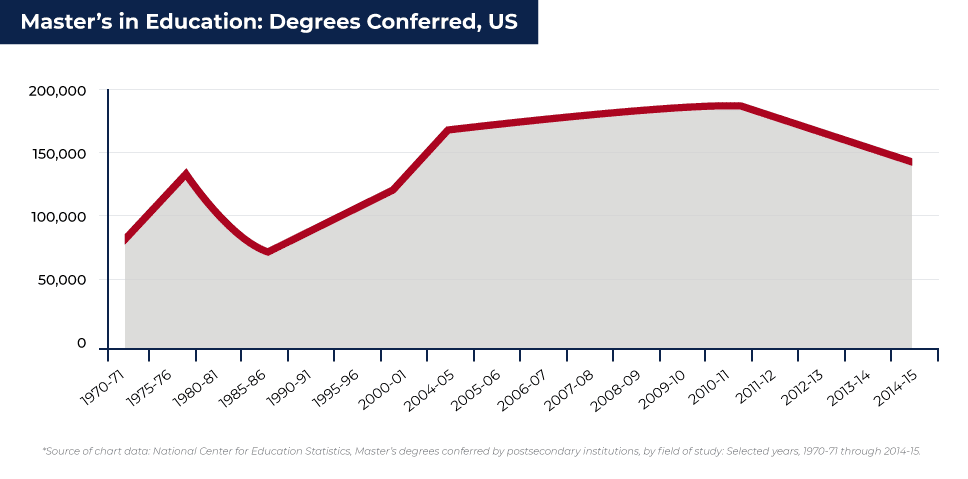 (source of chart: NCES)
What Can You Do With a Master of Arts in Education? 
Within the two years of study that is standard to obtain a Master of Arts in Education, a student typically builds upon their past studies and work history to establish a strong understanding of curriculum planning, Common Core State Standards, evaluation strategies, pedagogical theory, and using technology to effectively promote learning.
Classes you may take while studying for a Master of Arts in Education include:
Master's Degree in Education Jobs
Every college graduate is looking for a degree that will bring them job security, and a master's degree program may help lay the foundation for your future success. A master's degree in education is often more attractive to practicing teachers looking to advance their school administration careers, while a Master of Arts in Education (MAed) is often more appealing to a wider range of applicants who may be looking to advance their careers beyond just the classroom setting. 
Along with having your resume stand out from other applicants, having a Master of Arts in Education may allow you to move into senior management, as many school districts require a master's for those positions.
Where you decide to go with your degree is up to you, but a master's degree in education can help make you career-ready for many roles. Career paths for graduates may include: 
Program Director
College Dean
School Board Member
Educational Consultant
Education Policy Analyst
Benefits of a Master's in Education
Heading back to the classroom for a postgraduate degree often has many benefits.
Networking and Learning from Experts
When you go back to school, you are exposed to others with differing backgrounds and expertise. Being able to build your network through coursework can be helpful to your future endeavors.
Apply Learnings Immediately
If you are currently working in a similar job role, being able to take what you're learning in class and apply that knowledge immediately to your work setting is something that can benefit your career and your understanding of course materials.
Heather Petty, who graduated in 2017 with her MA in Education and was already a successful grade-school teacher*, noted, "I found many opportunities to utilize what I was learning in my own classroom. It greatly helped my students become better readers because I had a better understanding of how the reading process works, and how to better assess and differentiate for those who were struggling." 
Online Master of Arts Degree in Education
Growing in popularity, the ability to complete degree programs online are often the best options for busy, working professionals.
Being able to access a degree program from anywhere, on any device, at any time, allows for additional flexibility, not always offered at traditional schools with defined class times. Former Ashford University student, Kiara Gray, remembered her experience, saying, "I knew from the first day of class what the expectations were for the next six weeks. So, if I wanted to do work prior to, I was able to do it. When I had down time, I was able to take advantage of it and get more work done."
If you're ready to take the next step toward an online master's degree in the education field, contact a Global Campus representative to learn more, or explore some of our related master's degrees.
--
*An online degree from the University of Arizona Global Campus does not lead to immediate teacher licensure in any state. If you want to become a classroom teacher, contact your state's education authorities prior to enrolling at the University of Arizona Global Campus to determine what state-specific requirements you must complete before obtaining your teacher's license. University of Arizona Global Campus graduates will be subject to additional requirements on a state-by-state basis that will include one or more of the following: student teaching or practicum experience, additional coursework, additional testing, or, if the state requires a specific type of degree to seek alternative certification, earning an additional degree. None of the University of Arizona Global Campus' online education programs are accredited by the Council for the Accreditation of Educator Preparation (CAEP), which is a requirement for certification in some states. Other factors, such as a student's criminal history, may prevent an applicant from obtaining licensure or employment in this field of study. All prospective students are advised to visit the Education Resource Organizations Directory (EROD) and to contact the licensing body of the state where they are licensed or intend to obtain licensure to verify that these courses qualify for teacher certification, endorsement, and/or salary benefits in that state prior to enrolling. Prospective students are also advised to regularly review the state's policies and procedures relating to licensure as those policies are subject to change.
Certain degree programs may not be available in all states.