One of the great advantages of being a college student is learning from those with real-world experience and perspective. Instructors at the University of Arizona Global Campus (UAGC) come to the online classroom prepared with much more knowledge to share than what's in the course textbooks. 
That's especially true for Assistant Professor Lisa Sims, the lead faculty of the Web and Mobile App Emphasis for the Forbes School of Business and Technology® at UAGC. Her courses, which help students develop websites and mobile applications, can inspire the next evolution of global technology. 
Sims brings to the classroom more than 20 years of experience in software development and technology consulting and more than 13 years as an educator. She has a unique understanding of the challenges that students face at all levels of education and a philosophy that inspires her students to succeed.
"My teaching philosophy is simple: Every student is reachable and teachable," Sims says. "It is up to educators to figure out how." 
Sims says she applies this philosophy in her life with her oldest son who is on the autism spectrum and written off by their county's school system.
"Written off" is an unfortunate phrase that Sims has confronted before. When she first entered college as a computer information systems major, she needed help with understanding a programming assignment and went to the professor for assistance. 
His response was not what Sims had expected.
"He told me that if I couldn't see what was wrong with my program that maybe I wasn't cut out to be a programmer," she recalls. "Those words hurt me deeply and almost made me change my major." 
Instead, Sims let his words encourage her to remain a computer information systems major. She also found motivation from the lack of women and women of color represented in the Information Technology and STEM fields. 
"I decided to become a teacher so that students would see a woman of color in Information Technology and not feel the way that I was made to feel when they don't understand," she explains.
Sims recognized her potential, and as her career advanced, she started to consider what else was possible. In 2004, she resigned from her web/database developer job and started her own company, The IT Mechanic, LLC, with less than $500. On her own, she provided website and database design services to small and medium-sized businesses, and it was her success working independently that inspired her to take even greater steps forward.
Teaching Beyond the Classroom
For years, Sims thought of taking all of the knowledge and perspective she'd gained from her career and putting it in a book. She says it took some motivation for her to get going, and when she finally started to write, Sims was nearly derailed by tragedy in her personal life.
"During my writing process, my father was diagnosed with kidney cancer," she recalls. "As I encouraged him to keep fighting through cancer, he encouraged me to keep writing and finishing my book."
At that same time, Sims and her husband were expecting again after she experienced a miscarriage. Sadly, her father and unborn daughter died before her first book was published.
Despite the circumstances, Sims persevered and continued to write. She's now the author of eight books, two of which were published by Apress Media.  Her first book, "Stretching a Dollar to Save and Make Thousands: An Entrepreneur's Guide to Doing More with Less," became the inspiration for her podcast.
"I grew tired of waiting for opportunities to be a guest on others' podcasts and decided that I needed to create my own marketing platform so that I could promote my books, business, and myself whenever I wanted, she explains. "As a result, The Stretching a Dollar For Entrepreneurs Show was born and aired on Blogtalkradio. 
Entrepreneurship is Sims' passion, and she enjoys discussing it and helping other entrepreneurs grow and promote their businesses.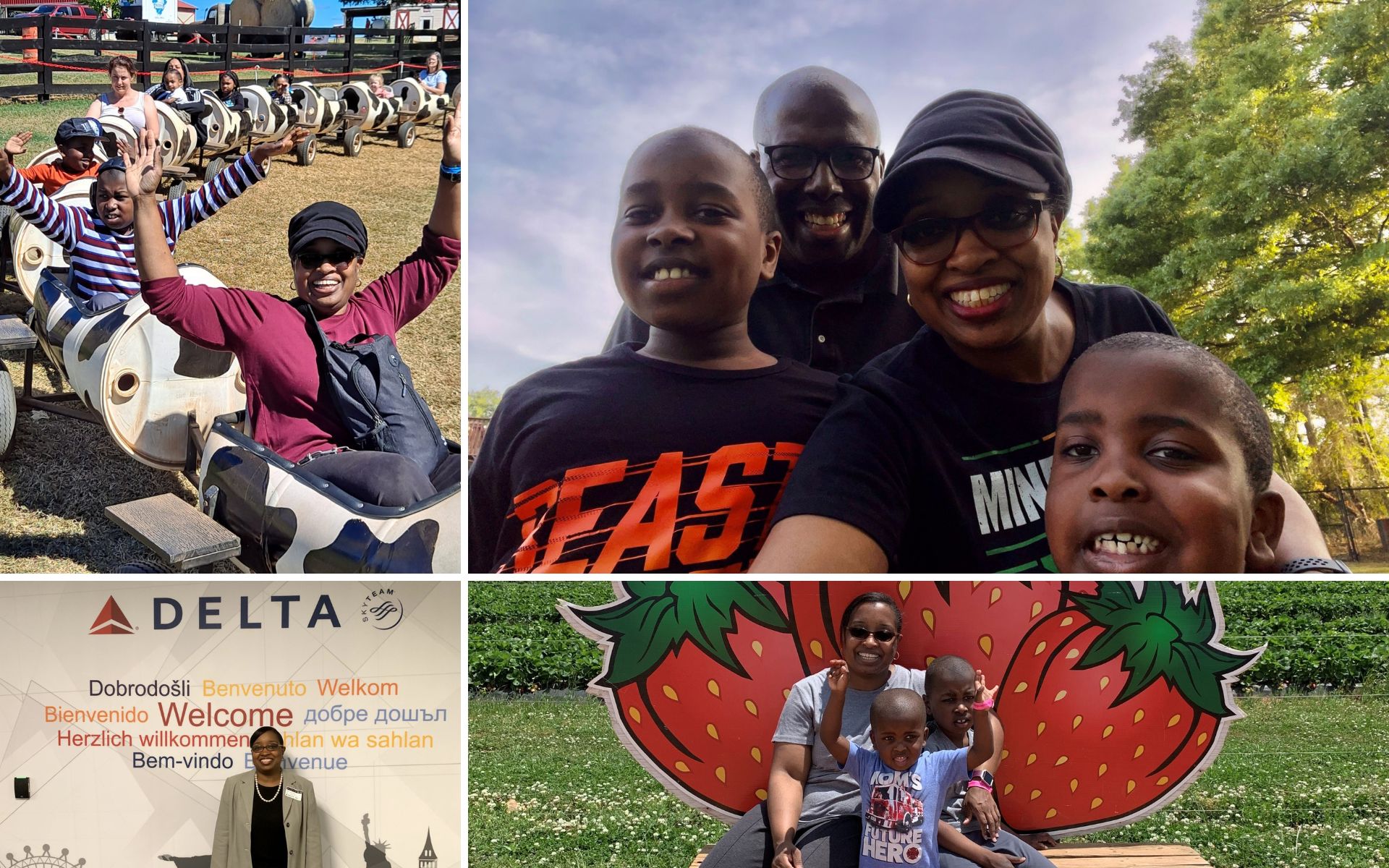 Getting To Know Lisa Sims
UAGC: In what ways has education changed the most since you began teaching?
Sims: "I've been teaching online for over 15 years for various universities and have witnessed many changes. Today, educators do not just teach. We serve as counselors, motivators, mentors, social workers, and more. We are concerned about a student's entire well-being rather than just his or her academic performance. When I first started teaching, this was not the case. The focus was primarily on academic performance. Likewise, with the advances in technology and Internet speeds, educators can teach from almost any Internet-enabled mobile device, and students can learn from anywhere and any mobile device." 
UAGC: What do you think is the key to success at an online university? 
Sims: "The first key to success at an online university is to define your purpose for attending in the first place. Once you know your purpose, never lose sight of it. The next key to success is to develop good time management skills. I completed my master's degree online while working full-time as a web/database developer and being a newlywed. I put in a lot of late nights, along with studying during my lunch breaks. When I walked across the stage to receive my degree at graduation, all the hard work was worth it. The last key to success is to believe in yourself and let nothing stop you from completing your degree."
UAGC: In what ways do you try and serve as a role model for your students, family, and peers? 
Sims: "I share my failures and successes with my students, family, and peers. We have been taught that failure is a bad thing when it is a great preparatory tool for success. Since I have a passion for STEM and want to encourage more women and women of color in STEM careers, I volunteer for various STEM organizations, such as the UAGC Women in STEM Club as a faculty advisor and Science Atlanta's STEM Professional School Partnership Program. I also participate in various speaking opportunities with local chambers of commerce and other organizations where I share my STEM and entrepreneurial journey. I also participate in speaking engagements that help promote autism awareness and education resources for autism families."
On October 22, 2017, my mother suffered a major stroke. Unfortunately, she died on October 31, 2017. In her honor, I established The Ruby Lee Smith STEM Scholarship at my church, where I give $1,000 annually to a graduating female high school senior pursuing a degree in a STEM field. To date, I have given $5,000 to women to encourage more women to major in STEM fields."
UAGC: What do you love most about teaching? 
Sims: "The one thing that I love most about teaching is encouraging students to think outside the box and to believe in themselves and their abilities."
UAGC: What are three things to know about you that students might not know but that they would find interesting? 
Sims: "One interesting thing about me is that before becoming a software developer, I wanted to become a psychiatrist because I have a passion for listening to and trying to help people. Another interesting thing about me is that I enjoy being a speaker, especially at small business and technology events. Lastly, I was homeschooled by my mother, who borrowed books from our relatives who were educators, for kindergarten because I was hit by a drunk driver while crossing the street at the age of four. I was physically unable to attend." 
UAGC: What was the last great book you read? 
Sims: "I created an Amazon book club called "The Stretching a Dollar for Entrepreneurs" where we read a book a month. Currently, I have thirty-seven members. The last book that we read was "You 2.0." I am currently reading "Leaders Without Titles" by Stephen J. Sampson."
UAGC: Favorite place to relax outdoors? 
Sims: "Both of my sons play baseball, and my husband and I enjoy going to the baseball park to cheer them on."
UAGC: Favorite place to visit? 
Sims: "My favorite place to visit is the Yellow River Ranch in Snellville, Georgia. It is an animal sanctuary where families can learn about animals and feed them. My two sons, ages six and 10, love visiting. My 10-year-old son is on the autism spectrum, and he enjoys feeding and connecting with the animals." 
UAGC: What is your favorite hobby? 
Sims: "One of my favorite hobbies is podcasting. I love the creative process of developing podcast content along with the marketing process to increase my audience. I also get the opportunity to research and implement different technologies. I also enjoy baking."
UAGC: What is the most realistic movie/show about teachers? 
Sims: "Abbot Elementary."