Born and raised in St. Louis, Missouri, Dr. Karen Ivy's mom had one rule for her three daughters: 
"You can't turn your nose up if you've never tried it. Try it first to find out if you like it or not." That applied to what was on the dinner table or what was on their to-do lists, explains Dr. Ivy,  Department Chair for the Department of Technology Studies at the Forbes School of Business and Technology®. 
"What I loved in my upbringing is both my parents always encouraged us to try new things," she says. "That's what I've been doing all my life."
As a young African American woman who majored in mathematics with a minor in computer science (and found time to run track and field in school), Dr. Ivy says this mentality is what gave her the confidence early on to forge her own path, even if the rest of the group or her friends weren't doing it. 
It wasn't long before her love of technology and innovation led Dr. Ivy into the world of aerospace and aviation. She credits her father with instilling her initial interest in the field. As an electrician for McDonnel Douglas, he would take her and her sisters to air shows in St. Louis every year, and the entire family got a chance to see the different types of aircraft he had worked on.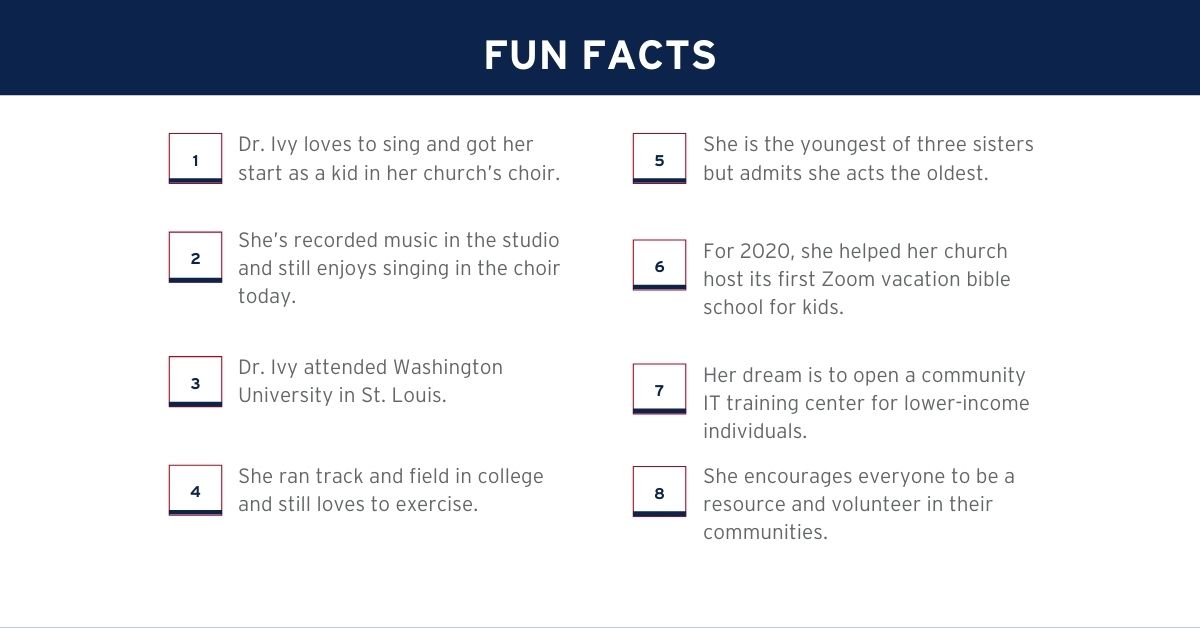 Soon after earning her Bachelor of Arts in Mathematics from Washington University, Dr. Ivy began working for prominent companies such as Honeywell Aviation and 3M, where she thoroughly immersed herself into the world of information technology. She continued her schooling, going on to get her Master's Degree in Business and Administration from the University of St. Thomas and then her PhD in Organizational Management from Capella University. Says Dr. Ivy, "I took my technical know-how, and I wanted to learn how to lead. So, this is where my MBA came in, and then my doctorate focused on how to organize and restructure businesses. My total background gave a pathway for me. It let me step into areas that I hadn't been a part of, such as technology (which I love, love, love!) and business."
Eventually, Dr. Ivy's career trajectory landed her in Colorado, where she worked in senior management at Lockheed Martin for more than a decade. While there, she began teaching part-time at the university level. She was also becoming very active in volunteering her time, by public speaking and sharing her expertise with her community. 
When layoffs impacted her at Lockheed Martin, Dr. Ivy quite happily made the jump into full-time teaching. Now Department Chair and Professor of Technology Studies at the Forbes School of Business and Technology, this dedicated professor has found a niche which allows her to encourage others to "try something new," as her parents would say.
"Even as I moved into the corporate world, I ended up being the person chosen to take organizations to the next level," says Dr. Ivy. "And why? Because I wasn't afraid to do it. I was willing to see things that were not there and take the group to that next level."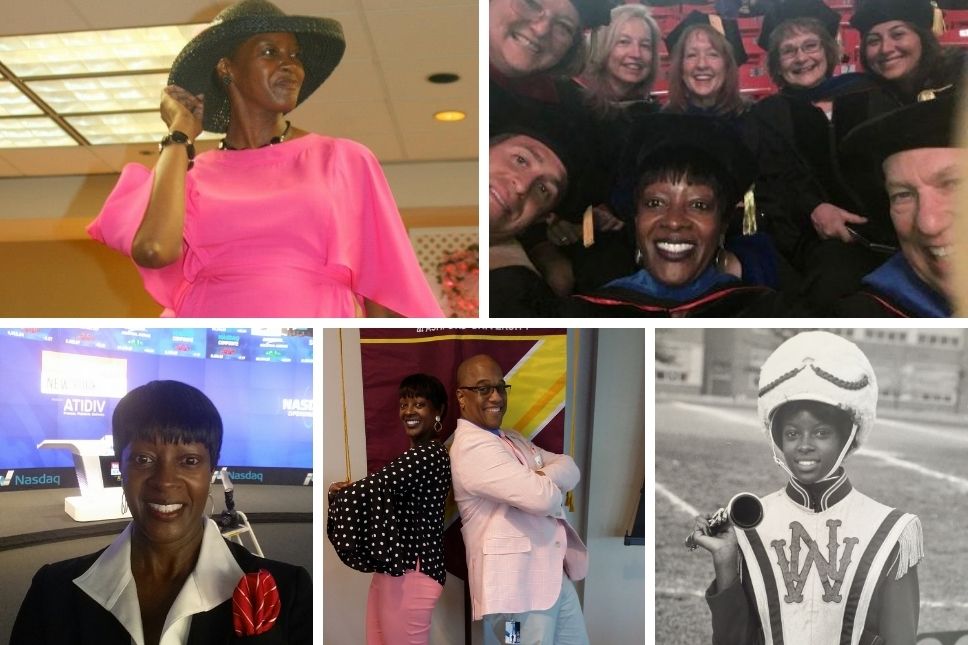 In her personal life, Dr. Ivy follows her own advice and is always up for tackling new adventures as she follows her passions outside of her career. Continuing to be active in the community and in her church, she enjoys getting outdoors with golf and bike riding being two of her favorite activities. The biking in particular has been life-changing. 
Four years ago, Dr. Ivy completed her first century mile bike ride, where participants cycle 100 miles in one day. "I had never done that long of a bike ride before and completed it successfully," she says. But once she did it, she was hooked and couldn't wait for her next one. Life, however, threw a big monkey wrench in her plans.
"Between the first and second ride, I came down with a second diagnosis of breast cancer. I'd had it 15 years prior and had just done radiation at the time to treat it. But this time around, chemo and I became good friends," explains Dr. Ivy.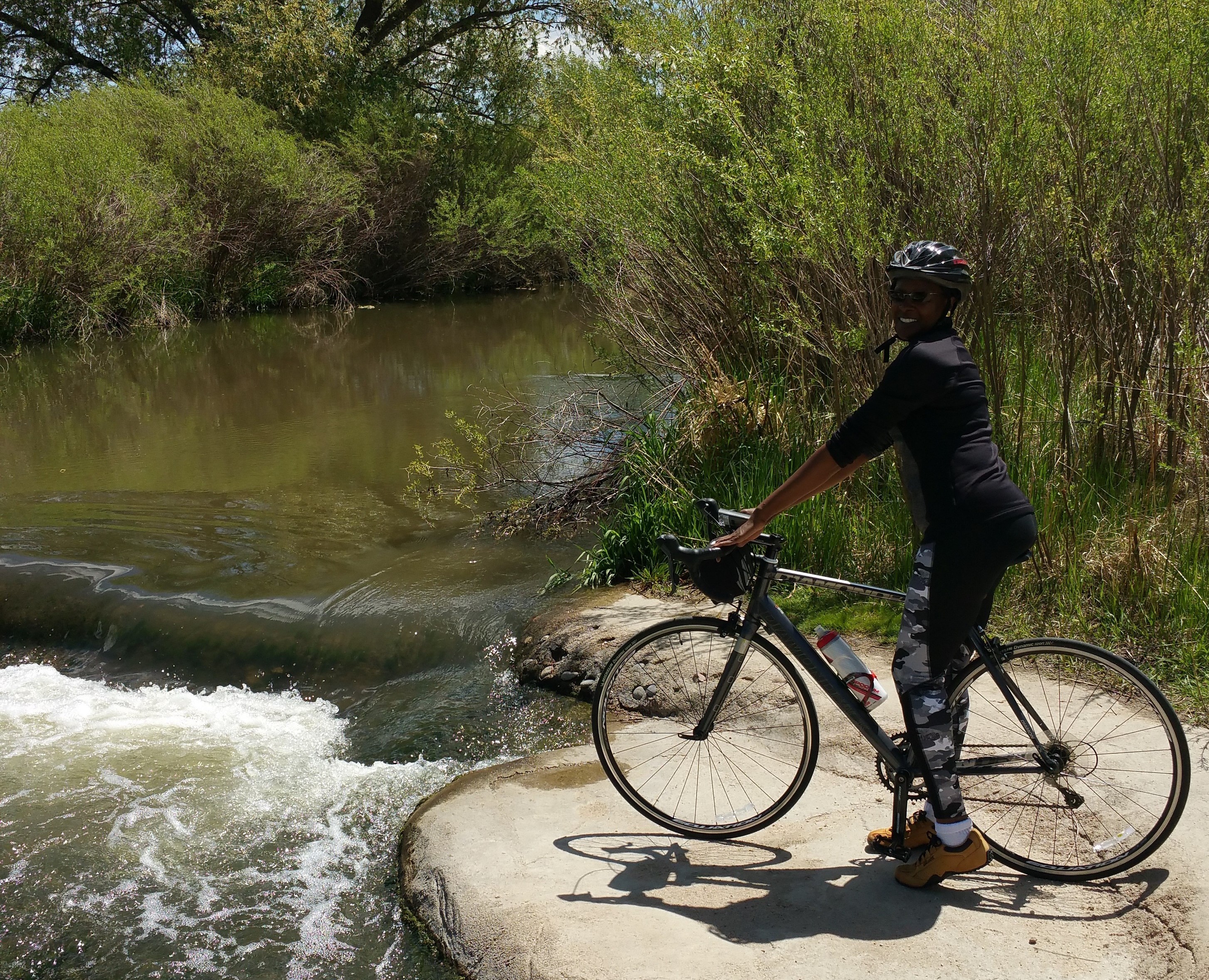 Dr. Ivy Karen enjoys a bike ride in a scenic setting.
She told her doctor she wanted to start training for the event, which was set to take place about six months after she finished chemotherapy. "My doctor knew life was about keeping your focus on that next bar," says Dr. Ivy. "He didn't hinder me at all; asked me when the date was and told me to do well. It ended up being so important in my life, because it was my end goal."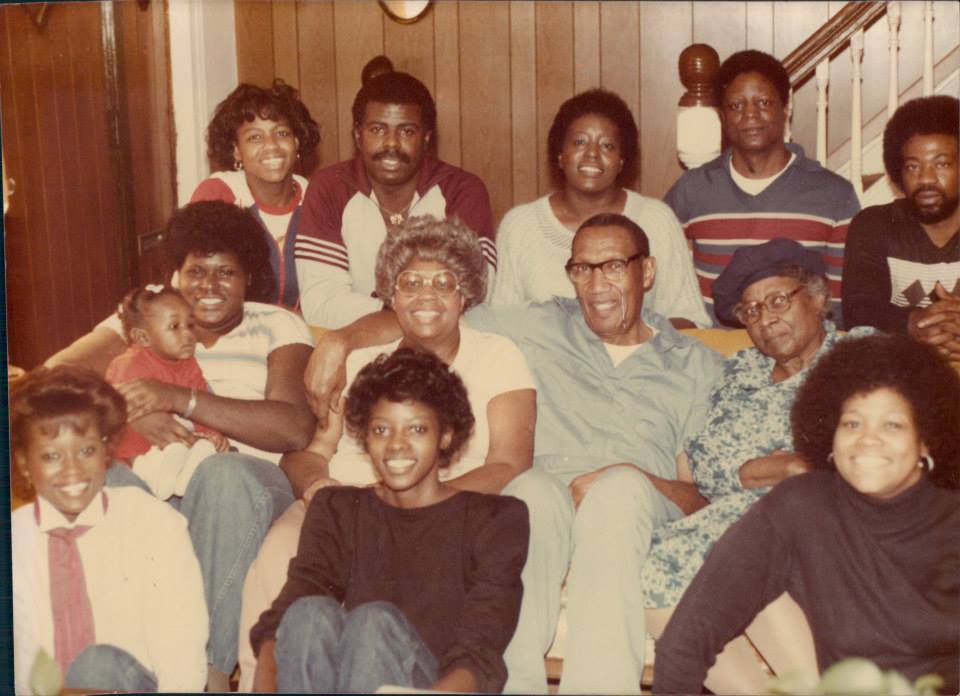 Dr. Ivy Karen comes from a large extended family. "The family that prays together stays together!" she says.
Did Dr. Ivy complete her second 100-mile ride? She most certainly did, and she credits it as being one of her most impactful personal accomplishments. 
Now with her cancer in remission, she's continued her focus on the future, with education taking front and center stage. Get to know more about this Forbes School of Business and Technology favorite and see how she's helping students successfully navigate the cutting-edge world of technology. 
Getting to Know Dr. Karen Ivy
Global Campus: Can you tell us about your philosophy when it comes to education and what your role is in working with your students?
Dr. Ivy: My approach to education and my belief in it is that what I'm doing is preparing individuals — first by encouraging and then helping them to reach their max. Whatever their insights are into what they would like to do, my educational background and my theory is to instill in them confidence, encouragement, and provide the knowledge and experience and skills they need to take their performance to the next level.
That's what I not only do in my teaching experience in the classroom, but also in my personal world where I devote a lot of my support to the community where I'm doing the same thing.
I like growing things. I like growing people. I like growing plants. I like growing concepts. I put into each of those three areas that the vision of where we are today is not our endpoint. Think of where you want to be and keep that vision in your sight.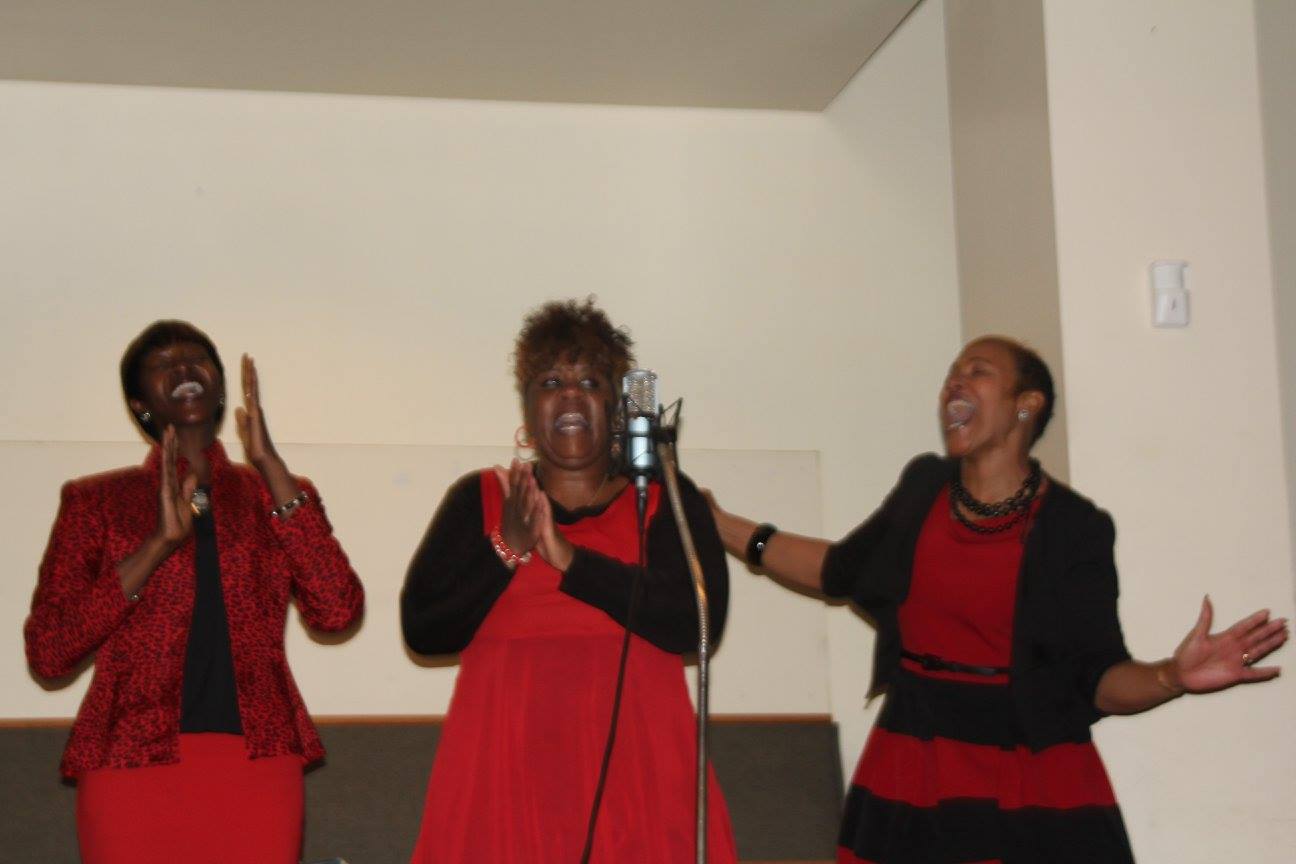 When she's not teaching, Dr. Ivy, far left, loves to sing with multiple choirs. She began singing in kindergarten, became a trained classical and temporary pianist as a youth, was in the marching band, and was in the concert band in high school. As she says "Go Northwest!". 
Global Campus: What advice do you have for students who aren't sure of themselves or are struggling?
Dr. Ivy: A lot of my students, especially in technology studies, come from different backgrounds. Some are in IT and are trying to get to the next level, while others want a career change because they realize technology is so impactful across industries. However, they're a little uncomfortable because they haven't stepped into this world before.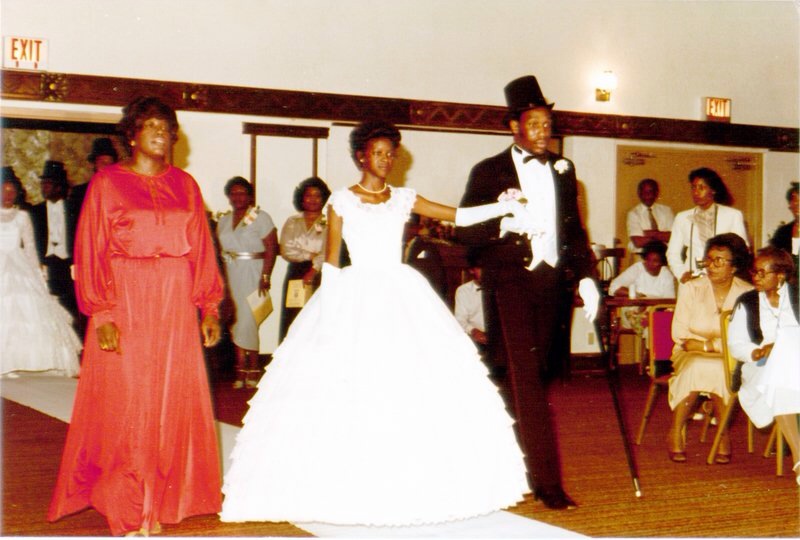 Dr. Karen Ivy is escorted by her mother, Peggy Daniels, and her Uncle Byron Boston in a coltillion while in high school.
I go back to what my mom told me when I was young. Always try something out first. Don't make any pre-judgments about how well you're going to do or how you're going to like it until you first try it.
That's what I try to encourage my students to do. Try it out. Give it your best. Don't feel a lack of confidence because you haven't walked this walk before. Others have been in the exact same position of where you are before you got here. But those who are successful are the ones who continue to go on. They don't let not having done something be a hindrance. It actually pushes them to the next level.
The truth is, we all start someplace. And unless you want to stay there for forever, we need to try and advance to the next level. It's not unique to step into a situation where you don't have all the answers. You just have to have confidence. You have to remember you're smart, and you have the ability to apply yourself, so just go out and do it.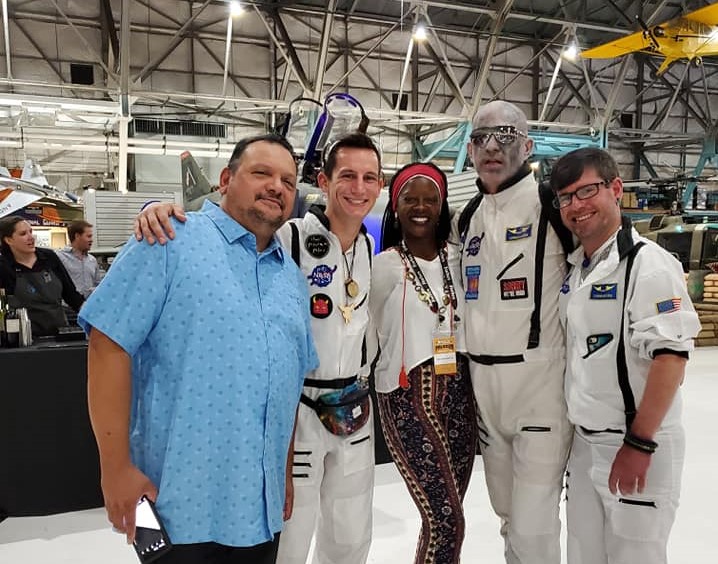 Dr. Ivy, center, and with Dr. Pete Limon, far left, while attending the Appolopalooza Networking Event in 2019.
Global Campus: Can you talk more about your participation in the Forbes Thought Leader Summit and how, especially this year, you're connecting with others outside of the classroom?
Dr. Ivy: The Forbes Thought Leader Summit is an event we've held annually where individuals can attend and engage with thought leaders against various industries. 
It's such an exciting event because they're not talking about what's going on today. It's talking about what's going on in the future and what directions various industries are moving toward for the future. It's even predictive of where we feel things are going based on the research and knowledge of those thought leaders and others.
Twenty-twenty is the fourth year of the Forbes School of Business and Technology hosting the summit, but it is the very first year of it being 100% virtual. The cool thing this year is we're opening it up. In the past, it was for a small group of C-suite level executives. This year, not only will it be executives and leaders, it'll also be individuals who will be in business, sports, people who focus on professional development, entrepreneurship, and technology. Anyone who is interested in where these industries are heading, these sessions can help people see what direction they'd like to go to and how to benefit from the sharing of knowledge.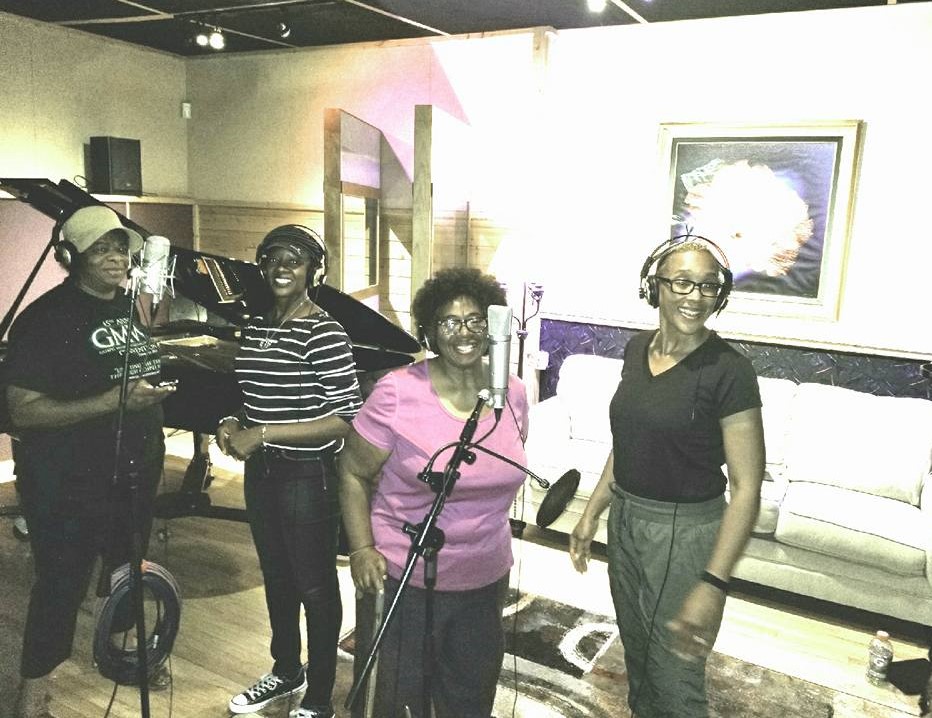 Dr. Ivy, second from left, recording in the music studio.
Something that's also different this year is we're going to be hosting a parallel Young Thought Leadership Summit as well. It'll be similar subjects and in a similar format but focus a bit more on topics that are more impactful to individuals who are in a younger walk in their careers or being in a leadership role. Although it will predominantly be about millennial-focused topics, it's really for anyone who interfaces with, engages with, and works with people in the beginning stages of their career growth in the business world.
We're really excited about it. When we started planning, I told the team to not think of this as merely moving our usual in-person experience online. We expanded on our objectives and really thought about how we could make maximum impact. The technology team at Forbes is so excited to take us into this virtual realm this year!
--
Ashford University is now the University of Arizona Global Campus.