Dr. Chris A. Tex says he's lucky to be alive. Severely malnourished, dehydrated, and on the brink of death as an infant in Tijuana, Mexico, the faculty member at the University of Arizona Global Campus (UAGC) also had a broken arm and a broken leg when he was brought to a local clinic for care.
Despite traumatic beginnings, Dr. Tex only wants to give back to others and serve as a public health steward. After he was adopted by a caring couple in Illinois, he grew up happy and heathy – and now he's living a life of paying it forward.
With an impressive public health education and work history behind him, Dr. Tex recently joined the UAGC Master of Public Health core faculty team, and he is excited to help mentor UAGC students. Dr. Tex's passion for the overall health and well-being of humans, animals, and planet Earth shines through in all parts of his life. 
"I love teaching," he exclaims. "I love practicing public health. I can't think of a better mission than to uphold the health of the public." 
Read more about how Dr. Tex is fulfilling this mission as a passionate ambassador for the field of public health.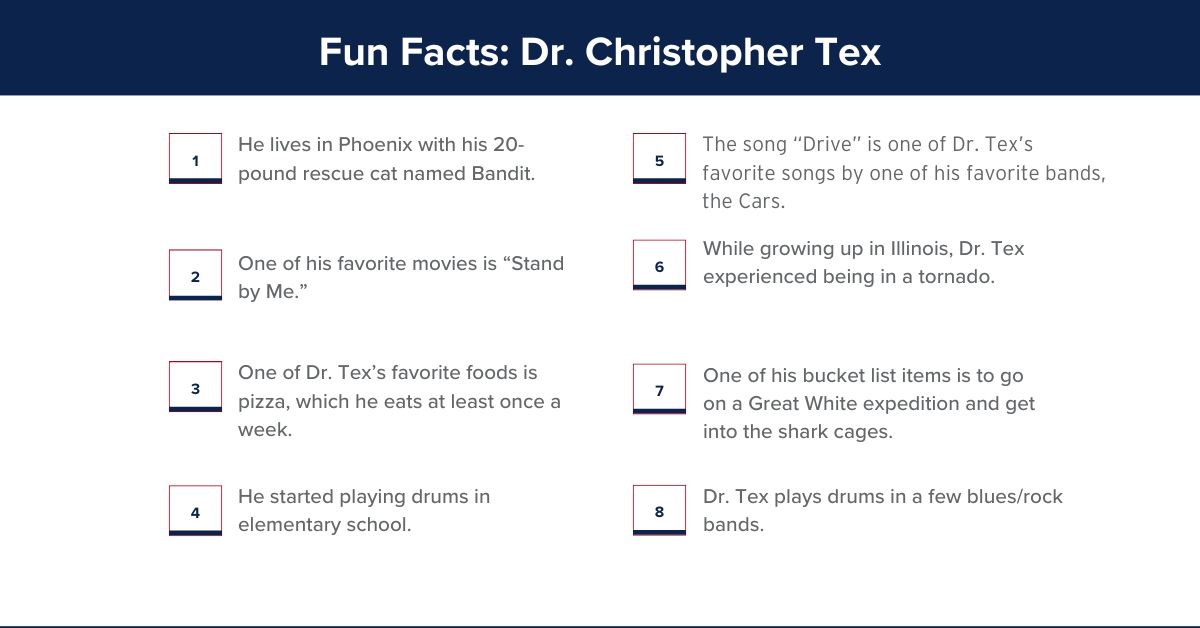 A Lifelong Learner and Public Health Ambassador
As a young man, Dr. Tex had several types of pets and regularly rescued injured animals. With a particular interest in feline orthopedics, he thought he may have a future as a veterinarian. However, after volunteering and working for veterinarians and witnessing how they had to euthanize so many animals, he says it wasn't the right role for him.
Instead, Dr. Tex decided to major in biology at the University of Findlay in Ohio and took a variety of animal science courses that exposed him more to animal health and handling experiences. A drum player since elementary school, Dr. Tex was also able to continue his love of music in college, receiving a music scholarship to play drums in the jazz, marching, and concert bands.
After earning his BS, Dr. Tex went on to earn a Master of Public Health with a specialization in Environmental and Occupational Health from the Medical College of Ohio. He says he got a complete MPH education and learned a lot about environmental health hazards and toxicology, but deep down, he was more interested in epidemiology – the method used to find the causes of health outcomes and diseases in populations.
Honing in on his passion, he pursued a PhD in Public Health with a specialization in Epidemiology from Walden University and completed his doctorate research in HIV diagnostic testing standards because he was interested in ways public health professionals and health care professionals use diagnostic tests to identify diseases.
A self-described lifelong learner and animal lover, Dr. Tex is not only working full time as a UAGC MPH professor, but he is also a fellow collegiate. He is currently extending his public health education by earning a second master's degree – an MS in One Health from the Ross University School of Veterinary Medicine.
"If you have an unhealthy environment, an unhealthy populous of people, and an unhealthy population of animals, then everything is likely going to be unhealthy," Dr. Tex explains. "One Health bridges animal health, health of the environment, and health of the people together. It's a mindset where an individual has the capacity to bridge the gaps — those connections between different disciplines — so that we can all make a difference in the world."
Fostering a "Culture of Care" for UAGC Students
An associate professor and mentor in the UAGC Master of Public Health degree program, Dr. Tex currently teaches Social and Biological Determinants of Health and Principles of Epidemiology, as well as Health and Wellness and Community & Public Health and is looking forward to becoming a leader in a movement that aims to show more compassion for UAGC students.
"I'm excited to see how I can play an active and positive role in implementing the Culture of Care at UAGC," Dr. Tex says proudly.
"The Culture of Care is about providing flexibility — knowing that life happens — giving students the benefit of the doubt, and not having a punitive thought process immediately when a student says, 'I'm sick' or 'I'm out of town.'"
He continues to explain: "The Culture of Care is about building a connection with that student so that student knows they have someone on their side, that they're not isolated in an asynchronous environment, that they have someone they can turn to if they have problems in the classroom, or even after they go to a different course. I'm there to help them go through their academic journey, because at the end of the day, we want to see you at graduation!"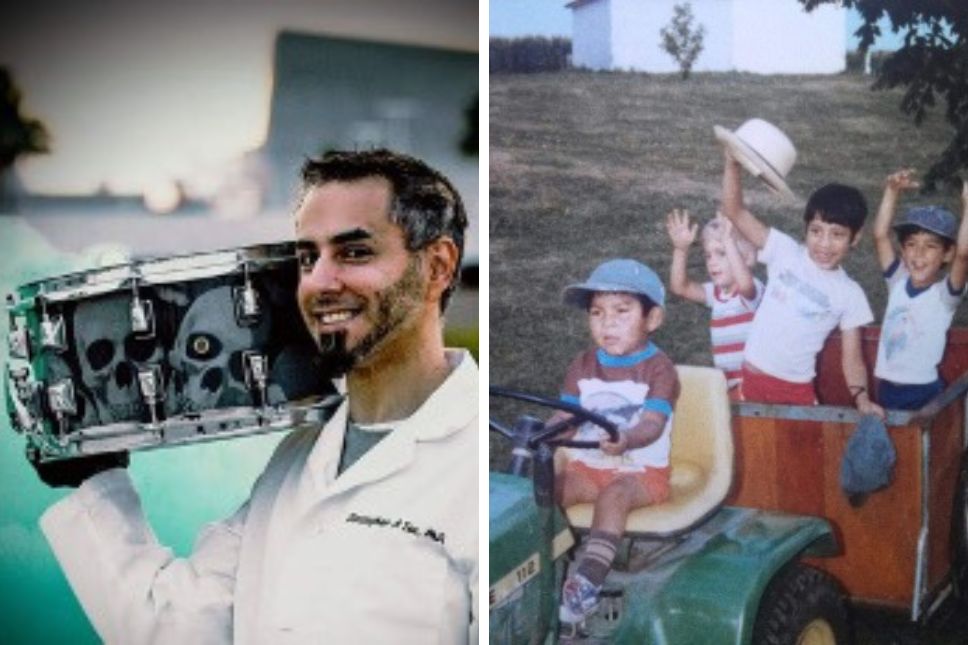 Left, Dr. Christopher Tex poses with a drum during a music photo shoot; Right, Dr. Tex drives a tractor with his three brothers at their grandparent's house.
Paying It Forward Through His Public Health Work
Dr. Tex knows plenty about the challenges and rewards of working in public health. He has served in a number of public health roles at the city, county, and state levels. As a health inspector for a city health department, he once investigated reports of a couple who passed away from West Nile virus.
He also participated in a public health study on indoor air quality focusing on cigarette smoking within restaurants that had smoking and non-smoking sections, which led to a no-smoking ordinance being implemented in northwest Ohio.
In 2009, Dr. Tex accepted an opportunity to work as a Birth Defects and Newborn Screening Epidemiologist for the Arizona Department of Health Services, where he studied birth defects in populations to determine if they were genetic or environmental. The position was a way to fulfill a longing to move to Arizona to be with his parents. They had moved from Illinois to Arizona to be near his grandma after his grandpa was hit and killed by a car. When Dr. Tex was a child, he loved seeing the Christmas chili lights on his grandparents' cacti when he visited their winter home in Phoenix.
Dr. Tex went on to work as a medical laboratory technologist and program director and taught a variety of public health, nursing, and medical laboratory courses at the undergraduate and graduate levels. 
Free Time With the Flying Samaritans
Another way Dr. Tex continues to pay it forward is by volunteering his time with the Flying Samaritans, a health relief agency that provides basic health care services to residents of rural parts of Mexico. Both parents are retired now, but sometimes his mom still travels with him. Now he continues paying forward similar gifts his parents gave to others.
"I love volunteering for this medical relief agency," Dr. Tex says. "We fly down in private planes — these are all volunteers — to provide free basic health services. Many of these people don't have access to regular teeth cleaning and we all know that if you don't have good dental hygiene, that can affect all parts of your body, especially your heart. If you have bacteria in your gums, and it gets into your bloodstream, and it goes to your heart, that could be a serious issue."
He continues, saying, "It just warms your heart to see that many of these people come the night before and pick up numbers, and then set up tents and sleep there until the morning. The dedication and resilience of some of these people, just to receive free basic health care — it's a totally different mindset looking in another geographical area as opposed to here in the United States."
--
Certain degree programs may not be available in all states.