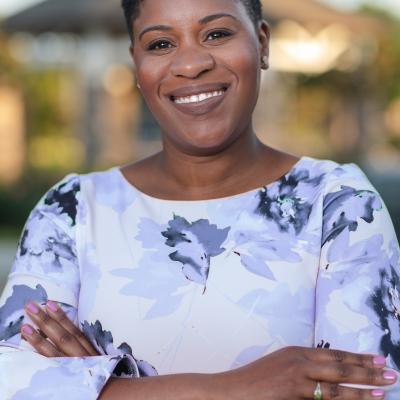 Tiffany M. McRae
2019
MA in Organizational Management
Biography
Throughout her life, Tiffany McRae has been driven by a love of learning. As an undergraduate at California State University, Sacramento, she majored in psychology and minored in communications, while also completing a fellowship with the U.S. Department of Education's prestigious McNair Scholars program. Upon graduation, she quickly began working her way up in the workforce, learning all she could as she ascended from a customer service representative to a supervisor with the Sacramento Municipal Utility District (SMUD), a community-owned, nonprofit electric service.
Even after becoming a mother to two boys, Tiffany still wanted to learn something new. But as a mother trying to balance her parental responsibilities, she knew going back to her alma mater, or any traditional college campus, was off the table. 
That's when she learned about Ashford University*.
"I chose Ashford because of the existing partnership between [the university] and my employer," Tiffany says. "That made the decision so easy."
Ashford partners with a global network of companies to give working adults the opportunity to earn a degree with tuition assistance or – in the case of Tiffany's employer -- a Full Tuition Grant. The grant covers tuition, materials, and fees, so students like Tiffany are able to graduate with a degree without educational debt.
With seven years of experience working for the utility under her belt, Tiffany says she chose to pursue her Master of Arts in Organizational Management, a degree that would allow her to better understand management and leadership at higher levels of her company and help her become a more competitive applicant for positions that she plans to pursue. 
Additionally, she chose a Public Administration specialization for her degree, which would immerse her in career-relevant courses such as Public Policy Development and Government Budgeting, among others.
Her favorite course, however, was Strategies: Marketing/Advertising/Public Relations (OMM 615). 
"The content was engaging and came naturally to me," she says. "It reminded me of some of my undergraduate courses in Communications."
As a mother and full-time supervisor, Tiffany started on her grad school path with plenty of experience juggling priorities. This made it easier for her to add online classes to her schedule. Eighteen months after beginning school, she became a "master" of work-life-school balance, using the school's flexible schedule and platform to finish her work anytime and anyplace. 
"I was able to bring my studies with me on vacations and not feel as though I was missing out on schooling," she says. "I've attended other distance education programs and Ashford University by far has been the best. I've gained more confidence as an individual, have become more knowledgeable, and have a new excitement to advance my career."  
Additionally, Tiffany has formed a strong connection with her online instructors, many of whom sent her video messages throughout her courses and made themselves available for assistance when she needed help. Through its partnership with SMUD, university staff even hosted meetings at Tiffany's company, giving her a chance to feel more connected with her school as an institution and with her peers. 
Having successfully made what can be a challenging adjustment to online learning, Tiffany is starting to see herself as a role model for online learners. She's become interested in Ashford's CHAMPS peer mentor program, which would allow her to share her experience and knowledge with a new student at the university. She's also sharing the joy of lifelong learning with the people closest in her life, both at home and on the job. 
"My boys observed me working diligently throughout the course of my degree, I can only hope they see the value of an education," Tiffany says. "I'd also like to inspire my staff. I supervise many individuals who aspire to return to [and] complete their education. I share with them the amazing partnership that my employer and Ashford have and constantly encourage them to take the leap!"
* Ashford University is now the University of Arizona Global Campus