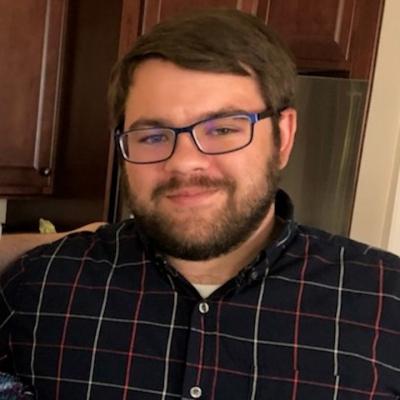 Cary Elder
BA in Business Administration
Biography
Cary Elder's story is familiar to many Ashford University* students. He planned to earn a college degree directly after finishing high school but found he wasn't fully prepared for the responsibilities that came with it. After changing majors three times and taking multiple semesters off, he put his college journey on hold, promising to pick things up when timing and opportunity were on his side. 
For more than 10 years, Cary stayed busy professionally while his dream of finishing school remained on hold. He began working his way up the ladder at the McDonough, Georgia, offices of internationally renowned plastics manufacturer ALPLA, beginning as a safety specialist and eventually earning a promotion to national safety coordinator. Though his career was fulfilling, he knew that he had unfinished business. 
"Obtaining a degree has always been a goal of mine, and I always knew I would finish," explains Cary. "It was only a matter of time and circumstance until I was able to do so."
Cary eventually learned of ALPLA's partnership with Ashford University which allows employees like him to earn a degree with no student debt through the Full Tuition Grant. As a full-time employee, Cary would at last be able to pursue his bachelor's degree with all of his tuition, course materials, technology fees, prior learning assessment fees, and graduation fees covered. At the same time, Ashford University's online platform would allow him to balance his course load with the demands of his job, which has him "constantly on the road."
"I always knew that, with my schedule, online courses were the way to go for me, and Ashford provides a structure that allows you to fall into a routine," he says. "It was 100 percent the deciding factor for my enrollment, and for picking back up on my degree. Ashford has provided me with the perfect balance between course length and scheduling that a traditional brick and mortar school could not."
With the knowledge he'd already gained through 10-plus years in the workforce, Cary was looking for a degree program that would complement his experience while opening new career doors down the road. He found it with Ashford University's Bachelor of Arts in Business Administration degree program. The courses, he says, developed his understanding of the business world, and also gave him tools to think critically about systems and processes.
Additionally, he's found the lessons of specific courses, such as Human Resource Management, can be applied immediately to his current position. 
"My critical thinking skills, further developed through my time at Ashford University, have allowed for a deeper understanding of myself, my career, and my future," he explains. 
Like the generations of Ashford graduates that have come before him, Cary has discovered that he's not alone in his journey. From the constant availability of his instructors to the versatility of the online platform, he's been "blown away" by Ashford University's commitment to giving students every chance to succeed. 
"Ashford's Writing Center alone is a collection of powerful tools that can improve the writing level of any student regardless of their writing proficiencies," he exclaims. "I have also absolutely loved the amount of resources provided to students in the way of the Writing Center, the Library, and Career Services."
Now, with his sights set on a 2022 graduation, Cary is facing his future with confidence knowing that he'll not only emerge from Ashford University with a degree (and no lingering student debt), but also with the opportunity to do more than he ever thought he could. Despite the long wait, college has given him the chance at long-term, sustainable success.
"My experience at Ashford University has left lasting influences on how and why I think and showed me doors I never thought I would have been able to open," he says.
*Ashford University is now the University of Arizona Global Campus