Ashley Walker was training for the Summer 2020 Olympics as a member of the Romanian national women's basketball team when her dream of playing in Tokyo was cut short by an injury. 
It was a major blow to the power forward who had received dual citizenship in Romania for a chance to eventually play on the world stage. In an instant, Ashley's 12-year career as a professional basketball player came to an abrupt end, and her future was in question.
"It is literally my one regret," she admits.
As quickly as that uncertainty came, however, it passed. 
The very same day she was medically disqualified, Ashley received a call that set her on a brand new path.
In June 2021, after more than a decade of traveling throughout the world, Ashley returned to the states to launch her career as the assistant coach of Boston University's women's basketball team.
"I thought that my career was about to end," she says. "Literally one door closed, and another door opened."
It's a role she was born to play.
Ashley, who earned her Master of Arts in Education from Ashford University (now the University of Arizona Global Campus) in 2015, had been preparing to enter the field of education since her undergraduate studies at the University of California – Berkeley. After high school, she committed to playing on the women's basketball team there while pursuing a degree in American studies with an emphasis in U.S. history. Her goal was to become an athletic director or be part of a school's administration and sports program in some capacity. 
Little did Ashley know her life would take many turns before she came anywhere near her original plan. 
"I didn't want to leave basketball behind," she notes, reflecting on her sudden career end. "I wanted to still be a part of it even in my version of retirement," laughs the 34-year-old. "It has been so amazing. Our girls are great, and I feel like I am someone they can relate to, especially since I just stopped playing. To have that experience to teach them has been the most fulfilling." 
From Small Town to Globetrotter
Ashley's rise from high school player to professional athlete may not have been assumed by anyone, but some may say it's part of her DNA.
Ashley grew up in the small town of Modesto, California, where she witnessed her family's deeply rooted history in the sport continue to grow. Her uncle on her mother's side played for the Utah Jazz in the 70s, her father played professionally overseas, and her brother played in high school, college, and professionally.
"Basketball reigned supreme in our house," she says.
Ashley began dribbling the basketball at age 4. By 7, she was watching as her brother, 12 years her senior, played in high school and would witness him achieve many accomplishments, including being named to the hall of fame in high school, college, and for his pro teams.
"He gave me my true love for the sport," she says. "I would play under the bleachers during his high school games, and I would stop to hear his name called because he would give me a special sign. 
"I watched my brother's entire career," she reflects. "I'm his biggest fan." 
 
His influence rubbed off, and before Ashley knew it, she was making a splash of her own.
"All the classes I took helped to prepare me to be where I am right now," she says. "It helped me to understand how teenagers and children think and break things down and help them understand better. In my mind, I thought I would never use it, but now I use it more than ever."
Ashley joined her high school team, which was coached by her father, and did so well that she was recruited to play collegiate ball for Berkeley. 
"The very first time I heard my name called at Cal, I was in total shock," she admits. "I thought 'I can't believe I made it this far to a major Division 1 school.'"
During her time there, the team appeared in the Sweet 16 for the first time in the school's history, and Ashley personally set and broke several records, including becoming the only player in Cal history to score at least 1,000 points, 800 rebounds, 200 assists, and 100 blocks. She also recorded 47 career double-doubles and is ranked first in the university's history for rebounds, free-throws attempted, and free-throws made. Most recently, she was inducted into the UC Berkeley Hall of Fame.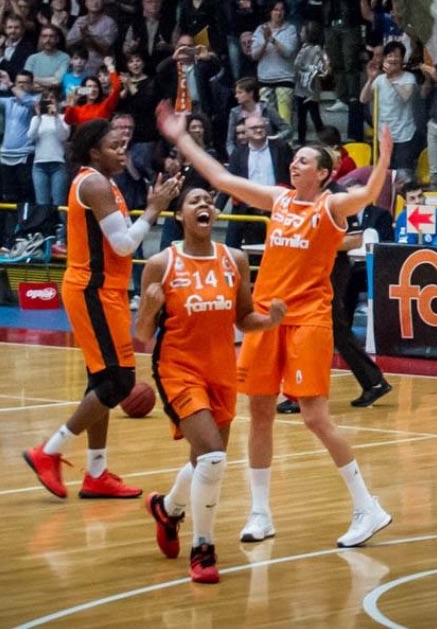 Ashley (center) celebrates a win while playing in Italy.
Upon graduating, Ashley became the first player in Cal's history to be drafted by the WNBA and was picked 12th overall. 
Twelve may have been her magic number, for she would eventually go on to play 12 years internationally after brief stints on various U.S. teams, including the Seattle Storm, Tulsa Shock, and the Los Angeles Sparks, among others. In 2009, Ashley signed with the Maccabi Ashdod in Israel, where she ultimately played for three different teams, followed by six years in Italy, where she also was a member of three different teams. Soon after, she became naturalized as a Romanian Citizen (she even has a birth certificate; her Romanian name is Ginnia) and joined a former teammate on the Romanian National team.
"It allowed me to travel around the world and see things that most people won't be able to see," Ashley says. "I always tell the girls that that orange ball took me all over the world. I have been to Pompei, Turkey, the Wailing Wall, Helsinki in the snow, things that not all little black and brown kids get to see and do." 
Path to Her Master's Degree
Although Ashley launched her professional basketball career right out of college, she eventually began looking into graduate school and decided to pursue her master's degree while living and playing on the other side of the globe.
Once again, it became a family affair. 
"I said it randomly one summer to my family, and when I did, my father said he would go and get his degree, too," she recalls. "He already had some credits, and since we both had about two years to complete our programs, we had a race to see who would finish first!"
Of course, Ashley was in another country at the time, and earning her degree online offered her a flexible option that worked with her schedule.   
"The class times were based in America, I would get my work done on my free time, and it really was the best for me, and it kept me busy during my downtime," she explains. "Pursuing my degree while overseas was the best thing I've ever done." 
 
While her father pursued his degree from another institution, he continued his role as "coach," calling her every day after practice to discuss school and classes. 
"My dad was always coaching me to do better," she fondly recalls. "We would Skype each other and have study halls, and we would edit each other. It was great to have someone else with a different perspective."
Eventually, her father would "win" that race because his graduation date came before Ashley's.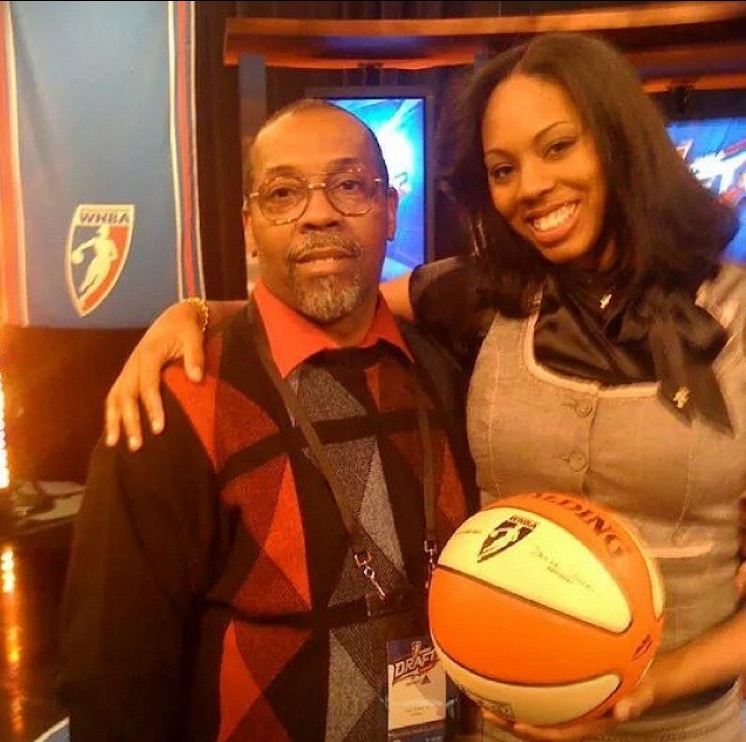 Ashley with her father during the WNBA draft.
It was a bonding experience she recalls with much emotion. Ashley's father passed away during her fourth year as a pro after a two-month battle with pancreatic cancer. 
His death was a defining moment for her. Ashley had to choose to either retire or keep going. She chose to fulfill his dying wish for her to never stop playing.
"Our family motto is 'until the wheels fall off,' and I used that to fuel me the next nine years," she says. 
That same year her father died, she was named MVP of the Italian league. 
"He gave me my why, and my career took off from that moment," she says.
Despite her devastating loss, Ashley pushed forward, and today, she is using the skills she acquired during those special study sessions to succeed in her new role as a coach and academic coordinator.
"All the classes I took helped to prepare me to be where I am right now," she says. "It helped me to understand how teenagers and children think and break things down and help them understand better. In my mind, I thought I would never use it, but now I use it more than ever."
Community Impact 
For Ashley, basketball is more than a sport. It has given her an opportunity to give back to the greater community and set an example for others that it is possible to achieve great things. 
In the Northern California area where Ashley grew up, basketball was not on the map. However, that all changed when Ashley entered Cal, along with six other freshman girls from California. As a team, they would go on to change the culture at UC Berkeley and ultimately in her hometown. 
"We went from not winning any games to only losing two to three games a season and selling out arenas," she says.
With the wins came notoriety that Ashley hadn't anticipated. Their faces appeared on local billboards, and students from the surrounding high schools – including in Berkeley, Oakland, and as far as Modesto – began attending games. 
The growing support and popularity of Berkeley's basketball team presented the players with an opportunity to make an impact on the community, an objective Ashley has maintained throughout her career.
"In college, I thought if I don't teach or educate, I won't be able to give back or be fulfilled," she explains. "But I did and do that, just in a different sense. I educated kids in a different way. At Berkeley High or Oakland Tech, these inner-city kids see us every day, and to be an example for them to get good grades and go to school and change their lives, I feel even more fulfilled."
While fulfilling, the experience also was eye-opening for Ashley. 
Ashley admits that she grew up in a very nurturing home and that when she was younger, she didn't realize that "things came easily" for her. She grew up in a nice suburb and attended a world-renowned campus, not realizing that some of her teammates came from high schools or neighborhoods where life was a little more challenging. 
"For me, the experience was huge because I saw the inner-city struggle, and a lot of the community service we did was going back to those schools," she says. 
The message she shared then is one she believes must be told on a grander scale today.
"More of us have to do that," she acknowledges.
Much like the journey she took to earn her master's degree or the path she followed to her role as a coach, there's one lesson that resonates above all others: "There is more than one way of doing things, but if you work hard at something, it can open up hundreds of thousands of doors," she concludes. 
--
Erin Ansley is a content manager for UAGC.
An online degree from the University of Arizona Global Campus does not lead to immediate teacher licensure in any state.
Certain Degree Programs may not be available in all states.