Some may think that formal education for children starts when they enter kindergarten. But, a growing body of research from varying national and international sources suggests that early childhood education has a valuable, lasting impact on both the student and society. 
What is the Purpose of Early Childhood Education
Early childhood education is typically considered to occur prior to age five, when "formal school" begins but can benefit children from birth to 8 years of age. A child can be enrolled in preschool education programs at daycare or childcare sites, or at more formal preschool or pre-kindergarten locations. While the exact format of the schooling may differ based on location and funding, according to PreSchoolTeacher.org, the main purpose of early childhood education degree curriculum remain the same: to prepare a child's social and cognitive skills for elementary school.

What is the Importance of Early Childhood Education
There are a lot of opinions and studies around the benefits of early childhood education, many stating that beginning a child's learning before the age of five can benefit not only their induction into kindergarten, but also far beyond. The emotional, physical, and social development of these young children typically has a direct impact on their development and their future growth in society. In fact, the National Education Association (NEA) has made the following claim: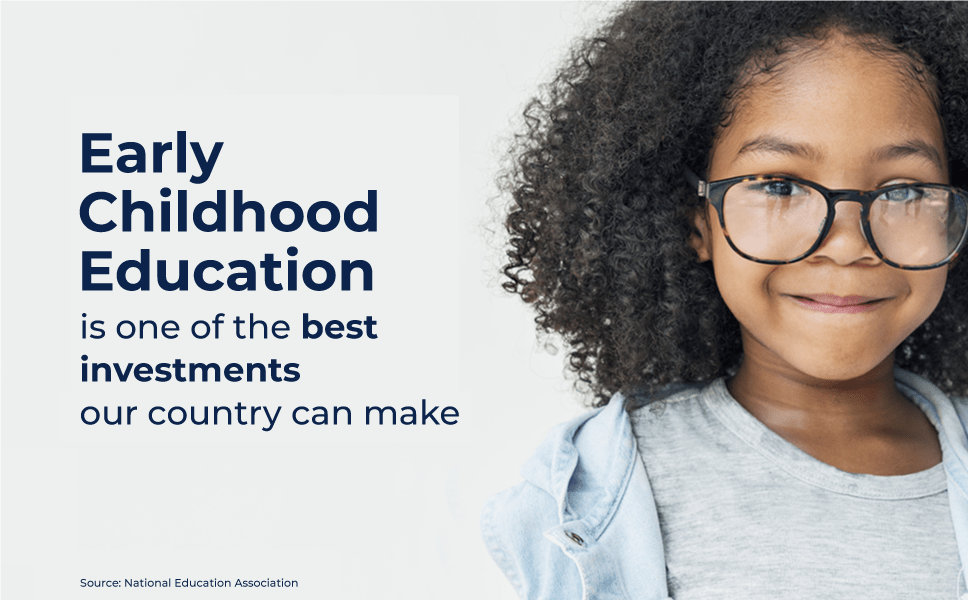 The US Department of Education also has a section on its site dedicated to ongoing research and case studies depicting the successes of early childhood education, highlighting the impact it can have on a student's confidence in the classroom, high school graduation rates, and overall education funding. Therefore, it is important to understand the need of investing in children, so that we can further maximize their future well-being. 
Exploring a Future in Early Childhood Education
With more and more emphasis on the importance of placing children in early childhood education programs, the industry has seen increased support and interest. According to the National Institute for Early Education Research (NIEER), in the 2015-2016 school year, state-funded preschool programs reached an all-time high enrollment, with 1.5 million children receiving early childhood learning services. The same school year also saw an 8% rise in state funding for preschool programs. 
As the industry grows, so too does the expectations of employers. As noted by Dr. Tony Farrell, the University of Arizona Global Campus College of Education Executive Dean, "Employers in early childhood education are increasingly requiring leaders to have an advanced degree," giving graduates in this field "more career opportunities and options for advancement." For those interested in potentially pursuing a career in early childhood education, it is important to explore the variety of ECE degree levels available.
Degree Levels in Early Childhood Education
An Associate of Arts in Early Childhood Education is a great place to begin your path in the early childhood education field, as it is the first step toward qualifying for possible positions within preschool and daycare facilities. You will learn to create and evaluate curriculum that meets the varying levels of social, developmental, and academic needs of young children, providing you with a foundation for future studies and experiences. 
Additionally, a Bachelor of Arts in Early Childhood Education may open additional opportunities in the field of early childhood education, aiding in and further launching your career in this sector. This degree explores in more depth the theories of childhood development and management within the education field, which will aid in the understanding of childhood development principles as well as program development.
If you're looking to eventually lead a program or team in early childhood education, or may already have your AA or BA, a master's degree in the field may be something to investigate.
How Many Years is an Early Childhood Education Degree
While there are many different early childhood Education programs to choose from, each one varies in the time it takes to complete, as each requires a certain amount of credits. For students who have zero existing credits and maintain a full-time class schedule, they can typically expect to finish in the following time frames:
ECE Associate Degree: 2 years at 67 credits
ECE Bachelor's Degree: 4 years at 120 credits
ECE Master's Degree: 2 years at 30 credits
Master's Degree in Early Childhood Education Leadership
Added recently to the Global Campus online degree programs, the Master's Degree in Early Childhood Education Leadership was developed to help those interested in leadership roles in early childhood education, and to advance those already in the field to explore and refine curricula and educational strategies.
"With coursework in social justice/ethics, leadership, and technology, this degree will allow early childhood educators not only to impact entire cohorts of young children through a sophisticated holistic approach, but also to distinguish themselves in the marketplace," says Dr. Tony Farrell.
Courses such as Management and Administration of Early Childhood Programs, Assessment to Support Young Children and Families, and Personnel Management & Staff Development for Early Childhood Administrators will help students be prepared to address the educational needs of young children in a wide variety of settings.
Early Childhood Education Leadership Jobs
Depending on an individual's education and experience level, there is a wide variety of early childhood education positions available, from daycare provider or teacher's aide for those holding an associate degree to recreation worker or teacher assistant for those with a bachelor's. However, as is typical with higher education, those with a master's degree in early childhood education leadership have a wider range of career opportunities, including:
Early Childhood, Child Care Center, or Multisite Administrator
Early Head Start, Child Care Center, Preschool, Education, or Executive Director    
Education Coordinator
Early Childhood Care Consultant
Parent Educator or Advocate
Early Childhood Director
If you still have questions about the field of early childhood education or are interested in learning more about UAGC Master of Arts in Early Childhood Education Leadership, reach out to a student advisor using this form.